The Top National stories and the Latest headlines across the Active Lifestyle Market for the week of July 12, 2021 are covered in the SGB Updates and delivered to your inbox every business day.
This week's Athlete is Mark Wahlberg who bought a stake in F45 Training, a provider of group fitness classes, in 2019 when it was valued at roughly $450 Million. The Austin, TX-based company now has a market value of $1.4 Billion, giving Wahlberg a return of at least 200 percent on his money within three years.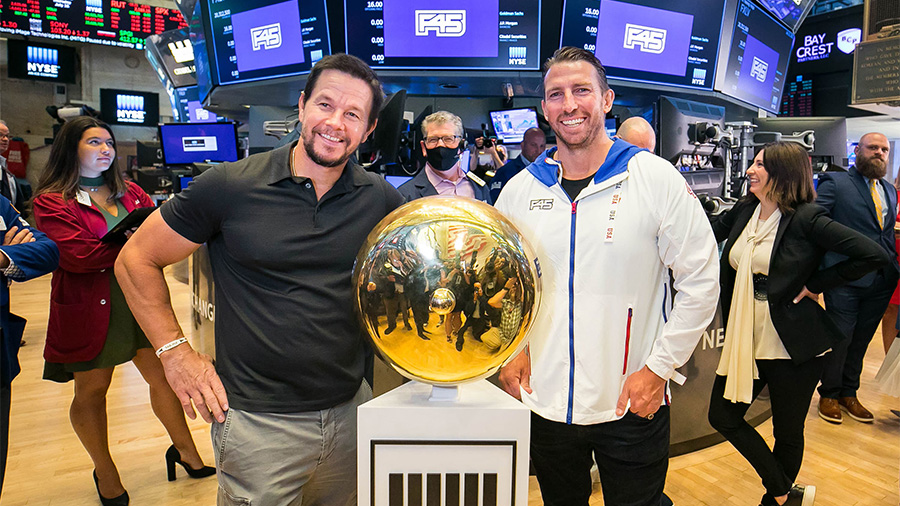 On Thursday, the company went public and began trading on the New York Stock Exchange closing at $1620 per share. Wahlberg is shown above on the trading floor with F45 Founder and CEO Adam Gilchrist. To learn more go here.
—
July 16, 2021
»Puma Lifts 2021 Outlook On Better-Than-Expected Second Quarter
Puma raised its 2021 sales outlook on Friday, boosted by strong second-quarter demand, especially in North America. Read more
July 15, 2021
»Arc'teryx To Open Fourth Manhattan Store
Arc'teryx will open a fourth store in Manhattan on the Upper West Side at 158 Columbus Avenue at 67th Street. The store opens on July 17. Read more
»Nike Seeks $856,162 In Reduced Restitution In Avenatti Extortion Case
Nike has asked a Manhattan federal judge to order disgraced attorney, Michael Avenatti, to pay more than $856,000 in restitution for his attempt to extort up to $25 million from the company, according to a report from CNBC. Read more
»Smith And Koroyd File Intellectual Property Lawsuit Against Burton
Smith Optics and Koroyd have jointly filed a patent infringement action against Burton, claiming that the WaveCel shock-absorbing material Burton uses in some helmets infringes on its jointly owned patent. Read more
»Bangers LP Rebranded To Iron Valley Supply Co.
Bangers L.P. announced it had rebranded as Iron Valley Supply Co. reflecting the distributor of shooting sports products and outdoor recreational sporting goods' nearly 100-year heritage as a wholesale distributor in the Iron Valley region of Alabama. Read more
»Kitman Labs Acquires Presagia Sports
Kitman Labs has acquired Presagia Sports, an athlete electronic health records platform that serves more than 110 NCAA athletic departments, youth sports programs and sports clinics. College clients include Clemson, Florida State, Georgia, and all members of the Pac-12. Read more
»U.S. Business Groups Urge Trade Chief To Forgo Vietnam Tariffs
SFIA, OIA, SIA, FDRA and AAFA were part of 76 trade associations that sent a letter to  U.S. Trade Representative Katherine Tai urging the Biden administration against adding more 301 tariffs and instead, use other tools, such as financial diplomacy led by the Treasury Department, to pressure Vietnam on any currency concerns. Read more
»Black Diamond Announces Recent Promotions And Hires
Black Diamond Equipment promoted Kolin Powick to vice president of product and Bill Ayers to vice president of finance. Over the last year, Oliver Holzmann and Tony Rivera joined Black Diamond in the roles of vice-president of global marketing and business unit director for apparel, respectively. Read more
»American Outdoor Brands Q4 Revenues Surge 50 Percent
American Outdoor Brands Inc. reported significant improvement in earnings in the fiscal fourth quarter ended April 30 as sales surged 49.6 percent. Revenues in the full year rose 65.3 percent. Read more
»AAFA Sends Letter To President Biden Calling For Tariff Relief To Offset Shipping Crisis
American Apparel & Footwear Association President and CEO Steve Lamar emphasized the need for additional federal support to address the ongoing shipping crisis that has caused a "destructive cycle of lengthening delays and rocketing costs" in a letter to President Biden. Read more
»Walmart To Launch Justice Tween Brand In Stores
Walmart plans to add the Justice tween brand to 2,400 stores and Walmart.com timed with back-to-school shopping. Read more
»Senate Passes Bill Banning Imports From Xinjiang, China
The U.S. Senate passed legislation on Wednesday to ban the import of products from China's Xinjiang region unless importers can prove they weren't made with forced labor. The move marks the latest effort in Washington to punish Beijing for what U.S. officials say is an ongoing genocide against Uyghurs and other Muslim groups. Read more
»Rally House Opens Seventh St. Louis Location
Rally House is opening its seventh St. Louis location. The store is in O'Fallon at the Shops at Laura Hill next to Kohl's. The family-owned sports and merchandise retailer is continuing with its rapid growth in 2021, opening over 14 stores this year. Read more
»Lodging Rebounds At Western Mountain Destinations For Record Summer
Western mountain resorts have almost entirely returned from their pandemic-caused slump. They now see occupancy, rate and revenue figures increasing, setting new seasonal records while also seeing that momentum surge into early winter with strong bookings for the December holiday period, according to the most recent results released by DestiMetrics, a division of Inntopia. Read more
»Wilson Sporting Goods Opens First Store In Chicago
Wilson Sporting Goods Co. celebrated the grand opening of its first retail location Thursday in its hometown of Chicago. Located in the Gold Coast neighborhood, the store, located at 932 N. Rush Street, opened with executives, Wilson's advisory staff and influential Chicagoans. Read more
»Genesco Earns Egan-Jones Endorsement
Egan-Jones Proxy Services has joined Institutional Shareholder Services in recommending that Genesco shareholders vote for the company's director nominees at its July 20 annual meeting. Read more
F45 Training Goes Public
F45 Training Holdings, the fitness franchise offering 45-minute workouts, raised $325 million in an initial public offering through the sale of 20.3 million shares at $16, the midpoint of the $15 to $17 projected range. Read more
»HanesBrands Appoints VP, Talent & Diversity
HanesBrands appointed LaTonya Groom as vice president, talent & diversity. Read more
»Delta Apparel Announces 65 percent Third Quarter Sales Growth
Delta Apparel Inc. announced preliminary sales and operating results for its 2021 fiscal third quarter ended July 3. The company expects net sales for its June quarter to be approximately $118 million, representing 65 percent growth compared to the prior year and coming in roughly flat to the third quarter of fiscal 2019. Read more
»Academy Sports' Debt Ratings Upgraded
Moody's Investors Service upgraded Academy Sports and Outdoors' debt ratings due to the chain's "continued outperformance in Q1 2021 relative to expectations and Moody's projections for solid credit metrics even in a scenario of normalized demand in the sporting goods category." Read more
»Report: Fabletics Exploring IPO
Fabletics has recently retained banks to prepare for an initial public offering (IPO) with an aim at a valuation of more than $5 billion, sources told The Wall Street Journal. The filing comes as the workout-apparel brand backed by actress Kate Hudson has ramped up store openings in 2021. Read more
July 14, 2021
»Recall: Ozone 500 24-Inch Bicycles Sold At Academy Sports
About 3,860 Ozone 500 girls' and boys' Elevate 24-inch bicycles sold by Academy Sports + Outdoors are being recalled. Read more
»Ross Stores Announces Departure Of CFO
Ross Stores Inc. announced that Travis Marquette, the company's executive vice president and chief financial officer since 2019, has resigned effective immediately to accept a position with another company. Read more
»Vietnam Operations Of Footwear Giant Pou Chen Hit By COVID
Taiwan's Pou Chen Corp, which makes footwear for Nike, Adidas and other athletic footwear companies, suspended operations at its plant in Ho Chi Minh City due to COVID-19 outbreaks. Read more
»Play It Again Sports Income Soars In Second Quarter
Winmark Corp., the parent of Play It Again Sports, announced net income for the quarter ended June 26 of $8.94 million, or $2.33 per share, compared to net income of $5.06 million, or $1.33, in 2020. Read more
»Eddie Bauer Launches Gear Rental Program
Eddie Bauer has launched a gear rental program in partnership with Arrive Outdoors, camping gear and outdoor product rental business. Read more
»BSN Sports Acquires Sportsline Team Sports In Arvada, CO
BSN Sports a division of Varsity Brands continued its expansion within the team sports market with the announcement that it has acquired Sportline Team Sports based in Arvada, CO. Read more
»Scheels Announces Wichita Location For 2023
Scheels announced its second Scheels location coming to Kansas. The new store will open in Spring 2023 in Wichita, in collaboration with Simon, joining the Overland Park Scheels that opened near Kansas City in 2015. Read more
»Nike Loses Fight Over EU Probe Into Dutch Tax Deal
Europe's second-highest court backed a European Union's investigation opened two years ago into its Dutch tax affairs. Read more
»La Passione Secures New Round Of Funding
Italian cycling apparel brand, La Passione, announced a new funding raise of €7 million ($8.3 mm). Read more
»Henry Repeating Arms Announces Next Company President
Henry Repeating Arms appointed Andy Wickstrom as the firearms company's next president. Read more
»Umarex USA Appoints Chief Executive Officer
Umarex USA Inc. appointed current company president Richard Turner, as its president and chief executive officer. Read more
July 13, 2021
»QVC Parent Appoints New President And CEO
Qurate Retail Inc., the parent of QVC and HSN, announced that David Rawlinson II will assume the role of President and CEO, effective October 1. He will succeed Mike George after a two-month transition period. Read more
»Former Learfield IMG College CEO Joins Pixellot Board
Pixellot, a provider of AI-automated sports video and analytics solutions, announced it has expanded its Board of Directors with the appointment of sports industry executive Greg Brown. Read more
»Woom USA Merges With Woom Europe
The children's bicycle manufacturer Woom announced the merger of Woom Europe and Woom USA. The merger will double its global workforce, optimize and enhance product innovation and evolve its supply chain and manufacturing capabilities. Read more
»Rossignol Group Appoints Category Manager, North America
Rossignol Group announced that Jeff Courter was hired as Rossignol Nordic category manager, North America. Read more
»Lodging Occupancy And Daily Rates Remain Strong In The Southeast
Although there has been a slight softening in the growth in occupancy and rates during the past month, participating resort properties in Florida, Georgia and South Carolina are poised to set an all-time summer record for occupancy, daily rates and revenues with only two months of the six-month summer season yet to complete, according to DestiMetrics. Read more
»RunSignup Mid-Year Trends Data Shows Normal Registration Patterns And Decline Of Young Participants
RunSignup, the technology provider for endurance and fundraising events, released preliminary registration data from the first half of 2021 providing key metrics on the recovery of the events industry. Read more
»One in Four Canadian Girls Are Not Committed To Return To Sport
Canadian Women & Sport, in partnership with E-Alliance and Canadian Tire Jumpstart Charities and Sport Canada, released a new study—COVID Alert: Pandemic Impact on Girls in Sport—examining the impact of the pandemic on sport participation for Canadian girls ages 6-to-18. Read more
»Franklin Sports Extends Partnership With USA Pickleball
Franklin Sports signed a multi-year partnership agreement with USA Pickleball, the governing body of the sport. As part of the agreement, Franklin becomes the Official Ball of USA Pickleball and will partner on growth initiatives for the sport, including working towards making pickleball a demonstration sport at the 2028 Summer Olympic Games. Read more
»Crocs Files Infringement Suits Against 21 Defendants In U.S. District Court
Crocs Inc. announced that it has filed lawsuits against 21 companies alleging infringements of its registered trademarks. Read more
»Bally's Acquires The Association Of Volleyball Professionals
Bally's Corp. announced that it has acquired the Association of Volleyball Professionals (AVP) and host of the longest-running domestic beach volleyball tour in the United States. Read more
»HIVIZ Hires New Director Of Commercial Sales
HIVIZ Shooting Systems announced the hiring of Tracy Barnes as director of commercial sales. Read more
»Full Speed Ahead Hires MTB Marketing Manager
Bicycle components manufacturer, Full Speed Ahead (FSA), has hired industry veteran David Meredith as head of Mountain Bike Marketing for the Americas. Read more
»Yue Yuen's June Sales Climb 8.7 Percent
Yue Yuen's consolidated operating revenue reached $787.7 million in June, up 8.7 percent against $724.6 million a year ago. Read more
»F45 Training Sets Terms For Initial Public Offering
F45 Training Holdings Inc. plans to offer 18.75 million shares in its initial public offering at a projected price range of $15 and $17. At that range, the fitness franchisor would be valued between $1.45 billion to $1.54 billion. Read more
»Empire Portfolio Group Acquires Four Orangetheory Fitness Studios In Connecticut
Empire Portfolio Group announced it has acquired four Orangetheory Fitness studios in Fairfield, Norwalk, Westport, and Shelton, CT. With these acquisitions, it now has more than 40 studios in Connecticut, New Jersey and New York. Read more
»Report: Echelon Fitness Exploring Strategic Options
Echelon Fitness Multimedia LLC, a maker of exercise bikes and other workout equipment, is exploring strategic alternatives that could value the company at more than $1 billion, sources told Bloomberg. Read more
»JD Sports Transfers Ownership Of DTLR Villa To Unit In U.S. Push
JD Sports Fashion has transferred the ownership of Baltimore-based retailer DTLR Villa to its U.S. unit to align all its businesses in the country under one entity. Read more
July 12, 2021
»Keen Opens Factory In Dominican Republic
Keen Inc. announced the opening of a company-owned factory, in the Dominican Republic—Keen Dominican Republic (KDR)— with 55,000-square-feet of manufacturing space. .Read more
»Burley Recalls Ballz QR Skewers
Burley announced it is working with the Consumer Products Safety Commission (CPSC) to recall Ballz QR Skewers shipped between August 2018 and June 2021. Read more
»Industrial Revolution Appoints Canadian Representation
Industrial Revolution has partnered with Northern Exposure Sporting Group, Inc. to expand its sales team in Canada. Read more
»Weber-Stephen Products Files For IPO
Weber-Stephen Products LLC, the maker of Weber grills, is planning an initial public offering this year,  has filed to go public. Read more
»Hibbett Schedules Opening For Stores
Hibbett announced the opening of two Hibbett Sports locations in Raleigh, NC, Charlotte, NC and a City Gear location in Sumter, SC. Read more
»Icebreaker Releases Fourth Transparency Report
Icebreaker, which is owned by VF Corp., released the fourth installment of its annual Transparency Report focused on its plastic-free initiative. Read more
»Camping World Partners With ABG To Launch Nautica Marine Collection
Camping World Holdings Inc. has partnered with Authentic Brands Group on the launch of Nautica branded products for the marine, water and outdoor marketplace. Read more
»Nordstrom Takes Stake In Asos Brands, Including Topshop
Nordstrom and Asos announced that Nordstrom has acquired a minority interest in the Topshop, Topman, Miss Selfridge, and HIIT brands. Read more
»Report: Authentic Brands Group Out Of Bidding For Reebok
Authentic Brands Group (ABG) has dropped out of Adidas' auction of Reebok, according to The New York Post. Wolverine Worldwide, which was expected to partner with ABG on a bid, is also reportedly no longer interested due to ABG's exit. Read more
Photos courtesy Mark Wahlberg/Getty