The Top National stories and the Latest headlines across the Active Lifestyle Market for the week of July 19, 2021 are covered in the SGB Updates and delivered to your inbox every business day.
—
This week's Ambassador Athlete is Felt Bike's Kristin Armstrong Savola, Mom, 3x Olympic Gold Medalist and Entrepreneur.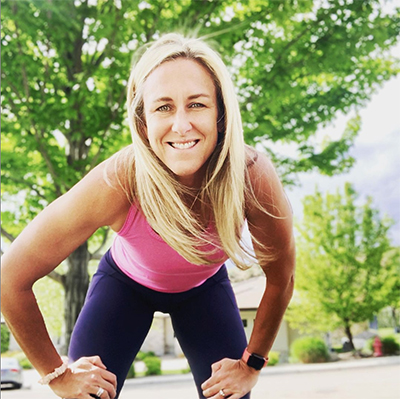 "We are in control of our own life, dream big and act upon whatever it is you want to go after. One catch, nobody is going to come knocking at your door to deliver your dream." Your result, your outcome—"It's Up To YOU!"
To learn more about Kristin, go here.
—
July 23, 2021
»Poll: Gymnastics Is America's Most Highly Anticipated Olympic Sport
Gymnastics is the most highly anticipated Olympic event among U.S. adults, according to a new Morning Consult survey. Rounding out the top five were swimming, diving, track and field and beach volleyball. Read more
July 22, 2021
»JD Sports Acquires Stake In Gym King
JD Sports has announced a multi-million dollar investment in the UK, Yorkshire-based athleisure retailer Gym King, taking a "significant" minority stake in the firm. Read more
»Reports: Fanatics Hires CFO For New Ventures Segment
Fanatics has reportedly hired Glenn Schiffman, the CFO of Barry Diller's media and internet collection IAC, as CFO of its new ventures beyond sports apparel. Read more
»Janus Cycle Group Announces Change In Ownership
Boulder, CO-based Janus Cycle Group announced that it has sold all company assets to Phil Joseph, a former executive officer of Prologis and Spirit Realty. Read more
»Skechers Lifts Outlook On Q2 Beat
Skechers U.S.A., Inc. significantly raised its guidance for the year after reporting earnings and sales in the second quarter that came in well ahead of guidance. Sales rose 127 percent in the second quarter year-over-year and gained over 30 percent as compared to the second quarter of 2019. Read more
»Rack Room Shoes Makes Key Promotions
Rack Room Shoes has promoted Dawn Heath to director of integrated marketing and Julie Barr to vice president of human resources. Read more
»Golf Rounds Played Show Weakness In June
U.S. golf rounds played were up 0.4 percent in June 2021 against a surge in play in the year-ago period due to the pandemic, according to Golf Datatech. For the year-to-date period, rounds played are ahead 22.8 percent. Read more
»Sequential Brands To Sell DVS Footwear Brand
Sequential Brands Group Inc. in a regulatory filing said it sold its 65 percent interest in DVS Footwear to Elan Polo International Inc. for $2 million in cash. Read more
»GNC Strengthens Executive Leadership Team With New Appointments
GNC announced that it has appointed Nate Frazier as EVP, chief operating officer and Karlyn Mattson as chief merchandising officer. Read more
»Crow Shooting Supply Appoints Regional Sales Manager
Crow Shooting Supply has promoted industry veteran and outdoorsman Troy Rahn to Regional Sales Manager. Read more
»Adidas Partners With University Of Hawaii At Manoa
Adidas signed a four-year partnership with the University of Hawaii at Manoa. Adidas becomes the official athletic footwear, apparel and accessory brand of the Rainbow Warriors and Rainbow Wahine through the 2024/25 season. Read more
»Recall: Caldwell Earmuffs
About 13,740 Caldwell E-Max Pro BT Earmuffs with rechargeable lithium battery packs from American Outdoor Brands are being recalled. Read more
»Global Sales Guys Appoints VP Of Action Outdoor
Global Sales Guys (GSG) announced that it has hired action sports Industry veteran Dave Rosenberger to the newly created role of VP of Action Outdoor. Read more
»Crocs' Q2 Revenues Surge 93 Percent
Crocs Inc. reported earnings improved significantly in the second quarter as revenues grew 93 percent and 88 percent on a currency-neutral basis. The company raised its sales growth outlook for the year to 60 to 65 percent, up from 40 to 50 percent previously. Read more
July 21, 2021
»Thule's Sales Expand 58 Percent In Second Quarter
Thule Inc. reported sales rose 58.1 percent in the second quarter and grew 68.5 percent on a currency-neutral basis. Read more
»Cityrow Secures $12M Series A Round
Cityrow announced the closing of a $12 million Series A Round. The financing round was led by JW Asset Management and also included Sol Global and K2. Read more
»PF Flyers Sold To New Balance's Owner's Daughter
New Balance has sold the PF Flyers to Kassia Davis, the daughter of New Balance chairman and majority owner Jim Davis. She has partnered with Pensole founder D'Wayne Edwards to relaunch the sneaker brand this fall. Read more
»Crocs Announces Commitment To Become A Net Zero Company By 2030
Crocs Inc. announced a commitment to becoming a net-zero company by 2030 with a strategic focus on sustainable ingredients and packaging. Read more
»Rawlings Confirms Planned Closure Of Caledonia Facility
Rawlings has confirmed plans to close its Miken Sports plant which makes non-wood bats and MLB helmets in Caledonia, MN. Production of MLB helmets will be moved to Missouri. Read more
»TCS Renews Sponsorship Of TCS New York City Marathon Through 2029
Tata Consultancy Services (TCS) has signed an eight-year contract with the New York Road Runners (NYRR) to extend its title and technology sponsorship of the TCS New York City Marathon through 2029. Read more
»New NFHS Officers, Board Members Elected For 2021/22
The National Federation of State High School Associations (NFHS) has elected Rob Cuff, executive director of the Utah High School Activities Association (USHAA), as its new president. Read more
»Ecco USA President To Step Down
Ecco announced that Dave Quel, president, Ecco USA, would retire at the end of July after 22 years with the company. Klaus Flock, CFO, Ecco USA, will assume the role of interim president until a successor has been appointed. Read more
»Lands' End Raises Second Quarter And Fiscal 2021 Guidance
Lands' End Inc. raised its guidance for the second quarter ending July 30, 2021, and its fiscal year ending January 28, 2022. Read more
»RV Retailer's Debt Outlook Revised To Positive
S&P Global Ratings said that as a result of strong performance and the tightened financial policy, it revised its outlook on RV Retailer to positive from stable. Read more
»PGA Show Buying And Education Summit Set For Vegas In August
The newly formatted PGA Show Buying & Education Summit will be held from August 9-10 in Las Vegas at the JW Marriott Las Vegas Resort & Spa. Read more
»American Flag Football League Launches First National Youth League
The American Flag Football League (AFFL) announced the launch of its American Flag Football League Youth Division set to kick off this fall. Read more
»Athletic Greens Scores First Strategic Outside Investors
Athletic Greens, the nutritional supplement subscription service, announced a new strategic group of outside investors to accelerate the company's growth. The investors were all Athletic Green users prior to investing in the business. Read more
»Spirit Fitness Expanding Operations In Jonesboro
Spirit Fitness announced an expansion of its operation in Jonesboro, AK, with plans to add a 150,000-square-foot building to house its technical support and warranty parts departments. Read more
July 20, 2021
»Nike Store To Open In Naperville
Nike is scheduled to open a new store at 217 S. Main Street in downtown Naperville, IL this September. Read more
»Miken Sports Plant May Be Closing In Caledonia
Miken Sports, owned by Rawlings, may be closing its plant in Caledonia, MN, according to a joint statement from State Senator Jeremy Miller of Winona and State Representative Greg Davis, who expressed concern about the exit. Read more
»Rent The Runway Confidentially Files To Go Public
Rent the Runway confidentially filed for an initial public offering (IPO) with the Securities and Exchange Commission (SEC). Read more
»Nordstrom Announces New Chief Human Resources Officer
Nordstrom announced Farrell Redwine as its new chief human resources officer. Redwine will report to Nordstrom CEO Erik Nordstrom. Read more
»LeagueApps Raises $15M In Funding
LeagueApps announced it has raised $15 million in a Series B round of funding. The round, led by Contour Venture Funds, brought the company's total funding to $35 million. Read more
»Report: L Catterton Exploring IPO
L Catterton, which owns Birkenstock, 2XU, West Marine and other consumer brands, has held discussions with banks with a possible initial public offering or SPAC merger, sources told Reuters. Read more
»Genesco Shareholders Re-Elect All Company Director Nominees At Annual Meeting
Genesco Inc. announced that, based on a preliminary vote count by its proxy solicitor, shareholders have voted overwhelmingly to re-elect all nine of Genesco's director nominees to the Board of Directors at its 2021 Annual Meeting of Shareholders. A group of activist investors, led by Legion Partners Asset Management, had been urging shareholders to vote for four of its nominees. Read more
»Hibbett Sports Opens In Cedar Hill
Hibbett announced the opening of its third Dallas area Hibbett Sports located in Cedar Hill, TX. Read more
»Learfield IMG College Appoints Chief Revenue Officer
Learfield IMG College announced the appointment of John Brody as chief revenue officer. He was most recently at World Wrestling Entertainment, Inc. (WWE).  Read more
»Winnebago Industries To Acquire Premium Pontoon Boat Manufacturer Barletta
Winnebago Industries Inc. announced that it has entered into a definitive agreement to acquire Barletta Pontoon Boats, for an initial consideration of $255 million in cash and newly issued Winnebago Industries shares. Read more
»OBIT: Dick's SG's Tim Myers
Tim Myers, a long-time employee of Dick's Sporting Goods who spearheaded the Dick's Sporting Goods Open, has passed away. Read more
»TeamSnap Adds CFO And VP Of Product
TeamSnap announced it has hired Joyce Bell as the new chief financial officer and Michael Fox as VP of product and design.  Read more
July 19, 2021
»Puma Appoints General Manager Europe
Puma has appointed Richard Teyssier as general manager of Europe, effective September 1, 2021. In this role, Teyssier succeeds Arne Freundt who was appointed as Puma's chief commercial officer in June. Read more
»Under Armour Extends Contract With New Mexico State Athletics
New Mexico State athletics reported Under Armour will remain the official outfitter of NM State Athletics over the course of the next half-decade. Read more
»Report: Nike May Run Out Of Vietnamese-Made Sneakers As COVID-19 Accelerates
According to a new analysis from Panjiva, the supply chain research unit of S&P Global Market Intelligence, Nike may run out of Vietnamese-made sneakers due to a halt in production at three Vietnamese plants due to rising COVID-19 infections in the region. Read more
»Club Champion Opens Fitting Studio In Corona, CA
Custom golf club fitter Club Champion announced the opening of its new fitting studio, located at 284 Dupont Street in Corona, CA. The store is Club Champion's ninth location in the state. Read more
»Change In Leadership At Schoeller Textil AG
Schoeller Textil AG announced a shift in leadership as Joachim Kath takes over as CEO. Following a 10-year career at the global textile solutions brand, CEO Siegfried Winkelbeiner will retire later this month. Read more
»Ross Stores Opens 30 New Locations
Ross Stores recently opened 22 Ross Dress for Less and 8 dd's Discounts stores across 11 states in June and July. These new locations are part of the company's plans to add approximately 60 new stores (40 Ross and 20 dd's Discounts) during fiscal 2021. Read more
»Franklin Sports Partners With Kerri Walsh Jennings On Volleyball Collection
Franklin Sports announced that it has partnered with beach volleyball star and three-time Olympic Gold Medalist Kerri Walsh Jennings to develop and launch a full line of volleyball apparel and equipment. The items will be available on franklinsports.com and at Dick's Sporting Goods. Read more
»NRF Predicts Record Back-To-School Selling  
Consumers plan to spend record amounts for both school and college supplies as families and students plan to return to in-person classrooms this fall, according to the annual survey released by the National Retail Federation. Read more
»Liberty Safe To Be Sold To PE Firm
Compass Diversified announced it has entered into a definitive agreement to sell its majority-owned subsidiary, Liberty Safe Holding Corporation, the parent company of Liberty Safe and Security Products, Inc., to an affiliate of Monomoy Capital Partners, a middle-market private investment firm. The sales price was $147.5 million. Read more
»Vista Outdoor's Debt Ratings Upgraded
Moody's Investors Service upgraded Vista Outdoor Inc.'s Corporate Family Rating (CFR). The rating agency said Vista's operating performance has materially improved and it expects that the company's credit metrics will remain robust over the next 12 to 18 months as strong demand for ammunition continues and the company works through its material backlog. Read more
»Sezzle Announces Climate Neutral Certification
Sezzle announced that through a combination of reduction efforts and carbon offsets, it is officially 100 percent carbon neutral. This announcement strengthens the buy now pay later provider's positioning in North America, with a growing presence in Asia and Europe. Read more
»Klymit Acquired By MacNeill Pride Group
MacNeill Pride Group (MPG) has acquired Klymit. The terms of the transaction were not disclosed. The deal builds on MPG's acquisition of GCI Outdoor and ORCA. Read more
»Electric Eyewear Forms Distribution Partnership With Liberated Brands Europe
Electric Eyewear has formed a distribution partnership with Liberated Brands Europe, Volcom EU's new operating company. The partnership will see Liberated take over Electric's e-commerce, marketing and wholesale in Europe. Read more
»Survey: Tokyo Olympics Draws Muted Interest
A new Ipsos Global Advisor survey, conducted in 28 countries, showed that Americans are split on whether the Summer Olympics in Tokyo should go ahead, with 52 percent agreeing that it should. Only half of Americans (48 percent) are interested in the Olympics this year. Despite the lukewarm interest, Americans believe the Olympics have a positive impact on society. Read more
»True Velocity Appoints COO
True Velocity announced the appointment of manufacturing operations veteran Tom Weichel to COO. Read more
Primary Arms Appoints VP/GM Of Optics
Primary Arms announced the addition of Donald Riley to its executive leadership team as Vice President and General Manager, Primary Arms Optics. Read more
»Outdoor Sportsman Group Appoints VP, Ad Sales
Outdoor Sportsman Group (OSG) announced the promotion of Mike Savino to vice president, Advertising Sales. Savino will oversee endemic multi-media sales for the company. Previously, he worked as Director, Advertising Sales. Read more
»Jordan Brand Opens New Dubai Store
Jordan Brand has opened a concept store in the Dubai Mall, the world's largest mall. Grounded in a sport-focused layout shared with Jordan doors like Jumpman LA, Jordan 1 Hongxing in Chengdu, and Jordan 9 Guanghua in Beijing, the Dubai store "creates a refined sensory space that connects fans of the brand to artistic traditions within the region," said Nike. Read more
Photos courtesy Kristin Armstrong Savola