Skechers USA Inc. shrugged off the continuing effects of COVID-19 across the international markets in the second quarter to ride a far less promotional retail environment to stronger sales, higher margins and record profitability. The company more than doubled its sales versus the year-ago comp quarter and posted sales growth of more than 30 percent versus 2019 results.
"It is important to note that these exceptional second-quarter results came despite the ongoing global pandemic," said company COO David Weinberg during a conference call with analysts to discuss its Q2 results. "COVID continued to impact some countries in the second quarter, most notably India, but also remains a challenge for many other markets with lockdown restrictions, temporary closures and reduced store operating hours. The pandemic and other factors also continue to challenge our global supply chain. We appreciate the dedication and focus of the Skechers teams around the world. Without them, we wouldn't have achieved the results we had."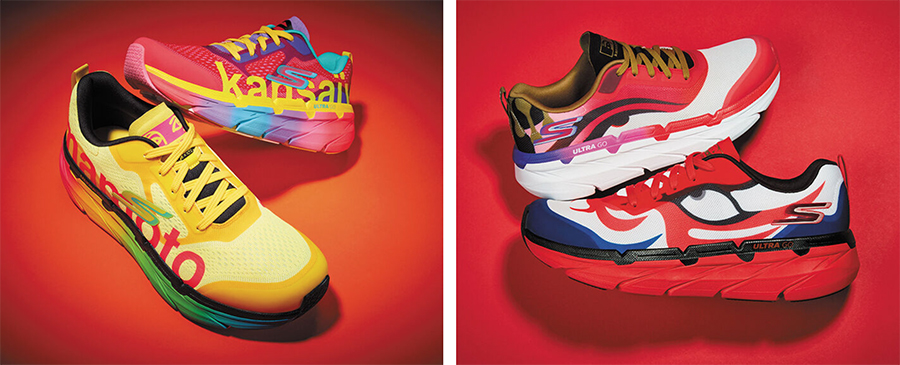 SKX posted new record revenue in the second quarter ended June 30 as sales jumped 127 percent (+118 percent currency-neutral) versus the year-ago quarter to $1.66 billion. More importantly, the revenue line surged 32 percent versus the 2019 quarter, with domestic and international businesses growing more than 30 percent.
"Our record revenues were the result of increases of 147 percent in our domestic business and 114 percent in our international business, and both businesses increased over 30 percent compared to 2019," Weinberg detailed. "International sales comprised 56 percent of our total sales in the quarter. This growth, a result of increases across all reportable segments, is reflective of higher average selling prices on significantly more units sold, less promotional activity during the period, and consumers are embracing our comfort technology in our seasonal, athletic and casual footwear lines in addition to our apparel offering."
Domestic Wholesale sales grew a staggering 206 percent year-over-year and posted 31 percent growth versus the comp 2019 period.
"Nearly every product category achieved growth in the quarter with the highest gains coming from sport, kids, casual, and our seasonal sandal footwear," said Weinberg. "Additionally, the average selling price increased, reflecting the appeal of our new comfort product and technologies."
CFO John Vandemore indicated that the company continues to see very positive underlying trends with most of its domestic wholesale partners, including healthy sell-through rates and strong average selling prices.
He explained that Skechers had introduced higher price points in new products while still keeping its lower-priced product in place in the family footwear channel and the off-price clubs.
"They weren't on sale so often," Vendemore explained in response to an analyst's question. "We had a lot of replenishment, and we've done relatively well, although it's very difficult in replenishing them to a higher degree than they probably had planned when we went into the quarter. So, if you take the higher price points, the availability of products, our performance against competitive brands out there and then not being on sale and getting more margin for it, they've replaced all the time. So, we've got it on all cylinders. So the product resonates. We have higher price points, we've kept our traditional price points and we've delivered relatively on time."
International Wholesale sales increased 95 percent year-over-year and grew 37 percent compared to Q2 2019.
The company's joint ventures business grew 56 percent year-over-year, led by China, which grew 51 percent on the "strength of robust e-commerce demand, partially offset by weakness in several adjacent markets, which are still impacted by the pandemic." Its China JV business grew 68 percent versus the 2019 comp period. Europe posted an increase of 150 percent over 2020 and 85 percent over 2019. The JV business grew 46 percent as compared to the 2019 Q2 period.
Skechers joint venture businesses increased 56 percent for the quarter compared to 2020 and, in addition to China, Mexico and Israel also improved over both periods. Subsidiary sales increased 163 percent year-over-year and grew 48 percent versus the 2019 period due primarily to volume increases, particularly in Europe. The gains came despite temporary closures and reduced operating hours in many regions, including India, Canada, Japan, and parts of Europe and South America. The UK, Germany, Canada, France, Spain, and Italy were said to have achieved "notable growth over both 2020 and 2019 comparable periods."
The SKX distributor business grew 122 percent versus the 2020 second quarter but declined by 7 percent from the second quarter of 2019. "We are pleased by the year-over-year growth in this business, which, as expected, continues to recover more slowly from the pandemic," Vandemore offered. "However, we remain optimistic that this business retains its attractive, long-term growth characteristics." Weinberg added that several markets achieved growth versus 2020 and 2019, including Australia, Russia, Taiwan, Algeria, South Africa, Scandinavia, and Ukraine.
"Our largest distributor, the UAE, which handles much of our business across the Middle East and parts of Africa and Eastern Europe, saw significant improvements over 2020, and we believe it is continuing to improve," Weinberg stated.
Direct-to-Consumer (DTC) sales increased 138 percent year-over-year supported by "growth in domestic and international markets, albeit at a lower rate due to store closures in the period." SKX saw some temporary store closures in Q2, primarily in India, Canada, Japan, Chile, and reduced hours in many international company-owned stores due to local health guidelines. In the second quarter, its DTC business increased 26 percent versus the 2019 comp period, resulting in a 30 percent increase in the domestic market and nearly 20 percent growth in the international markets.
Worldwide comp-store sales were reportedly up 109 percent compared to 2020, including 96 percent comp-store sales growth domestically and 165 percent internationally. Worldwide comp stores sales increased 13 percent versus the 2019 Q2 period, including an increase of 22 percent domestically and a 9 percent decrease internationally, "reflecting the ongoing store closures."
"Our direct-to-consumer average selling price per unit rose 17 percent compared to 2020, indicative of our less promotional stance and the success of our comfort technology products," explained Weinberg. "Given the unpredictability of the coronavirus and its continued impact on many markets, we remain cautious about a return to normal traffic and sales in many international stores but believe that we will see improvements where we are fully open, and restrictions will ease."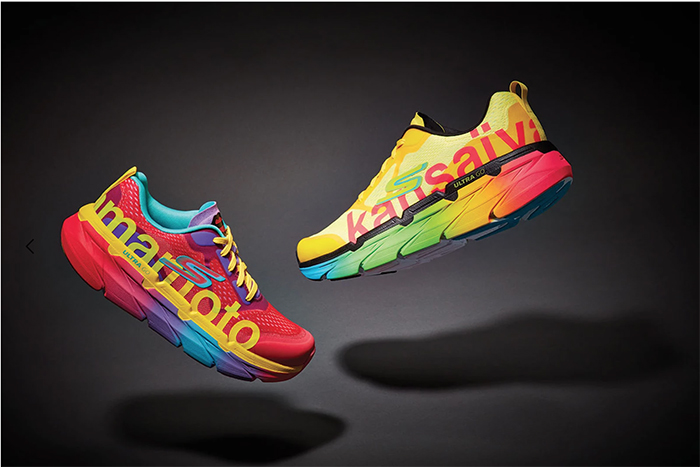 The Skechers domestic DTC sales increased 101 percent compared to Q2 2020 and nearly 30 percent compared to Q2 2019. "Driving this growth was a 232 percent increase in its retail store sales or 11 percent over 2019," Said Weinberg, "The domestic retail store improvement was partially offset by a decrease in our domestic e-commerce channel of 25 percent, which faces difficult comparisons to the prior year. However, it is important to note that domestic e-commerce sales were up 337 percent over 2019."
The company's international DTC business increased 259 percent over the second quarter of 2020 and 20 percent over the 2019 comp period. The growth compared to 2019 was said to be the result of a larger international company-owned retail store base and increases in the e-commerce business. Several markets reportedly achieved growth over 2020 and 2019, including the UK, Spain, Germany, Mexico, and others.
"Our e-commerce channel remains a meaningful growth opportunity and continues to grow this business," offered Weinberg. "We recently launched a new loyalty program in the United States, which we will be capitalizing on in the coming weeks. We're also looking forward to the planned expansion of our worldwide e-commerce presence this year and into 2022."
SKX opened 13 company-owned Skechers stores in Q2, including "key locations" in Antwerp, Barcelona, Berlin, and Lima. It closed eight locations in the quarter as leases expired. Skechers has opened three stores to date in the third quarter and has another three planned for the end of the month with another 20-to-25 expected to open by year's end. An additional net 63 third-party Skechers stores opened in the second quarter across 26 countries, including the brand's first store in the Dominican Republic. Another 145-to-155 third-party stores are expected to open by year-end. At quarter-end, there were 4,057 Skechers stores worldwide.
The gross margin for the quarter was 51.2 percent of sales, an increase of over 70 basis points versus the 2020 comp quarter and 270 basis points compared to the 2019 Q2 period. Gross margins improved as a result of higher average selling prices across all segments. Compared to 2020, the increase in gross margin was said to be "partially offset by channel mix, including a lower proportion of e-commerce sales and a higher proportion of domestic wholesale sales."
Total operating expenses increased 51 percent to $652.4 million in the quarter versus the prior-year period. Selling expenses in the quarter increased 120 percent year-over-year to $132.4 million but still represented a year-over-year decrease of 30 basis points versus 2020 and a 100 basis point reduction compared to 2019. The dollar increase year-over-year was said to be "primarily due to higher demand creation spending as markets reopened globally."
G&A expenses in the quarter increased 40 percent year-over-year to $519.9 million but decreased as a percentage of sales by almost 20 percentage points. "The dollar increase year-over-year was primarily reflective of increased labor and incentive costs and volume-driven expenses in warehouse and distribution for all our businesses globally," explained Vendemore.
SKX posted an operating margin of 12.1 percent of sales in Q2, up 330 basis points from the 8.8 percent margin in Q2 2019. Net earnings were $137.4 million or 88 cents per diluted share, in the second quarter, compared to a net loss of $68.1 million, or a loss of 44 per diluted share, in Q2 2020. As compared to the second quarter of 2019, net earnings improved 83 percent from $75.2 million, or 49 cents per diluted share.
Turning to the balance sheet, SKX fully repaid its revolving credit facility in Q2, of which $452.5 million was outstanding, and still ended the quarter with $1.32 billion in cash, cash equivalents and investments. This reflects a decrease of $234.5 million, or 15.1 percent from June 30, 2020. Total debt, including current and long-term portions, was $312 million at quarter-end, compared to $763.3 million at June 30, 2020, reflecting the repayment of the revolver during the quarter.
Total inventory at quarter-end was $1.06 billion, an increase of 2.9 percent from June 30, 2020. The increase is said to be "primarily attributable to higher inventories to support growth in Asia."
"Our capital investments remain focused on supporting our strategic growth priorities, growing our direct-to-consumer business and expanding the presence of our brand internationally." outlined Vandermore in his closing statement. "For the remainder of 2021, we expect total capital expenditures to be between $150 million and $200 million."
Weinberg shed more light on its infrastructure growth plans. "To further support our business in the coming year, we are enhancing our infrastructure with new distribution centers in Peru, the UK and Japan, and are looking for a location in India. We have completed our new one and a half million square foot China distribution center, which, as of this month, is fully operational. We are continuing to work on the expansion of our LEED Gold-certified North American distribution center, which will bring our facility in Southern California to 2.6 million square feet in 2022."
Skechers USA Inc. expects its third-quarter 2021 sales to be in the range of $1.6 billion and $1.65 billion and net earnings per diluted share to be in the range of 70 cents and 75 cents. For fiscal 2021, SKX now expects sales to be in the range of $6.15 billion and $6.25 billion and net earnings per diluted share to be in the range of $2.55 and $2.65. The company anticipates that gross margins over the back half of the year will be up compared to the back half of 2019.
Photos courtesy Skechers x Kansaï Yamamoto collection. To learn more, go here.