The Top National stories and the Latest headlines across the Active Lifestyle Market for the week of August 9, 2021 covered in the SGB Updates and delivered to your inbox every business day.
—
This week's Ambassador Athlete is Mustang Survival's Emily Nagel, a professional sailor, who takes her "life = sailing" motto seriously—a reason you won't find her or her sister, Annie Nagel, also a Mustang Survival Ambassador Athlete, far from the ocean.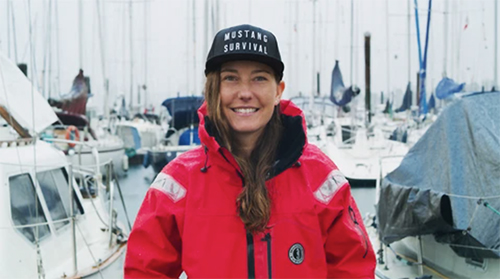 With a Master's degree in Maritime Engineering Science: Naval Architecture from The University of Southhampton, Nagel has sailed around the world on personal and professional races. To learn more about Emily, go here.
—
August 13, 2021
»Wolverine Worldwide Announces Pricing Of Senior Notes
Wolverine World Wide Inc. announced the pricing of its offering of $550 million aggregate principal amount of 4.000 percent senior notes due 2029. Read more
»Mission First Tactical Hires Head of Product Management And Innovation
Mission First Tactical, LLC (MFT), based in Horsham, PA, hired Bobby McGee as its executive vice president of product management & innovation. Read more
»Rally House To Debut Sixth Pittsburgh Location
Rally House will open its sixth store in Pittsburgh, PA this weekend at The Mall at Robinson. This is the second Pittsburgh retail location Rally House has opened in 2021, following Rally House Federal Street near PNC Park. Read more
»Yue Yuen's Revenues Climb 17 Percent In First Half
Yue Yuen Industrial (Holdings) Limited recorded revenue of US$4.81 billion in the six months, representing an increase of 17.7 percent, compared with the corresponding period last year. Read more
August 12, 2021
»Slinger Raises $11M In Private Placement
Slinger announced the completion of a private placement offering. Participating investors in this funding round included small cap-focused investment funds and high-net-worth individual investors. Read more
»Beachbody's Revenues Show Modest Q2 Gain
The Beachbody Co., in its first report since going public, reported total revenue in the second quarter was $223.1 million, a 2 percent increase compared to 2020 and a 21 percent increase compared to 2019.  Read more
»Zappos.com Becomes Abercrombie & Fitch's U.S. E-commerce Partner
Zappos.com and Abercrombie & Fitch announced a partnership to sell Abercrombie & Fitch apparel through Zappos.com. Read more
»Moody's Assigns Ba2 Rating To Wolverine's Proposed Senior Unsecured Notes
Moody's Investors Service assigned a Ba2 rating to Wolverine World Wide, Inc.'s proposed $550 million senior unsecured notes due 2029. Read more
»LeagueApps Announces Partnership With Ripken Baseball
LeagueApps has signed on as the Official Technology Partner of Ripken Baseball. Read more
»Adidas Partners With For Soccer Ventures
For Soccer Ventures (FSV) based in Philadelphia, PA, announced a strategic partnership making Adidas the official athletic apparel sponsor for Verizon Copa Alianza, Ford Copita Alianza, TUDN Alianza Femenil, Alianza 5v5, and Allstate Sueño Alianza. Read more
»Leatt Corp. Sees Q2 Revenues Double
Leatt Corp. reported second-quarter revenues of $14.3 million, up 106 percent, compared to the 2020 second quarter. Net income reached $2.4 million, or 44 cents, up 257 percent year over year. Read more
»New Yamaha Marine Propeller Facility Reaches Full Capacity
The new Yamaha Marine Precision Propeller (YPPI) facility in Greenfield, IN has reached full production capacity, said the brand. The advanced casting facility and foundry use robotics to reduce lead times and increase production by "more than 67 percent" allowing YPPI to deliver "more than 100,000 propellers" to customers annually. Read more
»Adidas Sells Reebok To Authentic Brands For $2.5 billion
Adidas reached a definitive agreement to sell Reebok to Authentic Brands Group (ABG) for a total consideration of up to €2.1 billion, or about $2.5 billion. Read more
»Patagonia To Open First Store In Brooklyn
Patagonia is planning to open its first store in Brooklyn 70 North 6th Street in Williamsburg, according to Commercial Observer. Read more
»Delta Galil Sees 86 Percent Q2 Gain
Delta Galil Industries Ltd. reported a profit against a loss in the second quarter ended June 30. Revenues for the Israeli-based maker of underwear, leisurewear and activewear jumped 68 percent. Read more
»Dillard's Q2 Revenues Surge 72 percent
Dillard's Inc. reported a strong rebound in earnings in the second quarter ended July 31 as sales grew 72 percent. Read more
»SportChek's Same-Store Sales Climb 28.6 Percent In Second Quarter
Canadian Tire Corporation Ltd. reported comparable-store sales at SportChek improved 28.6 percent year-over-year in the second quarter ended July 3. Compared to 2019, comparable sales were up 5.1 percent at SportChek. Helly Hansen's external revenue was $100.6 million, up 45.9 percent year over year. Read more
»Wolverine Worldwide Offers $550 Million Of Senior Notes
Wolverine World Wide Inc. announced that it is offering a $550 million aggregate principal amount of senior notes due 2029. Proceeds will be used to repay other notes. Read more
August 11, 2021
»HanesBrands Announces New Head Of U.S. Champion Brand
HanesBrands announced that Maria Teza has been promoted to senior vice president of the Champion brand in the United States, effective September 1, 2021. Read more
»Rocky Brands Increases Quarterly Dividend
Rocky Brands Inc. announced that its board of directors has approved a $0.015 increase or an approximately 10.7 percent increase. Read more
»5.11 Confidentially Files For IPO
5.11, which is owned by Compass Diversified, announced that it confidentially submitted a draft registration statement on Form S-1 to the Securities and Exchange Commission relating to the proposed initial public offering of its common stock. Read more
»Jordan Footwear VP To Retire
Gentry Humphrey has announced his retirement from Nike Inc., according to a Complex report. He most recently served as the VP of Footwear for the Jordan Brand and has been with Nike since 1994. Read more
»Rapha Closes Custom Apparel Division
Rapha is closing its custom apparel program after three years, according to a report on CyclingTips.com. Read more
»Aviron Raises $4.5M In Funding
Aviron raised $4.5 million in funding. Investors included Samsung Next, Formic Ventures, GFC, and Y Combinator. Read more
»Eotech Appoints Product Manager
Eotech appointed Aaron Hampton to product manager. In this position, Hampton will be the liaison between Eotech's Engineering and Product Management departments and will drive new product opportunities through its phase-gated process. Read more
»Canada Goose Sees Q1 Revenues More Than Double
Canada Goose Holdings Inc. reported a slightly higher loss in the first quarter ended June 27. Revenues vaulted 115.7 percent. Global e-Commerce revenue increased by 80.8 percent. Read more
»RovR Names CEO
RovR announced outdoor industry veteran Chris Sword will be joining the company as its new chief executive officer. Sword joins RovR after most recently serving as president of Bell and Giro. Read more
»V1 Sports Secures Strategic Capital Investment
V1 Sports, the maker of video analysis software and mobile apps, recently closed a round of funding from Black Cat Ventures. Read more
»Thor Industries Adds Board Members
Thor Industries added Christina Hennington and Laurel Hurd to its board. Allen Kosowsky has retired. Read more
»Yue Yuen's July Sales Decline 7 Percent
Yue Yuen's consolidated operating revenue reached $611.3 million in July, down 6.6 percent against $654.4 million a year ago. Read more
August 10, 2021

»Bass Pro To Open Third St. Louis Location
Bass Pro Shops and Cabela's announced plans to open a new store in Sunset Hills, MO. The  75,000-square-foot store will be the outdoor retailer's third location in the St. Louis region. Read more
»Salomon Appoints New President
Amer Sports Corp. announced the planned appointment of Franco Fogliato as president and CEO of Salomon. Fogliato most recently held the position of executive vice president global omnichannel for Columbia Sportswear. Read more
»Seirus' HeatWave Design Found Not To Infringe Columbia's Design Patent
A San Diego jury returned a verdict in favor of Seirus, finding that its HeatWave products do not infringe Columbia's D697,093 patent. Read more
»Vail Resorts Announces CEO And Executive Succession
Vail Resorts Inc. announced that Kirsten Lynch, the company's chief marketing officer, will be appointed CEO and elected to the company's board of directors, effective November 1, 2021. At that time, Rob Katz, the company's current CEO, will be appointed executive chairperson. Read more
»Fanatics Nets $18 Billion Valuation In New Funding Round
Fanatics secured $325 million in new funding as it looks to expand into other business opportunities, including sports sectors such as NFTs, gambling, gaming, ticketing, media, and more. Founder and Executive Chairman Michael Rubin will be taking over the role as CEO of the broader Fanatics company. Read more
»Alterra Names New President & COO Squaw Valley Alpine Meadow
Alterra Mountain Company has hired Dee Byrne as the new president & COO of Squaw Valley Alpine Meadows based in Olympic Valley, CA, effective immediately. Read more
»Aqualung Hires Director, Go-To-Market, North America
Aqualung announced it has hired Kendall Brandau as director, Go-To-Market, North America. Read more
»Prana Appoints Director Of North American Sales
Prana announced the promotion of Christian Castellani to North America sales director. Read more
»Puma Signs Christian Pulisic
Puma has signed Christian Pulisic, the American soccer star, to an endorsement deal. He had been with Nike. Read more
»Slinger Bag Generates $11.2 Million In Annual Sales
Slinger Bag Inc., in its first full year in operation, said it generated gross revenues of $11.2 million on sales of over 20,000 Slinger Bag tennis ball launchers and accessories. Read more
»Report: Filson Reduces Factory Workers
Filson has laid off dozens of factory workers in facilities in Seattle and Kent in recent weeks but rejected speculation in the marketplace that the outerwear maker planned to end production in Washington in the summer of 2022, according to The Seattle Times. Read more
August 9, 2021
»Planet Fitness Sees Q2 Sales Climb 241 Percent
Planet Fitness Inc. reported a profit against a loss in the second quarter ended June 30 as sales recovered against year-ago widespread facility closures tied to the pandemic. The fitness chain also said it added 700,000 net new members since the end of its first quarter, marking six consecutive months of net membership growth. Read more
»Callaway Golf Sees Sales Triple In Second Quarter
Callaway Golf Company reported sales in the second quarter ended June 30 surged 208 percent, boosted by the addition of Topgolf and a nearly doubling of revenues golf equipment and soft goods revenue. Read more
»Nautilus Reports Record Quarterly Sales
Nautilus Inc. reported first-quarter sales in its second quarter ended June 30 jumped 61.7 percent on the strength of sales from its connected fitness bikes and treadmills, like the Bowflex VeloCore bike and Bowflex T22 Treadmill, and robust sales of its SelectTech weights. Read more
»Brooks Running's Revenues Surge In Second Quarter
Brooks Running reported sales during the second quarter rose 75 percent compared to 2020. Read more
»Hibbett Opens Stores In Kansas City And Griffin
Hibbett announced the opening of the first Hibbett Sports location in Kansas City and the opening of a City Gear location in Griffin, GA. Read more
»Nautilus Enters Strategic Partnership With FitOn
Nautilus, Inc. announced a licensing agreement with FitOn to enhance its JRNY member experience by offering off-product workouts accessible via Nautilus' JRNY digital fitness platform and app at no additional charge. Read more
»Nautilus Appoints Chief Legal Officer
Nautilus Inc. announced that it has hired Alan Chan as its chief legal officer effective August 2. It also announced the appointment of Sarah Jones, formerly corporate controller, to principal accounting officer. Read more
»SDS Imports Appoints CEO
SDS Imports announced it has appointed Tim Mulverhill, a 16-year veteran of the firearms industry, as chief executive officer. Mulverhill will be responsible for restructuring the company to expand its domestic manufacturing, drive brand strategy and focus on its import arm. Read more
»Johnson Outdoors' Q3 Sales Climb 54 Percent
Johnson Outdoors Inc. reported net income more than doubled in the first quarter ended July 2 on a 54 percent sales gain. Read more
Photos courtesy Mustang Survival/Emily Nagel