The Top National stories and the Latest headlines across the Active Lifestyle Market for the week of April 26, 2021 covered in the SGB Updates and delivered to your inbox every business day.
This week's Ambassador Athlete is
Meagan Ethell, Professional Wakeboarder, Body Glove and Red Bull Sponsored Athlete
5x Wakeboarding Magazine's Rider of the Year • 4x World Champion • 5x Masters Champion • 4x WWA Overall Champion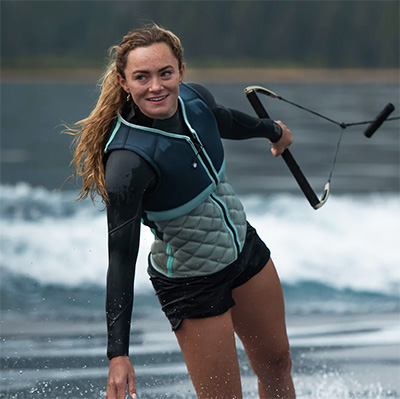 Meagan is wearing her signature competition vest by Body Glove. More product information, here
For more on Meagan, watch here.
—
April 30, 2021 
»Newell Brands' Outdoor & Recreation Segment's Q1 Sales Climb 9.4 Percent
Newell Brands reported its Outdoor & Recreation segment showed a small operating profit in the first quarter ended March 31 as sales increased 9.4 percent. Read more
»Emerald Holding Sees Steep Q1 Revenue Drop
Emerald Holding Inc. reported revenues tumbled 87 percent as results continue to be negatively impacted by event cancellations due to the COVID-19 pandemic. Read more
»SFIA Sets Virtual Conference For November
The Sports & Fitness Industry Association (SFIA) will hold its annual industry event in a virtual format from November 9-11, 2021. The "SFIA Trends & Insights 2021," will feature sports & fitness executives and experts discussing strategic issues and opportunities in a post-pandemic market. Read more
April 29, 2021
»Connected Rowing Machine Maker Ergatta Secures Funding
Ergatta has closed $30 million in Series A funding led by Advance Venture Partners, with participation from Greycroft, Fifth Wall, Gaingels, and Hans Tung (GGV). Read more
»VF Corp's Former CFO Joins Tapestry
Tapestry Inc., the parent of Coach, Kate Spade and Stuart Weitzman., has hired Scott Roe as chief financial officer, effective June 1, 2021. Roe was formerly VF's CFO. Read more
»CODI Sees Q1 Revenues Expand 38 Percent
Compass Diversified (CODI) reported net sales rose 38.4 percent for the first quarter ended March 31 and raised its earnings guidance for the year. The company said it was helped by last year's acquisition of Marucci and BOA. Read more
»Columbia Sportswear Hikes 2021 Outlook On Robust Q1 Results
Columbia Sportswear Company raised its guidance for the year after reporting first-quarter sales and earnings arrived well above Wall Street's targets and seeing healthy early Spring 2021 sell-through and Fall 2021 orders. The first-quarter gains were led by direct-to-consumer e-commerce business, which grew 35 percent year-over-year. Read more
»HanesBrands Names Chief Financial Officer
HanesBrands announced that Michael Dastugue has been named chief financial officer. Most recently, Dastugue was executive vice president and chief financial officer at Walmart U.S. Read more
»L.L.Bean To Open Seven Stores In 2021
Following its strongest fiscal year in nearly a decade,  L.L.Bean announced it will open seven new retail stores across the U.S. and Canada in 2021. These include three stores in the U.S. and four in Canada. Read more
»Academy Sports' Debt Ratings Outlook Raised To Positive
Moody's Investors Service changed its outlook for Academy, Ltd. to positive from stable. The change in outlook to positive from stable reflects Academy's outperformance relative to expectations since the IPO, and the potential for the company to maintain solid credit metrics as demand in the sporting goods category moderates. Read more
»Unifi Announces Strong Third Quarter Results
Unifi Inc. reported earnings on an adjusted basis improved 17 percent on strong improvement in margins and a sales gain of 4.6 percent. Read more
»Camping World Appoints Vice President Of Learning And Development
Camping World Holdings Inc. appointed AnnaMarie Balch Olson as vice president of Learning and Development. Read more
»XS Sights Announces Staff Promotions
XS Sights announced the promotions of Zack Kinsley to vice president of business development and Addison Monroe to marketing manager. Read more
»Coonhound Adds Coverage For Western Canada
Coonhound Sales & Marketing, Canada's outdoor sales agency, hired Shaun Furlong as territory sales manager for Hard Goods covering the western Canadian provinces. Read more
»LifeStraw Expands Leadership Team
LifeStraw expanded its leadership team naming Kelly Neel head of global sales for the outdoor channel and Shannon Randlett head of mass retail. Tara Lundy was promoted to chief brand officer. Read more
April 28, 2021
»Adidas Signs Football Deal With Boston College
Adidas entered a three-year partnership to become the official athletic footwear, apparel and accessory brand of Boston College's football program through the 2023 season. The deal comes after Boston College on April 13 announced a lucrative deal with New Balance to outfit its non-football teams. Read more
»Dillard's Amends And Extends Revolving Credit Facility
Dillard's Inc. announced that it has amended and extended its $800 million senior secured revolving credit facility consistent with the company's liquidity needs. Read more
»Camping World Announces Peer-To-Peer RV Rental Marketplace Launch Plans
Camping World Holdings Inc. announced details surrounding the planned launch of its Peer-to-Peer RV Rental marketplace, marketed as Camping World RV Rentals. Read more
»Hoyt Archery President To Retire
After a 36-year career at Hoyt Archery, Randy Walk, currently president, has announced his retirement, effective September 1, 2021. Read more
»Report: Allbirds Exploring IPO
Allbirds, the San Francisco-based casual footwear and sneaker maker, is in the process of interviewing banks in preparation for an initial public offering, according to a report in the New York Times DealBook. Read more
»Mark Wahlberg Joins Power Plate As Key Stakeholder And Brand Ambassador
Power Plate announced that Mark Wahlberg has officially joined the company as an investor in the parent company, Performance Health Systems, and brand ambassador for Power Plate, known for its body vibration training equipment and programming. Read more
»Gatorade Creates Women's Advisory Board
Gatorade announced its newly formed Gatorade Women's Advisory Board. The board will aim to keep more girls in the game by addressing the societal and cultural barriers that contribute to the attrition of females in sport and an ongoing decline in participation. Read more
»Varsity Spirit Appoints Chief Financial Officer
Varsity Spirit, a division of Varsity Brands, announced the addition of Brett Gora to its executive leadership team as chief financial officer. Read more
»Blizzard-Tecnica Names Principal Sales Rep For Colorado And New Mexico
Blizzard-Tecnica announced it had appointed Charlie Hepburn to cover Colorado and New Mexico as its principal sales rep effective May 1, with Jamie Urbana as an associate rep to service retailers in the territory. Read more
»Shimano Posts Huge Q1 Gains in Bikes, Fishing
Shimano Inc. reported sales grew 64.4 percent in the first quarter. Sales in the Bicycle Components segment jumped 76.3 percent while sales in the Fishing Tackle segment increased 25.6 percent. Read more
»Puma's Sales Jump In First Quarter
Puma reported earnings tripled in the first quarter as sales expanded 25.8 percent on a currency-neutral basis.  On a currency-neutral basis, the gains were led by the Americas, climbing 38.5 percent and led by North America. Asia/Pacific revenues grew 28.8 percent, led by China, while EMEA gained 14.0 percent. Read more
»Garmin's Q1 Revenues Advance 25 Percent
Garmin Ltd. reported sales grew 25 percent in the first quarter ended March 27, led by gains of  38 percent in its Fitness segment, 46 percent in Outdoor and 28 percent in its Marine segment. Read more
»Helen Of Troy's Housewares Q4 Revenues Climb 12 Percent
Helen of Troy Ltd. reported sales in its Housewares segment, which includes Hydro Flask and OXO, increased 12.1 percent in its fiscal fourth quarter ended February 28. The gains were driven by the OXO brand, which benefited from heightened interest in home cooking. Read more
»Winchester's Sales Double In First Quarter
Olin Corp. reported sales at its Winchester ammunition segment for the first quarter 2021 were $389.2 million compared to $188.0 million in the first quarter 2020. Read more
»VF Corp. Enters Into Agreement To Sell Occupational Portion Of Work Segment
VF Corp announced that it has entered into a definitive agreement to sell the occupational portion of its Work segment to a subsidiary of Redwood Capital Investments, LLC. Read more
April 27, 2021
»Cotopaxi Bolsters Team With Strategic Hires
Cotopaxi announced four hires, including Cindy Grönberg Moldin, vice president of brand, Landon John, director of retail, Skylar Stice, director of operations, and Carie Behe, GTM marketing manager. Read more
»NSGA To Host Sporting Goods Rebound Virtual Conference
The National Sporting Goods Association (NSGA) announced plans to host "The Sporting Goods Rebound," a virtual program exploring issues impacting the sporting goods industry as a result of the COVID-19 pandemic. "The Sporting Goods Rebound" will be held on May 19. Read more
»Adidas To Move Basketball Unit To Los Angeles
Adidas has merged its lifestyle and performance units within basketball and is moving basketball operations from Portland, OR to Los Angeles. The moves are expected to better position the brand for growth in the basketball category. Read more
»Pure Archery Hires Southwest Territory Manager
Pure Archery Group has hired Chris Levai as Southwest territory manager for Alaska, Arizona, Colorado, Hawaii, New Mexico, Nevada, Utah. He will represent all Pure Archery brands while supporting dealers from his home in Prescott, AZ. Read more
»Delta Apparel Forms Strategic Partnership With Autoscale.ai
Delta Apparel Inc. announced a strategic partnership with Dallas-based Autoscale.ai to integrate its technology that automates the product design, marketplace listings and advertising management for online retail. Read more
»Macy's Debt Rating Outlook Revised To Positive
S&P Global Ratings revised its debt rating outlook on Macy's to positive from negative on encouraging signs that an accelerating economic recovery is emerging. S&P said it believes operating conditions for apparel retailers are "fast improving." Read more
»Planet Fitness Appoints SVP Of Corporate Club Operations
Planet Fitness Inc. announced that Mary Bradley has been appointed Senior Vice President of Corporate Club Operations, effective immediately. Read more
»Retro Fitness Opens New Headquarters
Retro Fitness has opened its new corporate headquarters and support center at 1601 Belvedere Rd., West Palm Beach in Florida. The new location was a strategic relocation for the brand amid its 15th year anniversary. Read more
»Supersapiens Closes $13.5 Million In Early-Stage Funding
Supersapiens announced a $13.5 million capital raise led by MICA Ventures AG. The energy management ecosystem, powered by Abbott's Libre Sense Glucose Sport Biosensor, has secured one of the largest investment in the sports continuous glucose monitoring (CGM) space, garnering investment from fitness and performance brands including the founder of Zwift and Wahoo. Read more
»Fitness International Launches Fitness App
Fitness International, LLC, the operator of LA Fitness, Esporta Fitness and the City Sports Club brands, announced plans to offer its members Openfit, a digital streaming platform that integrates fitness, nutrition, and wellness. Read more
»Duluth Trading Appoints President And CEO
Duluth Trading Company appointed retail industry veteran Sam Sato as president and chief executive officer, effective May 3, 2021. Sato was most recently CEO of The Finish Line. Read more
»New Wave Group's Sales Climb 12 Percent In Q1
New Wave Group AB reported a profit against a loss in the first quarter. Sales grew 12 percent in the first quarter. Read more
»Crocs' Q1 Revenues Vault 64 Percent
Crocs, Inc. reported sales catapulted 64 percent in the first quarter and said it now expects sales for 2021 to climb between 40 percent and 50 percent. Earnings in the first quarter increased over six-fold. Read more
April 26, 2021
»New Balance Signs Boston Celtics Aaron Nesmith
New Balance signed Boston Celtics rookie, Aaron Nesmith, to a multi-year sponsorship deal, representing the brand's fifth NBA player endorsement since returning to the sport of basketball in 2019. Read more
»Backcountry Appoints New CFO
Backcountry.com announced the hiring of Jim Bell as its new chief financial officer, effective April 19, further strengthening Backcountry's leadership team as it capitalizes on growth in e-commerce while preparing to expand its brick & mortar retail footprint. Read more
»REI To Relocate Mountain View Store To Sunnyvale
REI Co-op, which has over a dozen locations in Northern California, will relocate its Mountain View, CA store to Sunnyvale in fall 2021. Read more
»Emerald Launches B2B E-commerce Platform
Emerald Holding Inc. announced the launch of its Digital Market B2B e-commerce platform that supports product sourcing and ordering across a broad range of brands. The platform also provides a more streamlined and collaborative buyer/supplier experience at its in-person events, including Outdoor Retailer and Surf Expo. Read more
»Hockey Dealers Association Partners With American Special Hockey Association
The Hockey Dealers Association (HDA), a division of the National Sporting Goods Association (NSGA), announced a partnership with the American Special Hockey Association (ASHA) to establish opportunities for both organizations to build connections and grow the industry. Read more
»Mammut Acquired By Telemos Capital
Swiss holding company Conzzeta announced that it reached an agreement to sell Mammut to financial investor Telemos Capital. Read more
»Unilever To Acquire Onnit
Unilever announced that it has signed an agreement to acquire Onnit, a maker of wellness supplements based in Austin. Read more
»Camping World Acquires Nomad Reservations
Camping World Holdings Inc. announced the acquisition of Nomad Reservations, the online campground reservation and management system marketed as CampgroundBooking.com. Read more
»Heelys Sold To BBC International
Sequential Brands Group Inc. announced that it has closed on the sale of its Heelys brand to BBC International for $11 million in cash proceeds. Read more
»Golf Rounds Played Surge In March
Golf rounds played in the U.S. jumped 45.3 percent for the month of March, according to Golf Datatech. Read more
Photos courtesy Meagan Ethell/Body Glove