The Top National stories and the Latest headlines across the Active Lifestyle Market for the week of July 5, 2021 covered in the SGB Updates and delivered to your inbox every business day.
—
This week's Ambassador Athlete is Big Agnes' Krystle Wright, Adventure Photographer.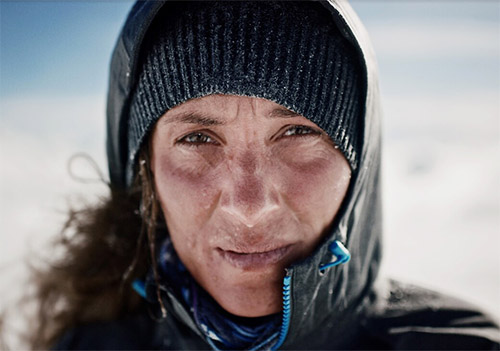 Wright calls the road—worldwide—her home as she pursues adventures and expeditions with her camera in hand. To learn more about Krystle, go here.
—
July 9, 2021
»Retail Cargo Continues To See Double-Digit Increases Over 2020
Imports at the nation's largest retail container ports are continuing to show double-digit growth over last year as strong consumer demand keeps up its momentum, according to the monthly Global Port Tracker report released by the National Retail Federation. Read more
»Fierce Firearms Appoints West Coast Representation
Fierce Firearms, based in Redmond, UT, announced the addition of the Total Sales & Marketing Sales Group to its team. Read More
»Davidson's Welcomes East Coast Sales Manager
Davidson's welcomed Katie Martin as their East Coast Sales Manager. Read more
»Salt Life Announces New Coastal Retail Locations
Delta Apparel Inc. announced new retail store openings for its Salt Life brand. Storefronts in Myrtle Beach, SC, and Galveston, TX, are expected to open later this year. Read more
July 8, 2021

»Anta Group Sets Five-Year Growth Plan
Anta Group announced its five-year strategic targets and a 24-month acceleration plan "Lead to Win" for its Anta brand. Read more
»Legion Partners Scores Glass Lewis Nod for Two Genesco Candidates
Legion Partners, the activist shareholder group, received a third party recommendation in its proxy war with Genesco as Glass Lewis endorsed the investment firm's director nominees Dawn H. Robertson and Hobart P. Sichel. Read more
»Slinger Bag Appoints New CFO
Slinger Bag Inc. announced the appointment of Jason Seifert as its new chief financial officer. Read more
»OIA Appoints COO And Director Of Research
Outdoor Industry Association (OIA) appointed Arlene Charles as chief operating officer and Kelly Davis as director of research. Read more
»Michael Avenatti Sentenced To 30 Months In Prison In Nike Extortion Case
Michael Avenatti, the celebrity lawyer, was sentenced Thursday to 30 months in prison for trying to extort up to $25 million from Nike by threatening the company with bad publicity. Read more
»Anta Sees Strong Growth For Second Quarter
Anta said retail sales, in terms of retail value, of Anta branded products for the second quarter of 2021 recorded 35-to-40 percent positive growth compared to the same period of 2020. Read more
»PowerHandz Announces Merger And Partnership With LaMelo Ball
Athletic training equipment maker PowerHandz announced a merger with PH Innovation Holdings, Inc. and partnership with NBA 2021 Rookie of the Year and Charlotte Hornets Guard, LaMelo Ball. With this partnership, Ball will serve as a general partner, brand ambassador and board member of PH Innovation Holdings. Read more
»St. Croix Rods Announces New Hires
St. Croix Rods announced it hired Savannah Stenlund as angler engagement coordinator and Charles Cunningham as IT manager. Read more
»Licensing Expo Virtual Announces 2021 Agenda
Licensing Expo Virtual, in partnership with industry trade association Licensing International, announced the agenda for its 2021 virtual event on August 24-26. Read more
»X2 Performance Raises $16M In Funding
New York Giants running back Saquon Barkley has invested in X2 Performance, a non-carbonated energy drink brand and comes as part of a $16 million Series D raise led by previous investor L Catterton, a private equity firm backed by LVMH. Read more
»Camping World Announces Strategic Investment In Happier Camper
Camping World Holdings Inc. announced a strategic investment in Los Angeles-based, Happier Camper, Inc., the developer of the modular van conversion system, Adaptiv for vans. Read more
»The Buckle's June Sales Climb 18 Percent
The Buckle Inc. announced that total net sales for the 5-week fiscal month ended July 3, 2021 increased 17.8 percent to $111.7 million. Read more
»PGA Tour Champions Announce Three-Year Extension For Dick's Sporting Goods Open
The Dick's Sporting Goods Open has been extended for three years and will continue at En-Joie Golf Club through at least 2024, PGA Tour Champions and Dick's Sporting Goods jointly announced. Read more
»Oros Closes $14.5 Million Series A Funding Round; Adds Board Members
Oros announced $14.5 million in a Series A funding round led by Elizabeth Street Ventures and Enlightenment Capital. Rachael Ulman and Hap Klopp have joined Oros' board. Read more
»Helen of Troy's Houseware Sales Climb 38 Percent
Helen of Troy Ltd. reported housewares segment revenue increased 37.7 percent in the fiscal first quarter ended May 31 to $193.6 million. Growth was primarily driven in part by an increase in brick and mortar sales for both OXO and Hydro Flask due to the favorable comparative impact of store closures and reduced store traffic in the prior-year period. Read more
July 7, 2021

»GOA Adds Vendor Partners; Expands To 196 Retail Doors
Grassroots Outdoor Alliance (GOA) has added five retail members, including Big Agnes and Osprey, as vendor partners. Read more
»ABG To Undergo Credit Review With Positive Implications After IPO Filing
S&P Global Ratings said it placed the debt ratings of Authentic Brands Group (ABG) under review for a possible upgrade after the brand licensing powerhouse filed for an initial public offering. Read more
»REI To Open Second Location In Missouri
REI will open a new store in Spring 2022 in Town and Country, MO. Since 2001, the outdoor retailer has had a store presence in St. Louis. Read more
»BSN Sports Acquires Connecticut's Billings Sports
BSN Sports, a division of Varsity Brands, has expanded its Connecticut sales operations with the addition of the Billings Sports sales team. Read more
»Asobi Ventures Acquires Majority Stake In Cinelli And Columbus Cycling Brands
Asobi Ventures Inc., the family investment vehicle of Victor Luis, announced that it had acquired a majority share in Gruppo Srl, the parent company of Italian bicycle manufacturer Cinelli and tube manufacturer Columbus. Read more
»Colnago Appoints CEO
Italian road-racing bike manufacturer Colnago announced that Nicola Rosin has been appointed CEO of Colnago Ernesto & C. S.r.l. and the associated company, Colnago America. Read more
»PacSun Enters Sneaker Resale Business
Pacific Sunwear of California has launched into the sneaker resale market with PS Reserve. Read more
»Küat Racks Adds Second Distribution Facility In California
Küat Innovations, Inc., a Springfield, MO-based maker of Küat Racks, has added a second distribution facility in Gardena, CA. Read more
»Arena Innovation Secures $5.2M In Funding
Connected fitness company Arena Innovation Corp. announced that it has secured $5.2 million in seed financing to support the launch of its strength training product. Several notable sports, fitness, and technology investors participated in the funding round, including major contributions from Courtside Ventures, Powerhouse Capital, and Wellness Holding, the investment office of the founders of Technogym Read more
»Belk Announces Promotions Within Senior Leadership Team, Including New CEO
Belk announced several promotions within the company's senior leadership, most notably the promotion of Nir Patel to CEO. Lisa Harper, who served as Belk's CEO dating back to July 2016, has transitioned to Executive Chair of the Belk Board of Directors. Read more
»The Ironman Group Appoints Chief Digital Officer
The Ironman Group announced the addition of Roshanie Ross as the company's new chief digital officer. Read more
»Hoyt Archery Appoints President
Hoyt Archery announced that Zak Kurtzhals has been named the new company president. Currently Hoyt's VP of operations, Kurtzhals will succeed Randy Walk, effective July 19. Read more
»Authentic Brands Group Files For IPO
Authentic Brands, which owns a number of fashion and sports brands, filed for an initial public offering. Read more
»Wahoo Fitness Secures Investment
Rhône, a private equity firm, announced an agreement to make a significant equity investment in Wahoo Fitness, the technology start-up for indoor cycling and endurance training. As part of this transaction, Wahoo founder and Chairman Chip Hawkins and the company's management team, including Chief Executive Officer Mike Saturnia, will make significant reinvestments alongside Rhône. Read more
»Skylotec Acquires Climbing Technology
Skylotec, based in Neuwied, Germany, has acquired Climbing Technology, a European manufacturer of carabiners. Read more
»Infinited Fiber Co. Raises €30 Million
Finnish circular fashion and textile technology group Infinited Fiber Co. has secured investments totaling €30 million in its latest financing round completed on June 30. The round also brought Infinited Fiber new investors, Adidas, Invest FWD A/S, which is Bestseller's investment arm for sustainable fashion and investment company Security Trading Oy. Read more
June 6, 2021

»Phil Knight Donates Another $500 Million To The University Of Oregon
Nike's Co-founder Phil Knight and his wife Penny have given a second $500 million donation to his alma mater, The University of Oregon. The donation will help the University launch the second phase of the Phil and Penny Knight Campus for Accelerating Scientific Impact. Read more
»RPM Training Closes Series A Funding Round
Active lifestyle brand RPM Training Co. announced the closure of a Series A funding round led by Partnership Capital Growth (PCG) and KC/LLC. Cambridge SPG, FitLab, and Mana Ventures also participated in the round. Read more
»Logo Brands Partners With University Of South Carolina
Logo Brands Inc. has entered into an exclusive five-year licensing agreement with the University of South Carolina. Read more
»Shareholder Advisory Firm Backs Genesco's Board Picks
Genesco Inc. said that Institutional Shareholder Services (ISS), an independent provider of proxy research and vote recommendations to the institutional investment community, has recommended that Genesco shareholders vote for all nine of the company's director nominees at Genesco's annual meeting on July 20. Legion Partners, the activist shareholder group, described ISS's recommendation as "contradictory" and continued to push for changes to the board. Read more
»IHRSA Welcomes Active Entities As Industry Partner, Supports Event
IHRSA announced that Active Entities Consulting in Marblehead, MA has joined the Association as an Industry Partner. Active Entities will work with IHRSA to create grassroots support for the GYMS (Gym Mitigation and Survival) Act and other industry initiatives. Read more
»Hibbett Sports Opens Stores In North And South Carolina
Hibbett Sports opened a Hibbett Sports location in Garner, NC and a City Gear in Beaufort, SC. Read more
»CrossFit Names Former Nike Executive As President
CrossFit LLC announced the appointment of former Nike executive Jason Dunlop as president. Dunlop, who also held senior roles at Starbucks and The Gap, will accelerate CrossFit's global growth. Read more
»Camber Hires Chief Development Officer
Camber announced that Tiffany Smith had joined the company as Chief Development Officer. Read more
»Camping World Continues Expansion With Vermont Acquisition
Camping World Holdings Inc. announced a land acquisition agreement for TC's RV dealership in St. Albans City, VT. This location will be the retailer's first facility in the state of Vermont. Read more
»Volcom Operating Group To Pick Up Spyder License
Authentic Brands Group (ABG) announced the transition of its core licenses for Spyder to Liberated Brands, the parent of Volcom surf and skateboard label. ABG also plans to appoint new license partners for Frye. Read more
July 5, 2021

»SoleSavy Announces Series A Funding
SoleSavy announced it has raised $12.5 million in Series A funding, led by Bedrock Capital. The community-based sneaker startup will use the funding to launch a peer-to-peer member marketplace this fall and expand overseas. Read more
»USA Football Partners With BSN Sports
USA Football announced new partnerships with BSN Sports and Profound Insurance Programs to help lower costs for youth football organizations nationwide through its grant program. Read more
»Puma Signs First First NHL Player
Puma has signed a long-term agreement with NHL All-Star Leon Draisaitl, who will become the first NHL player to join the company as a brand ambassador. Read more
»The Renewal Workshop Closes $6 Million Round
The Renewal Workshop announced a $6 million financing round. The round includes Rubio Ventures, Shift Invest, Quadia, Closed Loop Partners, Gratitude Railroad, Portland Seed Fund, Fashion for Good, Doen, Mosiaco Management, Mistletoe, and Volta Circle. Read more
Photos courtesy Big Agnes/Krystle Wright