While retail sales of new outdoor gear boomed during the pandemic, cash registers also rang for secondhand gear at brick and mortar, online and from manufacturers' efforts to resell used equipment. 
According to Jungle Scout's 2021 Consumer Trends Report, a quarterly study of 1,000 U.S. consumers, nearly 32 percent of respondents reported looking for pre-owned gear online, with 44 percent responding that they've purchased or sold used equipment online over the past 12 months. While 66 percent of respondents used Amazon for their secondhand purchases, other online sites also saw robust returns.
Switchbackr, an online marketplace for used gear, reported record sales over the past season as tighter belts have loosened pocketbooks when it comes to sales.
The trend has also trickled down to the smaller independent retail level.
Aspen, CO's Replay Sports reported sales were up at least 20 percent during the pandemic year. "I think people got cabin fever during the lockdown, and when we reopened, they were ready to check out any alternative activities available," said Owner Bradley Jasicki, reporting AT gear and bicycles at the top of its used gear list. "Really any sporting goods that could be used while social distancing sold well."
Inventory issues plaguing manufacturers, he added, have also helped the category. "We've seen more traffic due to the shortages of new retail items," he said. "Some bike parts won't be available until summer 2022, so people are willing to try used gear rather than wait."
Larger retailers like REI have also noticed a bump in used gear sales. Its growth is coming on the heels of the efforts made to get consumers to upcycle and purchase used gear through its revamped "recommerce" program, first launched in 2018. Despite a challenging retail environment, it reported its online used gear business is up nearly 100 percent compared to last year in part due to demand from millennials who prioritize renting or purchasing used over buying new.
REI also recently piloted two used-gear pop-up stores in Manhattan Beach, CA, and Conshohocken, PA; launched a trade-in program to give members more ways to buy and share used gear at friendlier price points; and debuted a program letting its members return gently used gear in exchange for REI gift card credit to keep products from ending in a landfill.
"Our recommerce business continues to exceed expectations," said Ken Voeller, REI recommerce manager. "It's an opportunity to introduce our members to more outdoor activities through lower-priced products, and it helps reduce REI's overall impact on the environment."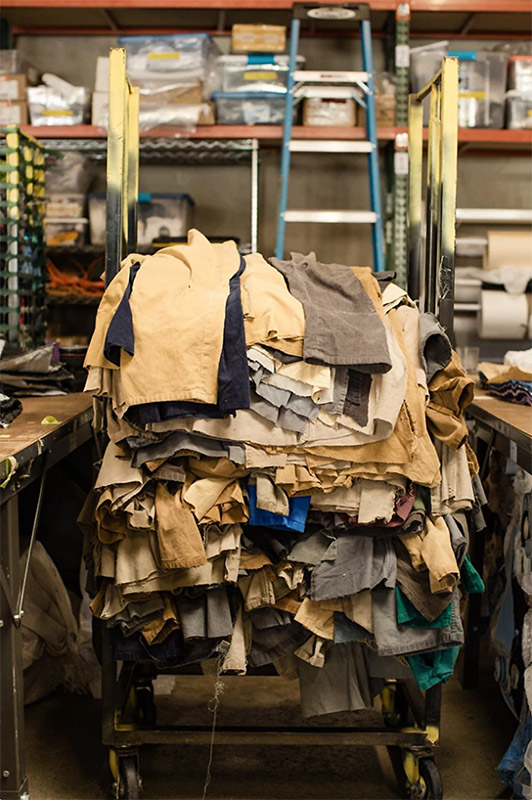 Other manufacturers are also capitalizing on the trend.
"What we see in the used/resale space is what everyone else is-interest and increased comfort among customers buying and selling used gear," said Alex Kremer, Patagonia's recommerce director who also heads up its Patagonia Worn Wear program. "We had our best year of used sales by a wide margin, which represents people's comfort buying, selling and wearing used apparel. I don't foresee this coming down anytime soon, and we remain focused on making sure our community knows that if they have used gear that they're not using, we'll buy it back and make it available for someone else to use."
Joining REI and Patagonia's Worn Wear program is The North Face's Renewed program, featuring "refurbished clothing remade to explore"; and the Rock Solid program by Arc'Teryx, similar to Patagonia's Worn Wear program, featuring used outdoor clothing, accessories and packs. Joining these programs is a Gear Swap page at Canada's Mountain Equipment Co-op (MEC), online used gear portals like GearTrade and ReRouted.
The secondhand buying trend is booming in the apparel sector as well.
ThredUp, an online resale platform for women's and kids' apparel, shoes, and accessories, recently released its 2021 Resale Report, which estimated that the secondhand market would double in the next five years, reaching $77 billion. And the pandemic helped fuel it. More than 33 million consumers purchased secondhand apparel for the first time in 2020, and 76 percent of those first-time buyers plan to increase their spend on secondhand apparel in the next five years.
Apparel or outdoor gear, consumers have shown they're not put off buying used, whether it's online or at the grassroots, mom-and-pop, brick and mortar level, where retailers see the sector going nowhere but up.
"I think the trend will continue," said Replay Sports' Jasicki. "We had a lot of new customers this year who were new to secondhand shopping for outdoor gear, and I think they'll return and pass along the word."
Photos courtesy Patagonia Worn Wear