The Top National stories and the Latest headlines across the Active Lifestyle Market for the week of April 26, 2021 covered in the SGB Updates and delivered to your inbox every business day.
—
This week's Ambassador Athlete is Kimi Werner
Professional Freediving Spearfisherwoman and Patagonia, Yeti, OluKai, and Costa sponsored athlete.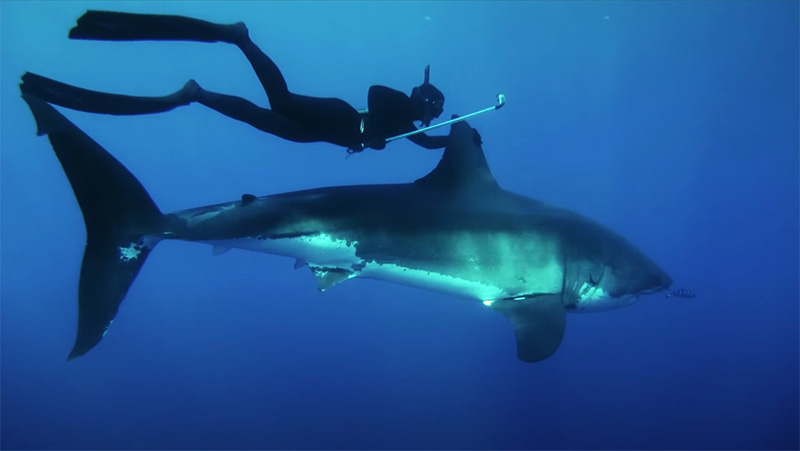 Here, a still shot of Kimi connecting with the dorsal fin of a Great White, the "biggest Great White I had ever seen." The moment confirmed for her that "we are all so vulnerable and so dependent on one another and that we have to take care of each other."
To watch the full video click on the photo above, or go here.
For more on Kimi, go here.
—
May 7, 2021
»Report: Icebreaker To Undergo Restructuring
Icebreaker plans to eliminate from 40-to-50 jobs in its home country of New Zealand in a reorganization designed to better support global growth, according to the NZ Herald. Read more
»Dorel Sports Q1 Revenues Jump 44 PercentDorel Industries Inc. reported that its Dorel Sports' segment increased 43.6 percent in the first quarter as continued strong global demand for bikes offset supply chain challenges. Read more
»Johnson Outdoors' Quarterly Sales Climb 26 Percent
Johnson Outdoors Inc. reported earnings rose 36.3 percent in the second quarter ended April 2 on a 26 percent sales gain. Read more
»Adidas Lifts Sales Guidance Despite Lockdowns, Supply Chain Issues
Adidas raised its 2021 sales outlook as first-quarter revenues grew 27 percent on a currency-neutral basis and profits returned to near pre-pandemic levels. Across the company's three strategic markets, currency-neutral sales expanded at a triple-digit rate in Greater China (+156 percent) in the first quarter and increased in the high-single-digits in both North America (+8 percent) and EMEA (+8 percent). Read more
»Fitness Ring Maker Oura Raises $100M
Oura Health, the health tech company behind Oura Ring, has completed a Series C funding round totaling $100 million. Read more
May 6, 2021
»J.C. Penney Cuts 650 Jobs
J.C. Penney has eliminated about 650 jobs in an effort to adjust "our structure to better meet our strategic priorities," according to a company statement. The job cuts followed an operational review by new owners Simon Property Group and Brookfield Asset Management. Read more
»Fox Factory's Sales Climb 53 Percent
Fox Factory Holding Corp. reported earnings more than doubled in the first quarter ended April 2 as sales jumped 52.5 percent. Read more
»GoPro's First-Quarter Sales Surge 71 Percent
GoPro Inc. reported a reduced loss in the first quarter as sales soared 71 percent. Read more
»Peloton's Q3 Sales Climb 141 Percent
Peloton Interactive significantly shrunk its loss in the third quarter ended March 31 as sales surged 141 percent. Read more
»Delta Apparel's Q2 Sales Rose 12 percent
Delta Apparel Inc. reported earnings tripled in the second quarter ending April 3 on a 12 percent sales gain. Read more
»Gainline Capital Partners Acquires Galaxy Universal
Gainline Capital Partners announced that it has formed Galaxy Universal LLC., which owns and licenses a number of footwear brands. Read more
»Puma Appoints New CFO And Chief Commercial Officer
Puma has appointed Hubert Hinterseher as its new chief financial officer and Arne Freundt as its new chief commercial officer starting June 1. Read more
»Vista Outdoor's Q4 Sales Expand 40 Percent
Vista Outdoor Inc. reported sales grew 40 percent in the fourth quarter ended March 31. In its two segments, sales of Outdoor Products were up 47 percent while Shooting Sports gained 37 percent. Read more
»RV Retailer Acquires Marlin Ingram RV In AlabamaRV Retailer LLC announced the acquisition of Marlin Ingram RV, a Tiffin dealership located in Alabama. Read more
»Buckle's Comps Increase More Than Seven-Fold In April
Buckle Inc. announced that total net sales for the 4-week fiscal month ended May 1, 2021 increased 718.0 percent to $93.6 million from net sales of $11.4 million for the prior year 4-week fiscal month ended May 2, 2020. Read more
»Academy Sports Announces Pricing Of Secondary Offering
Academy Sports + Outdoors Inc. announced the pricing of the previously announced underwritten secondary offering by certain of its stockholders, including affiliates of Kohlberg Kravis Roberts & Co. L.P., of 14 million shares of common stock. Read more
»Black Diamond Equipment Appoints Business Unit Director For Apparel
Black Diamond Equipment, a brand of Clarus Corporation, appointed Anthony Rivera as its business unit director for its apparel category. Rivera was the former senior manager of merchandising for Arc'Teryx. Read more
»Original Penguin And Grand Slam Announce Apparel Partnership With USA Pickelball
Original Penguin by Munsingwear and Grand Slam brands, (divisions of Perry Ellis International), have signed an extensive, multi-year partnership with USA Pickleball. Read more
»Acushnet Holdings' Sales Climb 42 Percent In First Quarter
Acushnet Holdings Corp. reported significant improvement in earnings in the first quarter ended March 31 as sales grew 42 percent. Revenues for the parent of Titleist and Footjoy grew 34 percent on a currency-neutral basis. Read more
May 5, 2021
»Sturm, Ruger's Sales Climb 49 Percent In First Quarter
Sturm, Ruger & Company, Inc. reported sales grew 49.2 percent in the first quarter to $184.4 million from $123.6 million a year ago. Read more
»Hydro Flask Expands Into Latin America
Hydro Flask, a Helen of Troy Limited brand, is expanding its global presence in the Latin American market through distributor arrangements. Read more
»Gildan Activewear Sees Q1 Sales Climb 28 Percent
Gildan Activewear Inc. reported a profit against a loss in the first quarter as revenues climbed 28.4 percent. Said Gildan President and CEO, Glenn Chamandy. "While large events have not yet restarted, we continue to be encouraged by the strength of our imprintables business and on the retail side we were pleased with strong double-digit growth in underwear and activewear sales." Read more
»Camping World To Acquire Hilmerson RV In Minnesota
Camping World Holdings Inc. announced the expansion of its business presence in the Minnesota market with an agreement to acquire Hilmerson RV in Little Falls. Read more
»Royal Robbins To Open Retail Store in Seattle
Royal Robbins has accelerated its retail expansion plans and announced that its first retail store in downtown Seattle would open on May 7. Read more
»Penn Athletics Renews Relationship With Nike
The University of Pennsylvania Division of Recreation and Intercollegiate Athletics and Nike have reached an agreement on a new five-year contract that will keep the Quakers in Nike through the 2025-26 athletic year. Read more
»Report: Adidas Launches Auction For Reebok
Adidas has launched the auction to sell its Reebok brand with the first round of bids to be submitted next week, according to a report from Reuters. Read more
»MarineMax Acquires Cruiser Yachts
MarineMax has purchased Cruisers Yachts of Oconto, WI, which builds boats from 33 feet to 60 feet. (Read more)
»Peloton Recalls Tread+ And Tread
In a major reversal, Peloton reached an agreement with the U.S. Consumer Product Safety Commission (CPSC) to recall both its Tread+ and Tread treadmills. The recall, involving 126,000 treadmills, came after Peloton defended the treadmills after a child died in an accident linked to a Tread+. Peloton CEO John Foley issued an apology for not cooperating sooner to resolve the issue. Read more
»Gap Inc. Plans To Sell Intermix
Gap Inc. has entered into an agreement to sell Intermix, its upscale apparel chain, to private equity firm Altamont Capital Partners. (Read More)
»2022 Running USA Industry Conference Returns To Orlando
The 2022 Running USA Industry Conference, presented by Race Roster, will be a live event to take place February 20-22, 2022, returning to the Coronado Springs Resort at Walt Disney World in Lake Buena Vista, FL. Read more
»GCI Outdoor Acquired By MacNeill Pride Group
MacNeill Pride Group (MPG) has acquired GCI Outdoor (GCI), the designer of portable outdoor recreation equipment. MPG's brands include ORCA, PrideSports, CHAMP, Pride Golf Tee and Professional Tee System. Read more
»Bogs' Sales Climb 32 Percent In First Quarter
Weyco Group, Inc. reported North American wholesale sales for the Bogs outdoor brand rose 32 percent in the first quarter of 2021, as consumers continue to spend more time outdoors during the pandemic. Bogs also saw strong online sales. Read more
»Berghaus Appoints Global Brand Director
Berghaus has appointed Charlie Pym as its global brand director responsible for global product and marketing for the brand. He joins Berghaus from the cycling category, having been the marketing director of McLaren's Pro Cycling program, which launched Team Bahrain McLaren. Read more
»New Balance Appoints EMEA Chief, Fran Allen To Retire
New Balance appointed Mathias Boenke as senior vice president, EMEA (Europe, Middle East and Africa). Fran Allen, current SVP of EMEA, will retire at the end of 2021. Read more
»Signa Sports Acquires Tennis Express
Signa Sports United (SSU) announced a binding agreement to acquire Tennis Express, an online tennis retailer in the United States. Read more
May 4, 2021
»Canada Goose To Open At South Coast Plaza
This fall, Canada Goose will open its first store in California, at the South Coast Plaza Mall, where it will house its first Snow Room in the United States. Read more
»World Gym International Appoints Franchise Business Coach
World Gym International has appointed Jared Deptula as its franchise business coach. Deptula was the general manager of Chelsea Piers in Manhattan, NY. Read more
»Ames Watson Acquires South Moon Under
An affiliate of investment holding company Ames Watson is acquiring the Annapolis, MD-based surf chain, South Moon Under. Ames Watson acquired the Lids hat chain two years ago. Read more
»Rocky Brands Sees 57 Percent Q1 Sales Surge
Rocky Brands Inc. reported earnings catapulted 278.1 percent on significantly higher margins and a 57 percent revenue gain. Read more
»Big 5 Posts 32 Percent Q1 Comp Gain
Big 5 Sporting Goods Corp. reported same-store sales jumped 31.8 percent in its first quarter ended April 4, well above guidance calling for a gain of 20 percent. Earnings likewise soared and came in about double guidance. Read more
»Dick's SG Announces Grand Opening Of Four Stores
Dick's Sporting Goods will expand its nationwide footprint with the grand opening of one Dick's Sporting Goods location, one Warehouse Sale location and two locations of a new off-price store concept—Going, Going, Gone!—in May. Read more
»American Outdoor Brands Appoints Chief Marketing Officer
American Outdoor Brands Inc. announced that Curtis Smith has been named chief marketing officer. In this newly created role, Smith will lead the company's marketing, brand management, creative, e-commerce, and customer service teams. Read more
»Camping World Sees Q1 Revenues Climb 52 Percent
Camping World Holdings Inc. reported a profit against a loss in the first quarter as sales ran up 51.6 percent. The retailer raised its guidance for the year. Read more
»Firearms Background Checks Show Slight Gain In April
NICS Adjusted Background Checks increased 0.9 percent in April to 1.69 million from 1.68 million a year ago. NSSF said the amount was the highest April on record. Read more
»Burton Appoints Chief Business Officer
Burton appointed Elysa Walk, previously Burton's SVP of Americans and International, as its first chief business officer. Read more
»Academy Sports Sees First-Quarter Same-Store Sales Surge 39 Percent
Academy Sports + Outdoors, Inc. reported preliminary results for its first-quarter showing comparable sales jumped 38.9 percent during the thirteen-week period ended May 1. Read more
»Bloom Sustainable Materials Appoints New President And CEO
Bloom Sustainable Materials has appointed footwear components veteran Chuck Mason as president and CEO of Algix, LLC and the Bloom brand of sustainable materials used in footwear and other consumer products. Mason previously worked with W.L. Gore. Read more
»Brooklyn Boulders Appoints New CEO
Brooklyn Boulders announced the appointment of a new CEO, Martin Adler. Adler previously served as Brooklyn Boulders vice president of strategy & growth before becoming its interim CEO in August 2020. Read more
»Under Armour Lifts Outlook After Q1 Tops Wall Street Targets
Under Armour raised its guidance and now expects a net profit for 2021 after reporting first-quarter results that topped Wall Street's targets. Sales in the first quarter rose 35 percent. Read more
»Under Armour To Pay $9 Million To Settle SEC Revenue Probe
Under Armour agreed to pay $9 million in fines as part of a settlement of an investigation by the Securities and Exchange Commission. The case related to misleading its revenue growth to investors from the third quarter of 2015 through the fourth quarter of 2016, the agency said Monday. Read more
May 3, 2021
»Gaia Sees 30 Percent Revenue Gain
Gaia Inc. reported a 30 percent increase in revenues in the first quarter as it crossed the 750,000-member milestone. The quarter marked the company's third sequential quarter of positive earnings and cash flow. Read more
»Smith & Wesson Looks To Divest Thompson/Center Arms Brand
Smith & Wesson Brands Inc. announced that it plans to divest its Thompson/Center Arms brand. This decision is part of the company's broader strategic plan that will focus on its core Smith & Wesson brands. Read more
»Academy Sports Announces Secondary Stock Offering
Academy Sports and Outdoors Inc announced that certain of its stockholders, including affiliates of Kohlberg Kravis Roberts & Co. L.P., intend to offer for sale in an underwritten secondary offering 14 million shares of common stock of Academy. Read more
»Rocky Mountain Appoints Chief Product Officer
Rocky Mountain welcomed Alex Cogger as chief product officer on the Executive Committee. Read more
»Business Of Esports And YouGov Announce Data Partnership
Gaming business media outlet Business of Esports and YouGov announced a new partnership, making YouGov the Business of Esports' exclusive research and data analytics partner. (Read More)
»BSN Sports + Under Armour Partner With Delmarva Aces Baseball Organization
The Delmarva Aces baseball organization today announced it had signed an agreement with BSN Sports, a division of Varsity Brands, to outfit its athletes and coaches in Under Armour gear beginning this summer. Read more
»Wilson Announces Five-Year Partnership With CIF-SS
Wilson Sporting Goods Co. entered into a five-year partnership to become the Official Championship Ball in the CIF Southern Section (CIF-SS) sports of football, boys and girls basketball and boys and girls soccer with the 2021/22 school year. Read more
»Report: On Exploring Initial Public Offering
On AG, the Swiss running shoe maker, is preparing to go public with a potential U.S. stock market listing as early as this fall, sources told Reuters. The deal reportedly aims to value the firm at about $5 billion. Read more
»Catch Co. Closes $38 Million Series B Funding Round
Catch Co. announced that it had closed a $38 million Series B funding round led by Silicon Valley venture capital firm True Ventures with participation from Chicago-based prior investor TechNexus. To date, the fishing brand, content and commerce platform has raised $56 million in total funding. Read more
Photos and video courtesy Kimi Werner