By Eric Smith
Marcus Lemonis and the rest of the executive team at Camping World Holdings Inc. are happy to put 2019 behind them.
That's because last year the company's leadership orchestrated a "significant shift" in its business model, one in which Camping World pivoted "away from locations where we did not have the ability or where it was not feasible to sell and/or service RVs," said Lemonis, chairman and CEO.
The Lincolnshire, IL-based company closed or sold more than 60 such locations, primarily those under the Gander Outdoors banner. That move took a toll on 2019 results, causing some short-term revenue and earnings pressure. But as Camping World turns the page on its retail model and refocuses on its core RV business, the company appears better positioned for 2020 and beyond.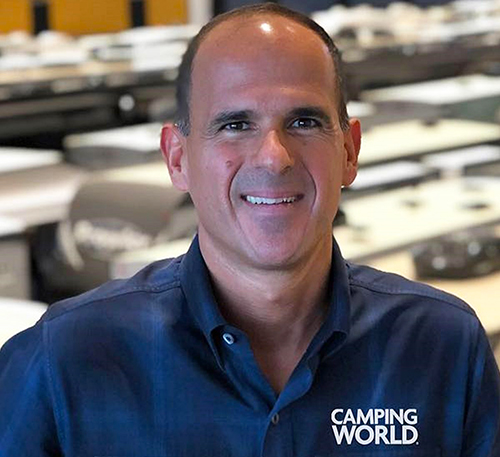 "After almost two months into the year, we are very encouraged with the results we've seen so far," Lemonis, pictured left, told analysts on Thursday's earnings call. "Demand is better, margins are better, and our customer and employee experience is better."
Lemonis added that the "Strategic Shift," as Camping World dubbed the rightsizing plan, was both swift and effective.
"We elected to aggressively execute this plan," Lemonis said. "And while it had an impact on last year's 2019 results, I'm proud that we accomplished it and it's behind us. As we sit here today, all the locations that we identified in the Strategic Shift have been closed, the product has been liquidated and we have finished that process. This shift has positioned us for significant improvement in our overall performance both this year and beyond."
…
The shift indeed had an impact on 2019 results, specifically in the fourth quarter. Camping World reported a fourth-quarter loss of $80.9 million, or 89 cents per share, on a revenue decline of 1.8 percent to $964.9 million. EPS missed Wall Street's targets by 59 cents and revenue was shy $45.1 million.
For the full-year, revenue increased 2.1 percent to $4.9 billion, but gross profit decreased 5.5 percent to $1.3 billion, and the company reported a net loss of $120.3 million, or $1.62 per share. The 2019 figures included restructuring costs of $113.5 million primarily related to the Strategic Shift.
Adjusted EBITDA decreased 46.9 percent to $166 million and was negatively impacted by the heavy discounting and liquidation of products, parts and accessories related to the shift.
The company's initial outlook for 2020 is revenue between $4.7 billion and $4.8 billion, a range derived "after selling, closing, repurposing a significant number of locations which accounted for just north of $250 million in the revenue of 2019," Lemonis said.
Camping World expects adjusted EBITDA to be in the range of $235 million to $245 million with new and used RV unit volume to be up mid-single-digits.
When asked about the future of the Gander stores that sell outdoor and lifestyle products only—not the dealerships that offer both RVs and gear—Lemonis said only about 30 of those now remain. That number appears to be optimal, but he said Camping World would have no issues closing any underperforming locale, something it's done many times of late.
"We keep a watchful eye and if we have any of those locations that aren't performing—dealership or not a dealership—we will go ahead and exit those," he said. "But we feel really good because the way we look at these locations now is, we have field operations locations that sell RVs primarily, they service RVs primarily and then they have a retail component secondarily. And the only delta between a traditional Camping World store and a Gander RV store is the size of the retail footprint."
These moves are all part of Camping World's reinvention into a "pure-play RV retail company," a term that Lemonis coined and which SGB Executive detailed in a report last year. They also speak to the company's admission of some past missteps when dabbling in outdoor gear sales.
…
In May 2017, the company paid $37 million for Gander Mountain out of bankruptcy and then followed that move by adding some outdoor specialty assets. In October of that year, Camping World acquired Uncle Dan's for $8.2 million.
In January 2018, under the Uncle Dan's subsidiary, Camping World acquired Earth Sports LLC, dba Erehwon Mountain Outfitters, for $3.5 million. And in April 2018, Camping World acquired Rock/Creek Outfitters Inc. for $5.2 million. The company has since repurposed, closed or sold many of those stores.
Even as Camping World divested a host of locations, Lemonis said organic store openings and even acquisitions remain on Camping World's radar, albeit a little further down the road.
"From a footprint standpoint, as we think about our growth over the next five years … we are on pause for the foreseeable future in adding locations because we believe there is a lot of juice to squeeze out of the orange we have today, both with the combination of the stores we've added and the historical stores that experienced softening in the back half of 2018 and 2019," Lemonis said. "We want us to come back to the levels that we're comfortable with and get our EBITDA margins and our cash flow back to a level where we feel good.
"When we do decide to move forward, we're really looking at markets that continue to perform well on the RV registration side where the outdoor lifestyle is robust, markets like Texas, Ohio, Pennsylvania, Minnesota, Wisconsin, Denver, Colorado—markets where we feel we have an opportunity. The ironic thing about all of it is while we operate 165 locations, we see an infinite amount of white space in our five to 10-year plan in North America."
In other words, there's much more to be written in Camping World's evolving story.
Photos courtesy Camping World