By Thomas J. Ryan
A record crowd of 40,000 last week attended the NRF Big Show in New York City to explore the latest retail technology. On the tech front, the big themes were omnichannel, mobility and the continued digital transformation disrupting the industry.
The ability of machine learning and artificial intelligence to tap data to enhance the consumer experience was also a common topic across the technologies on display as well as education sessions.
In a keynote session, Microsoft CEO Satya Nadella said retail generates 40 terabytes of data per hour and urged the industry to use that data to know customers, empower employees and create an intelligent supply chain.
"The meme of the twenties," Nadella said, "will be retailers moving to their own tech intensity. It's not about taking away the art of retail. It's about building your tech intensity. You can't be cool by association with a tech friend—you have to be cool on your own. You have to take pride in the digital capability that you have built."
On the non-tech side, several sessions explored diversity and inclusion initiatives; sustainability and re-commerce. Another recurring theme was not to underplay the human element amid all the tech solutions now found at retail.
In another keynote, John Furner, Walmart U.S.'s new CEO, discussed the favorable payback from offering attractive pay and benefits as well as the need to empower workers on selling floors to free them up to be more present. He said, "I think our role, leading big organizations, is to make sure our teams have the resources, the clarity and really a whole system and process around them to make the environment work, so they can feel successful."
Among brands in the active space, Russ Kahn, SVP retail, Puma NA, spoke at a session on the increasing importance of sustainability, transparency and product authenticity with consumers.
"Authenticity is hard," said Kahn. 'It's hard to prove that you have authentic products and where they're coming from and where they're born. And these consumers particularly want sustainable products and proving the sustainability and lifecycle of that product is going to be incredibly difficult. If you do it incorrectly, that will really be the detriment of the authenticity of the brand. And people want real experiences with emotional connections to the brand."
Kahn added brands need to be agile because the "internet changed everything." Consumers can find new things in seconds and social media influencers can significantly shape trends overnight, he observed. At the time of the presentation, Selena Gomez, the pop singer, and Puma ambassador, was at Puma's New York City Flagship with a line of fans circling around the block.
Said Kahn, "Selena's got 100 million followers and whatever she says is the next coolest thing. And if brands don't adapt to that and build a better bridge between the physical and the digital world where you have to be quicker, those brands are going to die. Just look at the fact that 10 years ago, the entire e-commerce business for the United States was $170 billion and Amazon did $250 billion last year by itself. So, if you're not moving that quickly, you're going to be one of the dinosaurs that's left behind."
In a wide-ranging interview, Kohl's CEO Michelle Gass discussed what attracted her to join Kohl's from her former job at Starbuck's, her push to create a risk-taking culture at the department store and her creation of the Kohl's Greatness Agenda transformation program.
She also called out Kohl's focus on active and wellness as "one of the most noteworthy accomplishments" of the Greatness Agenda program. She said about five years ago, Kohl's was selling some active brands but saw an opportunity to become a destination for active and wellness for the family and make selling active products "a strategic advantage for us."
Gaas said, "Being healthy and active and wellness, it's not a fad, it's a trend. It's a lifestyle."
Kohl's further deepened relationships with existing partners such as Nike and Adidas and brought in brands including Under Armour and Fitbit. The active business has more than doubled over the last five years. Added Gaas, "Where I get excited is when I look at the customer research. The customers are giving us credit, and they're thinking about Kohl's to go get their activewear, especially for the family. I don't think there's anybody else where you can serve the family really well in active and wellness."
Asked specifically about Under Armour, she said the brand, as well as all its active brands, continues to grow at Kohl's.
"Under Armour's been an incredibly supportive partner," said Gaas. "They've gone through their change. We're all going to change right now. They grew up pretty fast. So, I think, it's been exciting for us together and to figure out how can we help elevate Under Armour inside of our entire omnichannel business."
In his first conversation with the business community since stepping down as CEO of Under Armour at the NRF Big Show, Kevin Plank unveiled the brands new "The Only Way Is Through" brand campaign, discussed his new role as executive chairman and brand chief and strongly defended his company's commitment to performance.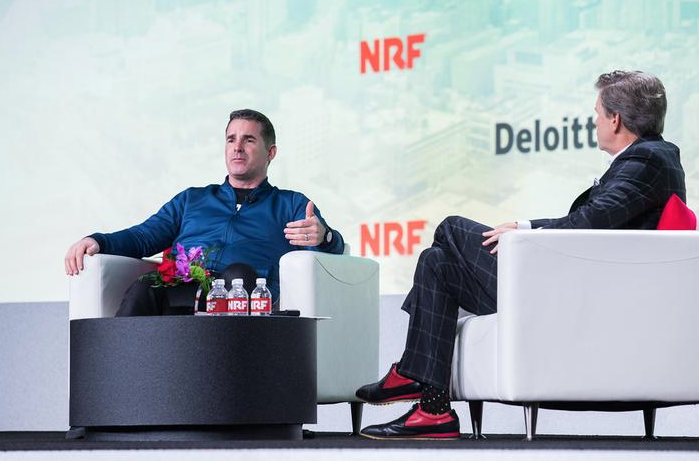 Plank said that while some see Under Armour "purely being an innovation performance brand" as a weakness, he sees it as the brand's "long-term greatest strength."
Plank added, "The consumer will know who we are. When you see our product on athletes on field, on pitch, on court—wherever that is, you know that there is an Under Armour advantage that's taking place."
Stuart Hogue, Nike's VP, marketplace development, discussed the sports giant's successful partnership with Zalando that he said should serve as a "bit of a blueprint" for other brands and marketplaces to copy.
One key priority for Nike, in deciding to partner with a marketplace, is whether the marketplace elevates the consumer experience, "whether it's a focus on great storytelling, a commitment to celebrating the passion and potential of sport, a focus on fighting friction every single day for consumers, etc."
The marketplace also has to be a guaranteed source of authentic Nike products.
Hogue added, "For many of the marketplaces we are working with, we are focused on creating invitations to our consumers to join Nike membership and through insights and knowledge, we are collaborating with some of our great marketplace partners to personalize the experience by knowing them better."
At one session, Peter Brook, director of omnichannel solutions, Adidas, discussed three themes that have helped guide the brand's push to create new human and digital collaboration internally to drive effective digital customer solutions.
The first theme is "Know your value." Brook said, "Why do you exist? Why are you important? Why is your team important? Why are you as an organization important? Define that. Make it real for people. Create that buy-in."
The second theme is "Embracing complexity." Brook said, "Accept that there's no single point and that you can't have full autonomy. You need to work within a networked environment. But be clear and transparent about what that is and try to create that stability along the way."
Finally, the third theme, and what he called most important, is "Learn to learn."
Brook said, "Have that growth mindset. Help build that, and encourage that within your organization." He also said there's "a lot more unsaid than said in this world" and urged session attendees to explore situations when they regretted not speaking up. Said Brook, "Have a look at how do you create an environment that encourages that openness and sharing of ideas."
Matt Blonder, VP, marketing and digital brand commerce, Reebok, conducted a deep dive into the development of Reebok Unlocked, the brand's recently-launched loyalty program. Said Blonder, "It's imperative that we brands create deeper and more meaningful connections with our consumer each and every day."
In a session on circular business models, Phil Graves, Patagonia's head of corporate development, said early returns from Worn Wear, the brand's resale business, "are quite good." Last year, Worn Wear saw 40 percent growth in revenue, profitability and customers that were on average 10 years younger than the typical Patagonia customer.
Said Graves, "In the future of retail, the brands that win are the ones that offer repair, they offer to resell and they offer re-commerce programs. They embody recycling and upcycling in their product lines."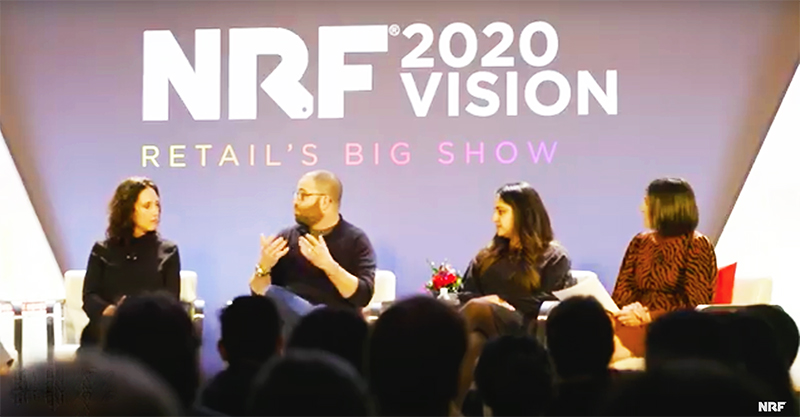 Other senior leaders in the active lifestyle space who participated in the NRF sessions included:
•At a session focused on associate training, Tony Aversa VP, CX and sales, Foot Locker, NA, talked about the roll-out of LaceUp, a training app from Axonify;
•Tami Mohney, EVP, marketing, e-commerce, and human resources, Modell's Sporting Goods spoke about how the chain has partnered with enVista to optimize inventory visibility and omnichannel order orchestration;
•Jennifer Skeen, VP, omnichannel and marketing, Sun & Ski, discussed how the outdoor and clothing gear retailer uses the AgilOne Customer Data Platform to gain customer insights that drive marketing strategy;
•Sam Santos, data visualization architect, Yeti Coolers, discussed how Tableau's geo-mapping platform is helping the company finetune cross-channel sales analysis;
•Thomas Neumann, group CTO, Signa Sports United, Europe's largest sports e-commerce platform, discussed how delivering seamless experiences across channels is driving customer loyalty;
•Moussa Coulibaly VP, pricing, merchandising analytics and reporting, Dick's Sporting Goods, participated on a panel that detailed the importance of ensuring promotions map to shopper interests across channels;
•Dave Lammers, VP, retail technology, Dick's Sporting Goods, participated in a panel exploring how new technologies such as computer vision, artificial intelligence, drones, and robots are changing retail;
•Seth Hughes, director, asset protection, REI, was featured on a panel exploring how prescriptive analytics creates a better framework to positively impact sales and margins;
•Ravi Shankavaram, CIO, New Balanceand Gerald Charles, VP, global IT operations and strategy, Under Armour, participated on a panel exploring how microservices, a software development technique, are helping brands transform their store architecture to support customer experiences;
•Jennifer Parker, SVP, retail, Peloton, on a panel explained how the indoor cycling leader launched with a positioning based more around its digital media than cycling in better tap consumers' lifestyles;
•Nate Peterson VP, supply chain, Outdoor Voices and Kathleen Joyce, lead, global inventory control, Under Armour spoke on a panel exploring RFID's potential to raise on-shelf item availability and support omnichannel services;
•Bill Woodall, director, retail performance and customer experience, Hibbett Sports, spoke on a panel exploring challenges implementing omnichannel management programs; and
•Annie Agle, director, impact and brand, Cotopaxi, spoke on a panel with executives from Bombas and Birchbox on the strong links between shared values and consumer loyalty.
Photos courtesy NRF