By Thomas J. Ryan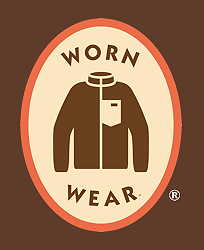 In a session on circular business models at the NRF Big Show in New York City, Phil Graves, Patagonia's head of corporate development, said early returns from Worn Wear, the brand's resale business, "are quite good." Last year, Worn Wear saw 40 percent growth in revenue, profitability and customers that were on average 10 years younger than typical Patagonia customers.
Since the Worn Wear initiative was launched online in 2017, Patagonia has kept "more than 130,000 used items in play, and given them a second life," Graves said.
Under Worn Wear, a consumer takes an eligible Patagonia item to their local Patagonia store or sends it to Patagonia by mail. In exchange, they receive a gift card based on the item that ranges between $10 to $100. The item then heads to logistics and technology startup Yerdle to be inspected, cleaned and assessed on its condition.
Yerdle then photographs the item, stocks in inventory, and posts it for sale on Patagonia's wornwear.com site.
"Whenever our customers buy on wornwear.com, they receive authentic and certified pre-owned items that have been inspected multiple times for quality," said Graves. "And as a brand, we love that we get to control the entire customer experience and ensure it's top-notch."
Last November, Patagonia opened its first Worn Wear pop-up in Boulder and saw an overwhelming response, shown below. Said Graves, "We weren't sure what to expect. But we were blown away by the reception that we had. Over 500 people attended the launch party. And we had a long line of customers that were waiting to get a chance to buy used clothes and check out how clothes are repaired."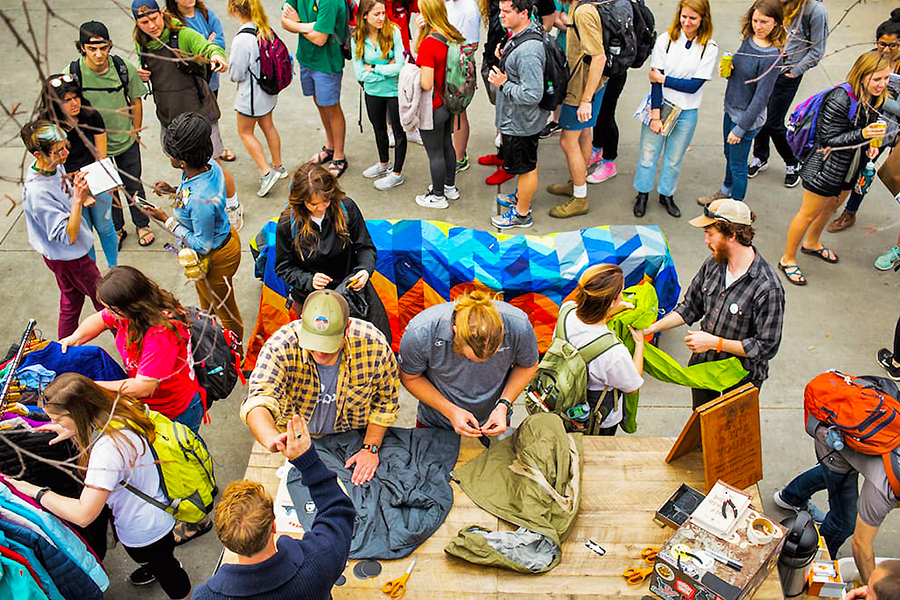 The store is scheduled to close in February. Last November, Patagonia launched a collection, Recrafted, featuring jackets, vests, shirts and bags made from clothes that are beyond repair.
Repairing, reselling, upcycling and recycling has been part of the outdoor brand's business model since the 1970s. Patagonia has 70 global repair centers that fix more than 100,000 items every year. Re-commerce in recent years has become a more significant driver of Patagonia's recently-updated mission statement: "To use business to save our home planet."
Graves cited findings showing Americans consuming five times the amount of new apparel that they did two decades ago and throwing out 11 million tons of textile waste every single year. By 2050, apparel is projected to account for 25 percent of the world's carbon budget. Graves said, "This over-consumption is out of control, and it's also creating a carbon bonfire."
On the positive side, Graves said buying used has been shown to drive a 60 percent reduction in carbon and keeping gear in play just nine extra months can reduce the carbon, water and waste by up to a third.
Graves said the momentum behind Worn Wear has convinced him that "buying used is in."
He also pointed to a  2019 Nielsen survey indicating that 81 percent of consumers are changing their buying habits to benefit the environment.
"These consumers are loyal to brands that make high quality and durable items and also make it easy for their customers to keep them in use," said Graves. "In the future of retail, the brands that win are the ones that offer repair, they offer resell and they offer re-commerce programs. They embody recycling and upcycling in their product lines. Historically, these circular supply chains and circular business models used to be a competitive edge for brands like Patagonia. But going forward, I firmly believe that they are going to be the means for companies, brands and retailers to survive."
Also speaking at the session was Andy Ruben, CEO of Yerdle, which has also worked with REI, Arc'teryx and Eileen Fisher supporting their re-commerce programs.
He noted that the re-commerce marketplace has reached $24 billion in sales and is expected to double within the next five years.
Driving the growth is expected to be increased awareness around sustainability and strong interest from younger consumers. He cited a study showing that 37 percent of Gen Z's made a resale purchase in the past 12 months and that's expected to reach 50 percent in 2021. A third factor driving growth is new business models that make it easy to sell and buy used products.
He cited four factors that he expects will encourage more brands to embrace re-commerce:
•Brand narrative
Ruben said, "Not only are brands and retailers able to protect their brand narrative, but we see them developing emotional depth in what the brand stands for."
•Loyalty
He said, "Because these brands and retailers are buying back product from all of us, they're driving incremental loyalty traffic and ticket back into their brand and into their business."
•New customers
Ruben said, "By offering programs like this, brands and retailers are relevant to how customers shop today and have tremendous ROI in terms of acquiring customers."
•Remedy
Ruben said, "This is revenue that's been siphoned off to third parties for years. By these offerings, brands and retailers are bringing that revenue back in-house."
A final speaker at the session was Tom Szaky, CEO of TerraCycle, which focuses on recycling hard-to-recycle materials.
"The biggest lesson I've learned and that what makes something recyclable is the simple equation: can a garbage company make money?," he said. The equation comes down to whether the cost of collecting something and processing it is less than the recovered value. If the recovery cost is more, new ways have to be found to increase the recovery value.
He believes one way is the aesthetic appeal. TerraCycle's new Loop initiative allows consumers to shop online for household goods in durable, reusable packaging and he's found that many consumers initially gravitate towards the program because of the aesthetic appeal of stainless steel packaging and other aspects of more durable packaging.

Said Szaky, "Most people come into it because of beautiful design, and then love that it is sustainable."
He believes that despite sustainability awareness, it will be hard for people to overcome the "unparalleled convenience and affordability" that came when the "disposable lifestyle" was commercialized in the 50s.
He said, "Even with all that awareness, even the enlightened folks are constantly voting over and over again for a disposable world with their money."
Szaky is hoping aesthetics and extra features possible with more-durable packaging as well as the ease in returning will drive increased use of reusable items across categories.  Said Szaky, "Our overall mission here is to give consumers a disposable experience where they throw out the packaging, don't clean it, don't sort it – a completely disposable experience. But act reusable behind the scenes."
Photos courtesy Patagonia, TerraCycle