By Thomas J. Ryan
In his first conversation with the business community since stepping down as CEO of Under Armour at the NRF Big Show, Kevin Plank strongly defended his company's commitment to performance, unveiled a new "The Only Way Is Through" brand campaign, and discussed his new role with the company.
On January 1, former COO Patrik Frisk replaced Plank, who founded the company in 1996. Plank transitioned to executive chairman and brand chief.
In an interview with Rod Sides, vice chairman and U.S. leader of retail, wholesale and distribution at Deloitte, Plank elaborated on the CEO transition. Plank noted that he'd been leading the company for close to 25 years, including 15 as a public company.
"So that's a long time as a public company CEO and I think it was the right time," said Plank. He called Frisk, who he's worked "side by side" with since the middle of 2017, an "industry professional" and "the right person at the right time." Frisk will lead the company and oversee day-to-day operations.
In the new role of executive chairman and brand chief, Plank's first priority is to make sure Under Armour remains aspirational. He referred back to his often-quoted metaphor of seeing a young athlete putting on an Under Armour shirt and feeling, "I can do anything."
Plank added, "The world doesn't need another capable apparel and footwear manufacturer. They need a dream. They need hope and that innovative brand positioning – that's where Under Armour expects to play."
The second priority for Plank in his new role is to make sure the company is always elevating the product and brand experience. Third, Plank's focus will be on amplifying the brand story. Said the founder, "We haven't been as loud as we want to be, because a lot of our business has been down in the engine room getting ourselves retooled, re-plugged and becoming a really excellent company."
On Tuesday, Under Armour launched "The Only Way Is Through" global branding campaign that marks a departure from a recent focus on products in campaigns. Plank said the goal remains to be "a really quiet company and a really loud brand."
Fourth, recruiting "all-stars" will be a priority for Plank. He said, "It's knowing the difference between an eight or a nine or 10 that's coming onto our team."
Finally, stewarding the company's team culture will remain a focus. Plank elaborated, "Making sure that culture is something that is so proud, so aspirational, and so much aligned with the values that we've been really retooling."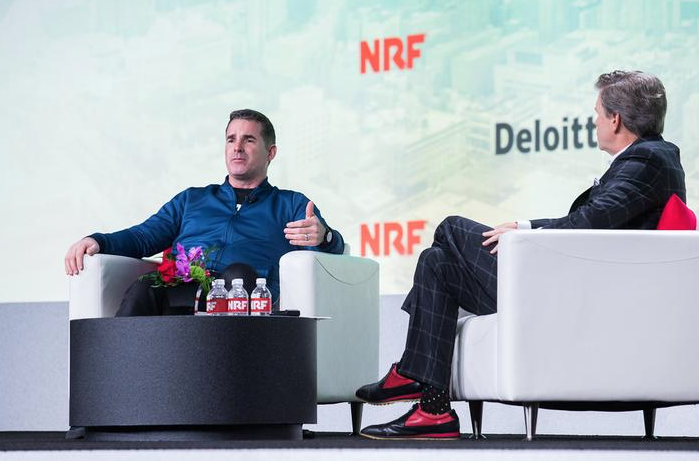 Plank spent much of the presentation discussing the company's transformation over the last three years. While much of the work involved improving execution, a big portion was listening to customers to hear what they want from Under Armour and to identify their needs.
Plank noted that Under Armour has about 1,200 stores globally, including 300 opened last year. Of those, the majority of the openings were in the Asia Pacific region.
He said when a consumer walks into a retail store, "there are two things that they need to know and understand. It's what's your personality and what's your point of view. And we need to make sure that we represent that to them the second thing walk into a store."
As part of its three-year transformation journey, Under Armour talked to 40,000 consumers in four key markets, including Germany, the U.K., China, and the U.S.
Through the overall process, Under Armour came up with a new vision statement: "To inspire you with performance solutions you never knew you needed and can't imagine living without."
The process also led to a shorter updated mission statement, "Under Armour makes you better."
Finally, Under Armour's target customer was identified as a "focus performer" and a goal for the Under Armour was set to become a "human-performance company."
"It's not a gender, it's not an age –  it's a mindset, and that mindset is something that the consumer enters and within that, we've then focused ourselves on building what we call 'human-performance company'," said Plank. "The human-performance company must be something that is end-to-end and must solve problems for the consumer at the end of the day. So everything we do is about solving that consumer's problem of making them better. And the bottom line of that is it's just about innovations."
He also said that while some see Under Armour "purely being an innovation performance brand" as a weakness, he sees it as the brand's "long-term greatest strength."
Plank added, "The consumer will know who we are. When you see our product on athletes on field, on pitch, on court— wherever that is, you know that there is an Under Armour advantage that's taking place."
Further, while some critics have relayed that Under Armour may miss opportunities in athleisure or lifestyle with its focus on performance, Plank said focusing on performance doesn't mean Under Armour doesn't want to be in fashion.
Said Plank, "We don't see a difference between the two things. We believe that, without beauty, there is no performance. And frankly, hopefully, people will see without performance, there is no beauty."
To support its goal of becoming a "famous" human-performance company, Under Armour has "assembled a couple of apps that today give us the No. 1 health and fitness community on the planet." Through apps including UA Record and MapMyFitness, the brand has more than 300 million consumers as subscribers with more than 70,000 downloads happening every day.
The company also has the number one food database "in the history of mankind" and will log more than 12 billion foods this year to gain a view into how consumers are eating and nutrition insights.
Under Armour also has more than a billion workouts logged into its system, of which more than 400 million are runs. Plank noted that data shows the average run is 3.117 miles. Added Plank, "It's because some consumers might run five miles, some might run one, but we know exactly how they're doing."
The extensive data gives Under Armour a better look into how to develop a "human performance system" that studies how consumers "train, compete and recover."
On product, the data has manifested itself into Hovr, its new connected footwear platform. Each Hovr has a chip in its sole that provides a runner with their time, cadence, gait and other performance metrics without a smartphone. Coaching is available when runners use the app and Under Armour has seen up a 5 percent improvement in performance after a runner uses Hovr with the coaching tools five times.
"That may sound like not much, but to the hardcore runner it means something [and] it speaks to the DNA that's relevant to anybody," Plank said.
As part of the "The Only Way Is Through" campaign launch, Under Armour brought 175 influencers from all over the world, including Michael Phelps, Lindsey Vonn and Jordan Spieth, this week to its Baltimore headquarters.
"The influencers alone we have coming represent 170-plus million followers, and it's a new day for us and how we're communicating," Plank said. "That 'find a way' mentality that is so much a part of the UA brand: underdog, and just get it done."
The overall message of the new campaign builds on Under Armour's past aspirational storytelling efforts that started with "Protect This House," followed by "I Will" and "We Will." He said of the "The Only Way Is Through" message, "No matter who you are and what your position is, you will find yourself back against that wall someday. You have to put your head down and just say, 'You know what, left, right or backward is not an option. I'm just heading straight forward. We're just going to go through."
In closing, Plank was asked what lessons Under Armour might offer retailers. One essential is listening, Plank said, because the world is changing with lightning speed. "Listening, having a process, having a system, making sure we have the data we need — balancing all that with a little paranoia is probably what you need to be a great retailer today."
Photo courtesy Under Armour