By Eric Smith
Since Callaway Golf Co. bought the German outdoor and apparel brand Jack Wolfskin in late 2018, both the acquirer and the acquired have had to traverse some rocky footing.
First, there was some head-scratching in the outdoor community about a "golf company" entering the market with such a large play—a purchase price of $476 million and multiple of 12x. Then, just a few months after the deal closed, an activist investor rankled Callaway by allegedly pushing the company to explore a possible sale, which some analysts said might lead to the divestiture of Jack Wolfskin.
During the previous two quarterly earnings reports, Jack Wolfskin has been a drag on Callaway's earnings yet also bolstered the company.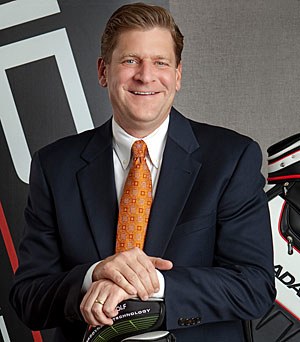 But as Callaway President and CEO Chip Brewer told SGB for a Q&A in March, the parent company knew it would eventually find its stride with Jack Wolfskin. Even amid a roller-coaster ride that's seen such obstacles as market softness and foreign exchange headwinds, Brewer, pictured left, said the company has never wavered in its long-term goals for the brand,
Now Callaway has taken another step in proving itself in the outdoor space and readying Jack Wolfskin to truly plant its flag in the North America market with a strategic hire.
As SGB first reported Monday, Callaway has appointed Diana Seung, pictured bottom left, as general manager, North America, for the Jack Wolfskin brand, whose headquarters will be in Salt Lake City, UT.
"I am excited to join a brand that has a strong footprint in Europe and China and launch it in the North American market," Seung told SGB Monday. "I couldn't think of a better fit as Jack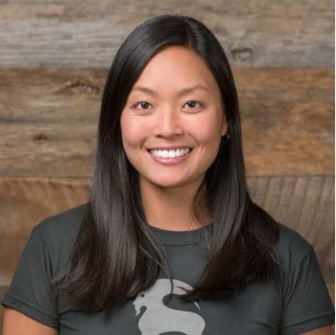 Wolfskin is a family brand with deep roots in sustainability led by some amazing female leaders across the globe and backed by a strong organization, Callaway Golf. What a privilege it is to have an opportunity like this and build a team from scratch!"
The "team of one," as Seung described herself to SGB, will soon grow under her command. In addition to building a team, she will help build the brand in a market where it's relatively unknown.
"Diana will be essential to the launch of Jack Wolfskin in North America, and will work very closely under the direction of Jack Wolfskin CEO, Melody Harris-Jensbach, who is based in Germany, as well as other functional business partners throughout the organization to develop a successful business strategy," the company told SGB. "Diana joins the company with experience as EVP of Merchandising at Backcountry.com, VP of Ecommerce at The Children's Place and various roles in the retail industry. With hiring already underway, Diana and team are eager to open an office in the Salt Lake City area to align with the 'At Home Outdoors' DNA of the Jack Wolfskin brand."
In addition to her more than 15 years of experience in retail space, Seung has been serving as interim executive director for the nonprofit organization Camber Outdoors since February 15, when she took over following the sudden departure of Deanne Buck, who had resigned after six years in the top post.
Seung had served on the Camber board since January 2018 and reclaims her director's seat with this move.
Seung has a tall task before her. Jack Wolfskin has not yet been able to penetrate the U.S. market, so Callaway will use Seung's experience with Backcountry and other retailers to both form and implement the brand's growth aspirations here.
As Brewer told SGB in March, Callaway is committed to providing the resources and the blueprint needed for Jack Wolfskin, which has a strong European presence, to flourish on this side of the Atlantic as well.
"We're going to be making investments in personnel and structure, and then as we get those in place, we'll focus on brand development," Brewer said at the time. "We hope to establish a growing and well-defined position in the marketplace. We do have ambitions of growing the business here and in some other key markets across the globe, and we're starting that process right now, but first is setting up the structure that we need there and a lot of that is human capital. We'll be making those investments first and foremost.
The strategy now, as it always has been, is to hire the right talent to work under the general manager while being intentional and disciplined about how to best approach the North American market.
"We're going to hire talent that hopefully understands the category and space and listen to their point of views on channel strategy," Brewer said. "We expect Jack Wolfskin will be a differentiated and premium brand in the marketplace, but there will be no blurring of channels or brand. The consumer won't know that Jack Wolfskin is owned by Callaway. We're not going to confuse the brands in any way shape or form."
Look for more on Jack Wolfskin in future editions of SGB Executive.
Photos courtesy Jack Wolfskin