By Eric Smith
Almost one year to the day that Vista Outdoor Inc. announced plans to sell its Bell/Giro business, the company took the bike protection segment off the selling block and committed to "rebuilding those brands with a fresh perspective," CEO Chris Metz said on Thursday's earnings call with analysts.
"When we announced our plan to adjust our portfolio, we said, and have continued to say, that divestitures only make sense for the company and our shareholders if we can achieve the right price in the right terms," Metz said. "As for the Bell/Giro business, after a further internal and external analysis was complete, we came to the conclusion that those brands can return to growth and display the leadership economics we expect from the brands in our portfolio."
Vista Outdoor earlier in the day had reported fourth-quarter profitability was lower than expected as a result of increases to reserves for customer credit risk and product liability litigation. In addition, the shooting sports segment experienced temporary production and supply issues.
For the fourth quarter ended March 31, sales were $515 million, down 10 percent from the prior-year quarter but ahead of Wall Street's consensus expectations by $12.2 million. The decline was caused by the sale of its eyewear business (Bollé, Cébé and Serengeti) in the second quarter, lower sales in hydration and hunting and shooting accessories in the outdoor products segment, and lower demand within firearms.
Fully diluted earnings per share (EPS) was (84) cents, compared to (28) cents in the prior-year quarter. Adjusted EPS was 1 cent, compared to (22) cents in the prior-year quarter and shy of analyst expectations by 12 cents.
Read more about Vista Outdoor's fourth-quarter earnings here.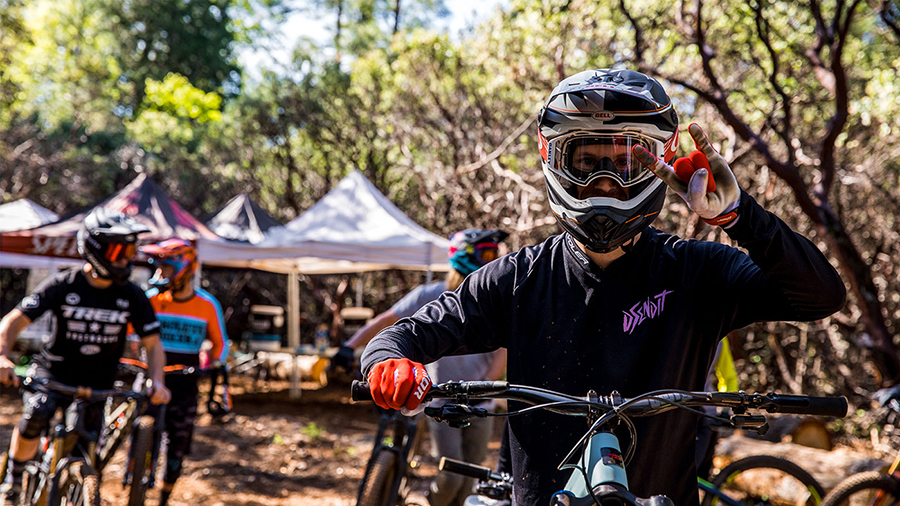 The commitment to the bike brands was the big story of Thursday's call, especially in light of the recent divestitures that Vista had pulled off or said it would explore over the last year. Simply put, Metz said, the company didn't get any worthy offers on the brands since announcing they were for sale and wasn't expecting any to emerge.
"With the current state of that business, we don't believe we get the offers we'd want to see for that business," he said. "So we're going to spend some time to improve the brands' performance to get them to where they rightfully should be."
One change that's already happened is in the top leadership role. Vista Outdoor confirmed that Jen Harned, president and general manager of Bell/Giro, has left the company, according to a report in Bicycle Retailer.
Harned took over as VP and GM of the Sport Protection division at Vista Outdoor in early 2017, replacing Greg Shapleigh. She joined Easton-Bell Sports in 2007 and progressed through various finance and business strategy roles until she filled the position of CFO and COO of Action Sports when Vista Outdoor acquired the company in 2016.
During the Q&A session with analysts, when asked to expand on the company's thought process behind keeping Bell and Giro, Metz said as the Vista Outdoor leadership team began examining the current state of the businesses and their potential, they realized the brands still delivered value for Vista Outdoor shareholders.
"Our board and our senior leadership team evaluate our assets and our portfolio all the time," he said. "And as we sat down and reviewed the Bell/Giro asset, we came to the clear conclusion as a team and as a board that we're much better off holding this asset and continuing to improve it for a period of time and that will be a multi-year period of time. We see that much upside in the business."
That decision ends a year of having a figurative "for sale" sign plastered across those businesses, which would have marked yet another divestiture for Vista Outdoor.
The company—whose brands include Federal Premium, CamelBak, Savage Arms, Bushnell, Camp Chef, Primos, Blackhawk, Bell, and Giro—has been working to regain profitability and right-size its portfolio. It sold the eyewear brands and then put the Savage Arms business on the market, a sales process that is ongoing.
"We felt it made sense to look to sell Savage because we thought it would be more valuable to others than it would be to us," Metz said. "We also said that we wanted to remain disciplined sellers and not give away the asset. We did not want to be part of a fire sale, and we also said that there were many interested buyers and therefore we thought it was going to be a robust process. In the last quarter, 90 days ago, we felt as though we were far enough along that we deemed it highly likely that there would be a signed contract by the end of the quarter. Now, where do we sit today? We still believe that it makes the most sense to unlock long term value to Vista to sell Savage."
The company on Thursday reiterated its guidance for fiscal year 2020. Vista Outdoor expects sales in a range of $1.94 billion to $2.03 billion (including Savage Arms for the full year) and earnings per share in a range of 28 cents to 38 cents.
"We remain on track in our multi-year strategic transformation, with sharpened profit and cash generation focus and improved risk posture as a result of our enhanced capital structure," said Mick Lopez, SVP and CFO. "We expect to see contributions from our leadership changes in new product introductions and world-class marketing in the second half of fiscal year 2020 that should drive long-term profitable growth."
Photos courtesy Vista Outdoor Inc.