By Thomas J. Ryan
SportChek, Canada's largest sporting goods chain, managed a 3.4 percent same-store gain in the first quarter but gross margins eroded as promotions were used to drive sales and traffic.
On a conference call with analysts, Stephen Wetmore, president and CEO of Canadian Tire, the parent of SportChek, said SportChek's comps exceeded plan. He said the SportChek team "did a great job of staying focused on their objectives; staying relevant to our customers, developing our own brands, expanding our assortment in new categories and improving the customer experience."
SportChek's retail sales increased 2.8 percent, according to the quarterly report of its parent, Canadian Tire. Accessories, hydration and wellness, and athletic footwear were top performing categories, reflecting the early success of SportChek's efforts to broaden categories and bring in new merchandising strategies. SportChek also benefited from significant growth in e-commerce sales.
Overall sales, which includes intersegment revenues, at the SportChek segment were flat at Canadian $421.1 million (U.S. $314 mm). The segment also includes Sports Experts, Atmosphere, National Sports, Pro Hockey Life, Hockey Experts and Intersport.
The gross margin decline reflects "investments required to defend our market share," said Dean McCann, EVP and CFO, on the call.
Allan MacDonald, EVP, Retail, Canadian Tire, chalked up the reason behind the heightened promotions to "normal competition in that market," noting that SportChek was using promotions to drive sales in the year-ago quarter as well. He said that while e-commerce is impacting sporting goods categories more than some other categories, "it's pretty aggressive competition" from other brick & mortar stores as well.
TJ Flood, president of FGL Sports Ltd., which includes SportChek flagship as well the company's other sports banners, noted that categories in the healthy active lifestyle are growing and other chains are chasing the opportunity. He added that core active categories such as athletic footwear and athleisure apparel are also easy categories to expand assortments for competitors versus other categories, citing barbecues and bicycles as examples.
Said Flood, "We're trying to use every lever that we have to maintain our share whether that be better inventory management, better promotional activity and more efficient promotional activity and evolving our assortments to stay relevant with our consumers over time. So, we're feeling very good about how we're positioned going forward, but it's competitive out there, there's no question about it."
SportChek also faces heightened head-on competition with others due to its heavy mix of national brands such as Nike, Adidas and Bauer.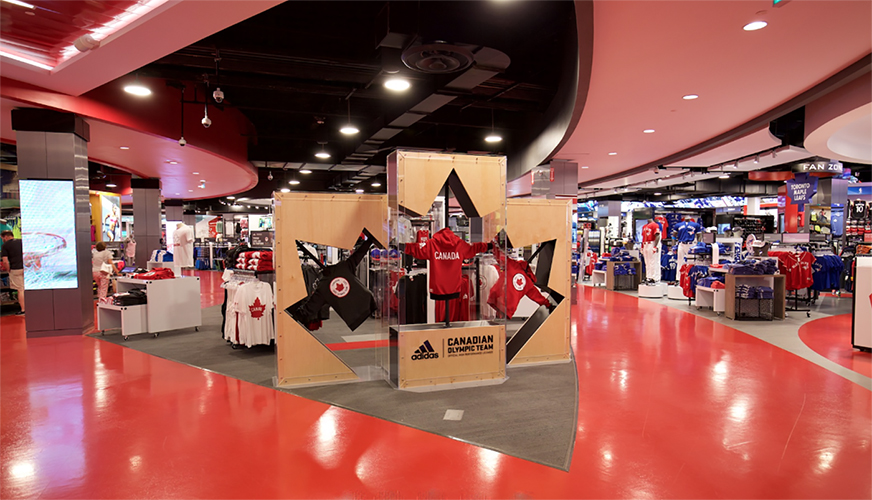 A focus at SportChek continues to be increasing the penetration of owned brands, which expanded to 12 percent of SportChek's revenues in the quarter, up from 8 percent a year ago. The expansion primarily came from growth in Woods and Helly Hansen as well as some newer accessory items.
Regarding Helly Hansen, which Canadian Tire acquired in July 2018, integration efforts and the brand's financial performance are both proceeding on plan, said Wetmore. He added, "2019 retail sales performance in Canada is expected to almost double to C$130 million and their international performance is also on track."
In the quarter, Helly Hansen contributed sales of C$140.8 million, of which C$18 million came in Canada. Helly Hansen generated about C$7 million in EBITDA, in line with company expectations. The company noted that Helly Hansen, best known for its ski wear, makes most of its profits in the second half.
Companywide, profits declined 10.6 percent to C$69.7 million, or C$1.12 per share, from C$78 million or C$1.18, a year ago. Results were short of Wall Street's targets of C$1.38. Revenue totaled C$2.89 billion, up from C$2.81 billion in the first quarter of 2018.
Results were hurt by lower shipment of products to dealers at its namesake brand. Product shipments fell due to the timing of spring promotional orders and a pullback by dealers of in-store winter inventory to meet consumer demand in the latter half of the quarter. Said Wetmore, "A mild December and a slow start to January meant that when our sales picked up in February, they were supported by drawing down on existing inventory."
At the company's other banners, comps in the quarter grew 7.1 percent at Canadian Tire and 4.9 percent at Mark's.
Photos courtesy SportChek