In 1990 Apa Sherpa reached the summit of Mount Everest for the first time.
Since then he has taken 21 expeditions to the top of the world.
Nobody else in the world has climbed the highest mountain on earth more times. And he has never lost a client.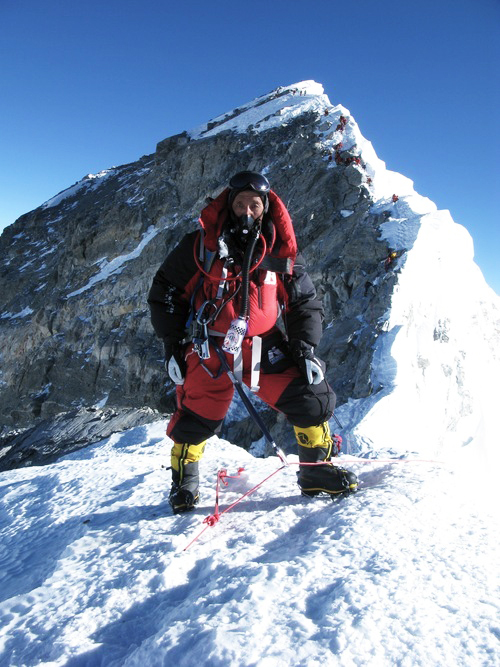 If Apa had gotten the chance to choose between all his success and all his records he would have chosen to be a doctor to help the people of his native land in Nepal.

In 2010 Apa founded the Apa Sherpa Foundation with the help of his best friend Jerry Mika, pictured above left seated next to Apa. The Apa Sherpa Foundation works for the children of Nepal's right to an education. Apa strongly believes that without an education the children of Nepal cannot flourish and grow.
---

Hot Chillys Supports The Apa Sherpa Foundation With A Happy Hour At
Outdoor Retailer + Snow Show
"Hot Chillys began sponsoring Apa Sherpa in 2008, and when Apa started the Apa Sherpa Foundation the following year, we wanted to get involved. We believe in education's ability to exact positive change around the world, and proper nutrition is essential to the learning process. We look forward to sharing our passion for helping these children with the Outdoor Retailer community while raising money for this worthwhile cause." — Amy Callihan, brand marketing strategist, Hot Chillys
Hot Chillys, creators of well known base layers for over 30 years, is supporting the Apa Sherpa Foundation with a happy hour fundraiser on Thursday, January 25 at this year's Outdoor Retailer + Snow Show in Denver. Join them at Booth #39081-UL starting at 5:00 p.m. To donate to the Foundation, go here.
Photos courtesy Apa Sherpa and Hot Chillys