Author's note: This is another article in SGB's occasional series on the Business of Snow. Check out our companion piece, Case Study: Burton's Patience In China Paying Off, about Burton Snowboards' successful China strategy.
By Eric Smith
Jim Satloff's most recent trip to China proved to be a milestone, and not only because it marked his 50th time there. This latest excursion afforded Satloff—founder and chairman of Avon, CO-based ski manufacturer Liberty Skis—the most compelling evidence yet of China's potential as a viable marketplace for U.S. snow sports brands.
As one of 19 members of Snowsports Industries America (SIA) to participate in the association's inaugural trade mission to China two months ago, Satloff got a unique look behind the curtain of its burgeoning winter sports industry. And he liked what he saw.
"While the Chinese winter sports market may be at a very different point in its lifecycle than the United States' or Europe's," he said, "there is a great opportunity for commerce, partnership and relationship growth."
The trade mission exposed attendees to the business climate for snow sports companies by giving them a chance to visit retail shops and tour ski facilities in and around Beijing. Perhaps most importantly, it introduced them to the many stakeholders—from the U.S. Ambassador to Chinese government officials, from distributors to e-commerce providers, from retailers to resort owners—who are working to help U.S. snow sports brands establish a presence in China.
The experience was eye-opening, to say the least, and some of those who journeyed with SIA to China shared their thoughts exclusively with SGB on the opportunities—and challenges—an expansion to China would bring.
For Satloff, who has been working with counterparts in the Chinese snow sports industry for years to grow his ski company, this trip offered a glimpse into the role China can play beyond material supplier or product manufacturer. It showed him that the most populous nation on Earth could generate massive demand for U.S. goods and services.
"I believe that all members of the SIA trade mission saw tremendous opportunity," Satloff said. "For a company like Colorado-based Liberty Skis, understanding the openness of the Chinese market for American companies' products is essential. The SIA trade mission to China was an important step in celebrating and strengthening existing relationships and beginning new ones."
'No place left' like China
To understand why Satloff and others traveled to China to explore the sales potential there requires a step back to July 2015, when the International Olympic Committee awarded Beijing the 2022 Winter Games, its second Olympics after the Summer Games in 2008.
Just as the country had done a decade earlier, China's approach for the Winter Olympics has been to do everything better than previous hosts. That meant showing the world it could be a snow sports destination in terms of both participation and infrastructure for the long haul, not just as a one-time event host.
China set lofty goals on both fronts. It vowed to create 300 million participants—and this includes all manner of winter sports activity as well as all levels, from the casual to the hardcore—and also pledged to build venues beyond what was needed for the actual Games. The country is developing alpine resorts and Nordic ski tracks, ice rinks and half pipes, snowshoe areas and sledding hills, basically all the amenities people would need to recreate on ice or snow.
Public entities and private investors ramped up development of winter play areas throughout the country to welcome more activity, and their work is paying off. According to the China Ski Industry White Book by Benny Wu (Wu Bin) and Wei Qinghua, China boasted 703 ski resorts in 2017, up 8.8 percent from the previous year, while skier visits grew 15.9 percent.
Granted, of that ski resort total, only 145 have aerial lifts (although that number is growing) and most of the snow is manmade. And of those skier visits, most are beginners and the conversion rate for those first-timers is an estimated 1 percent. But when taking into account China's population, those numbers still point to the fact that the country is, as the China Ski Industry White Book concludes, "the biggest beginner ski market in the world."
"It's important to recognize that their industry is growing," said Jason Badgley, CEO of Denver, CO-based soft goods manufacturer Phunkshun Wear. "They are building more and more ski areas, resorts and hills, and their participation numbers are increasing, which is wonderful."
At the same time China is building up its infrastructure, the country lacks the manufacturing and sales of quality snow sports products—both hard and soft goods—to outfit new participants, giving U.S. brands a chance to take and even make market share.
Combine that with the 2022 arrival of the Winter Olympics, the government's growing emphasis on winter sports across its citizenry and a booming middle class, and the prospect of selling snow sports goods in China is enticing, according to Eric Tung, president of Los Angeles, CA-based ski apparel company Fera Style and treasurer of SIA's board of directors.
"When you think globally, there's no place left with China's numbers of potential participants, whether they're going to be skiing locally at the resorts they are building out or whether they're going to become a travel class that's going to make an annual trip to Europe or North America to ski," he said. "No place else can throw up those numbers anymore. If you can even get some of it, it's meaningful."
Intelligence gathering
Meaningful enough to inspire Nick Sargent, president of SIA, and his colleagues to arrange the recent trade mission for association members to see China's opportunities and meet its players firsthand.
Sargent and SIA's chief operating officer, Maria McNulty, have been to China many times, with Sargent's past visits including helping his former employer, Burton Snowboards, establish a presence there.
And when SIA sold the annual Snow Show to Outdoor Retailer, that created bandwidth for SIA to explore ways it could enhance its value to member organizations. The trade mission to China was near the top of the list. The association even has "boots on the ground" in China with Karen Chen, who helps companies develop relationships with targeted parties.
The debut trip's purpose was to gather intelligence on the prospects of doing business in China, and it included networking with some key players in the country's snow sports industry as well as U.S. and Chinese government officials working to grow commerce between the nations, even amid the ongoing trade war.
"The winter sports business has been evolving in China, but with the Olympics, it's really come to a head," Sargent said. "We've been paying close attention to that, and we've gotten to know a bunch of resort owners over the course of the last four or five years. We've gotten to know a bunch of people at the embassy. We've gotten to know a bunch of people in and around China who are associated with winter sports business. People are talking about China. It's the last untapped region in the world."
Being introduced to the people in China who are in the winter sports business gave trade mission attendees like Badgley a better idea of what his soft goods company would need to pursue a Chinese expansion, starting with a knowledge of the right questions to ask of himself and his company.
"We walked away, obviously, with a wealth of knowledge," he said. "The quality of the individuals and businesses we met and the programming content were all top tier. It couldn't have been better. Now, what are we going to do with that information? That's a great question. We have all this data, so it's up to us to look at it and say, 'OK, does this make sense? Does that make sense? How do we utilize this data that we have now and how is Phunkshun Wear going to break into the market?'"
A brand's China checklist
"How is [insert brand name here] going to break into the market?" That is the question. And according to SIA, any company looking for the answer—and the sheer numbers say it's worth exploring—should begin with this partial checklist.
1) Establish organizational goals. Does the company have the resources to invest in manufacturing and distribution, marketing and personnel? Has the company successfully launched other international expansions? Which products are right for the Chinese market? What is the target revenue? Where is manufacturing being done? Two basic questions that Sargent said a company must ask are: "What do you want to achieve by being in China? And how much time are you willing to invest in that?"
And, as Badgley noted, any thought of exploring China (or elsewhere) begins by looking at how well the company is positioned in the U.S. "The Chinese consumer is a savvy consumer and you really need to be a great brand at home before you could be a good brand in China," he said.
2) Find a Chinese partner. A Chinese business partner can help with the language barrier, different business customs, relationships with local and state governments, tax issues, wholesaling strategy, legal wranglings and human resource questions. SIA can help companies locate a partner. So can a company's manufacturer connections in China, which could lead to the increasingly popular option of forming a joint venture to minimize risk.
"You absolutely need to have a local partner of some sort, whether it's a distributor or licensee or something like that," said Fera Style's Tung, "Part of it is obviously language—there's a lot of nuance in translating your brand message and your brand position into another language. And then in terms of the mechanics of distributing and wholesaling and retailing products, it's in some ways similar to this market and in some ways different. You need someone to help navigate that."
3) Analyze China's sales channels. E-commerce is huge in China and offers lower risk but also lower rewards with the potential for less exposure to the right consumer. Owned-retail stores work well for established global brands (Burton Snowboards is one example; read more about its China strategy by clicking here). Big box stores can carry a lot of inventory but might not attract the right customer. Specialty is growing but might not have the numbers to justify the investment to start.
Channel strategy is key, obviously, and the right partner can help a brand optimize where product is sold and at the right price point. "You can't just put your product in a store and say, 'OK, we're here,'" Sargent said. "There are very few retailers at resorts. People aren't just going to go there and just buy the product. They're going to go rent first, try the sport and see if that's what they want to do."
4) Assess your product demand. Custom skis might not sell as well as entry-level ones. Fashion jackets could find a customer base faster than a bomber Gore-Tex shell designed for the harshest of conditions. A $300 pair of ski goggles sold at a snow specialty shop might win a few loyal fans and drive up average selling price but it won't notch the unit sales of a $30 pair sold at a resort shop or, even better, rented as part of a beginner ski package. In fact, the rise in rentals has greatly increased demand for mass-produced hard goods (skis, snowboards, bindings, boots, poles) and even soft goods (ski and snowboard apparel).
"Why would you spend $500 or $600 or $800 on a pair of skis and you're not sure if you like this sport yet?" Sargent said. "It's different when you're going to buy a Louis Vuitton bag or a Gucci bag or a Rolex watch. Those are material luxury items that you can use and wear every day. A pair of skis is something that doesn't resonate." At least not yet.
5) Position your brand. This closely follows the previous item. What market is the company targeting? Should an apparel brand market its product as a "ski" jacket, which might limit your consumer base, or a "winter" jacket, which might appeal to Chinese customers who aren't yet ready to spend disposable income on a piece of apparel they wear once or twice a year. Finding a marketing partner who can ensure the messaging resonates for a Chinese audience will help a company establish a presence at a healthy pace.
"China is clearly a part of the future of winter sports. That's a fact," Sargent said. "But first and foremost, it's about developing the brand, not about selling product at this point. We have to get brands developed and people understanding who they are." This is also important because more Chinese citizens are traveling to ski, and a strong brand presence in China will resonate if they decide to purchase while in the U.S., Canada or Europe.
6) Understand the market's current limitation—and potential. As mentioned, the conversion rate is low for first-time skiers or snowboarders to stick with a sport, so patience is required for expanding into China as the industry there works to grow that figure.
But companies shouldn't lose sight of these facts: China has vowed to create 300 million winter sports participants (even a fraction of that number is staggering, and the government has more power than most nations). Public and private investment has accelerated for infrastructure around skiing, snowboarding and other winter sports. China has a mostly friendly business climate, a growing middle class and a love for American brands.
7) Be wary of the many pitfalls that lurk. Any international expansion presents risks, and some of the most obvious include:
Seeing your brand get lost in translation (think Chevy trying to sell the Nova—"doesn't go" in Spanish—to Mexicans).
Expecting China to fully embrace the winter sports "lifestyle" like the U.S. or Europe (what, no après scene, no ski bums?).
Not preparing for a drop-off in participation post-Olympics (remember Beijing's empty venues after the Summer Games?).
Discounting the ongoing trade war (keep a good trade attorney on retainer).
"You have to go in with eyes wide open," SIA's McNulty said. "There are trade issues, manufacturing issues, legal issues in terms of IP and cultural issues. People have to know what they're getting into and have to go in with a very solid understanding of what the opportunities are but also what the risks are and make sure they're mitigating those risks by really having a good perspective on all the opportunities there."
A winter marketplace for all
Product brands aren't the only ones exploring an expansion to China. Any company that serves the winter sports consumer should be assessing the marketplace.
Take, for example, Teton Gravity Research. The company's CFO, Brett Hills, said the Jackson Hole, WY-based media stalwart has had China on its radar for the last few years, not only because of Hills' own business experience as a native Australian, where he often did business with the Chinese, but because of the market's vast potential for action sports movies and other digital content.
Hills said that with the Olympics countdown, the government's emphasis on creating more winter sports enthusiasts and a vibrant and growing millennial population that TGR caters its content for, now seems like an ideal time to bring "audience engagement" to that market.
"That's what TGR does and does well," Hills said. "It's a really important part of the whole snow sports industry. The more that a company like TGR can inspire and engage and encourage people to participate and get more involved in snow sports, the more it benefits everyone. TGR's got an important role to play in the expansion of the Chinese market to achieve the goals that are being set."
One question TGR still needs to determine is if it would rely on using content it develops in the U.S. and sending it to China with dubbing or subtitles, or if the company would develop content specially for the Chinese market with Chinese action sports stars at Chinese locations.
"A common message we got from the general media and social media players was that content needs to be, for lack of a better word, Chinese-ified," Hills said. "It needs to be shaped to the Chinese culture and we believe that apart from that, Chinese culture probably hasn't been exposed to the type of content that TGR provides. We think there's an opportunity for TGR content to be in China."
The Ski Dazzle Show, a U.S.-based winter sports consumer trade show, was another of the non-manufacturing companies to attend the SIA trade mission. One of the show's founders, Judy Gray, said the excitement she senses from the Chinese as skiing and snowboarding start to take hold there is palpable.
"The enthusiasm is off the charts," she said. "They are participants in the sport, they are hooked on the sport, they love it. Skiing and snowboarding and snow sports in general—the potential is enormous."
She views companies like Ski Dazzle—and TGR also fits into this category—as conduits for the companies selling skis and snowboards, jackets and hats, socks and balaclavas. If a media company or trade show can gain traction at the same time as a brand, they can elevate one another and grow the market for the entire U.S. winter sports industry.
"We can get the people there, but we can't be the brands," she said. "The brands are tremendously important because they have the credibility and their brands stand for something. All these people, even though they're beginners in the sport, will aspire to be something better. It's our job as cheerleaders to keep those brands in front of people so we can keep the pipeline full."
The time is now
Many brand executives and owners are starting, or continuing, to explore what an expansion to China looks like. They are weighing the investment needed to open up a distribution channel, putting out feelers for a trustworthy partner and assessing what competition, if any, they have in China.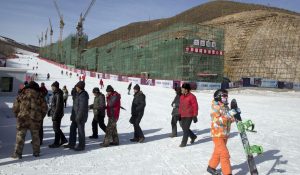 They are thinking big, of course. With a new marketplace the size of China hopefully embracing the winter sports lifestyle, the mind boggles over top-line potential as Olympic fervor sweeps across a nation of 1.4 billion people.
But the journey to a thousand new customers begins with a single step in the eyes of most brands. Liberty Skis' Satloff, for example, is already thinking about a small, grassroots branding effort when he returns to China for his 51st visit, perhaps in early 2019.
As he reflected on all the new ski resorts popping up across China, he said he'll take a pair of skis on his next trip to try the Chinese slopes, something he's never done. After he's made some turns—but before he boards a plane and heads back to the U.S.—he has a plan for creating at least one Liberty brand evangelist in China. Who knows, perhaps it will be the first of many.
"I might accidentally forget to bring my skis back home," he said. "I'll leave them there for someone to try out."
—•—
SIA is exploring another trade mission to China for members in 2019. Reach out to the organization to inquire about attending.
Coming Friday: A case study on Burton Snowboards, which started selling in China 15 years ago and shares insights into how a brand can establish a presence there.
—•—
Past articles in SGB's Business of Snow series include: