By Eric Smith
Record revenue in the second quarter couldn't keep Camping World Holdings Inc.'s stock from nosediving Thursday. As investors saw the impact of margin pressures on the company's revised full-year guidance, CWH shares dipped 28 percent in early morning trading before closing the day down $1.67, or 16.1 percent, to $8.71.
On the surface, Camping World notched a nice Q2. The company reported record revenue for the second quarter of $1.5 billion, which marked a 2.3 percent increase from the year-ago period and beat Wall Street's estimates by $20 million.
Also, RV unit sales of 33,715 was an all-time high for the company, and the number of active customers increased 25.8 percent to 5.25 million while the number of Good Sam Club memberships increased 13.4 percent to 2.2 million.
Each of those figures helped Camping World defy—in part, at least—current headwinds facing the RV industry, as SGB recently outlined.
But those headwinds took a toll elsewhere on Camping World. Adjusted EBITDA decreased 27.9 percent to $99.2 million, about $10 million below the consensus estimates, driven by increased selling, general and administrative expenses and diminishing gross margins of 27.8 percent versus a consensus 28.4 percent.
Also, net income dipped 31.8 percent to $52.6 million, and earnings per share of 54 cents missed analysts' expectations by 12 cents. For the quarter, the company generated $410 million in gross profit at a margin of 27.8 percent and SG&A of $303 million.
"During the quarter, the RV industry was softer than we anticipated," CEO Marcus Lemonis told analysts on Wednesday afternoon's earnings call. "Declines in manufacturer shipments and RV retail registrations continued. Additionally, we believe many competitors continued to destock and even liquidate inventory through heavy discounting and increased promotional activity."
Click here to read more about Camping World's second-quarter earnings.
That overall RV softness prompted Camping World to lower its guidance for the remainder of the year and announce plans to reduce non-RV inventory (such as bicycles and kayaks). The company now calls for EBITDA to be "around the mid-to-low $200 million range," Lemonis said, which significantly down from the consensus of $282.9 million even as revenue guidance remains intact.
"As a management team, we've spent considerable time looking at multiple scenarios and have concluded that for purposes for full-year 2019 guidance, we must assume that the current market conditions and uncertainties will continue," Lemonis said. "Based on the assumptions, we are comfortable in our 2019 full-year revenue projection of approximately $5 billion. With those assumptions required us to factor in potential margin compression and possible increased selling expense, which will result in 2019 full-year adjusted EBITDA guidance around the mid-to-low $200 million range.
"We absolutely believe that this is the right thing for the business as a critical step to rebuilding our margins into the next year and beyond."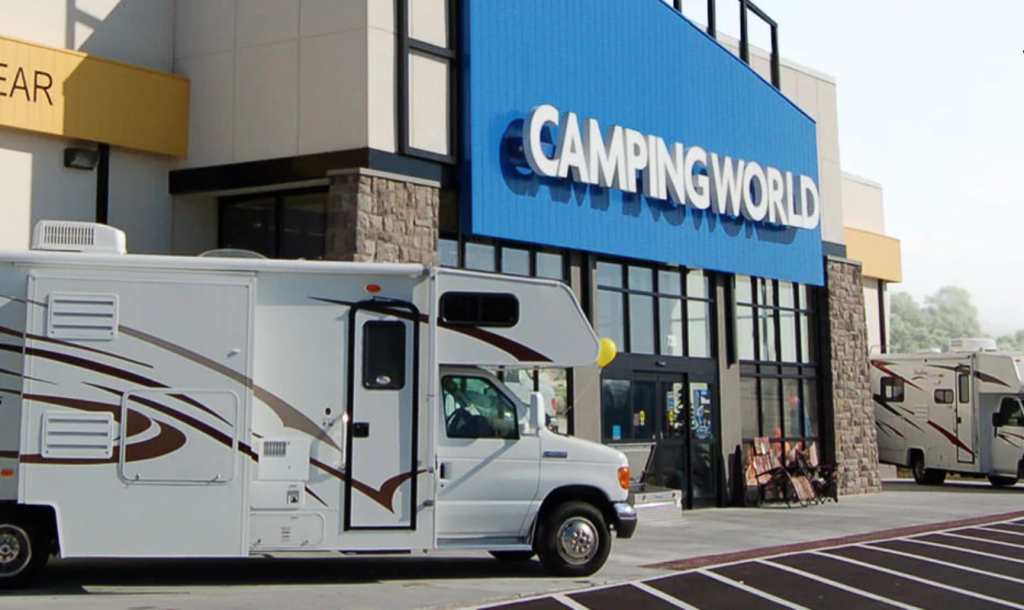 So, how does the company work toward "rebuilding margins"? For one, the company will need some industry headwinds to shift, Lemonis said.
According to the Recreational Vehicle Industry Association's June survey of manufacturers, RV shipments for the month totaled 36,524 wholesale shipments, down 10.3 percent from the 40,738 units shipped last June.
Lemonis noted that most industry downturns are 12 to 18 months, and the manufacturer shipment data deceleration started last November, which puts the current slump anywhere from three-quarters to halfway over. That means Camping World will need to pull some specific financial levers within its own business to maneuver the slowdown in the interim.
"It's clear to me that the softening is here," Lemonis said. "From our perspective, we are just laser-focused on making sure that we right-size our inventory levels, right-size our SG&A, we bail out of locations, units, categories and SKUs and get our money back in those areas where we don't think it's prudent to be.
While the company understands that it has some control over inventory and pricing and expenses and closing low-performing stores—especially on the Gander RV side—those macro trends remain out of its control and at the mercy of marketplace demand for RVing. Lemonis and his executive team are confident in its return.
"We are hopeful that the trend changes and improves," he said. "Fundamentally, we believe that consumers' appetite and demand for the RV lifestyle is alive and strong. The RV in the outdoor-installed base, as well as the prospects, continue to trend toward the younger average age and expanded affinity to the entire outdoor lifestyle anchored by RV."
Analysts remain cautious of Camping World prospects in light of the margin pressures and industry trends. Brett Andress of KeyBanc Capital Markets wrote in a note to investors that Camping World's results "came in worse than feared despite relatively solid revenue."
But, as he continued: "While we view CWH's underlying 2H19 RV industry assumption that 'current market conditions continue' as appropriate to manage expectations, the root cause of the EBITDA reset appears to stem from a rationalization of non-RV Gander inventory, a dynamic we flagged in our recent downgrade, as CWH looks to exit certain product categories (bikes, kayaks, certain marine and hunting selections, to name a few), and redeploy that capital towards used RV inventory (used RV sales were again a standout this quarter) and to simply generate cash, as CWH is approaching 5x leverage (excluding floorplan) when factoring in the updated guidance range (>8x including floorplan).
"Bottom line, RV retail expectations now appear appropriately conservative for 2H19, but we remain skeptical as to the long-term viability of the Gander strategy in its current form, and expect shares to remain under pressure given the margin headwinds that a potentially drawn-out rightsizing of this business creates."
Lemonis concluded that the company remains committed to taking the measures needed to reverse the trends of the last eight or nine months, even though the fix won't occur in the next quarter or two. In other words, buckle up for a long ride.
"Over the long-term," he said, "we will continue to focus on returning to double-digit top-line growth and upper single-digit adjusted EBITDA margins; the growth and retention of our customer file; improving asset allocation to maximize overall return on investment; reducing debt levels; finding white space across the market; improving the RV and outdoor consumer experience; and developing new and innovative ways for people to enjoy the RV and outdoor lifestyle; and more importantly, communicate their needs, concerns and suggestions."
Photo courtesy Camping World Holdings Inc.