By Thomas J. Ryan
Adidas AG's second-quarter operating profit missed estimates, squeezed by the cost of flying apparel from Asia to North America to address supply shortages. But the company reaffirmed its outlook for the year, predicting top-line growth will accelerate in the second half.
"Europe is expected to return to growth by the end of this year and have a sustainable growth pattern into next year," said CEO Kasper Rorsted on a conference call with analysts. "And our supply shortages will be completely passed out when we're done with the fourth quarter."
In March, Adidas had warned that spending more on air freight to compensate for supply-chain shortages affecting mid-priced apparel in North America would cut full-year growth by 1 to 2 percentage points.
In the quarter ended June 30, earnings from continuing operations rose 10.3 percent to €462 million. This includes a negative impact from the adoption of IFRS 16 of €7 million, reducing year-over-year net income growth by approximately 2 percentage points.
Revenues rose 4.7 percent to €5.51 billion, shy of average analyst forecasts for €5.54 billion. Currency-neutral revenues expanded 4 percent.
As usual, Rorsted pointed to some strengths and weaknesses Adidas saw during the quarter. On the strengths' side, he cited 14 percent currency-neutral growth in China, a 37 percent hike in e-commerce growth and the Reebok brand returning to growth.
On the weaknesses side, he pointed to the supply chain challenges that are having a negative impact on both growth and profitability in the U.S. market.
Wholesale growth remains challenging overall as many recent product introductions haven't been able to scale. A decline was seen in the Sport Performance business, mainly because the category was going against strong sales driven by last year's World Cup in Russia.
Finally, achieving expense leverage is being challenged by increased marketing spend as well as investments in DTC, including physical stores and online.
But confirming guidance, Rorsted talked up a number of product launches, including the UB19 (Ultraboost 19) and the Nite Jogger, that he expects will drive results in the back half.
"We remain confident about the sequential revenue acceleration in the second half of the year and confirm our top- and bottom-line outlook for 2019," he added.
For the Adidas Brand, revenues on a currency-neutral basis were up 4 percent in the quarter. Growth was seen in most markets.
The growth was driven by 9 percent growth in Sport Inspired, reflecting growth in Originals and Yeezy. Rorsted said Originals is significantly larger than Yeezy "so it's very important that we have a solid growth in our Originals business, which is the biggest foundation that we have."
Revenues in Sport Performance for Adidas Brand declined at a low-single-digit rate. The non-recurrence of last year's FIFA World Cup-related sales wasn't offset by double-digit growth in the training and basketball categories. Running was also negative.
Adidas Brand's overall footwear growth accelerated to a 5 percent increase, helping to offset the supply chain shortages weighing on growth in apparel.
Reebok returned to growth in the second quarter after the brand returned to profitability last year. Driven by the Classics category, revenues of the Reebok brand grew 3 percent on a currency-neutral basis. The gains were driven by double-digit growth in North America and Latin America, but also growth coming out of Europe.
Reebok's gross margin was slightly down by 160 basis points of 43.2, after several years of expansion of gross margin. Said Rorsted, "Our target is to have ongoing profitable growth business with Reebok by 2020, so we continue to make progress and you are starting to see the next steps here, but of course, we need to make sure that we do it in a more sustainable way and that is our target by 2020."
From a channel perspective, the company's top-line increase reflects a double-digit improvement in direct-to-consumer (DTC), led by the 37 percent growth in e-commerce. Rorsted said the online gains reflects "a strong increase in underlying traffic" and double-digit growth is being seen online across all regions.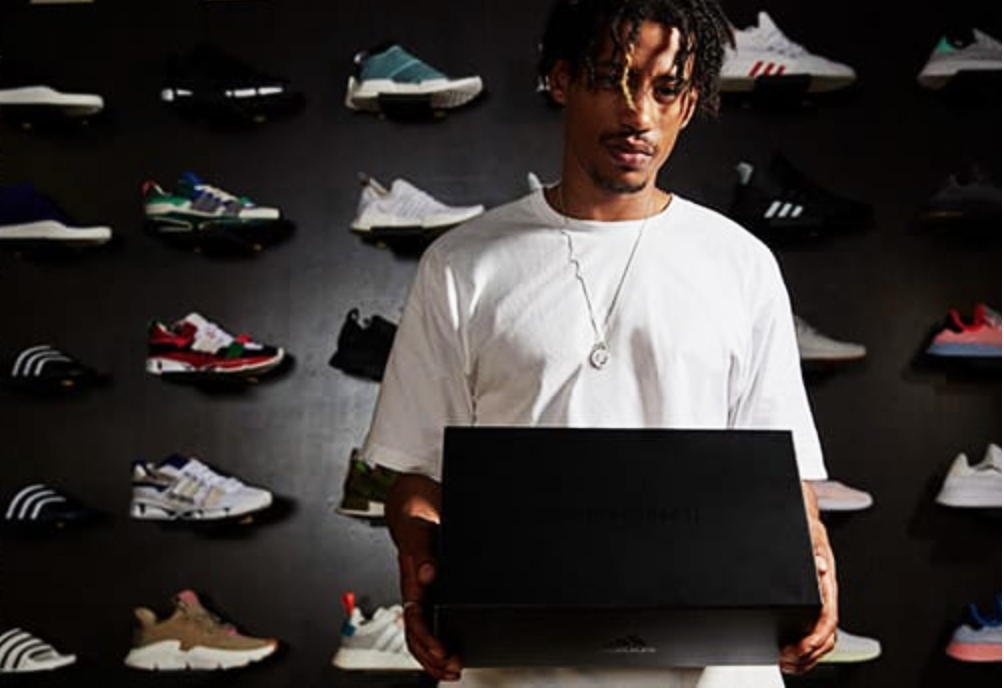 Adidas launched the Adidas Brand Creators Club in U.K. and Germany and the loyalty program has grown to more than 15 million members. The Adidas app is now live close to 30 countries. Said Rorsted, "We continue to make progress in our strategic area, digital and that will continue to be a cornerstone also moving forward. And let me just, again, repeat what we've said many times, the single most important store in the world is and will remain our dot.com business."
By region, revenues in North America increased 6 percent, reflecting a 5 percent increase at Adidas Brand and 10 percent growth for Reebok. Adidas Brand saw growth in both Sport Performance and Sport Inspired styles. Reebok's gains were driven by double-digit growth in Classics.
Gross margin in the region decreased 150 basis points to 39.3 percent. Better product, channel mix and lower sourcing cost were more than offset by higher airfreight cost and less favorable pricing mix.
Harm Ohlmeyer, CFO, stressed that airfreight was a "significant piece" of the gross margin erosion, noting that beyond product arriving late, sell-throughs are impacted by items arriving later in the season, and some wholesale accounts charge penalties for late arrivals or missed shipments. Added Ohlmeyer, "At the same time, we remain committed to the market and keep investing in the brand marketing side, but also our DTC network and our infrastructure overall, as we continue to invest in North America."
The top region was Emerging Markets, which grew 12 percent as both Adidas Brand and Reebok expanded at a double-digit rate. The gains came despite headwinds from geopolitics in some countries and the segment's operating margin expanded by 490 basis points to 28.5 percent, mainly driven by gross margin expansion of 180 basis points.
Asia-Pacific's revenues were up 8 percent currency-neutral. The 14 percent jump in China came on top of 16 percent growth in the first quarter. Adidas Brand sales were up 9 percent, driven by double-digit growth in Sport Inspired. Reebok was down 11 percent due to declines in both Sport and Classics, but the brand's gross margin improved 230 basis points to 59.7 percent in the region. The improved margin was primarily driven by positive FX impact, but also better channel mix and lower sourcing costs.
Operating margin in the Asia-Pacific region was up 60 basis points to 34.9 percent as gross margin expansion offset growth investments. Both Japan and Korea are more mature markets facing challenges, particularly by currency headwinds in Korea.
Latin America's increased 5 percent on a currency-neutral basis despite a challenging macro backdrop. Segment operating margin decreased 190 basis points to 14.6 percent as a continued investment into the Adidas Brand more than offset the stable gross margin. Latin America's comparisons were slightly challenged by the healthy, year-ago online sales from World Cup 2018.
Revenues in Europe were flat year-over-year, recovering from a 3 percent fall in the first quarter. Adidas Brand was flat as growth in Sport Inspired offset by a slight decline in Sport Performance due to tough comparisons against 2018 World Cup football jersey sales.
Reebok's sales in Europe were up 4 percent driven by growth in Classics. Gross margin at Reebok increased by 390 basis points to 52.2 percent due to a combination of FX, better channel mix and lower sourcing cost. Adidas expects Europe to return to growth in the second half. Rorsted said Europe should return to growth by the end of the year, saying new shoe launches had been well received, such as 1980s-style Nite Jogger sneakers, Pulseboost running shoes and movie collaborations with Marvel and Toy Story.
Sales in Russia/CIS declined 4 percent due to difficult prior-year comparisons in relation to the 2018 FIFA World Cup. The segment's operating margins slightly decreased by 110 basis points as the gross margin normalized.
Companywide, gross margin increased 120 basis points to 53.5 percent. Higher air freight costs to mitigate the supply chain shortages and a less favorable pricing mix were overcompensated by positive currency developments, lower sourcing costs as well as a better product and channel mix.
Other operating expenses were up 6.1 percent to €2.346 billion. As a percent of sales, other operating expenses increased 60 basis points to 42.6 percent.
Marketing and point-of-sale expenses grew 5 percent to €744 million as brand investments were increased. As a percent sales, marketing and point-of-sale expenses were up 10 basis points to 13.5 percent
Operating overhead expenses increased 6.7 percent to €1.602 billion, due to further investments into the scalability of the company's business model as well as higher costs related to the strong growth in the company's DTC channel.  As a percentage of sales, operating overhead expenses increased 50 basis points to 29.1 percent.
The company's operating profit grew 8.6 percent to a level of €643 million, €5 million below the consensus forecast. The gross margin expansion more than offset the increase in other operating expenses as well as the non-recurrence of litigation gains and the release of operational provisions which were recorded in the prior-year quarter.
For 2019, Adidas kept its guidance update from March:
Sales are expected to increase at a rate of between 5 percent and 8 percent on a currency-neutral basis. Following the 4 percent revenue growth during the first six months, Adidas continues to project a sequential acceleration during the second half of the year.
Gross margins are expected to increase to a level of around 52.0 percent versus 51.8 percent in 2018.
The operating margin is expected to increase between 50 and 70 basis points to a level between 11.3 percent and 11.5 percent.
Net income from continuing operations is projected to increase to a level between €1.880 billion and €1.950 billion, reflecting an increase of between 10 percent and 14 percent.
Photos courtesy Adidas