By Eric Smith
When Terry Schalow and his team at Carlsbad, CA-based Running Industry Association began planning the second annual Kick Show for next spring, they followed—mostly, anyway—the old saying of "don't mess with a good thing."
After a successful debut in Denver last June, the B2B trade show for the run specialty channel will return to the Mile High City and to the same venue, The Curtis Hotel, in May 2020. It will also have the same "working trade show" approach that pairs specialty retailers with both established and emerging shoe, apparel and accessory brands.
"We didn't want to do too much in year two," said Schalow, RIA's executive director. "We're going to stay with what we know works and then evolve the things that we think need to improve. But we got such fantastic feedback about Denver as the location and The Curtis as the venue for both lodging and meetings and its proximity to running. The whole location got such great feedback that we didn't see any reason to change that. We wanted to stay consistent."
In its first year, the invitation-only B2B trade show connected executives and product managers from 26 brands with the owners and operators of 65 run specialty shops from around the country. Kick Show's tagline of "Where Run Specialty Goes to Work" was evident in the intimate setting and the "pipe and drape" meeting space that differentiated the event from other flashier industry showcases.

According to post-show surveys, 85 percent of both the retail and brand attendees said they would either definitely be back in 2020 or would strongly consider returning, while the remaining 15 percent said they would be interested in returning depending on how RIA evolves the show.
"We didn't have a single respondent out of 250 respondents who said they would not be back," Schalow said. "That was validating to our efforts. The bottom line is, we're very, very pleased. We know we're onto something. The channel is accepting, and our membership is accepting, the premise for the show. They get it, and we're pleased that they understand what we're trying to do."
But while the location and core mission remains the same, the so-called Kick Show 2.0 will have a few minor format tweaks, Schalow told SGB on Monday morning. For one, RIA will increase the cap on retailers by 50 percent—to 95 shops from 65—and will welcome some new larger brands in attendance as well as an increased emphasis on "emerging brands."
"The emerging brands' showcase will have six to eight additional brands beyond the 26 invited brands, and these will also be by invitation," Schalow said. "These smaller emerging brands have interesting product stories that we're going to showcase and expose our buyers too."
Another small change: the event is moving up a few weeks in the calendar. Kick Show will be held May 11-14, 2020 (this year it was in early June). Since late spring is a busy time for trade shows—including such events as Best Running Stores in America, Outdoor Retailer Summer Market and Fleet Feet's national franchise conference—the slight date change should help in numerous ways, Schalow said, including fewer conflicts with school graduations.
But more importantly, "By moving it a little earlier, we're also going to be more aligned with the sales cycle for brands," he added. "Most of them will have just gotten out of their sales meetings and product is ready to go. We wanted to do ensure that as soon as our key brands are prepared to show their spring 2021 product, and we thought that the earlier date would be more efficient for our brands."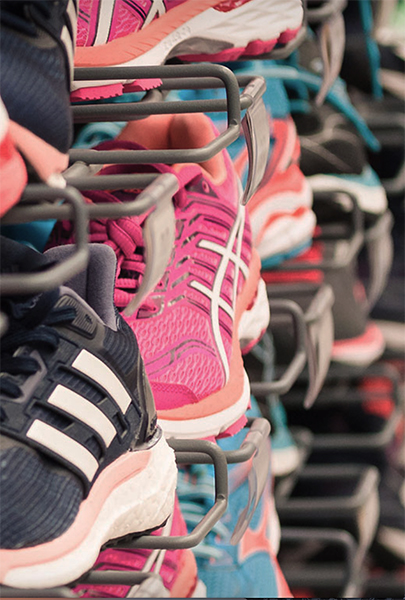 The biggest change coming to the event is that RIA will provide brands a list of attending retailers ahead of the show. For that reason, the registration will close earlier than it did in 2019 when RIA was taking registrants almost until the event began.
"The brands can be very proactive and do some preshow planning with their retailers to ensure that it's about them coming to the show, seeing the lines and then being able to quickly and easily generate orders," Schalow said.
Another change is that attending retailers will be able to customize their show experience—specifically which brands they see based on their own shop's product needs.
"Last year, every retailer was assigned to see every brand and this year we're going to set up the buying tracks differently," Schalow said. "For example, if you're an apparel buyer, then you can sign up just to see apparel brands. Or you can pick and choose the brands that you want to see. While we will guarantee brands a minimum number of retailers, we're going to allow those retailers to say, 'These are the top brands that I want to see.' Retailers will be able to customize their show experience, which we think it's an important evolution of the show platform."
The evolution of the show comes alongside the evolution of the run specialty channel, which SGB has reported on extensively this year, including during our recap of the inaugural Kick Show.
As Schalow told SGB during a Q&A on Day 1 of this year's event and which he reiterated this week, Kick Show's success—even just two years in—is a welcome sign because in many ways it is a barometer for the industry's health. The more that brands and retailers come together to celebrate the channel, the more they work on promoting each other's goods and services, the more everyone will flourish.
"It certainly is a barometer," Schalow said. "If you see stores and brands being willing to invest both their time and money to attend an event of this nature, then it shows us that there's a healthy business level out there. If you take the temperature of the channel and how bullish people are on the channel, when they're willing to get out of their stores and go attend events of this nature, and you see them being well-attended, then you certainly can infer that the channel is pretty healthy."
Photos courtesy RIA