By Thomas J. Ryan
Nike's decision to pull distribution from Amazon is expected to be a positive catalyst for any other retailer of Nike merchandise, but particularly sellers of moderate-priced footwear. But analysts also believe the move reveals deeper insights into Nike's evolving distribution strategy.
As reported, Nike confirmed last week that it was ending a two-year pilot to sell directly to Amazon. Nike said in a brief media statement, "As part of Nike's focus on elevating consumer experiences through more direct, personal relationships, we have made the decision to complete our current pilot with Amazon retail. We will continue to invest in strong, distinctive partnerships for Nike with other retailers and platforms to seamlessly serve our consumers globally."
Many market watchers believe a major goal of the pilot was for Nike to gain better control to remove fake Nike listings and unauthorized third-party sellers on the Amazon platform and those issues weren't being fixed.
But Nike is also making a major push to have "differentiated retail distribution" account for the majority of its sales and a less-than-optimal presentation on Amazon is believed to be part of the reason for the exit.
Nike's Direct-to-Consumer (DTC) President Heidi O'Neill said on the Bloomberg Business of Sports podcast that aired last week, "We want to have great partners as part of that ecosystem, but we want to make sure that those experiences are the most premium experiences that we can possibly provide."
O'Neill also said Nike is looking to better engage consumers through technology that likely wasn't accessible through the Amazon platform.  She highlighted a program with one of Foot Locker's New York City locations that enabled customers to use Nike's app.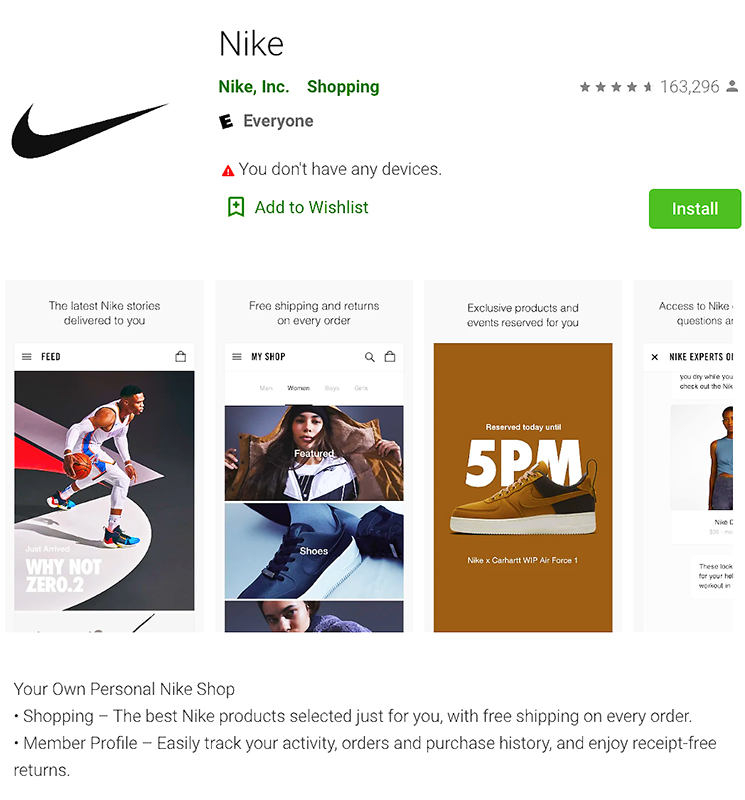 "We were able to make that connectivity into a great digital and physical shopping experience for consumers," O'Neill told Bloomberg. "That's a great example of how we'll continue to have partners be a really important part of our ecosystem."
The following are some insights from analysts on Nike's move to end Amazon distribution.
Susquehanna Believes Nike's Move Points To Merits Of Avoiding Amazon
At Susquehanna International Group, Sam Poser believes Nike's move to exit Amazon should be beneficial to Famous Footwear, Dick's, DSW, Shoe Carnival, and Kohl's that all sell moderately-priced Nike footwear. But the bigger message, he believes, is that selling on Amazon is transactional and doesn't enhance a brand's image
Poser wrote in a note, "Brands must be treated as sacrosanct, and Nike realized that any carve out Amazon provided did little or nothing to enhance the Nike brand or stop unauthorized third-party sellers. There is a big difference in managing a brand as compared to managing a label. Brand management means controlling almost all aspects of the brand experience from product to style to how the product is presented and marketed both in-store and online."
Poser noted that Canada Goose, Lululemon, Vans, Birkenstock, as well as numerous luxury brands, don't sell directly to Amazon and have made up any lost sales by partnering with "simpatico retail partners" or going DTC.
He pointed to Birkenstock as a case study in forgoing distribution on Amazon. The footwear brand made a decision in 2016 to stop selling directly to Amazon and also prevented any of its wholesale partners from selling on Amazon as third parties. Since then, Birkenstock's business has flourished with the brand able to find more space at wholesale accounts that "provide the Birkenstock fans the appropriate brand experience."
Poser further believes Ugg, with its reputation improving, may eventually decide to forego Amazon distribution.
Poser concluded, "Most brands within our coverage universe should reassess their distribution strategy as it pertains to Amazon, especially brands that rely on influential consumers to sustain and enhance brand equity. Those invested in business with Amazon risk becoming just labels and losing their brand status."
Wedbush Sees Benefits For Shoe Carnival And Famous Footwear
Analysts at Wedbush Securities led by Christopher Svezia wrote in a November 14 note, "Nike's decision to end its pilot with Amazon and to not directly sell on the platform both highlights the likely strength of its 'core offense' and is a show of confidence in existing strategic partners like CAL's Famous Footwear and SCVL, two of the primary beneficiaries of the move in our view."
Svezia wrote that given Nike's strategic emphasis on DTC and differentiated "premium experience" partners such as Foot Locker, Nike likely never would have intended to sell premium products on Amazon. As such, any expansion of more moderately-priced products could have come at shelf space allotted to Famous Footwear, which is owned by Caleres; Shoe Carnival; DSW, owned by Designer Brands; Kohls and other mid-tier sellers. Svezia wrote, "Amazon therefore no longer appears to be a potential threat to these retailer's market share of Nike product."
Svezia further wrote that Nike had discussed investing in bringing more innovation to the "core" or mid-tier footwear channel and believes management has increased confidence that existing mid-tier accounts such as Famous Footwear and Shoe Carnival show growth in those channels. Wedbush noted that Mark Parker, Nike's CEO, stated that core offerings have "tremendous upside ahead" on the company's recent conference call. Nike's kids business also saw its biggest back-to-school season yet with a double-digit sales gain helped by "significant gains in core."
Wrote Svezia, "The move away from Amazon, therefore, signals that the 'core offense' is likely seeing strength and that Nike has confidence in its key partners like FF and SCVL (who see 20 percent and 27 percent of their annual sales respectively from the brand) to help drive these gains into the future."

Foot Locker Seen Benefiting From Reduced Amazon Concerns
At Wells Fargo, Tom Nikic doesn't believe the move will matter much to Nike's growth or the growth of the brand's wholesale partners.
"What we do think, however, is that it alleviates at least one of the key sentiment overhangs on FL—as the "Amazon threat" has now been proven to be overblown."
Some investors were said to be concerned about Foot Locker's growth should Amazon become a bigger seller of Nike product. About two-thirds of Foot Locker's sales come from Nike products.
But Nikic also said the move to stop selling to Amazon provided further insights into how Nike is approaching the marketplace.
First, Nikic said it showed that Nike "cares more about brand presentation than consumer reach." Many in the market believed Nike could no longer resist selling to Amazon's 190 million monthly unique visitors in the U.S., but Nikic noted that Nike would be selling to Wal-Mart and Target is the brand's big priority was consumer reach. Wrote Nikic, "They're available widely enough that they don't need distribution just for the sake of distribution."
Second, the move shows Nike wants consumers to engage "primarily on Nike.com" in digital channels while engaging with the brand's preferred wholesale partners such as Foot Locker who present the brand well at the brick and mortar level. Wrote Nikic, "Simply put, AMZN didn't fill a clear 'need' in NKE's distribution strategy, given the efforts that NKE has made on the digital side with compelling online platforms, including the popular 'SNKRS' app."
Finally, Wells Fargo didn't see this as a signal that Nike was further deemphasizing wholesale with the Wall Street Journal article that broke the news noting that Nike would continue to seek partnerships with other retailers and platforms. Wrote Nikic, "We think that this is a sign that NKE will continue to focus on their "strategic wholesale" accounts. We also think that NKE might not have been satisfied with AMZN's ability to restrict third-party sales of NKE products on the platform."
Does Amazon's Exit Open Opportunity For Nike At Target?
Raymond James' analyst, Matt McClintock, likewise believes the Amazon exit will help remove concerns over Foot Locker. He wrote in a note, "We believe FL's dominant position as the single best physical athletic footwear distribution point in the world is only becoming increasingly more important to NKE's long-term strategy, particularly given the news that the largest digital distribution network in the world (AMZN) is no longer a factor."
He also believes Foot Locker's "more extensive" remodels, versus Nike's other wholesale partners, bodes well for Foot Locker to continue to secure a strong pipeline of product from Nike.
But McClintock also said the move aligns his team's thesis that Nike may be a good fit to land inside Target's doors. He noted that Nike's "differentiated retail" distribution strategy "perfectly aligns with TGT's heightened investments in both physical store experience as well as digital capabilities such as Drive Up."
Target has already further partnered with Levi Strauss, which has said it's been able to find a younger consumer that isn't shopping at malls inside Target and is finding success selling some of its premium wholesale products at the discounter. Up-channel designers/brands such as Vineyard Vines, Hunter and Marimekko have also collaborated with Target.
He also believes Target's replacement for C9 by Champion could be a national brand.
Raymond James further believes Target's upgrades help the chain better fit Nike's standards for wholesale partners than department stores such as Kohl's and JC Penney that are selling moderately-priced Nike footwear. Wrote McClintock, "TGT could be an ideal retail partner to fill this void and replace KSS and JCP, for example, to sell everyday Nike products in an experiential, frictionless way, in our view."
Photos courtesy Nike