By Eric Smith
Bill Sinoff scouted his latest career move like a climber approaching an unknown yet somehow familiar wall.
Gather beta. Map different routes to the peak. Make note of any obstacles. Only proceed with the right partners by your side.
After the industry veteran was able to check each box, he accepted the general manager position for the Los Angeles, CA-based climbing shoe brand Evolv, which will be formally announced later this week.
He starts January 6, when he'll become the company's first GM since Evolv was acquired by Bolzano, Italy-based Oberalp Group earlier this year. Though Sinoff faces a lofty goal at Evolv—lead the brand into a new chapter of domestic and global growth—he feels his background has prepared him for the challenge.
Sinoff's resume includes stints at such brands as Bigtruck, Black Diamond and ExOfficio, but he also brings a passion for climbing that began in Boulder, CO, and later included stops at the epicenter of climbing, Yosemite National Park, and even Europe. Those athletic pursuits are equally important, he said, and actually provide parallels to career situations.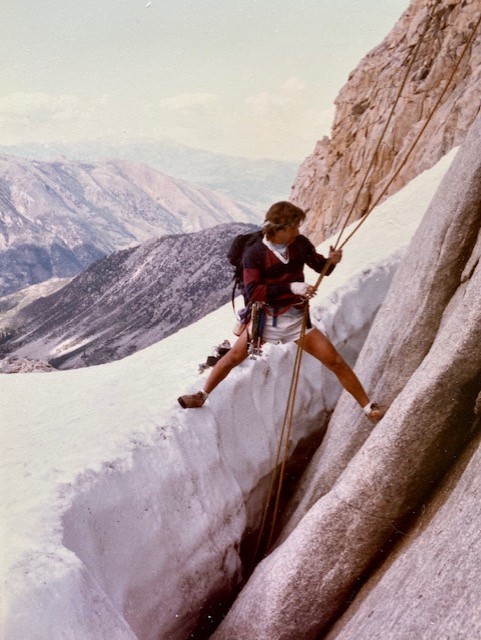 "All the skills that I learned climbing are 100 percent the skills that I use to approach business challenges and life challenges," Sinoff, pictured left, told SGB in an exclusive interview Thursday morning. "The biggest takeaways are: You're never going to outguess the weather. The hardest thing is getting started. Understand that nothing is going to go as planned. If you take that approach, if you look at every challenge along the way as a bump in the road and not a catastrophic event in the making, you keep rolling through it. Sometimes you pivot to the right or to the left, but if you just stick with it and understand that it's going to come with some real hard yards along the way, it typically works out. If you're still breathing, I always considered it a win."
His approach and his attitude, in both a business setting and on a wall, were what attracted Evolv to this industry "OG," according to Drew Saunders, country manager for Oberalp North America, which manages the company's brands on this side of the Atlantic.
"The Evolv brand has a rich history of serving the high-performance needs of the climbing community who challenge themselves and their equipment in all climbing conditions," Saunders said. "Bill has spent his career building high-performance brands that appeal to passionate athletic and outdoor consumers. Bill brings a unique combination of product creation, sales-driven strategy and operations expertise to his new role, making him ideally suited to the role of brand GM, plus he is a Yosemite climbing legend."
Not only does Sinoff have a unique skill set that can help take Evolv to the next level, but he finds himself in a unique situation with the brand. It is the only U.S.-based asset in Oberalp's otherwise European portfolio, which includes Salewa (mountain sporting goods), Dynafit (alpine equipment), Pomoca (touring skins) and Wild Country (climbing equipment).
Oberalp acquired Evolv from BRS Outdoor Holdings, an investment platform of BRS & Co., for an undisclosed amount. Click here to read SGB's coverage of the acquisition. Acquiring Evolv not only gave Oberalp a climbing shoe asset, helping round out its portfolio of mountain-based brands, but it also provided a nice revenue bump for the company.
As Saunders told SGB during an interview in July, "Adding Evolv to our portfolio will grow our North American business by about 50 percent. It's a notable increase in the U.S. business, and it really starts to change the scope and the scale of our business."
Sinoff is now the one charged with truly changing the scope and scale of Oberalp's North American and international business. But he comes to the job with confidence since he's accomplished similar feats at other outdoor brands.
For example, during his five-year stint at the Bigtruck, a California-based trucker hat brand, he managed the company's sales channels, finance, operations, marketing, and product development and design. Prior to that, he was North America sales director at Black Diamond Equipment, the flagship brand of the publicly traded Clarus Corp.

At Evolv, Sinoff will oversee brand management, North American and international sales and marketing, including the resoling and retail businesses, product design, development, supply chain and production.
"We all own our brand—sales, marketing, product design, development, social strategy, digital strategy," Sinoff said, adding that Oberalp's other brand GMs have similar responsibilities. "It gives the brands the ability to really speak endemically to their customers."
Speaking endemically to customers is mission-critical for Evolv, whose upside is substantial thanks to the recent boom in climbing—especially a particular category of climbing.
According to the most recent State of Climbing report from the American Alpine Club, more millennials are trying out the sport and they're trying it indoors at the growing number of climbing gyms around the country. This gives Evolv a chance to grow share by partnering with gyms and building brand awareness in places other than traditional rock walls and crags.
"Gym climbing is shaping the entire narrative of climbing for generations and generations to come," Sinoff said. "I think the massive macro opportunity for Evolv is we get to help shape that narrative because the more traditional top-of-the-mountain brands can't. They've got so much legacy and equity in the whole culture of traditional climbing and mountaineering. I think Evolv comes at it with a completely fresh perspective of 'this is really climbing.' And not only is it really climbing, it's going to drive the narrative for our grandkids."
Sinoff will spend his first few months refining Evolv's channel strategy to take advantage of existing markets and also identifying emerging markets for its catalog of climbing footwear.
He will manage the LA office and its nine employees, including the founder and chief of brand, Brian Chung, and he will report directly to Oberalp's Italy-based CEO Christoph Engl (who SGB featured earlier this year).
As Sinoff undertakes this latest challenge, he's thrilled to have the right partners around him, including Chung, Saunders, Engl and the other "passionate mountaineers"—as Engl describes them—that compose the Oberalp team. He already knows that the only way they'll reach the summit is together.
"Ultimately, success is built on the team," Sinoff said. "It is the sum of the parts, 120 percent of the time. It doesn't matter how skilled and experienced the group is in any capacity. How it all blends together is the magic in creating a successful brand."
Photos courtesy Evolv