By Eric Smith
Christoph Engl lives next to the Dolomites in the South Tyrol province of Northern Italy, but the CEO of Oberalp Group—parent company of Salewa, Dynafit, Pomoca and Wild Country—feels at home among mountains no matter their name or locale.
So the avid skier, cyclist and mountaineer was in his element during a recent trip to Colorado, where the snow-covered Rockies provided the ideal backdrop to discuss his vision for Oberalp, the Bolzano, Italy-based outdoor company that appointed him as its top executive last September.
Engl was in Boulder for a winter adventure camp hosted by Meteorite PR, the outdoor agency that reps Oberalp's brands, and then in Denver for Outdoor Retailer Snow Show, where some of those brands exhibited their newest product offerings.
In a conversation with SGB at the Boulder Adventure Lodge following a day of demoing Dynafit ski gear at nearby Eldora, Engl made clear his fervor for a variety of mountain activities and the products needed to pursue them. That's one of many reasons he was chosen to take the reins of a family-owned company whose origins date back five generations and whose DNA is deeply rooted in the Italian Alps.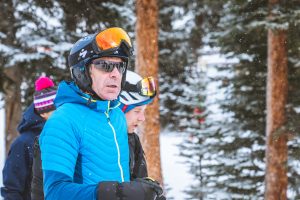 "We grew up in the mountains," Engl said of the business and people he now leads. "We are skiers, we are climbers, we are cyclists, we are flyers. The family of owners and all of our 650 employees—we are passionate mountaineers."
But Engl also made clear his passion for nurturing brands, and another reason he was brought on is to spearhead growth for Salewa (mountain sporting goods), Dynafit (alpine equipment), Pomoca (touring skins) and Wild Country (climbing equipment).
"Christoph Engl's international experience and leadership skills are good prerequisites to take the company to the next level in a world that is currently in a time of upheaval," said Heiner Oberrauch, who formed the current iteration of the company in 1981.
As focused as Engl is on the future, however, he understands the importance of Oberalp's past. According to its website, the company's mission is a "working climate characterized by mutual trust and individual motivation. The courage to follow new paths, the continuous innovation of products and processes, the thoughtful usage of resources and the environment, and especially the unbounded passion for sport and mountains, are the fundaments on which the organizational culture lived in Oberalp is based."
Engl has fully adopted that ethos. "We are running our business very close to the values of the family," he said. "That makes us very clear in our value chain."
Another factor that makes Oberalp clear in its value chain is the emphasis only on one segment—mountain—as the company refuses to water down its brands by venturing into other categories.
"We aren't doing what all the other brands are doing. They straddle in the outdoor segment," Engl said. "There are even some haute couture brands coming in the outdoor industry. We are doing the opposite. We are focusing only on mountain. That's a very difficult sector. It's very expensive to develop products because they are technical. You have to respect rules on safety, you have to respect rules on durability, you have to respect rules on technology, and that makes this business very difficult to run."
Difficult because of rigorous testing required for, say, an alpine touring binding. Difficult because of the need to continually innovate. Difficult because the margins are thin. Difficult because of the need to get in the right channels where retail partners can properly explain the value of a Dynafit boot, like the Hoji Pro Tour, or a Pomoca skin that complements that boot.
Also difficult because Oberalp is committed to sustainability across its brands, something that many companies tout but which can be hard to showcase in a world of green-washing.
"We add to our focus on mountains the sustainability aspect because that is a value of the family," Engl said. "We are focusing more and more in materials and the whole supply chain. It's not that we are positioning ourselves and all our brands only on sustainability—like what Patagonia is doing very well—but it is becoming more in demand and more important for the customer. Sixty-five percent of all our mountain apparel is PFC-free. We feel the Oberalp Group has become a more and more recognized brand that is not only specialized in mountains but also brings in the most important value of the customer—sustainability."
Oberalp is also committed to showing consumers across the globe that when they buy Salewa, Dynafit, Pomoca or Wild Country gear, they are purchasing product from a brand that's focused on authenticity. This is evident in Engl's comments around how the company works to translate its brands' messaging for the U.S. market.
"First of all, we are a European company," he said. "Every brand has to have a home and our home is the Dolomites, our home is the mountains. We are delivering product for mountaineers worldwide but it's very important that people know Oberalp is a European company that comes from the Dolomites and has European aspects. We want to be recognized as a European brand, and not as an international brand in which nobody knows who are the owners are, nobody knows where they come from, nobody knows their convictions and nobody knows which fund has sold them."
In fact, he added, with so many private equity companies and investment funds owning brands in the outdoor space, it's hard to know who is making all-important business and product decisions. This gives Oberalp an edge in established or emerging markets, the company's owners and executives believe.
"In much of the market at the moment, nobody knows which fund is now owning what," Engl said. "We want our customers, our retailers and our partners to recognize the brands of Oberalp so that they know where they are made, why they are made and from whom they are made."
Oberalp has annual revenue of €220 million (US$250 million), with the U.S. accounting for only €15 million (US$17 million) of those sales, Engl said. With further emphasis on brand building in the U.S. and Canada—something Engl is working on with the North American team, which is led by country manager Drew Saunders—that gives the company plenty of opportunity for growth here.
But Engl is fully away of the challenges the brands face in the U.S., especially with a competitive landscape and vastly different distribution model, one that Oberalp is working to navigate by growing its channel partners while also elevating its brand presence in the eyes of consumers through direct sales.
He said that as the company works to grow market share in North America, he wants to more evenly distribute sales across its own channels and channel partners. At the same time, establishing and developing more partnerships is the key to success here, Engl said, and getting select Oberalp products into more doors is top of mind for the company.
"In the U.S., our business model is much more about the partnerships—not only that we deliver items but we try to find the right solution for our partners," Engl said. "We ask, 'What would be the right assortment from a European brand?' 'What can we do together?' 'How we can work out a deal together on volumes?' In North America, it's much more important to have a very strong partnership and not to have a big catalog with a lot of items and SKUs."
And while numbers will always be an important component for any business, even one that's privately held, Engl understands that his job as steward of the Oberalp name and legacy means more than just growing the top and bottom lines. He is squarely focused on something the company values even more than sales, even more than the mountains that inspire its array of apparel, bindings, skins and skis.
"We recognize the big value in people," Engl said. "We know that the whole industry is becoming more a people business and not a product business. And that's for me is an important issue. Our products can be replaced, but our people cannot."
Being more of a people business is an important part of what Engl wants to achieve as CEO of a fifth-generation European brand. He knows that if he can achieve that, he can guide Salewa, Dynafit, Pomoca and Wild Country to new heights and new horizons.
"Oberalp Group in 10 years will be recognized as the most important mountain brand center in the world," he said. "I think that it's a big challenge, but if we focus on our brands and don't spread ourselves too thin, we can bring our company to the next level."
Photos courtesy Oberalp Group and Meteorite PR
Editor's note: In an earlier version of this article, due to an editing error, Engl's first name was misspelled. SGB regrets the error.