By Eric Smith
Shares of Canada Goose Holdings Inc. didn't take quite the nosedive Wednesday that they suffered in May after the previous quarter's softer profit outlook, but the company's Q1 2020 performance—most notably margin decline and a widened loss—once again took a toll on its stock.
The Toronto-based apparel company's shares closed the day down $3.24, or 7.5 percent, to $39.97 after Canada Goose earlier in the day announced another loss. Shares had plunged 31.2 percent in May after the company posted its slowest revenue growth in eight quarters plus lower-than-expected guidance for fiscal year 2019.
Canada Goose kicked off fiscal 2020 by widening its loss from the year-ago quarter. Adjusted net loss for the fiscal first quarter ended June 2019 was $22.8 million, or 21 cents per basic and diluted share, which missed Wall Street's estimates by 3 cents. In the same quarter a year ago, adjusted net loss was $16.7 million, or a loss of 15 cents per basic and diluted share. (All revenue and income figures are in Canadian dollars.)
Unadjusted, the company posted a net loss of $29.4 million, or a loss of 27 cents per basic and diluted share, compared to the year-ago loss of $18.7 million, or a loss of 17 cents per basic and diluted share.
In addition to the expected increase in operating loss, net loss was impacted by $7 million of unamortized costs triggered by the closing of the Term Loan Facility refinancing in May.
Also, the company's gross margins decreased 650 basis points to 57.5 percent from 64 percent, reflecting a greater proportion of wholesale revenue compared to last year, President and CEO Dani Reiss said on Wednesday morning's earnings call with analysts.
Once again, however, revenue continued to climb upward as the Canada Goose brand strengthens globally and the company expands its product mix. The company's Q1 revenue was $71.1 million, a 59.1 percent bump from the same period a year ago and ahead of Wall Street's consensus estimate by $30 million.
The company notched "robust growth," as the company said, in every geographic region. Canada Goose sales grew 40.4 percent in Canada, 15.8 percent in the United States and 79.7 percent in Europe and the rest of the world.
In Asia, revenue nearly tripled to $18.1 million from $6.6 million, which included earlier shipments to international distributors in Japan and South Korea, and the incremental contribution of direct-to-consumer [DTC] operations in Greater China.
"From a sales perspective, we grew significantly in all geographies compared to Q1 last year at levels that met or exceeded our expectations relative to the quarterly ebbs and flows of our business in each market," Reiss said.
Reiss said the traction Canada Goose is gaining in Asia—as evidenced by close to 300 percent growth—was noteworthy, especially the standout performance from the key market of Japan.
"In terms of both market size and influence, it is an integral part of the regional industry landscape," he said. "In the early days, it was one of the first international markets that I brought Canada Goose to. And from those humble beginnings approximately 20 or so years ago, they've grown into one of our most strategically important and economically significant markets. We are building on the long-standing strength of our business in both distribution and products.
"In market, we are taking our presentation and experiential storytelling elements to the next level. And like in other geographies, we are seeing great momentum in non-parka categories. This includes a number of products and styles developed specifically with Japan in mind, which is an important trendsetter market internationally."
Canada Goose saw strength in both channels too. DTC revenue grew 50 percent to $34.8 million from $23.2 million, primarily driven by incremental revenue from five new retail stores and one new e-commerce market opened during fiscal 2019.
And wholesale revenue skyrocketed 69 percent to $36.3 million from $21.5 million, an increase that was driven by higher-order values from existing partners, coupled with customer requests in Europe and Asia for earlier order shipments relative to last year. The gains also reflect incremental revenue from footwear brand Baffin, which Canada Goose acquired in November 2018.
Click here to read more about Canada Goose's Q1 earnings.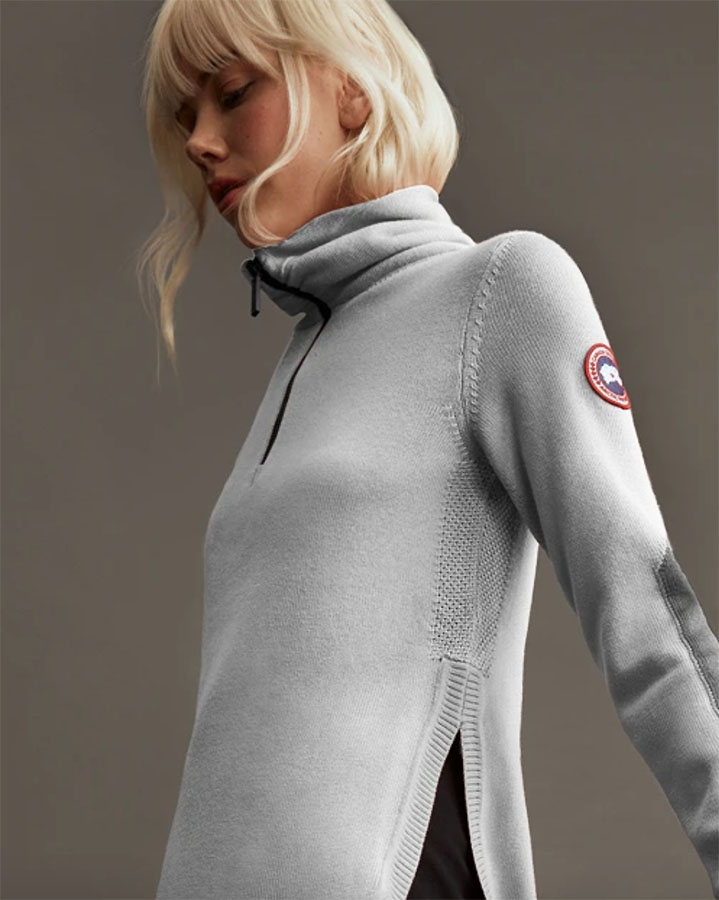 Q1 is historically one of the company's slowest in terms of revenue (who wants to buy a parka in the summer?), but Canada Goose benefited from non-parka revenue, which nearly doubled its DTC revenue relative to the year-ago period, Reiss said. It now composes one-third of that channel's sales.
"Our expansion across categories and climates with best-in-class products which is undeniably authentic Canada Goose is clearly working," he said. "I'm proud and excited about this because there's a shift in perception of our brand and a change in the year-round commercial relevance. We set out to do this. We're making great progress and we have a lot of runway left ahead of us. To have such a commercially vibrant business at this time of the year is something that we have worked very hard to achieve and we're very proud of that."
Another perception change that Canada Goose is working to roll out is in footwear. The company earlier this week announced it had hired Woody Blackford, who will join the company in fall 2019 as the EVP, design and merchandising, and who will spearhead much of the product development moving forward.
"This is a foundational next step in the development of new categories, including a Canada Goose footwear offering," Reiss said. "Serving most recently as the VP of global design and innovation at Columbia Sportswear Company, Woody is an innovator at heart with deep sector experience and an extensive track record in driving the commercialization of new product categories."
Columbia, in fact, just upped its footwear game with a new product called Shift (stylized as SH/FT). Could Canada Goose, which recently acquired Baffin, further venture into the category as a way to diversify its portfolio?
"Cold-weather footwear today looks a lot like parkas did 20 years ago," Reiss said. "We have a massive opportunity to define and develop this market in a way that no other brand can. There is still a lot of strategic and commercial work to be done and we won't compromise quality for speed. However, adding Woody to the organization and the expertise that we already have from Baffin are important parts of the puzzle to accelerate our journey. As a globally recognized industry leader and a Canadian coming home, Woody is an important addition to our team and I'm really excited to be working with him."
The company has big plans for the category (as well as others) on the distant horizon, but it's critical to maintain authenticity by developing new product here at the right cadence, and not at the expense of Canada Goose's core product offering, Reiss said.
"I'm certainly very excited around footwear. I think we really have a tremendous opportunity there," he said. "And we are going to make sure that we build it in the right way and do so at the right time."
Despite another loss for the company amid margin pressures and other factors, Canada Goose remains confident in its model moving forward. The company reiterated its fiscal 2020 guidance of revenue up 20-plus percent and EPS up 25-plus percent. The company projects wholesale up in the high-single digits and DTC up in the low 30 percent range and nine new stores.
"As a brand that now has true year-round relevance the commercial pulse in our business has never been stronger in what we used to call our off-season," Reiss said. "We have great momentum as we transition into the fall/winter season and we're on track to deliver another strong year."
Photo courtesy Canada Goose Holdings Inc.