By Eric Smith
Shares of Peloton Interactive Inc. slipped yet again Monday, down $1.26, or 5.4 percent, to $22.26 at market close, but analysts remain upbeat on the company's prospects based on recent coverage initiation reports and rating changes to "buy" or equivalent.
The company, which went public on September 26, saw its shares close the first day of trading at $25.76. Peloton's price targets now range from $29 to $37 a share, according to a Monday survey in the Wall Street Journal, below right.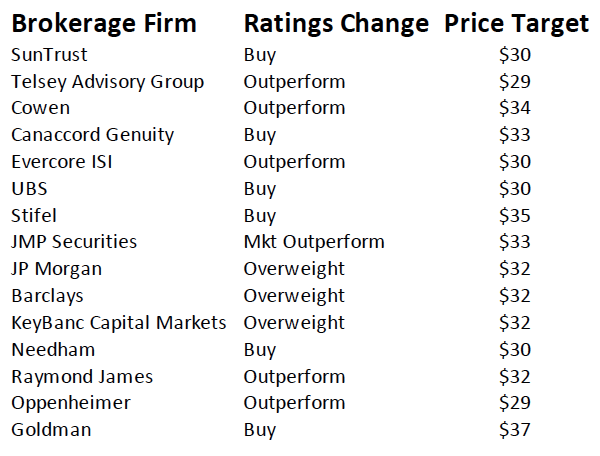 The slow start should be but a blip for Peloton, according to the analysts now covering the exercise bike maker and interactive fitness provider. And the company is approaching its first-ever earnings report, set for November 5, with plenty of confidence.
Peloton, in its IPO filing, described itself as a "technology, media, software, product, experience, fitness, design, retail, apparel, logistics company," adding that "above all else, we are an innovation company transforming the lives of people around the world through our ever-evolving fitness platform."
The only buzz word missing there was "disruptive," but Peloton certainly has targeted some industries that could be ripe for disruption, including gyms and fitness centers.
In fact, Michael Graham, Maria Ripps, and Alexander Frankiewicz of Canaccord Genuity—the global capital markets group of Canaccord Genuity Group Inc.—are among the analysts who see the potential for Peloton to do to gyms what Netflix did to video rental stores, namely Blockbuster.
They wrote in a note to clients that Peloton's products and platform alike can "capitalize on a large market while defining a new one."
"Peloton is pursuing a large market opportunity which we estimate at over $300 billion globally," they wrote. "The market for gym memberships accounts for more than $90B of annual fitness spend while other segments including apparel, yoga studios, personal training, and fitness equipment make up the rest. In particular, we view the gym membership segment as especially suitable for Peloton's offering, and we see the company not only taking a sizeable share of this segment over time but also potentially expanding the market as consumers who might shy away from frequently going to the gym may engage more fully with an at-home model."
They went on to write that "no comparison is perfect," but they view Peloton in the same light as other paradigm-changing companies including Apple (smartphones and content to go with them), Netflix (shifting viewership habits and re-working the video content supply chain) and Spotify (all-in-one subscription music consumption and revenue sharing with content owners)."
Just as Netflix offered much more than the antiquated competitor it was targeting, Peloton boasts plenty of upsides, too, compared to gyms.
The company's "new path to fitness" includes "social networking, friendly competition, celebrity instructors, high-quality equipment, and the ability for households to consolidate multiple gym memberships or boutique fitness per-class fees into one subscription that covers the entire household," the Canaccord Genuity analysts wrote. "As the company likely will layer in new fitness modalities and functionality in additional facets of health and fitness, we see a vast opportunity for Peloton to become the 'fitness operating system' for millions of households worldwide."
Jonathan Komp of Baird also recently wrote a note to clients initiating coverage of Peloton. He gave the company an "outperform" rating with a $28 price target. He is bullish on the company's vertical integration and its long-term staying power—its ability to power through whatever early roadblocks emerge.
"Peloton has created a better fitness model providing premium content via a vertically integrated digital platform," Komp wrote. "Key satisfaction/engagement measures are very positive and we see a sizable potential market. While achieving GAAP profitability may prove difficult over the next ~5 years due to investments, PTON possesses substantial long-term sales/profit upside. Following a disappointing IPO (Baird not involved) and now at 3.6X C2020E EV/Sales, we see a positive outlook especially if PTON delivers strong early results."
Peloton will unveil those early results on November 5 when the company releases its first-quarter fiscal 2020 results before the U.S. stock market opens.
The company is optimistic in its model for many reasons, primarily an estimated total addressable market [TAM] of 67 million households, of which 45 million are in the U.S.
In its IPO filing, Peloton wrote: "Within our TAM, we estimate that 52 million households are interested in learning more about our Connected Fitness Products without seeing the price. We estimate that our SAM [serviceable addressable market] is 14 million Connected Fitness Products, with 12 million represented in the United States. Historically, our SAM has grown as our brand awareness has increased. With low brand awareness in our current international markets, we believe we will see SAM expand as we make further investments in building brand and product awareness in these regions. We will grow both TAM and SAM as we expand beyond our current geographies and grow SAM as we develop new Connected Fitness Products and content in new fitness verticals. With approximately 577,000 Connected Fitness Products sold globally as of June 30, 2019, we are approximately 4 percent penetrated in our SAM of 14 million."
Click here for our coverage of Peloton's IPO filing.
Whether or not Peloton's model proves to be a great disrupter of the gym space, the company is sure to make some marketplace noise. Now the question is will that resonate with investors.
Photo courtesy Peloton