By Eric Smith
2019 has already been a milestone year for Sherrill Inc., the Greensboro, NC-based distributor and retailer of arborist tools and climbing equipment whose portfolio includes such brands as Silky Saws and Notch Equipment plus such online outlets as treestuff.com and sherrilltree.com.
For one, Sherrill is under new ownership. Denver, CO-based private equity firm Platte River Equity announced in January it had acquired Sherrill from Generation Equity Capital (the deal closed in December), which had owned the company for the previous decade.
Also, over the last few months, Sherrill has been sunsetting its e-commerce site ClimbStuff.com, which President and CEO Tripp Wyckoff told SGB was a "swing and miss" after it became apparent the business's razor-thin margins weren't sustainable.
But perhaps the biggest change arrived last month when Sherrill acquired Sterling Rope Co. Inc., the Biddeford, ME-based safety rope manufacturer. Terms weren't disclosed, but the move should be transformational for both companies—Sherrill because it further vertically integrates the company's rope business at a time when climbing is on the rise, and Sterling because it allows the brand to grow exponentially.
The acquisition gives Sherrill a key asset to help grow its product division, one of three business segments along with e-commerce and distribution. And because Sherrill had already been distributing Sterling's products, the company was intimately familiar with its line and how Sterling's Made in the USA ethos would be a nice strategic bolt-on. Moreover, Wyckoff saw that Sterling offered Sherrill a much-welcomed outdoor asset.
"Sterling been a great supplier of ours for many years," Wyckoff said. "Sterling is known for having the highest quality, innovative products and exceptional brands. Beyond that, ropes is a really large part of our overall business—about 30 or 35 percent of the total revenue of our company. And so the opportunity to vertically integrate and be able to be the manufacturer and the distributor and the retailer of this category presents great margin opportunities and more control of the supply chain than what we have today."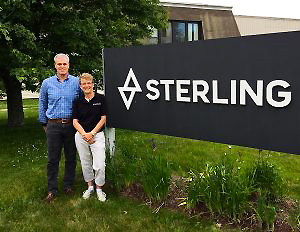 Founded more than 25 years ago, Sterling makes ropes that are used by climbers, climbing gyms, arborists, search and rescue personnel, fire departments, industrial safety and the military. While Sterling isn't Sherrill's only rope supplier, owning the brand not only enhances Sherrill's vertical integration but give the company better access to a host of retail accounts.
"We have a lot of great rope suppliers—Sterling is by no means the only great one, but Sterling's focus has always been on life saving," said Wyckoff (pictured left with Sterling CEO and founder Carolyn Brodsky). "Every rope that Sterling makes has to do with keeping someone safe and efficient and effective at height. Many of the other rope companies that are suppliers of ours have business in marine, mining, utility, but Sterling is 100 percent focused on the safety space, which is a really great fit for our business."
It's another great fit because of the surge in climbing across the U.S. and the globe. According to The American Alpine Club's first State of Climbing report, climbing, as a whole, contributed $12.5 billion to the economy in 2017. The sport was boosted by formal competitions and millions of millennials taking up the sport, the report said.
Both traditional and indoor climbing continues to grow, and product sales are booming as well. In total, climbers spent $169 million on gear in 2018, up 14.4 percent, according to data from The NPD Group. On average, climbers spend more than $1,200 more than the average outdoor consumer on gear and apparel.
Sales of climbing ropes, in particular, grew 8.4 percent last year, according to the study, giving Sherrill and Sterling plenty of runway to grow the business. The plan, however, isn't about changing Sterling's DNA but rather keeping it intact while scaling up rope production at its Biddeford factory.
"The work they've done on the brand is exceptional, and we want to keep that core," Wyckoff said. "At the same time, probably one of the biggest limiters to Sterling's growth has been their capacity. One of the things that we're doing is understanding and evaluating their production."
He said Sherrill will pour additional resources into Sterling's production efforts as it plans to "double down on the people, the facility and the machinery," Wyckoff said. For example, the two companies last week signed the United States Department of Interior's "Pledge to America's Workers." They hope to add 20-30 production and office staff in the next five years at Sterling's production facility. Click here to read about the move.
Wyckoff added that Sterling founder and CEO Carolyn Brodsky and CFO Peter Schwarzenbach will remain the owners of the brand's manufacturing facility. They also own another adjacent space that the company can expand into over the coming months. Right now, the team is evaluating how much capacity they can squeeze out of the current footprint before taking over that additional space and going even bigger.
"We'll probably make some capital investments in manufacturing machines, but we're also adding expertise to the team there," Wyckoff said. "We believe that in the current manufacturing footprint, even just in the space they're working in today, there's capacity."
In the meantime, the goal is to ramp up Sterling's production and refine its channel strategy by not only getting more product into existing doors but getting product into more doors, including outdoor specialty shops, climbing gyms and more—but only if they meet certain criteria.
"We want to organically take market share in the outdoor space," Wyckoff said. "We want to make sure we continue to drive product innovation and be competitive. Sterling's a premium brand with a premium product at a premium price, and we want to keep it that way. We don't want to get into the trench warfare of discount ropes and low margins. We want to make sure we can continue to get dealers a good margin so they make good money selling it. Being very focused on retail with this brand is a path that I've always worked with past businesses and will continue to work with Sterling."
As much as the deal made business sense for Sherrill, however, the cultural alignment was the real reason the company and its private equity parent pursued Sterling. Wyckoff met Brodsky in March 2018 at a vendor summit, and as the two got to talking, Brodsky began inquiring about what's it like being owned by a private equity firm.
The roots of the future partnership formed as the two soon realized their companies were not only an ideal business match but also culturally aligned.
"We just developed a relationship around ownership and business structure," Wyckoff said. "She and I became really great friends over the last year and a half. Now and again, we'd get together and have phone calls to talk about entertaining the potential of the two businesses coming together."
The feeling was mutual, according to Brodsky, who said, "If we could pick the perfect company to be acquired by, it would be Sherrill. Our markets are very complementary and only good things can come from working more closely together on sales, product distribution, innovation and business efficiencies."
Wyckoff, a former Thule executive whose resume also includes stints at bike accessory brands Pedro's and Kryptonite, said more deals could be on the horizon for Sherrill as the company looks to acquire its ways into other product categories to continue bolstering its vertical capabilities.
Until then, he and his colleagues are focused on ensuring that the company's newest asset has the tools needed for a lofty and successful ascent.
"The potential long term for this business to grow, both on the outdoor side and the industrial side, is really just being held back by how much product we can produce," Wyckoff said. "If we can scale that up, the sky's the limit."
Photos courtesy Sherrill Inc. and Sterling Rope Co. Inc.
---
"Behind The Deal" is an occasional SGB Executive series that takes a deep dive into M&A transactions in the active lifestyle space. Contact SGB Senior Business Editors tryan@sgbonline.com or eric@sgbonline.com to have your deal featured.