Sterling Rope Co. and Sherrill Inc. this week announced they have signed the United States Department of Interior's "Pledge to America's Workers" with the goal of adding 20-30 production and office staff in the next five years at Sterling's Biddeford, ME, production facility.
U.S. Secretary of the Interior David Bernhardt was on hand for the signing.
"The Department of the Interior is working every day to enhance visitor experiences on public lands, improve our parks and refuges and expand access for recreation activities like hunting, fishing, boating and rock climbing," said Sec. Bernhardt. "I applaud the local businesses who have signed the Pledge to America's Worker and for investing in the advancement of our current and future workforce."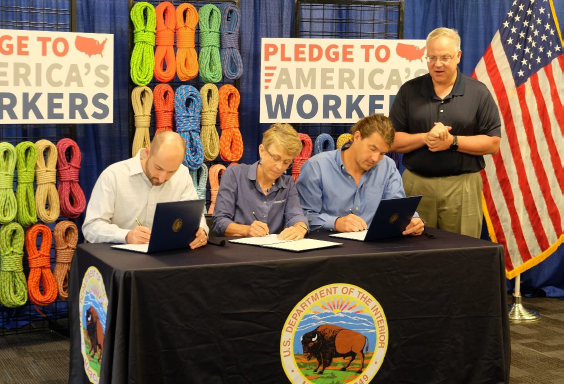 The signing (pictured right) was held in front of Sterling's employees after a tour of the rope making facility.
"Sterling Rope has always been committed to hiring great employees in our Maine facility and helping them grow with us through continual training; as they grow, we grow," said Carolyn Brodsky, president and founder of Sterling Rope.
"There were many questions about what would happen to Sterling after our acquisition of the company in early July," said Sherrill's president and CEO, Tripp Wyckoff. "By signing this pledge, we hope our end consumers can see that we are committed to keeping jobs in Maine and growing this amazing brand."
Sherrill is also planning to add an additional 10-20 jobs at their Greensboro, NC distribution and production facility.
"We have experienced some amazing growth over the past few years and as we grow, we need to add jobs throughout our organization," Wyckoff said. In the coming year, we plan to add more jobs in production, marketing, distribution and finance. North Carolina is a great place to work and live. As we grow, we hope to acquire some amazing talent from the area and bring new people and families to experience Greensboro."
Editor's note: Coming soon, look for additional coverage of Sherrill's acquisition of Sterling in our next installment of "Behind The Deal."