By Thomas J. Ryan
Yeti Holdings Inc. reported adjusted net income rose 31 percent in the fourth quarter on a 23 percent revenue gain while predicting another year of healthy double-digit growth for 2020.
"Customers continue to embrace the Yeti brand and our innovation," said Matt Reintjes, president and CEO, on a conference call with analysts.
In the quarter ended December 28, net income decreased 81.3 percent to $4.7 million, or 5 cents a share. Earnings were dragged down by $40.7 million of one-time stock-based compensation expenses related to pre-IPO performance-based awards that vested and were fully recognized, in the latest quarter. Yeti went public in October 2018.
On an adjusted basis, net income climbed 31.6 percent to $42.1 million, or 48 cents a share, exceeding Wall Street's consensus target of 43 cents.
Sales increased 23.4 percent to $297.6 million, topping Wall Street's consensus target of $279.5 million. The gains marked the company's highest growth rate in the past six quarters and reflected strong momentum as the brand enters 2020.
Among channels, direct-to-consumer (DTC) sales increased 34.8 percent to $149.0 million to represent just over 50 percent of the mix. The gains were highlighted by customer acquisition, repeat purchases and both consumer and corporate customization.
DTC momentum was seen across Yeti.com, in its Amazon Marketplace partnership and in particular with corporate sales, where expanding capacity helped Yeti capitalize on increased demand for customization. The gains were highlighted by customer acquisition, repeat purchases and both consumer and corporate customization.
Yeti officials noted that DTC sales for the year were 42 percent of sales, up from only 10 percent three years ago.
Wholesale sales increased 13.8 percent to $148.7 million.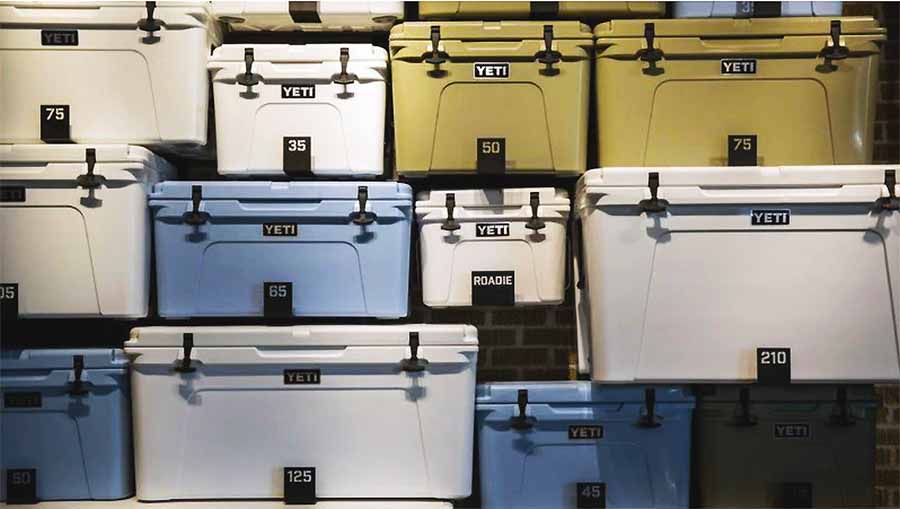 Drinkware sales grew 33.8 percent to $192.0 million, primarily driven by the continued expansion of product offerings. The gains reflected healthy growth for both legacy products and new product introductions, highlighted by ongoing customer excitement with color and strong demand for customization. The Rambler bottle business remains robust with strong core product demand complemented by new 2019 introductions, like the Rambler 12 ounce and Rambler Jr bottles.
Coolers and Equipment sales increased 12.2 percent to $102.3 million. The gains were led by strong performance in soft coolers, including demand for Hopper M30 and the Daytrip Lunch Bag that launched in the third quarter, as well as new color options.
Gross margins expanded 150 basis points to 54.5 percent from 53.0 percent a year ago. The improvement was primarily driven by cost improvements in the Drinkware category, a favorable shift in channel mix led by an increase in DTC channel sales, and lower inbound freight, partially offset by higher inventory reserves and increased tariff rates.
SG&A expenses jumped 50.5 percent to 37.4 of sales largely due to the stock-based compensation expenses. The balance of the increase was primarily due to higher variable selling expenses driven by faster-growing DTC channel, partially offset by lower costs incurred in the ongoing transition to a public company and other G&A cost savings.
Operating income, including the stock-based compensation expense, decreased 68.0 percent to $12.0 million. On an adjusted basis, operating income rose 30.1 percent to $59.7 million and EBITDA increased 29.3 percent to $67.5 million.
For the full-year, net income, including the stock-based compensation expense, rose 12.8 percent to $50.4 million, or 58 cents. Adjusted net earnings improved 36.6 percent to $103.4 million, or $1.20 a share. Adjusted EBITDA increased 25.5 percent to $187.0 million.
Net sales in 2019 climbed 17.3 percent to $913.7 million, exceeding the high end of its previous outlook calling for 14.5 to 15 percent growth. Yeti noted that growth would have exceeded its forecast even excluding sales to Lowe's, a new account. DTC sales increased 34.4 percent to $386.1 million and wholesale sales expanded 7.4 percent to $527.6 million. Drinkware sales jumped 24.0 percent to $526.2 million. Coolers and Equipment sales increased 11.4 percent to $368.9 million.
Reintjes said the financial performance achieved in 2019 was as a result of ongoing progress against four strategic growth drivers: expanding its customer base, introducing new products, omni-channel growth and international. Added Reintjes, "Our conviction around these growth drivers remains high and will continue to lead with these initiatives as we progress through 2020."
Expanding Its Customer Base
Elaborating on the growth drivers, Reintjes said both expansive marketing efforts and its expanding ambassador program are helping expand the brand's reach.
In November, the Yeti Dispatch magalog was sent to 1.5 million U.S. homes, marking its fifth magalog. Reintjes said Yeti continues to be "very pleased with the results we are seeing from existing customers and prospects, including the trends in purchase mix of newer innovation and product families."
Customization capabilities were also more loudly called out during the quarter to support growth. Product-led ad campaigns aired on TV and digital through the quarter and a "Places We Call Home" national TV and digital campaign arrived in December.
Among ambassadors, pitmaster Matt horn was named a rising star chef by the San Francisco Chronicle and is earning buzz around the opening of Horn Barbecue in West Oakland, CA set for spring 2020. Pitmaster Travis Clark claimed the title of Grand Champion at the 31st Annual Jack Daniel's World Championship Invitational Barbecue.
Surfer John John Florence at the Billabong Pipe Masters captured a final spot on the inaugural U.S. Olympic surfing team as the sport makes its Olympic debut in Tokyo.
Climbing also makes its Olympics debut and Yeti announced a broad partnership with USA climbing as its official sustainability partner. Yeti also signed on as title sponsor of the Bouldering Open National Championship. Also announced during the quarter was Yeti's first skate Ambassador, Geoff Rowley.
On sponsorships, the Yeti International Film tour last month kicked off a 12-city tour, and for the first time will make two international stops, Toronto and Melbourne. Yeti earlier this week announced it will be presenting sponsor of Austin FC, the new MLS club, with the Yeti logo appearing on the team's uniforms starting with their inaugural 2021 season. Said Reintjes, "This was a unique chance to support the Austin community, which has meant so much to us since our founding here in 2006."
Introducing New Products
Discussing new products, Reintjes said the Yeti V series was one of 16 products to make Gear Junkie's "Gear of the Year" list for 2019. Strategic color drops were also well received, including the holiday Black-on-Black collection for the Hopper Flip 12 soft cooler and Camino Carryall bag. Yeti also debuted its first Yeti Presents, The Tarpon Book, a 130-page coffee table book with photography and short essays focused on big-game fishing.
For 2020, Yeti at Outdoor Retailer unveiled its pinnacle V Series cooler, and the expansion of the Chug Cap, which makes it easier to control the flow of liquids when drinking from the bottle, as a standard feature to all bottles. The Rambler Colster transitioned to three new sizes to support the growing trend in aluminum can shapes. New colors for the Rambler collection this year will include Pacific Blue, Coral and Chartreuse. A second chair, the Trailhead Camp Chair, adding a higher pack-away advantage, will join the original Hondo Base Camp Chair.
Omni-Channel Growth
On omnichannel, beyond the 35 percent DTC growth in the quarter, a highlight was that full-price selling drove growth across yeti.com, Yeti retail and the Amazon Marketplace.
DTC growth was supported by the mid-2019 opening of its Salt Lake City 3PL, and through added customization capacity.
At wholesale, Yeti closed the year with 4,700 independent retailers. Plans call for driving growth across existing distribution, including broader assortments and enhanced merchandising, while also supporting Yeti's expansion with newer partners such as Lowe's.
Yeti has six stores, including three larger format locations in Austin, Charleston and Chicago, and the stores saw healthy traffic over the holiday. Learnings from smaller stores that were opened, including pop-ups, are helping inform its expansion strategy. Over the next two months, a store will open in Denver and a pop-up in Fort Lauderdale. Between four to six locations are expected to open this year, including a range of sizes and a balance between heritage and non-heritage markets.
Online, improving data analytics are expected to help better personalize recommendations and tailor the overall experience for customers.
International
Finally, international sales rose 124 percent for the quarter to reach 5 percent of total sales, led by strong momentum in Canada. International sales grew 135 percent in the year to account for 4 percent of sales.
Canada will remain the focus of international growth for 2020. Last year marked the launch of Yeti's first product and holiday campaign in Canada. Corporate sales will also continue to be ramped up in the region.
In other regions, Australia and New Zealand "continue to make excellent progress" and the brand "continues to be a highly Instagrammable, must-have for the outdoor lifestyle" in Japan, where additional wholesale accounts and a website are planned in 2020. The U.K. and Europe are seeing a favorable initial response with one key wholesale account addition being Scotland's The House of Bruar.
Reintjes also said Yeti doesn't expect the Coronavirus outbreak to impact its first-half outlook but is "tracking this daily" and has multiple contingency plans, including expedited shipments, should a prolonged delay affect Yeti's supply chain.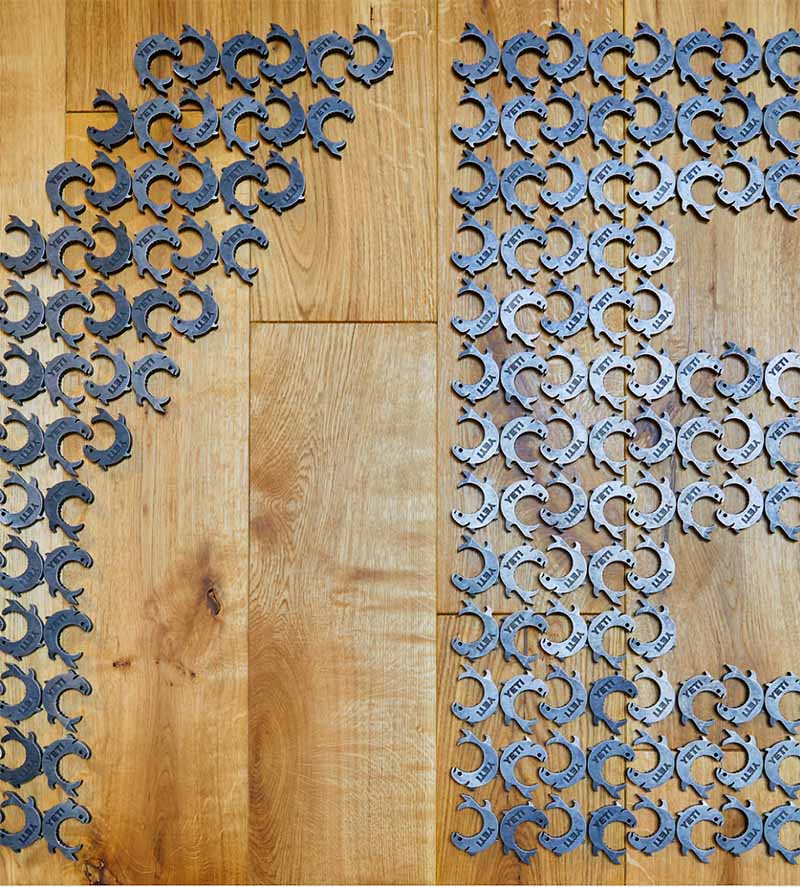 Looking ahead, Yeti for the current year expects:
Sales to increase between 13.0 percent and 15.0 percent, with strong growth across both channels and led by the DTC channel;
Operating income, as a percent of sales, between 15.3 percent and 15.6 percent, up from 9.8 percent in 2019;
Adjusted operating income, as a percent of sales, between 16.3 percent and 16.6 percent, reflecting margin expansion of 70 to 100 basis points, driven by higher gross margin;
An effective tax rate of approximately 25.0 percent;
Net EPS between $1.24 and $1.29, reflecting 112 percent to 122 percent growth;
Adjusted net EPS between $1.34 and $1.39, reflecting 26 percent to 30 percent growth;
Adjusted EBITDA between $202.1 million and $207.9 million, or between 19.6 percent and 19.8 percent of sales, reflecting 18 percent to 21 percent growth;
Capital expenditures between $30 million and $35 million; and
The impact of the 53rd week, which is included in this outlook, is expected to contribute approximately $7 million to net sales and have a nominal contribution to earnings.
Said Reintjes, "We have set the bar high for the brand and look forward to once again exceeding customer expectations in 2020."
Photos courtesy Yeti