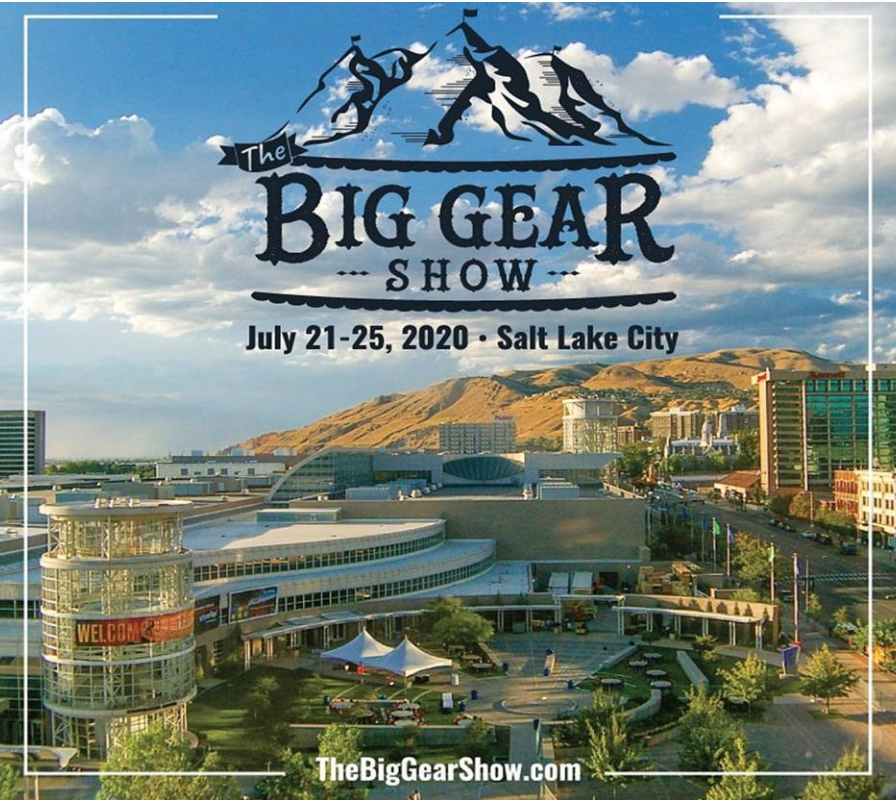 By Eric Smith
Though it's too soon to tell if next summer's inaugural Big Gear Show will be the shot in the arm the outdoor industry needs, this much is certain: The event's arrival brings yet more change—and perhaps a little confusion—to a rapidly evolving trade show calendar.
The Big Gear Show is the newly announced outdoor trade event from Paddlesports Retailer (PSR) co-founders Darren Bush and Sutton Bacon. The duo, who ran PSR for three years, believes this new offering is what the outdoor world has been clamoring for over the last few years.
They argue it better meets the needs of outdoor hardgoods brands who will be able to showcase their gear without the distractions of apparel, footwear or such non-core product categories as CBD, not to mention multiple show floors or oversized booths.
What's more, they say, it sits in a better spot on the calendar—late July, which aligns with buying cycles. And it builds on the success of PSR but gives buyers the chance to see more than just canoes, kayaks, SUPs and accessories. The primarily B2B show will still have demos and even welcome consumers on the final day.
"Paddlesports Retailer was the right show at the right time in the right place for the paddlesports industry, and it served its need and its purpose very well," Bacon told SGB this week. "But exhibitors told us, 'We really want to see more buyers.' And the buyers said, 'We want to see more brands—specifically more hard goods brands."
Click here to read our news story on the Big Gear Show (BGS).
Bush (the owner of Rutabaga Paddlesports and Canoecopia, former OIA and Outdoor Foundation board member) and Bacon (former chairman and CEO of the Nantahala Outdoor Center and former OIA board member) are launching the event with the help of National Bike Dealers Association, which is endorsing the show as the official national show for the bike industry
Their show will be held July 21-25 in Salt Lake City, UT, about a month after Outdoor Retailer Summer Marker and a month earlier than the now-defunct PSR would have taken place.
Despite the show's proximity to OR (the Big Gear Show does move back a week beginning in 2021), Bacon said the co-founders of the new event don't have aspirations beyond their goal of providing a more appropriate venue for hargdgoods brands and buyers alike.
"We're not doing this show to be the next Outdoor Retailer or compete directly with Outdoor Retailer," Bacon said. "We're doing this because we see an unmet need for the hardgoods segments—paddling, biking, climbing, camping and accessories—to join forces and do a hardgoods-centric show at an actual affordable level."
A Bigger Tent—But Not Too Big
The industry is just now beginning to digest the introduction of a new show, which comes at the expense of the three-year-old PSR and comes amid an evolving calendar of trade events (see list below).
However, while the paddlesports show had been popular with brands and shops that specialize in the category—attendees especially loved demo day paddling at Riversport Adventures—it was criticized for its lack of breadth.
Still, the roots of the Big Gear Show lie in the successes that Bush and Bacon built in Oklahoma City, where PSR was held the last two years.
"We're taking the best of Paddlesports Retailer and bringing that forward into a new venue and a new location and a much broader show," Bacon said. "We really have designed the show from a ground up to meet the needs of that hardgoods buyer so they can see everything under one roof, in one place and at one time."
The Big Gear Show also brings in cycling, which hasn't had a trade show home since Interbike was canceled. And because the show's 2020 debut kicks off less than four weeks after the end of Outdoor Retailer Summer Market, some view it as a direct threat to OR's flagship event.
Last year's Outdoor Retailer Summer Market drew about 1,400 brands and 25,000 attendees over its three-day run. Will the 2020 Big Gear Show, held just a few weeks after OR, cut into those numbers? If so, that could reduce the amount that Outdoor Retailer pays to Outdoor Industry Association as part of a longstanding revenue-sharing agreement.
"I don't view it as a zero-sum game at all," Bacon said. "I view it as an opportunity to do something special. I think there will always be a need for an Outdoor Retailer show that's early and that's focused on what I think Outdoor Retailer does best, which is meet the needs of apparel and footwear brands."
Marisa Nicholson, senior vice president and show director for Outdoor Retailer—a division of the publicly traded Emerald Expositions Events Inc.—this week offered a quick comment about the news but wasn't available for follow-up questions.
"We don't have enough information about the concept yet, but what we do know is that the industry experience is about more than gear," Nicholson said. "The outdoor industry is diverse—we're specialty retailers and advocacy organizations, we're gear manufacturers and sustainability experts, and in the end, we all benefit from coming together to support the success of the entire industry."
Even the return to Salt Lake City, which OR left in 2018 due to conflict over Utah's handling of public lands, could be seen as divisive, the replanting of the broader outdoors industry flag in the Beehive State.
While many brands were happy to see Denver land three (since reduced to two) Outdoor Retailer shows, and plenty set up sales offices or even their headquarters in the Mile High City after the transition, others bemoaned the departure and were looking for the chance to go back. The Big Gear Show grants them their wish.
"Our vision is for Salt Lake to be a long-term home for the show," Bacon said, "and that's their vision as well."
Buyer Reaction
Despite differences between the shows—though there remain many similarities, including the most basic concept of brands selling product to buyers—the industry is now faced with two outdoor trade shows within a month of each other.
The reaction that SGB garnered from brands and buyers was mixed, with many taking a wait-and-see approach in terms of which event will allow them to conduct the most business for their products or their shops.
The intrigue was stronger on the buyer side. For example, Joe Royer, the owner of the specialty shop Outdoors Inc. in Memphis, TN, told SGB that he'll probably send a single a buyer to the new show but will need to weigh the return on investment for his shop before deciding for certain.
"We will definitely go to OR, but we have not set our summer schedule," he said. "If we go [to the Big Gear Show], it will probably be one person and we'll be sending four people to OR."
Other shops plan to go to the new show but aren't thrilled with some of the format ideas. One buyer from a Colorado shop that focuses on paddlesports and snow sports told SGB that the consumer day, in particular, leaves a lot to be desired.
"We would avoid the last day like the plague—why would we need the consumers to see product not available for them to purchase for an entire season?" he said, anonymously, in an email. "This will stagnate current retail sales and drive down prices of current retail products. This really makes zero sense, plus they want vendors to sell to consumers direct at the show? Sounds like a race to the bottom. Who does this benefit?"
Meanwhile, others like Ed McAlister, president of River Sports Outfitters in Knoxville, TN, welcome the new show because he and his buyers will get to see more gear in a smaller space—and perhaps gear they couldn't see at a behemoth show like OR.
"I think the show will succeed," he told SGB. "It's good to have some bike people there and have [booth] rates that will hopefully get more people there who could not afford a higher price. And I think we all need new and emerging brands. We can't survive anymore by selling the same things. We've got to have new product."
McAlister was also among those who welcomed the return to Utah, which served as the basecamp for Outdoor Retailer—and, by extension, the entire industry—for years.
"I love going back to Salt Lake," he said. "I think that's really our home."
Brand Reaction
Some core paddlesports brands were dismayed that there is no longer a "by paddlers, for paddlers" trade show.
Jeff Turner, director of sales for the Arcata-CA-based drysuit and PFD brand Kokatat Inc., lamented the fact that momentum coming out of a successful second PSR in Oklahoma City couldn't be sustained.
Turner, who said he was part of the discussions for creating this new show, also noted the conflict that brands—especially brands that rely on both large and small accounts—will soon face with two trade shows about a month apart.
"I am confident that our three-year experience and learnings with Paddlesports Retailer have factored deeply in the organizers' decision to pivot the show to a bike/climb/camp/paddle venue in Salt Lake," he told SGB. "However, I am not convinced that it will work. Kokatat is on the fence right now and we plan on investigating the viability of the show with our specialty bricks-and-mortar dealers over the next couple of months."
Turner said Kokatat usually sees all of its major dealers at OR and over the last three years has pivoted to its specialty dealer network at PSR. All he knows for certain right now is that the brand will be at OR this summer.
"We are exhibiting at the ORSM Denver this June," Turner added. "For us, the timing works well. Primarily because it allows us to tie up loose ends with our major accounts, all who have seen our new collection since March. We are also able to spend a good time with many paddlesports retailers in the Rockies and surrounding regions."
Another core paddlesports brand not quite willing to commit is Greenville, SC-based kayak manufacturer Confluence Outdoor, the parent of paddlesports brands Adventure Technology, Boardworks, Dagger, Harmony, Mad River Canoe, Perception, Wave Sport Europe and Wilderness Systems.
Todd King, the company's VP of marketing, told SGB that Confluence is still a "to be determined" on which shows the company will attend, but he is upbeat about what the Big Gear Show offers.
"We're in favor of any show that will get more retailers and more access to outdoor products," he told SGB. "If we can see more retailers and better serve them, and if we can have better attendance, then we're all for it."
Trade Show Changes Galore
The new show is the latest in a string of recent trade show moves and grooves. In the last few years, the following changes have occurred:
Paddlesports Retailer

, which was held in Madison, WI, in 2017 and Oklahoma City in 2018 and 2019, was scrapped so that Bush and Bacon can focus on the Big Gear Show, to be held in Salt Lake City each July—a date they and many other hardgoods brands believe is better for their buying cycles and at more affordable pricing than Outdoor Retailer. Look for the show to move back a week in 2021. Bacon said starting that year, the show will begin at the end of July into the first few days of August. The Big Gear Show hopes to welcome former attendees of Interbike, which was held each September in Reno, NV, until Emerald canceled it. The Big Gear Show 2020 dates are July 21-25 at the Salt Palace Convention Center.
Outdoor Retailer acquired Snow Show from Snowsports Industries America (SIA) in 2017. OR, which had already run Winter Market in January and a Summer Market in June, both in Salt Lake City, decided to change up the calendar in 2018 when it hosted Snow Show in January, Summer Market in July and Winter Market in November, all in the new host city of Denver. But OR this year moved Summer Market back to June (which it had planned to do all along), canceled Winter Market due to poor attendance the previous year and announced that it would merge Winter Market and Snow Show into one event, Outdoor + Snow Show, beginning in January. The 2020 dates for Snow Show are January 29-31, 2020, and the 2020 dates for Summer Market are June 23-25, both at Colorado Convention Center.
Buying groups Sports Specialists Ltd. (SSL) of Golden, CO, and Snowsports Merchandising Corp. (SMC) of Springfield, MA, co-hosts of the Winter Sports Market, had decided in early 2018 to move their annual January show to Salt Lake City, but once Outdoor Retailer moved Snow Show back to the end of the month, they chose to keep it in Denver. The 2020 dates are January 26-28, 2020, at Colorado Convention Center.
With the cancelation of OR's November Winter Market (and therefore no Denver show to align with), Grassroots Outdoor Alliance announced just last week that it would move its fall Grassroots Connect show to Kansas City from Denver beginning in November 2020. The city will serve as the autumn alternate to the summer locale of Knoxville, TN, for at least the next two years (2020 and 2021). The 2020 dates are June 12-15 (Knoxville, TN) and Nov. 9-12, 2020 (Kansas City, MO).
Even as Denver lost Winter Market and Grassroots Connect, the city scored a win (albeit on a much smaller scale) when the Running Industry Association announced it would bring back its Kick Show for a second straight year. The event, to be held in May 2020 (up from June this past year), bills itself as a "working trade show" that pairs specialty retailers with both established and emerging shoe, apparel and accessory brands, some of which also exhibit at OR. The 2020 dates are May 11-14 at The Curtis Hotel in Denver, CO.
There are no known changes at The Running Event, which just completed its annual event in Austin, TX, and which also draws some crossover brands from OR. The 2020 event will be held in early December in Austin.
SIA, which, as mentioned, sold Snow Show to OR in 2017, got back into the trade show game in a slightly different fashion last month when it acquired a pair of consumer-facing shows. The Park City, UT-based industry trade association announced last month it had agreed to acquire the consumer-focused Boston and Denver Ski and Snowboard Expos from BEWI Productions Inc. Financial terms of the deal were not disclosed, but the move is significant for SIA, which not only gets back into the live event business but can bring its mission of promoting snow sports to a wider audience.
What is your reaction to all the change? What's the next shift to be announced? Send your thoughts on the evolving trade show landscape to editor@sgbonline.com.
Photos courtesy Big Gear Show