By David Clucas
SGB is reporting live this week from Outdoor Retailer Summer Market 2016 to bring you the top news and trends from the show. We'll also be sharing highlights and exclusive insight from industry executives all week.
GOA Names New President
The top news on Day 2 was Grassroots Outdoor Alliance's announcement of Rich Hill as its new president.
Hill, who got his start in specialty outdoor retail and went on to work for Patagonia, Marmot, Prana and others, will replace outgoing GOA President Wes Allen, who announced his decision in June.
Allen stood out as a successor for his wide breadth of experience in the industry. "His diverse skill set, coupled with his executive experience, gives us 100-percent confidence he can lead Grassroots Outdoor Alliance into the future," Allen said. "He has the viewpoint of what retailers and brands need for success."
Hill was most recently with brand loyalty consulting agency Compass and Nail. Before that, he founded the camping lifestyle brand Ticla, which only lasted a few years but was an early fore-teller of trends to come, said Gordon Seabury, CEO of Toad & Co. and current chairman of Outdoor Industry Association.
"Rich has a great reputation and understands specialty retail," Seabury said. "He understands the importance of heritage, but he's also in tune with the next generation."
"Grassroots is in a fantastic spot – strong retailers, industry-leading brands and an exciting way forward," Hill said. "I believe strongly that independent, specialty retailers – and the brands that have the vision to partner with them in truly meaningful ways – have a bright future."
While Allen spent just two years as GOA president, he ushered through significant changes for the organization, including setting up the "Connect" portions of the Summits, which invited 100 non-member retailers and vendors to the group's annual spring and fall shows. Allen told SGB he will remain an active member of Grassroots along with his wife, who owns specialty retailer Sunlight Sports in Cody, WY.
In its 22nd year, Grassroots Outdoor Alliance counts 61 independent outdoor retailers as its members, with more than 127 doors in 31 states.
Helping Specialty Survive
Similar to what we heard at the Grassroots Summit in June, brands are doubling down on specialty retail as some big names in the middle market went bankrupt and liquidated this summer.
"I think specialty is one of the few places in the market that isn't over-retailed," said Mountain Khakis President Ross Saldarini. "Regional players are making acquisitions and growing. And they are well located on the main streets of America where today's consumers are returning to shop. Nobody wants to go to the mall anymore."
Despite some criticism from retailers of MAP policies, or more specifically their enforcement, Saldarini said he sees them as vitally important in today's online world, and agreed brands — and retailers — would need to step up the policing of MAP.
Saldarini also likes the avenue Locally.com is providing, helping brands and retailers match local inventory to consumers. When a customer searches for product on Mountain Khakis' website, for example, a button gives them the option to find the product in their area, view available inventory and then buy it at the local store. It saves on shipping and gives local retailers the sale.
Over at the Ruffwear booth, Director of Sales Dove Gibson was excited to talk about the outdoor pet gear brand's new Latitude program, which allows retailers to make wholesale orders throughout the year when they need to with free 2 to 5 day commercial-ground shipping for $99 a year. She compared it to Amazon Prime and said it reduces the inventory risk for both the brand and retailer.
"Pre-season ordering doesn't actually give us a good picture," she said. "We have better historical data. Let us handle the forecasting and order when you need to. Getting retailers to do business with us six times a year instead of two is also great for the relationship, keeping conversations going year-round."
Back To The Core
Vendor executives also acknowledged the need to clean up distribution channels and SKUs.
While many brands continue to expand their outdoor lifestyle offerings, there's also a push to pull back a notch to a brand's core. That doesn't mean every brand has to make extreme gear for Mount Everest, said Fjallraven North American President Nathan Dopp. Rather, they need to remain focused on who they are as a brand.
At Black Diamond, after years of rapid expansion, acquisitions and offshoring — plus the troubles those decisions came with — the brand is pulling back to its core of climbing for the spring/summer season across its apparel and hardgoods lines. That means, for example, no more BD hiking packs, and on the flip side, an expansion into climbing ropes and kids climbing helmets and harnesses. Despite the pullback, Black Diamond will keep its headlamp and trekking pole products, which remain the brand's top two sellers.
We heard a similar tune at Mountain Hardwear, where new President John Walbrecht and Global Director of Product Merchandising and Design Robert Fry told media at a luncheon that the brand had lost its vision in the fog.
"If we don't make the lightest gear or we don't make it the most durable or most premium, we're not going to make it going forward," Walbrecht said. "Let's do things we should, not things we could."
Back at Fjallraven, Dopp also pointed to efforts to clean up distribution channels as retailers complain about so-called "grey market goods" — e.g., a brand's product showing up in Costco through a third-party distributor.
"I've closed millions of dollars in distribution in the past six months, and it's painful, but the right thing to do," Dopp said. "We have to take a long-term view for the health of the brand." Most of the channels being cut off were online, non-brick-and-mortar and difficult-to-verify distributors, he said.
Versatility Reigns
While the core outdoor message was making a comeback at the show, the athletic and lifestyle push into the industry remains strong. The buzz word from many was "versatility" in response to millennials, who show a preference of enjoying a great number of activities — yoga on Wednesday, hiking on Thursday, Crossfit on Friday, etc. — versus becoming an expert on just a few.
"It's not as much carrying the 80-pound pack for eight days of suffering as it is about going out and getting it done fast, and then on to the next adventure," said Jordan Wand, vice president, outdoor apparel at Under Armour. "What this notion of athleisure brought is that you can have performance, comfort and versatility. The key is making product versatile, without being generic," Wand said.
Chris Lindgren, Under Armour vice president of footwear, outdoor and training, agreed and said millennial consumers are tired of having a quiver of products.
"It's too much choice and too much money," Lindgren said.  "Give me one bike and a couple of shoes because other things — particularly experiences over product — are competing for my time."
Climbing's Comeback
Great news for the show's climbing brands came from a world away on Day 1 as the International Olympic Committee confirmed sport climbing as a new event for the Summer Olympics, with its debut slated for the 2020 Tokyo Games.
The news was another win for the sport, which has seen a boom in the indoor climbing scene. Outdoor climbing brands are scrambling to respond, and it will take a big effort in education, said Petzl Director of Marketing Dave Hugar. "There's no doubt that we're seeing some really strong climbers in the gym, pushing the limits of the sport … but there's a transition that needs to occur when going outdoors," he said. "Outside, there's a mentorship process of learning safety with the ropes, anchors and how to place gear that I think is getting lost in the gym."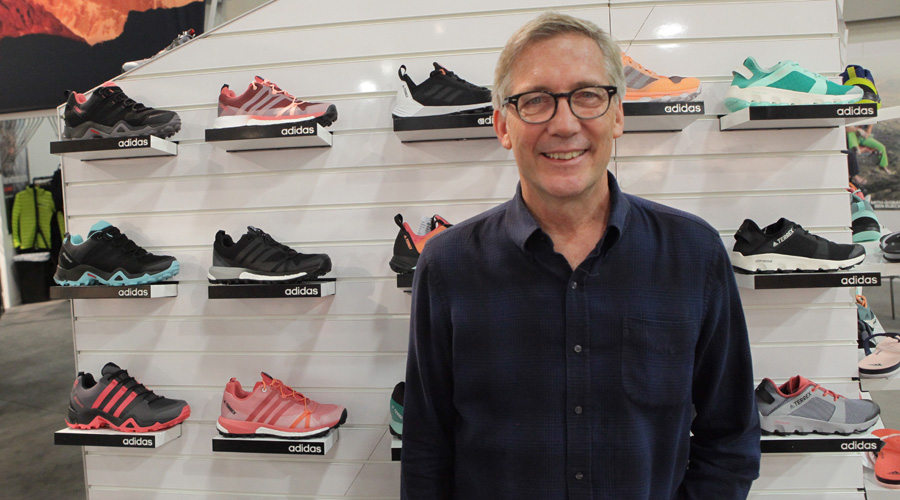 Greg Thomsen (pictured above), managing director at Adidas Outdoor (now called Terrex) agreed, saying the brand recently partnered with the American Alpine Club to produce safety videos that it plans to run in 175 U.S. climbing gyms that Terrex sponsors.
Photos by David Clucas