As we walked the show floor on Day 2 of Outdoor Retailer Summer Market, here's what executives, reps and retailers had on their minds.
By David Clucas and Thomas J. Ryan
Women Rule
For all the flak the industry has received in the past for being too male dominated, efforts to diversify the industry are clearly paying off as we see more brands not only making women's products that are tailored to their needs, but increasingly employing and promoting women within their organizations as well.
There are plenty of female athlete role models too, none bigger than the trending Melissa Arnot (pictured above, right), who this year became the first woman to summit Mount Everest without supplemental oxygen (it was her overall sixth summit of the world's highest peak).
Arnot was at Outdoor Retailer in the midst of her latest challenge, summiting 50 of the highest peaks in every state in 50 days, along with guide-in-training Maddie Miller (pictured above, left). These women had 46 peaks down and only four to go!
The Industry's Crystal Ball
Want a preview of what's to come in the outdoor industry? Talk to Cindy McNaull, brand and marketing director at Cordura. The fabrics folks have at least two years of insight into what's coming down the pipeline.
McNaull sees simplicity and style reigning over the next few years — a trend being driven out of Japan. Ironically, she said Japanese designers setting the trend are looking back to the U.S. for a lot of their inspiration.
Cordura is known for its durable fabrics, so it's no surprise that this remains a big trend from McNaull's perspective. But here's the new twist. "People want durability without the hard looks of durability," she said. Softer looks, colors and touches are in. Need an example to follow? Watch for start-up Onu out of Iceland, she mentioned, showing off one of the brand's active skirts with a durable but soft and supple fabric, plus a creative laser-cut pattern design at the hem.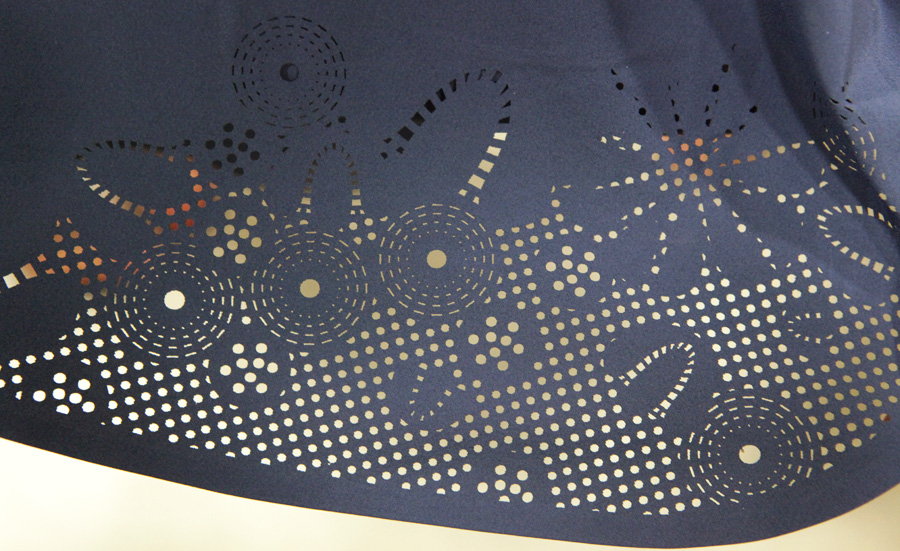 But outdoor brands better be ready for even more competition, she said, as there's an influx of fashion brands scooping up performance fabrics to create designer, performance clothes — from full on suits to dresses and runway-worthy pieces.
Viable Versatility
The buzzword in many booths was "versatility" as brands respond to millennials, who show a preference for enjoying a large number of activities — yoga on Wednesday, hiking on Thursday, CrossFit on Friday, etc. — versus becoming an expert of one.
"It's not as much carrying the 80-pound pack for eight days of suffering as it is about going out and getting it done fast, and then on to the next adventure," said Jordan Wand, vice president of outdoor apparel at Under Armour. "What this notion of athleisure brought is that you can have performance, comfort and versatility. The key is making product versatile, without being generic," he concluded.
In footwear, "the product needs to work off the run as well," said Brice Newton, senior manager of global footwear merchandising for Brooks Running Company. "Whether you're a runner or just highly active, people want versatility in their product and I think you're going to see that continuing."
Ecco is making a number of multi-purpose models for those looking to hike one day and bike the next, noted Thomas Dixon, the brand's product manager for golf and sports. Yet, he added, what often works for outdoor lifestyle at a department stores like Dillard's doesn't always work at REI. "You really have to understand each retailer's customer."
On the apparel side, infusing more fashion and casual elements has been the hallmark of the athleisure trend. But to a degree, that's largely been driven on the women's side and designers are working hard to bring men's performance apparel that can transition from gym to coffee bar.
At Brooks, for example, the Freemont Short is a stretch-woven short that offers a slightly dressier option. Said Franzen, "We're trying to help men step outside the box. So the short moves, has reflective elements and fairly standard colors with blue, back and gray, but it's lifestyle as well."
Lightweight Long-Sleeves
Lightweight gear and footwear have reigned for some time, but increasingly the trend is revealing itself in apparel… and not just rain jackets.
Andrea Franzen, global product line manager for Brooks, noted that many women remain uncomfortable running in just a sports bra. So Brooks is coming out with a tank top that is "as lightweight as possible, yet offers a lot of movement and a little texture so it doesn't stick to you."
Similarly, many women don't like wearing shorts, so Brooks' upgraded stretch-woven tights are lightweight and feel like a second skin.
We also saw quite a few ultra-lightweight long-sleeve pieces, like Mountain Hardwear's AC Henley, which looks and stretches like a knit, but is actually a perforated weave. This saves weight, as flat wovens use less thread versus the extra length in material needed for a hook-and-loop knit. The idea is that on summer days when there might be an occasional chill in the air, no wardrobe change is needed.
Swedish Crayfish
Heading into the weekend, we leave you with this scene from Fjallraven's Swedish Crayfish party — don't worry, we had never heard of it either.
Instead of the buttery, salty goodness that is crayfish in the South (we had our resident SGB Louisiana expert on hand), the Swedes make their crayfish with dill herbs.
A gathering packed with hands-on fare, traditional Swedish drinking songs and plenty of talk about how the outdoor industry is headed in an exciting, sustainable direction, the party left us full and confident that despite headwinds in the first half of 2016, brands and retailers are looking ahead and doing so as a community.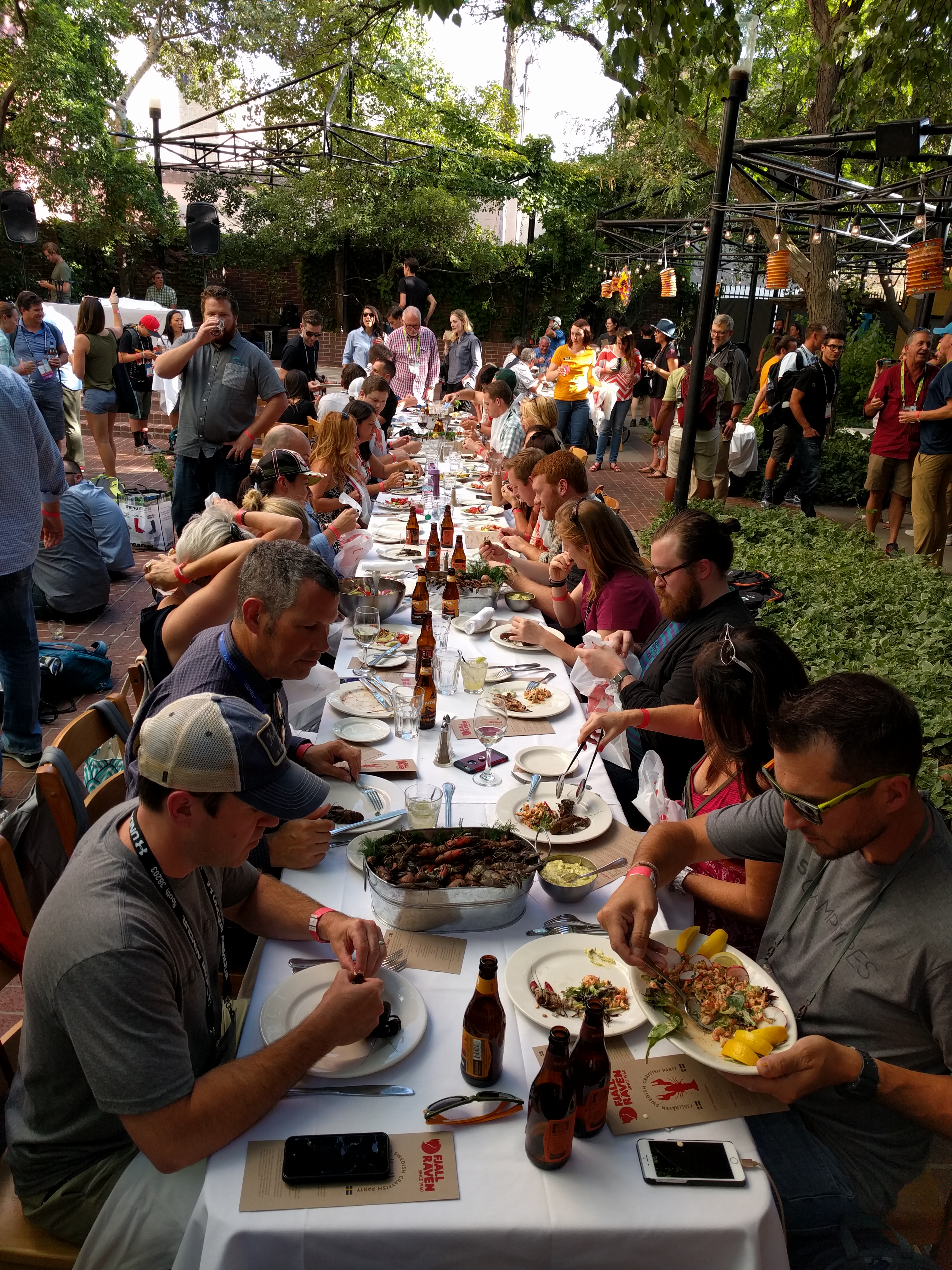 Photos by David Clucas