By Eric Smith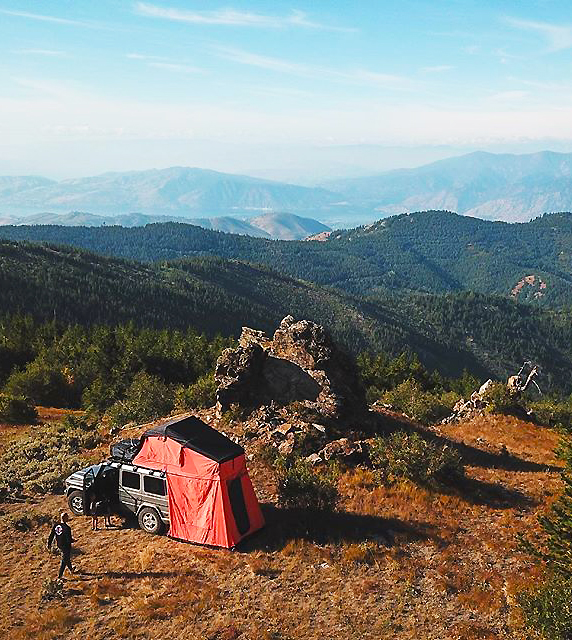 Thule Group AB's $9.5 million acquisition of rooftop tent maker Tepui Outdoors Inc. last December gave the Swedish company quick entry into the booming category of overlanding without the time and energy needed to expand organically.
Now that the integration is complete, Thule this week shed some additional light on the company's global plans for its newest asset.
On Thursday morning's earnings call with analysts to discuss the second quarter, CEO Magnus Welander said that while Thule sees the strongest demand for vehicle-supported product in North America, Australia and South Africa, the company does plan to sell Tepui in all international markets.
"There is a niche market opportunity in lots of other countries," he said on Thursday's call, specifically mentioning places like Germany, Korea and Japan. "There will be, of course, a small volume in a lot of countries. Our plan is that the majority of sales will come from the U.S. and North America, but because we have a very cost-efficient ability to distribute the product into other countries, we will be able to offer it to a number of markets."
Thule's strong vertical integration bodes well for the distribution of Tepui across the globe. Thule has factories in the U.S., Germany, Poland, Belgium and Sweden, giving the company speed to market thanks to a shorter supply chain and wider distribution for the rooftop tents and accessories, not to mention higher margins.
Welander said sales of Tepui products outside the aforementioned core markets "will not have a significant impact on our growth numbers," in part because of market demand, but mostly because the company plans to distribute only a limited assortment of Tepui products elsewhere.
"We will not offer all the [Tepui] models that we offer in North America," he said. "It would not make sense for a market where we might sell 50 or 100. It will be a more curated assortment than North America, but that curated assortment will start hitting those markets as of February 2020."
Another detail from the call, which SGB first reported last month, is that the Tepui line will become a part of the Thule brand in 2020 yet retain the Tepui name in product descriptions—a co-brand of sorts.
Chris Ritchie, PR and communications manager for Thule's outdoor & bags Americas division, told SGB Thursday that Tepui products will be named in much the same way that Thule has gone to market with products after previous acquisitions.
For example, overlanders will be able to purchase the "Thule Tepui Kukenam," just as parents who take their children on cycling excursions can buy the "Thule Chariot Cross" child bike trailer or "Thule Yepp Nexxt" child bike seat. Each of those product descriptions includes a reference to Thule's past acquisitions of Chariot Carriers and GMG B.V. (whose brand name was Yepp), respectively.
Welander's comments Thursday echoed some of the thoughts that Fred Clark, president of outdoor & bags for the Americas, shared with SGB last month.
In a wide-ranging interview, click here to read, Clark said that Thule had been thinking of entering the rooftop tent category for a while and figured the company had the right manufacturing and distribution systems in place—not to mention a strong global brand presence—to be successful.
Thule's leadership had been seriously discussing the investment needed for adding the category, but with a host of other new products in the Thule catalog, including luggage and bags SKUs, the company had grown to 23 categories and lacked the capacity to properly pursue the R&D needed for rooftop tents.
The time and money Thule would need to devote to building the category from the ground up would have taken too long, Clark said. But the leadership team knew the market was here, and the market was hot, so Thule went another route.
"We talked to [Magnus] and said, 'This is a category we want to go after, and if we're not going to do it, we think acquisition can be the way to go,'" Clark told SGB in June. "He agreed, and we decided there was only one company to look at—Tepui, the guys who started the category in North America, who have the best product out there, who are the market leader. They saw the advantages of the breadth of our sales organization, the channels that we have, the team that we have. We're a much bigger company that can help them grow with future development of products."
Thule went forward with the deal, which was announced December 17, 2018. The company said it expected Tepui to generate revenue of $6.5 million last year, though Clark said Thule won't be breaking out Tepui's sales moving forward.
However, the company remains bullish on Tepui's potential and the overall category—which Thule is calling Adventure Camping—as interest in van life and overlanding continues to surge.
"That's a nice growth category," Clark said. "I think this category will see double-digit growth for three or four more years."
Looking beyond the Tepui deal, Thule Group on Thursday reported earnings rose 8.9 percent to SEK 419 million (US$45 million) in the second quarter on a 7.3 percent revenue gain. Net sales for the quarter were SEK 2.3 billion (US$248.4 million). Adjusted for exchange rate fluctuations, sales rose 3 percent.
The company's sales in the Americas grew 2.3 percent despite softness in Latin America and the negative impact from tariffs, while sales in Europe and ROW (rest of world) grew 3.2 percent. Both increases exclude currency effects.
EBIT increased 6.7 percent to SEK 558 million (US$60 million) during the quarter for an EBIT margin of 24.1 percent. For the first six months, Thule posted an EBIT margin of 21.7 percent.
Click here to read the earnings report.
As Welander noted, the company saw "continued growth in the second quarter, albeit at a slightly slower pace."
Highlights from the period include:
Roof rack sales were lower than expected, likely from Thule underestimating "the number of older roof racks that distributors and retailers had in inventory prior to the launch of our new roof rack generation." The company believes this is a temporary issue and expects stronger momentum for this category at the end of 2019 and the beginning of 2020.
"The anticipated decline in sales of products to RV manufacturers became apparent at the end of the quarter. We expect a weaker market during the second half of the year since the RV manufacturers and retailers are selling off their inventory of older motorhome models," Welander said.
Thule's Active with Kids category performed well in the quarter, primarily driven by new product in the stroller category and strong growth in bike trailers
Sales of luggage and sport bags "developed well and drove growth in Packs, Bags & Luggage," Welander said.
Welander concluded his comments on the period by saying, "Despite slightly weaker growth during the second quarter, I am convinced of the recipe for success in our long-term plan to deliver highly profitable growth driven by fantastic products, a strong brand, cost-effective marketing and close collaboration with our retail customers."
Photos courtesy Thule Group AB