By Thomas J. Ryan
Shares in Sports Direct plunged to an eight-year low in Monday's trading as the U.K.-based retailer detailed the troubled state of the recently-acquired House of Fraser department store chain and a surprise massive tax bill. But analysts were most concerned over the underperforming core Sports Direct chain and the company's strained relationships with Nike, Adidas, and other key sports brands.
The prime concern is that Sports Direct's ongoing elevation strategy that's been upgrading the store environment isn't helping the chain secure premium product from vendors.
"Our brand relationships with certain third-party brands are currently challenging," said David Daly, non-executive chair, in its annual report. "We feel our elevation strategy is being delivered in line with the requirements initially highlighted to us by these brands several years ago; however, we feel there remains some skepticism on their part with regards to our commitment to the full roll-out of our elevation strategy. We continue to work on our relationships with these brands and believe a mutually beneficial outcome can be delivered."
In his comments, Mike Ashley, CEO, elaborated that several years ago a number of key third-party suppliers said that the Sports Direct group had to "elevate its offering away from a traditional discount model of 'stack them high, sell them low'" to better showcase and support their brands. Significant efforts and investments have been made in retrogrades and improving brand partnerships. Said Ashley, "Although we are far from finished with our elevation strategy across the Group, we feel we are sufficiently advanced as to have met and indeed bettered what the third party brands required of us."
Yet Ashley said Sports Direct isn't getting strong enough offerings from key vendors and even warned that keys partners might stop shipping to the chain. Wrote Ashley, "Even though our third party brand partners, by their own admission, think we have done a superb job of elevating our stores, we still do not receive as quickly as we would like the premium product we feel the stores deserve. This, combined with our competition getting stronger, increases the risk of us being cut off completely by these suppliers. When we are not providing the right product at the right time at the right price, the consumer will not visit our stores and thus ancillary purchases will not be made, hence a greater risk against our remaining inventory."
He also said the inability to secure premium product is leading to heightened fashion risks in other categories.
The challenges were reflected in Sports Direct's results for the year ended April 30.
Sales across the business grew 10.2 percent to £3.7 billion, but excluding acquisitions, declined 1.9 percent on a currency-neutral basis.
The core U.K. Sports Retail division, which trades under the Sports Direct brand, saw sales rise just 0.3 percent to £2.19 billion and slide 1.6 percent on a same-store basis.  Underlying pre-tax profits—the company's preferred measure —fell 6 percent to £287.8 million.
Sports Direct's officials said they remain committed to the elevation strategy which covers the company's other banners as well. Said Daly, "Fiscal 2019 has continued to see the Group progress the elevation strategy with additional new flagship stores opening, and we continue to enjoy the enhanced returns we targeted at the outset. The elevation strategy will continue to be deployed across the estate."
But the company also admitted that Karen Byers, the former global head of retail, left in early June after a 28-year career with the firm due to the elevation strategy. Ashley said in his comments, "As the focus of the Group moves to an elevated offering, including shop fits, this meant that Karen was no longer able to do the things she loved and was good at for so many years. Many elements at which Karen excelled now fall under the remit of third-party brands as we create the elevated stores they and our customers now demand. We wish her well for the future and consider the door to always be open if she wants to re-engage with the Group in a consultant role."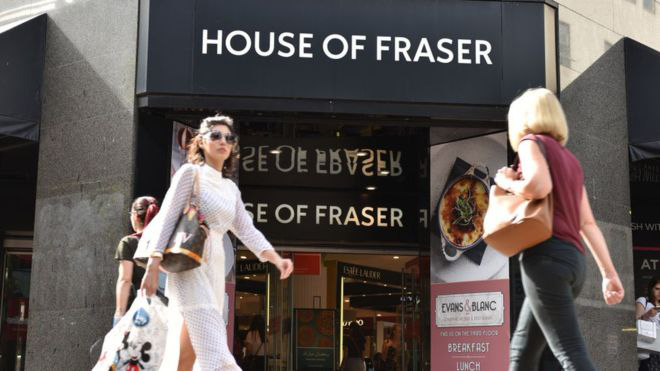 Sports Direct's results held other disappointments for investors including Ashley warning that House of Fraser, bought out of administration in 2018, faces "terminal" problems inside the troubled department store sector. He said the desperate state of the House of Fraser chain has created "significant uncertainty" as to the future profitability of the entire group.
The company also surprised investors by indicating it had received a €674 million tax bill from the Belgian authorities following a recent audit. The charge relates to products that had been routed internally via Belgium. The company said it will challenge the demand, adding the company was "less than probable that material VAT and penalties will be due in Belgium as a result of the tax audit."
Finally, Sports Direct said its finance director, Jon Kempster, is stepping down in September, the third senior departure in recent weeks that also included Byers and company Secretary, Cameron Olsen.
Analysts were mainly concerned with the deterioration at the core of Sports Direct chain.
"The home truths about the core Sports Direct business were pretty shocking, and management seems to be out of ideas," wrote Jonathan Pritchard at Peel Hunt in a note. "The elevation program isn't currying favor with brands, and the shopper has moved away from the core SD (Sports Direct)."
Pritchard said his team wasn't surprised that the elevation strategy was underperforming.
He wrote, "We have always thought that the 'Elevated' stores looked great but couldn't believe that the big manufacturers would think they were an accurate representation of the rest of the chain. Therefore, whilst SD (Sports Direct) may have done all the likes of Nike and Adidas asked them to do in the flagship stores, the premium product that maybe it was expecting as a consequence has not emerged. And it doesn't sound like that is about to change: we weren't at the analysts meeting, so we're talking second hand, but it sounds like management said something along the lines of 'the big brands have got JD and Foot Locker so why do they need us?' Quite."
At RBC Europe Limited, Richard Chamberlain wrote in a note, "We think Sports Direct will continue to be adversely affected by the big sports brands (e.g. Nike and Adidas) executing better on their product segmentation strategies and by competition in the sector improving."
Chamberlain wrote that Sports Direct chose not to provide FY20 guidance, which his team thinks partly relates to uncertainty over reviving profitability at House of Fraser but also the sourcing challenges that may continue to impede the Sports Direct banner's growth. He wrote of the Sports Direct chain, "We see higher than average inventory risk for SPD and expect its inventory provisioning to be volatile, which has been an issue in the past for the company."
Laith Khalaf, senior analyst at Hargreaves Lansdown, appeared most optimistic about continuing the elevation efforts at the Sports Direct chain.
"The group's turnaround plan, the 'Selfridges of Sport' initiative, calls for new freehold 'flagship' stores, displaying products in a more flattering environment," said Khalaf. "A better store environment should, in theory, allow the group to charge more for its products and heal Sports Direct's troubled relationships with the major sports brands as well."
He said the new format stores "are said to be going well." He added that possibly due to the challenging retail environment in the U.K., the progress isn't evident in the financial results. Improvements in underlying profits have been driven by cost-cutting and one-off currency-related moves. But he believes the company has been overly focusing on acquisitions and not focusing enough on its core sporting goods stores.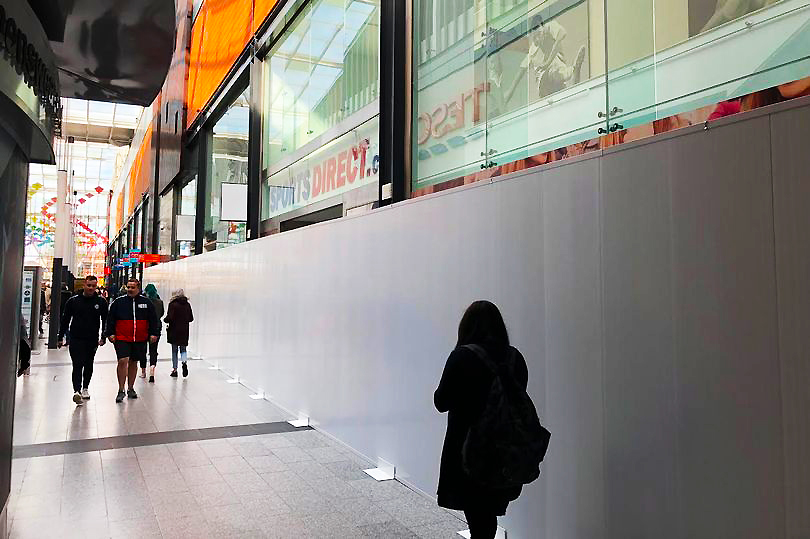 Beyond House of Frasier, the acquisitions included a stake in the Debenhams chain that went into administration, as well as acquisitions of two other underperforming businesses, GAME Digital and Evans Cycles.
"All-in-all, it's difficult to get behind Mike Ashley's vision," wrote Khalaf in a note. "Buying and renovating rundown retailers has taken precedence over the principal part of the business, to the detriment of shareholder confidence. Combined with a corporate governance record that's erratic at best, there are plenty of reasons to be cautious where Sports Direct is concerned."
Peel Hunt's Pritchard believes the elevation program's inability to improve product allocation should be considered "highly worrying." He questions whether further massive investments in-store upgrades are worth it.
Pritchard wrote, "The most realistic strategy to us seems to be to do the best it can with the core assets and see if it can generate enough cash to fund some growth elsewhere in the group. It's not an enormously exciting option, but it looks like the best one open to SD at the moment."
Pritchard said the uncertainty across the organization makes it a challenging time for investors. He concluded in his note, "The shares are hard to value, but are surely only for the very brave."
Photos courtesy Sports Direct, House of Fraser