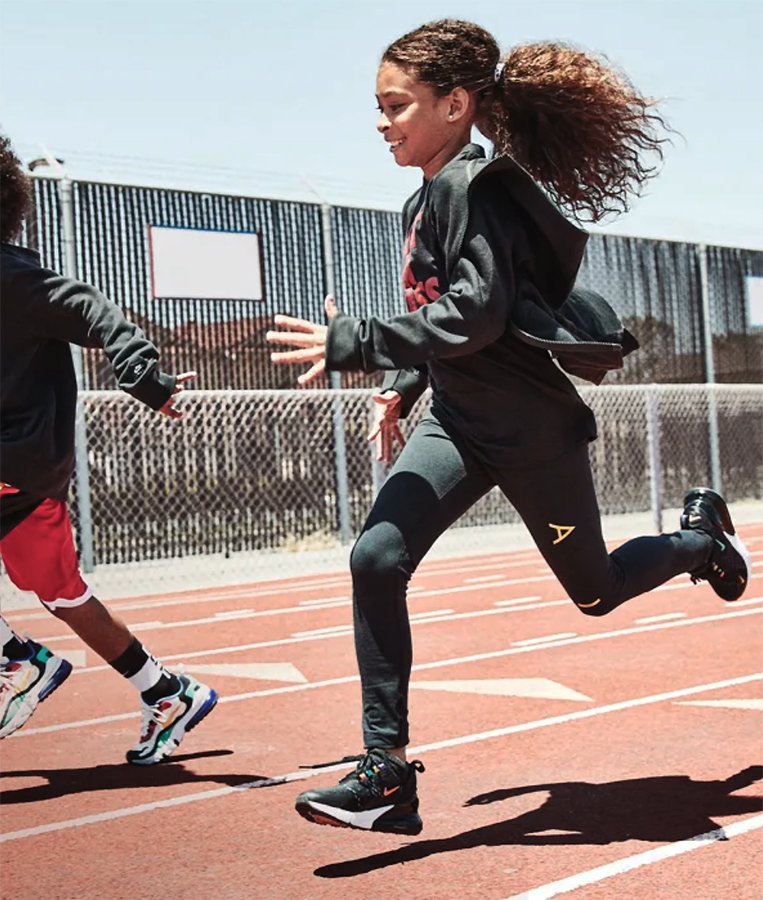 By Eric Smith
As Nike Inc. pursues its goal of $50 billion in annual revenue by 2022, the company is targeting both organic and acquisition growth. In the past week, the Beaverton, OR-based sports footwear and apparel giant hit milestones along each of those paths.
The news that made the largest splash occurred Monday when Nike announced it would further tap into the kids sneaker market with a new subscription service.
Nike Adventure Club, as it's called, will feature three tiers of subscription plans—$20, $30 or $50 a month—and will include shoes sized 4C to 7Y (roughly for kids ages 2 to 10), the company said.
The club will effectively give subscribers a new pair of Nike or Converse sneakers that cost about $50 or more once a month, once every two months or once every three months, the company said.
It will allow kids to try new sneaker silhouettes and take advantage of larger shoe sizes as their feet grow—something doctors say is important since too many kids damage their feet due to undersized shoes.
"Kids' feet are continually growing, and many kids can't articulate what they want, even after shoebox after shoebox comes out of the backroom," Nike said. "The foot size issue isn't helped by the fact that 60 percent of people, kids included, are walking around in the wrong-sized shoe at any given time."
Nike Adventure Club targets the parents as much as, or more than, the kids, since parents can now buy their children sneakers without traipsing to the mall or hunting for bargains online.
"In providing footwear, we're always trying to answer, 'What do kids want?'" said Dominique Shortell, director of product experience and retention for Nike Adventure Club. "But an equally important question is, 'What kind of experience are we providing for their parents?' We want to make shopping for footwear as convenient as possible for them."
As SGB outlined when the company unveiled the program Monday morning, here's how Nike Adventure Club works:
Nike Adventure Club serves kids through sizes 4C to 7Y (roughly age 2 to 10.)
Subscribers can choose from three tiers of subscription services, ranging from four pairs a year to 12 pairs a year. And they can choose to upgrade, downgrade or pause the subscription at any time.
Members choose from more than 100 different sneaker styles, ranging across the spectrum of performance and sportswear.
For any kid (or parent) who likes the shoe, they can keep the pair. To replace it, they just send it back and Adventure Club will send the next pair of the subscriber's choosing. Nike Adventure Club will either donate or recycle the returned sneaker.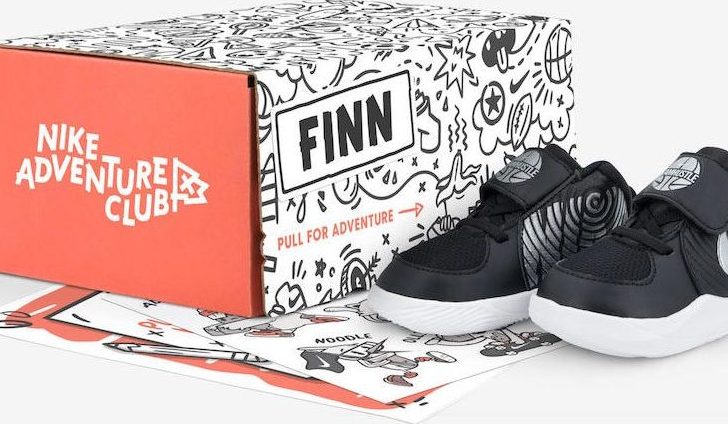 Nike's kids business has been booming of late, with 11 percent growth on a constant currency basis. The fact that Nike launched the program in the midst of the lucrative back-to-school period could see that low-double-digit figure rise.
"Nike is paying attention to kids shoes where some other brands are not as focused there," Matt Powell of The NPD Group told CNBC. "Their sheer size allows them to have the resources to spend on kids shoes. … It's challenging for smaller brands to really play there. … In many cases, you are developing a totally different shoe [for kids]."
With Nike Adventure Club, the company hopes to further leverage that growth while also delivering customers more of an "experience" than merely a "product," the company noted.
"We see Nike Adventure Club sits as having a unique place within Nike, and not just for it being the first sneaker club for kids," said Dave Cobban, VP of Nike Adventure Club. "It provides a wide range of options for kids, while at the same time, it removes a friction point for parents who are shopping on their behalf."
Reaction to the announcement was muted on Wall Street. Shares of Nike fell slightly on Monday, down 33 cents, or 0.4 percent, to $81.65.
But the program could build some brand loyalty among kids, analysts concluded. The brand remains a leader with teens even though competitors are closing the gap, according to the most recent Piper Jaffray Teen Survey.
In footwear, Nike controlled a commanding 41 percent mindshare, though down from 46 percent in the same period a year ago, the report said. Nike's loss came at the expense of gains from Vans.
In addition to shoes, Nike Adventure Club, which began fulfilling its first subscriptions Monday, August 12, comes with exclusive adventure guides, filled with outdoor games and activities that parents can do with their kids. The guides are a collaborative partnership between Nike and KaBoom, a national nonprofit focused on encouraging kids to lead active, healthy lifestyles.
The subscription service isn't the only move Nike has made this month to boost its top line. The company last week announced it had acquired Celect, a retail predictive analytics and demand sensing firm based in Boston, MA. Financial terms of the deal weren't disclosed.
Celect is Nike's latest acquisition fueling its Consumer Direct Offense strategy, a huge pillar of the company's plan to continue taking share and growing revenue.
"With the acquisition of Celect, Nike greatly accelerates our digital advantage by adding a platform developed by world-class data scientists." said Eric Sprunk, Nike's COO. "As demand for our product grows, we must be insight-driven, data-optimized and hyper-focused on consumer behavior. This is how we serve consumers more personally at scale."
Analysts were upbeat on the deal. Jim Duffy of Stifel wrote in a note to investors: "The acquisition underscores Nike's prioritization of digital investments, and should further distinguish itself as a leader in data-enabled retail and e-commerce. We admire Nike's forward-thinking approach to data analytics and expect the integration of IP and competencies into Nike's analytics group will help improve demand forecasting, inventory, allocation, revenue and margin.
"With a return to growth in North America and our view of the athletic category as having long-duration global secular and structural tailwinds, we see Nike as uniquely positioned to execute to a more direct model. We expect this translates to growth, margin improvement and strengthening ROIC longer-term."
Photo courtesy Nike Inc.