By Thomas J. Ryan
Nautilus Inc. posted a loss in the third quarter that was significantly below Wall Street's expectations as shipment delays tied to the trade war dragged down sales in the Retail segment and the timing of launches held back the Direct segment.
In the quarter ended September 30, the loss came to $10.6 million, or 36 cents per share, well short of Wall Street's consensus estimate calling for a loss of 3 cents. In the year-ago period, the fitness equipment maker earned $4.5 million, or 15 cents per share.
Revenues dropped 32.2 percent to $61.7 million.
Gross margins eroded to 30.9 percent from 42.3 percent for the same period last year, primarily due to unfavorable product mix and unfavorable overhead absorption tied to the sales decline.
Operating expenses in the quarter declined 15.5 percent to $27.3 million. Lower advertising spend and product development costs offset increased advertising production costs. As a percent of sales, operating expenses increased to 44.2 percent from 35.5 percent due to the lack of sale leverage.
The operating loss for the quarter was $8.3 million compared to operating income of $6.2 million in the same period of last year, primarily due to lower sales and eroding gross margins, partially offset by lower operating expenses. The EBITDA loss totaled $5.5 million against income of $8.5 million a year ago.
In the Retail segment, sales were down by 27.1 percent to $44.8 million. The shortfall primarily reflected partial shipping delays resulting from recently imposed tariffs, as well as a decline in Bowflex Max Trainer product sales.
Operating income for the Retail segment fell 62.2 percent to $4.8 million from $12.7 million a year ago, primarily due to lower revenue and gross margins. Retail segment gross margin eroded to 27.1 percent from 34.7 percent in the same quarter of the prior year, which resulted primarily from unfavorable product mix and unfavorable overhead absorption related to the lower sales.
In the Direct segment, revenues slumped 44.1 percent to $16.2 million, driven primarily by lower Max Trainer product sales and related to a 37.0 percent reduction in advertising expense year-over-year.
The Direct segment logged an operating of $8.7 million for the quarter, compared to an operating loss of $1.4 million in the same period last year. The steeper loss reflected lower sales and reduced margins that were only partially offset by the savings from reduced advertising expenses. Gross margin for the Direct segment declined from 57.3 percent to 38.3 percent primarily due to unfavorable overhead absorption related to decreased sales and unfavorable product mix.
Jim Barr, who assumed the role of CEO on July 29, said that in late August, Nautilus began the Direct segment rollout of the new Max Total product. The trainer features the company's first integrated digital screen that directly connects the user to the features of its upgraded AI-powered digital platform. A new advertising and brand campaign launched with limited media weight to test messaging effectiveness and efficiency across television, social media, PR, and other digital platforms. Said Barr, "We anticipate ramping up a more robust marketing campaign during the fourth quarter of 2019 and the first quarter of 2020, incorporating learnings from the initial campaign test launch."
Barr was most recently group president at Ritchie Bros., a leading seller of used industrial equipment, and was also formerly EVP and chief digital officer at OfficeMax.
"Now that I've been at Nautilus for 90 days, I am even more excited about the overall strength and potential of our brands," said Barr. "We believe that the digital platform, combined with a growing number of connected fitness offerings, is setting the stage for future performance and positions Nautilus as a global technology-driven fitness company."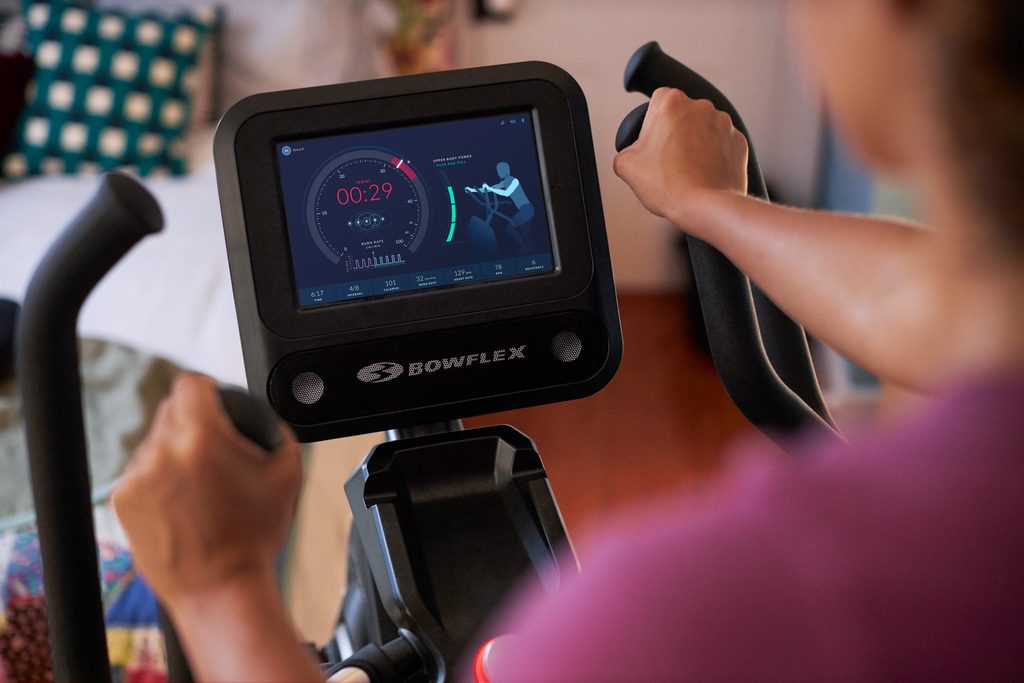 On October 30, Nautilus relaunched its digital platform under the new JRNY name, reflecting the belief that fitness is a life-long pursuit and inclusive in nature. Said Barr, "At its core, JRNY features an AI-driven true personalization engine that suggests customized workouts and adjusts to individual fitness levels, along with friendly coaching that customers tell us feels like having an on-demand, one-on-one personal trainer."
Accompanying these digital launches are multichannel introductions of the connected fitness experience with the Bowflex 216 and 116 treadmills, the Schwinn IC4 bike, and the Bowflex C6 bike.
Inventory as of September 30 was $50.1 million, compared to $68.5 million as of December 31, 2018, and $55.5 million at the end of the third quarter of last year. The company had $12.7 million available for borrowing on its line of credit as of September 30.
"Our efforts to right-size the business, that we announced in July 2019, are progressing, and we expect to save approximately $6 million in the workforce and shared support cost reductions in 2020," said Barr. "In addition, we expect to have positive EBITDA from continuing operations in the fourth quarter and generate positive cash flow from operations in the fourth quarter."
Photos courtesy Nautilus