By Eric Smith
The facility that Meier Skis occupies in the Platt Park neighborhood south of downtown Denver, CO, has the hallmarks of a traditional headquarters. After all, the company's entire operation, including design, production, sales and distribution, is based there.
But Meier Skis' new digs revolve around much more than processing orders and cranking out skis. It also doubles as a community gathering spot where anyone can wander in, watch the ski-making process and learn everything about the ski brand, from its sustainability emphasis to its Made in the USA ethos.
All while knocking back a cold one.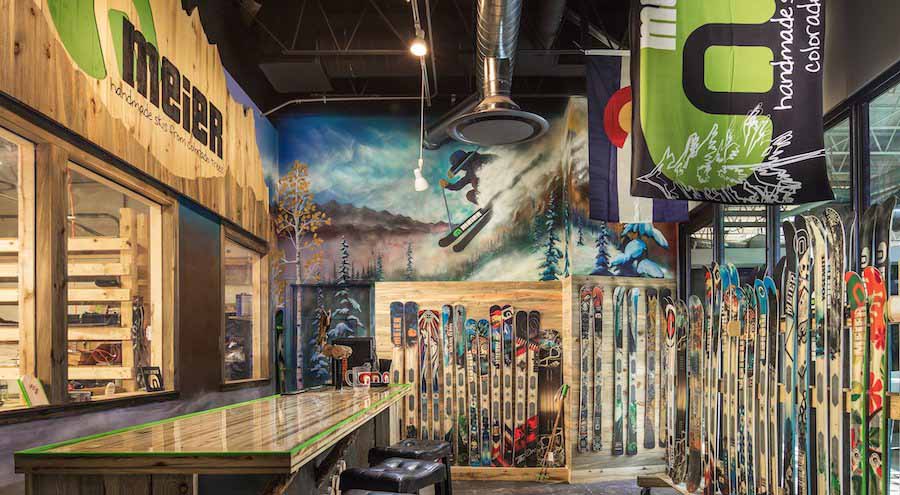 With such a unique space to offer existing and potential customers, Meier Skis and its owner, Ted Eynon, needed a unique moniker to match.
"We refer to it as a 'craft skiery,'" Eynon said.
Mission accomplished. The company's craft skiery serves up both craft brews and craft skis. It includes, of course, a "skitender" who pours adult beverages while also educating customers on the company's history and its manufacturing process, Eynon explained to SGB Executive during the recent Outdoor + Snow Show in Denver.
"You can listen to the skitender and watch the guys make the skis," he said. "People can come in, have a beer or two and learn about the brand. Or they can walk down the hallway and see almost all aspects of production."
Eynon, who took over the company in 2016, the same year Meier Skis moved to Denver from Glenwood Springs, said the company designed the craft skiery to look and feel like a lodge at the mid-mountain of a ski resort—an après vibe in the heart of a city. But it also lets patrons go behind the scenes of how skis get made.
"They can get that immersive brand experience," Eynon said.
In a crowded marketplace, the craft skiery experience is a key differentiator for the business, but not the only one, Eynon said. More importantly, Meier Skis is focused on producing the "most eco-friendly, high-performance skis" through a variety of sustainability initiatives in both manufacturing and packaging.
Not only does the company use pine beetle kill for about 10 percent of its wood and also sources all of its wood locally in Colorado, but Meier Skis has removed shrink wrap and now packages pairs of skis with two bands. As Eynon said, the company is trying to be as "green" as possible in an environmentally unfriendly industry while also producing skis that rip.
Meier Skis has found a solid niche with its lineup of men's and women's skis. The company sells 19 models of varying lengths in a lineup that's approaching 100 SKUs, and it also produces several licensed designs with universities, bands, and even breweries and distilleries, Eynon said.
What's more, the company owns and operates a ski/snowboard tuning shop, House of Tunes, next door to its main locale. Eynon said Meier Skis plans to expand that model—craft skiery on one side and tune shop on the other—into new locations in the near term.
Below is the rest of SGB Executive's conversation with Eynon. Topics include the company's sustainability efforts, a business update, an overview of Meier's channel strategy and what's next for the brand. Here's what he shared.
Why is responsible manufacturing important to the company? Has that always been part of the brand's ethos? It has been important from the get-go, and as time went on it became more important. This is part of our values, so we're going to try and do things that are unique and different in the industry. You can't just make another ski and be competitive. Everything has to be different—your approach to market, your business model, how the ski looks, how it performs. And in our mind, responsible manufacturing was equally important. Ski production generally is not an environmentally friendly process, and I'm not saying it is when we do it either, but we try and take measured and deliberate steps to make a more environmentally friendly ski. We consider choices in materials—as long as it doesn't impact performance negatively. If you have an eco-friendly ski that skis like [crap], it's not all that helpful.
Is it something customers are demanding? If not, once they hear the story, is it resonating? It's more the latter, although we do have people call us and say, "I've been looking around and you seem to have the most environmental and sustainable approach. Do you have a ski that will automatically decompose at the end of its life?" We have to tell them no, but we do what we can. The resin we use is environmentally friendly. We use a clear top sheet to both show off the wood, which is a unique and distinct look to Meier, and show off the locally harvested Colorado Aspen and beetle kill pine wood. We use also less ink. The locally harvested wood is from sustainable sources—Aspen and beetle kill pine. All these things add up to what we feel is our positioning, which is striving to be the world's most eco-friendly, high-performance ski.
Tell me a little about your wood sourcing. Our wood core is essentially the same today as it was a few years into my tenure. It's about 90 percent Aspen and a little bit of pine beetle kill, which gives it some nice color and pop. The pine beetle kill trees have to be harvested within a certain timeframe to be able to monetize that lumber. As for the Aspens, when you cut one down, you'll have sprouts come out all over the place. It's sustainable because they just keep growing. Our tagline is "Handmade skis from Colorado trees." Sourcing trees locally versus having bamboo flown in from Southeast Asia is just another example of trying to use material closer to where the product is being manufactured.
Anything else new that supports your efforts to be eco-friendlier? Something we're doing this year, which we're pretty proud of—and I'd be shocked and disappointed if we were the last ones to do this—is eliminating shrink wrapping from our skis. When you buy new skis the first thing you do you rip all the plastic off and throw it away. That single-use plastic is an industry practice and it's a bad one. We thought, "There's got to be another way." So we got rid of the plastic and we're just using ski bands on the tips and tails of the ski. We're pretty proud of it, and as far as I know, it's an industry first. Time will tell whether others follow or not, but I'd be surprised if they continue with that practice. Between snowboards and skis, you're talking well over a million units, and to have all that single-use plastic is lousy.
What is the Meier Skis business model in terms of direct versus wholesale, and how important are your specialty retail partners? We have a very unique business model, which I think is an industry-first. We sell direct over the internet and we sell direct from our Denver locale, the craft skiery. Our wholesale model with ski retail shops seems traditional, but it's different because we do just-in-time manufacturing. They don't have to place an order with us in March and we go off and build them. We offer that option, but because we're building right here in North America and throughout the season, instead of shops having to take all the risk by buying skis and then hoping it snows or hoping they ordered the right model or the right graphic, they can go a bit smaller on their buy. They might not get as much margin as a preseason order, but they have zero risk because they've already sold the ski and the money's in their hands.
What are your production capacity and current growth rate? If we're hitting at full production, we do 20 to 30 [pairs] a day. We've been hanging tough. We're at 50 percent annual growth and we've had that for a while now. Last year was a little bit of a flatline because we moved. During that time, we were shut down for several months. Now that we have the new place open, we're back to hitting 50 percent annual growth.
Are you in independent shops only? Yes. We're chatting with bigger ones and that could happen someday, but we like the independents. So much of it is about the right fit. At this point, we're focused on being in the "skier's ski shops."
What's next for Meier Skis? We already ship skis all over the world and we're in shops throughout North America, and I expect we'll have a lot more as the time comes. But we also have a plan to duplicate, to some extent, what we've done here in Colorado—have other locations where skis are made. But it'll be a light version. The main manufacturing will still be done here [in Denver], but customers will have the ability to get custom skis pressed at other locations with a bar and a tune shop. That's the path we're heading down.
Photos courtesy Meier Skis