By Eric Smith
The offices of Chuck Smith and Wes Mooney overlook Lake Muskegon along Michigan's western coast, but the waterfront locale offers more than just a nice view. Proximity to the lake also provides a testing ground for their company's products and even a glimpse into their consumer base's paddling preferences.
Smith and Mooney head up Hemisphere Design Works, a Muskegon, MI-based kayak manufacturer whose name might not ring a bell but whose products—notably the Sun Dolphin and Evoke kayak brands—are familiar in the paddlesports world.
Hemisphere Design Works (HDW) is the new name that arose out of the 2017 merger between KL Outdoor and GSC Technologies. The 500-employee company is co-owned by its management team and New Water Capital Partners. This is the Boca Raton, FL-based private equity firm's first fund and largest investment in that fund, said Smith, the company's CEO.
The merger also resulted in HDW's sister division, a Montreal, Quebec-based, 250-employee business that makes and sells injection-molded storage and organization products and furniture. Keeping the segments separate was a strategic decision by ownership to allow both to flourish, according to Smith.
"We felt the best and most strategic play for the company was to form a pure-play water sports business that will consist of kayaks, pedal boats, fishing boats, canoes, car top carriers, accessories, etc.," Smith told SGB. "Anything related to water sports will execute out of here."
HDW unveiled the new corporate moniker last week and is ramping up production of a wide range of kayaks, pedal boats, human-powered fishing boats and paddling accessories under the Sun Dolphin, Evoke, Future Beach and Swiss Cargo brand names.
The company recently opened a 400,000-square-foot manufacturing and distribution facility in Stockbridge, GA, pictured below, about 20 minutes south of Atlanta's airport. Plans call for production of 500,000 boats a year at the Stockbridge and Muskegon plants, with kayaks composing 75 to 80 percent of manufacturing output and other boats and accessories composing the remaining 20 to 25 percent.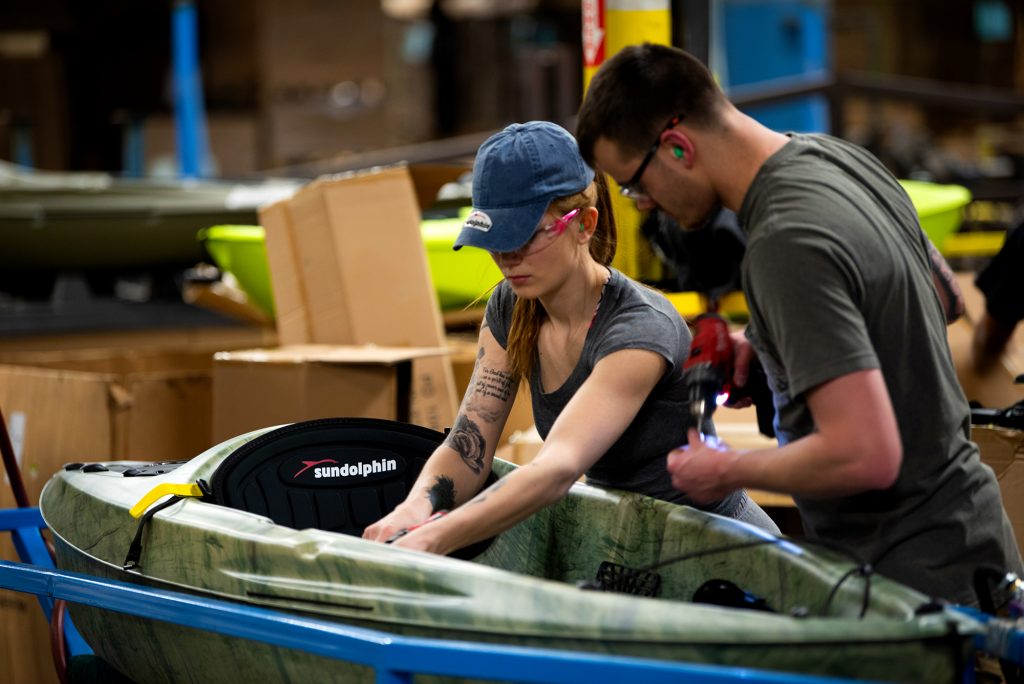 HDW is focused on grow a market share that Smith estimates currently as between 30 and 38 percent—"depending on the source you want to use for category size relative to human-powered watercraft," he said.
The company segments its kayak offerings into "good, better and best" categories based on quality of materials and craftsmanship. While the company's predecessor, KL Outdoor, was known for an emphasis on "good" kayaks, HDW is now looking to shift that balance as part of its expansion.
"We have a dominant share in the 'good' category; we've got a growing share in the 'better' category and we're relatively small in the 'best' category," Smith said. "So our objectives and goals are to expand upon our base in the 'good' and 'better' categories, but either through acquisition or organic growth, grow in the 'better' category."
HDW's brands break down like this:
The Sun Dolphin brand is primarily a "family-oriented or value-based brand," Smith said. "You'll see it at Walmart, Dick's Sporting Goods, Tractor Supply. It's a brand that we want to continue to bolster and grow, but it's really based around family events and creating family-oriented, human-powered moments."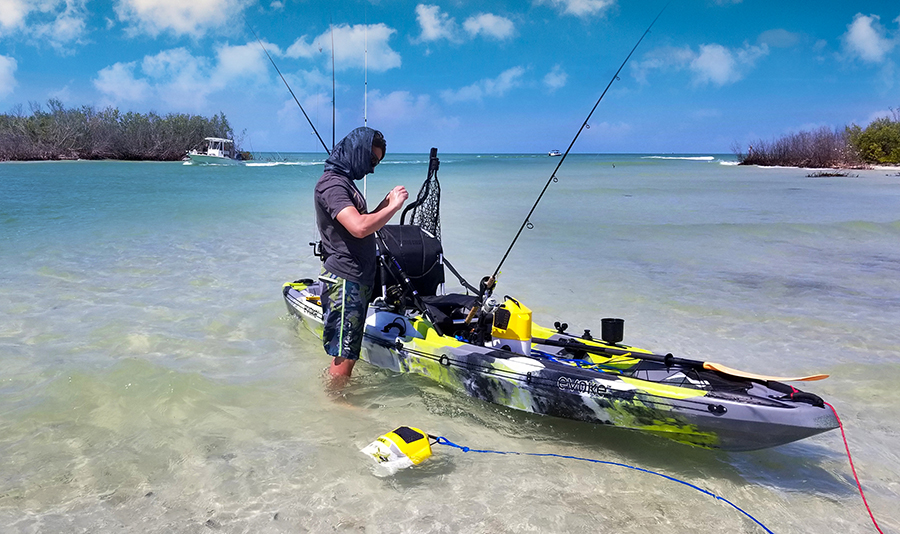 Evoke, pictured left, while a relatively small brand for HDW, has an opportunity to expand and grow in the fishing category, Smith said. "Our real focus is to make this the finest fishing boat in the industry. You won't see Evoke in the mass channels. You'll see it primarily as an independent distribution channel."
HDW uses multiple manufacturing processes for its boats: thermoform, blow-molded boats and rotationally molded. "We've got the unique capacity to be able to do all three," Smith said. "In addition to that, from a component standpoint, we can injection-mold things like hatches and foot pegs."
And while HDW's brands are known primarily in the big-box world and sold through mass merchants like Walmart and Tractor Supply, the company has the scale and reach to sell through all channels. HDW currently sells through online (Amazon and the company's own websites), sporting goods retail (Dick's Sporting Goods), wholesale (Costco), farm (Blain's Farm & Fleet and Mill Fleet Farm) and home improvement retail (Menard's).
"Our goal is that no matter where you shop, you can buy an American-made kayak from one of the Hemisphere Design Works brands," Mooney, HDW vice president of sales and marketing, told SGB. "Where we're a little bit underrepresented today is the independent paddlesports dealer channel. There's a lot of those dealers out there in lake communities and towns across America.
"What we think is through this merger now we have a stronger stable of brands that gives us the opportunity to differentiate by retailer, by 'good,' 'better' and 'best' categories. Ultimately, that gives us the right ammunition to go out there and win that independent paddlesports retailer channel as well."
Helping HDW win the independent channel is one goal of HDW's new digital marketing manager, who was hired 90 days ago to increase the company's presence online by retooling the website, improving content and growing mind share with online retailers as well as consumers.
"We think we can organically improve the perception and the awareness of our key brands as we go forward, and that that gives us a unique ability to grow our mind share and market share across key retailers," Smith said.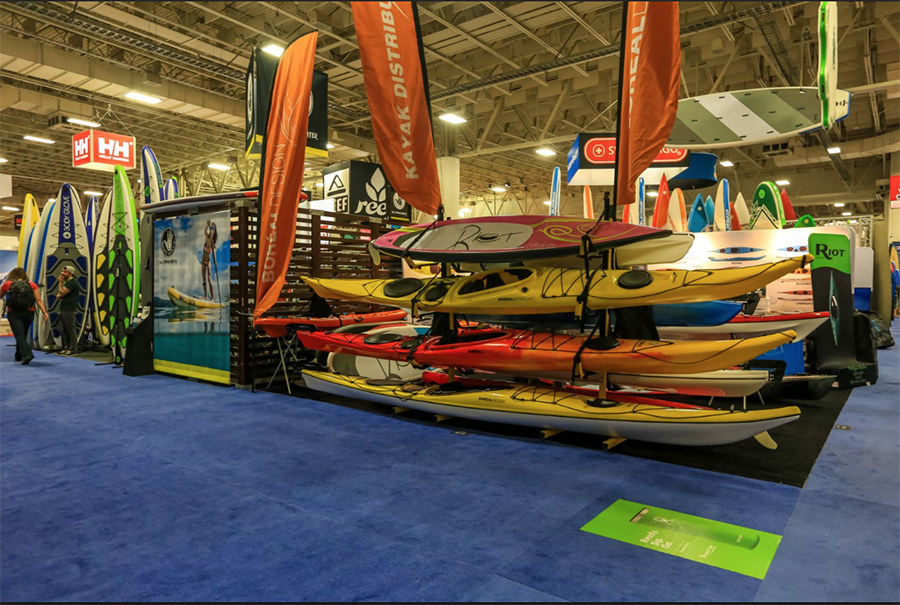 The company is planning a big debut at this year's Outdoor Retailer Summer Market in Denver, where HDW will unveil its products to the outdoor world. The company expects the trade show to serve as a launchpad for bigger things in 2018 and beyond.
"We think the opportunity is there to expand in all segments of the channel of distribution, to expand our base on the good and better in the marketplace," Smith said. "And really it's a white space for us in the best category. We really haven't played historically there. And I think you'll see us very active in that space both organically and through M&A activity."
Though Smith and Mooney are busy promoting the new company, they don't take for granted their new headquarters, which boasts not only a view of Lake Muskegon but also a floating dock nearby that allows for product demos with visiting customers. One glance out to the water reinforces HDW's sales goals as the company sets a course for rampant growth in the paddlesports market.
"You sit here in this office, you look out the window in June, you see what we're talking about," Smith said. "There are boats everywhere."
Photos courtesy Hemisphere Design Works and Outdoor Retailer Summer Market 2017