Genesco Inc. reported same-store sales were down 3 percent in the quarter-to-date period ended December 26, but came in better than expectations due to Journeys' outperformance. At the 2021 ICR Conference, Mimi Vaughn, Genesco president and CEO, said teen spending continues to hold up well in the face of the pandemic.
"Young customers are not as affected by the virus," said Vaughn. "They're more willing to be out and about. Teens have also always been interested in comfort and accessible price points, and that's absolutely what we offered. We've got strong market positions in these businesses and connections with our customers. And our performance demonstrated our ability to capitalize on the accelerated shift to online."
Overall, the 3 percent comp decline reflected a drop of 14 percent in store comps that was nearly entirely offset by a 49 percent hike in e-commerce comps. Genesco's comp policy removes any stores that are closed for seven consecutive days or more.
Total sales in the year-to-date period were down 8 percent, improving versus the 11 percent decline seen in the third quarter. Stores were open for about 90 percent of possible days in the quarter.
Vaughn said Genesco expected the fourth quarter would be down "a little bit more" than the third quarter due to reduced crowds during peak selling days, such as Black Friday and the Saturday before Christmas, as shoppers might be worried about crowds.
She also noted that the performance came against the backdrop of "pretty tough apparel sales" in both the U.S. and the U.K. and less robust overall consumer demand. Also, Genesco's Schuh stores in the U.K. were closed for most of November and December.
Among its concepts, Journey's comps were down 4 percent. Schuh's comps jumped 29 percent as strong online sales offset the impact of closed locations. Schuh's stores were operating for approximately 50 percent of this period.
Comps at Johnson and Murphy were down 34 percent, albeit improving the 43 percent tumble seen in the third quarter. The chain has been significantly impacted by a shift away from dressier looks and the work-at-home trend.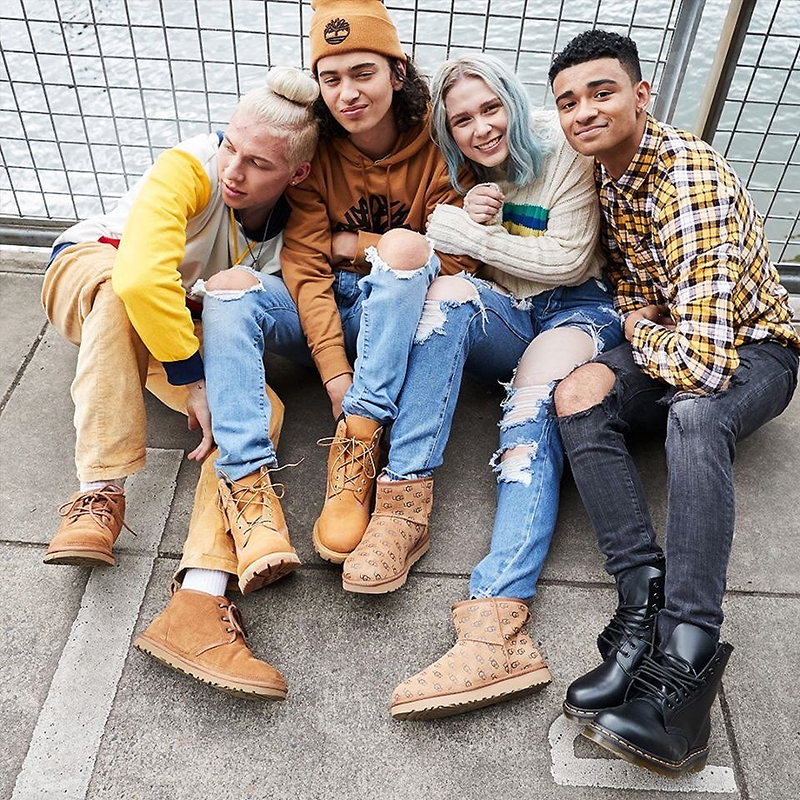 Journeys Sees Strong In-Store Conversion
Elaborating on some highlights in the holiday selling period, Vaughn said Journeys benefited from being in-stock on hot products.
"There was a scarcity of product that we sell within the marketplace," said Vaughn. "Our Journeys' merchants did a truly excellent job of figuring out what the consumer wanted to buy in the fourth quarter."
Genesco saw fewer markdowns to support better-than-expected gross margin over the holiday period and offset costs related to record e-commerce shipments. Said Vaughn, "Our teams executed well. We processed and delivered more packages than ever before, and Schuh was able to make up a lot of lost volume from the closed stores."
In-store comps came in better than expected at Journeys in particular. Journeys further saw "tremendous conversion" to build on strong conversion trends seen over 2020. Said Vaughn, "We've had record conversion numbers all year long, and excellent execution with stores opening and closing. It was Journeys' stronger store sales that contributed most to the revenue beat."
Finally, Vaughn said SG&A came in "even better than expected" over the holiday period, and she called out Genesco's success in controlling costs. Store selling salaries benefited from the implementation of a new workforce management system last year. Progress was also made with rent abatements over store closings due to the pandemic.
Genesco ended the third quarter with inventories down about 20 percent, and they are expected to be down again at the end of the year.
Shift Toward Casual Footwear Product Continues
Regarding trends, Vaughn said Journeys continued to see a shift toward a more casual product identified on the company's third-quarter conference call.
"We saw over the summer that sandals and various brands of sandals and other what we would call casual as opposed to fashionable athletic product was popular with kids," said Vaughn. "And through the course of the summer into back-to-school, we continued to see these trends. And we saw some of the earliest and most robust boot selling for the season, and boots are a very important part of the fourth quarter."
She added that Journeys is "well-positioned" around the shift towards casual assortments. Vaughn said, "Our merchant team is tremendously experienced. They know a lot. They've seen these trends before, and they had the conviction about what they were buying and were able to adjust the buys through the course of the first part of the year."
Looking ahead, Vaughn said January comps "are off to a good start" with the benefit of fresh inventories arriving. She added, "The cold weather has helped us quite a bit, and we think stimulus dollars are getting out there as well."
Photos courtesy Genesco