Crocs Inc. significantly lifted its 2020 revenue guidance after a strong holiday selling season and predicted growth would sharply accelerate in 2021. At a presentation Monday morning at the 2021 ICR Conference, Andrew Rees, CEO, highlighted sandals, personalization, digital, and China as key growth drivers.
"While 2020 has been a tumultuous year for us all, it has been an incredible year for Crocs, and I would say the Crocs brand has flourished," said Rees.
On Monday, shares of Crocs rose $8.19, or 12.3 percent, to $74.97. In 2020, Crocs' shares added 49.6 percent to close at $62.66.
Crocs' updated guidance released in advance of the presentation included:
Fourth-quarter 2020 revenue to increase approximately 55 percent to be between $407 million and $410 million, up from the previous guidance range of 20 percent to 30 percent growth;

Full-year 2020 revenue to grow over 12 percent, up from recent guidance of approximately 5 percent to 7 percent growth;

Record revenue between $1.381 billion and $1.384 billion for 2020, above Wall Street's consensus estimate of $1.3 billion;

Accelerated full year 2021 revenue growth of 20 percent to 25 percent compared to 2020.
Rees said Crocs' fourth quarter's outperformance was driven by a "very, very strong DTC performance." Direct-to-consumer (DTC), or online, comps globally were up slightly over 60 percent in the quarter while retail comps for Q4 were up approximately 40 percent.
For the full year, the approximately 12 percent growth was in line with pre-COVID-19 guidance. Digital revenue growth for 2020 was roughly 50 percent, resulting in digital penetration, including Crocs and third-party sites such as Amazon, of 42 percent.
Highlights of the year included improving metrics for brand desirability, relevance and consideration by double digits for the fourth consecutive year. Crocs also significantly increased EBITDA and operating margins and achieved a record free cash flow.
The company has also grown at a double-digit compound annual growth rate over the last four years. Rees said successful collaborations continue to support growth, including its recent fourth collaboration with alternative singer Post Malone and one earlier in the fourth quarter with country singer Luke Combs.
Looking ahead, Rees elaborated on Crocs' untapped opportunities to expand through sandals, personalization, digital, and China.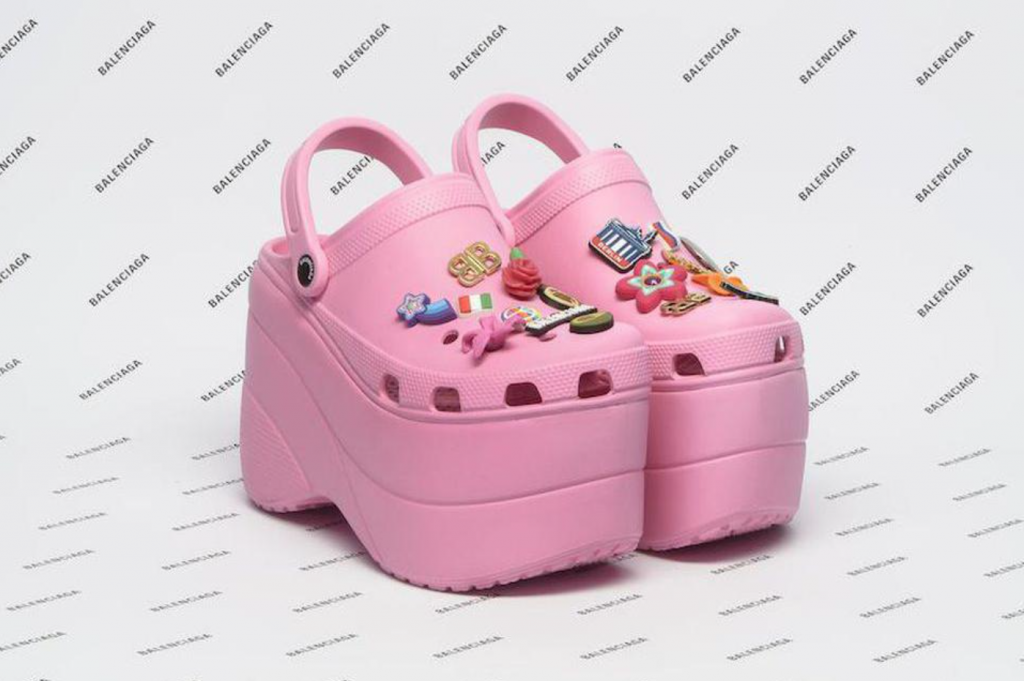 Sandals Grow 18 Percent In 2020
On sandals, Rees noted that while Crocs' core clogs business has been "incredibly strong" and been a "major driver" of growth in 2020, sandals remains a critical growth opportunity because it's a $30 billion global category growing at 4 percent annually. The category also has a higher purchase frequency to address multiple wearing occasions, is fragmented with no clear leader and Crocs has "a historical track record of success in this category, and we believe we can amplify and expand that success in the future."
Crocs' sandal business grew 18 percent in 2020 to achieve double-digit growth for three consecutive years. The brand targets the female consumer with the category as Croc's marketing campaigns are helping drive the "Female Explorer" to the sandal category. Said Rees, "We believe that the sandal business will be an important growth driver for us in the future and are very confident in our ability to drive this category."
Rees noted that personalization is a global megatrend that Crocs addresses through its Jibbitz charms offering, which nearly doubled its revenues in 2020.
"We see it across many categories. We see it performing in every region," said Rees. "It allows us to be an optimistic storyteller."
Rees said Crocs enhances its average price point as it sells Jibbitz in combination with shoe purchases. Jibbitz purchasers also are found to have twice the lifetime value than a typical consumer has. Rees said, "It allows our brand to be relevant to a broad variety of consumers and in a broad variety of purchase occasions, so it's a really important part of our business."
Rees said the pandemic had been an accelerator of digital selling. He added, "At Crocs, we are focused on digital selling for a much longer period, and I think this is one of the factors that's allowed us to perform well during this very difficult year."
He highlighted that the fourth quarter represented Crocs' 15th consecutive quarter of double-digit e-commerce revenue growth. He noted Crocs is equally focused on expanding digital through its larger third-party online channels and its sites. The 42 percent overall digital penetration this year compared to 31 percent in 2019. By region, the highest digital penetration for the year was seen in EMEA, at 55 percent, with both the Asia Pacific and the Americas at 39 percent.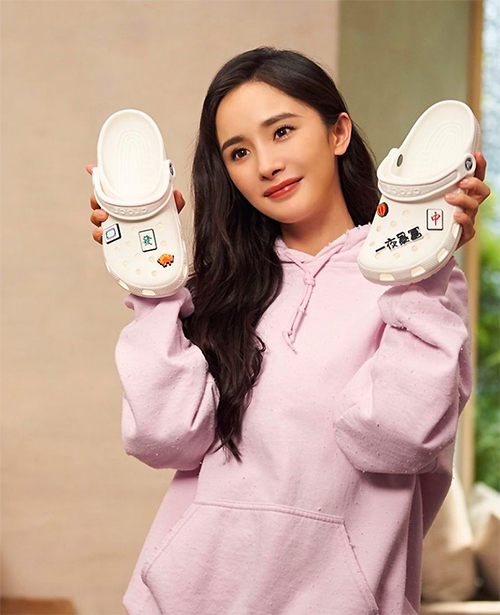 China Significantly Underpenetrated
Finally, Rees said China continues to represent "significant white space" with only 5 percent of Crocs' 2019 sales coming from China, the second-largest footwear market in the world.
Crocs has been ramping up investments in the region over the last 18 to 24 months to drive growth. Investments include building brand awareness with its partnership with Chinese actress and singer Yang Mi, now in its second year. Other efforts include local collaborations, a tighter focus on key tier one and tier two cities and the Gen Z consumer, further elevating the quality of its wholesale partnerships and accelerating online growth through JD, Tmall and VIP. Rees added, "We have opened our first global new concept store in the Chinese market, and we're very pleased with its performance."
In the Q&A session, Rees said Crocs had done well with several major new wholesale accounts over the holiday, including Nordstrom, Foot Locker and Finish Line. However, the brand has continued to see an acceleration in wholesale, particularly in North America, due to "extraordinary" sell-through at existing accounts.
Asked if Crocs is seeing new customers due to changing purchasing behaviors due to the pandemic, Rees said the brand had seen a new younger "predominantly female consumer" in recent years, particularly driving growth in North America, and that continued in 2020. As the year progressed, more younger male consumers have gravitated toward Crocs. Rees nonetheless stressed that the company doesn't see the new younger customer base alienating its core followers. Rees added, "If anything, those younger customers are enhancing our more suburban customers as well. We're very democratic. We've got that new young customer. They're certainly purchasing and certainly driving growth, but we're also seeing growth from what we call our "Feel Good Consumer," which is our suburban mom."
Photos courtesy Crocs