By Thomas J. Ryan
Running is among the physical activities that has experienced an increase in participation this year as Americans have discovered, or re-engaged, with the sport during their time in COVID-19 lockdown.
Running is considered a safe activity while social distancing, and is attracting greater numbers due to heightened interest among consumers who are seeking healthier lifestyles in response to concerns with the virus.
The heightened interest has occurred despite the cancellation of major and minor foot races this year with some recent races starting to come back with heavy restrictions.
With setting goals around races often helping new runners get started in the sport and keeping core runners motivated, it's hard to tell if the race challenges will eventually impact participation.
Moreover, as with many behavioral changes due to the pandemic, it's unknown whether the new running habits formed during COVID-19 will continue to drive a long-term benefit or whether old routines will return once a cure for the virus has been found.
SGB Executive reached out to running shops to explore whether the sport will see a long-term benefit.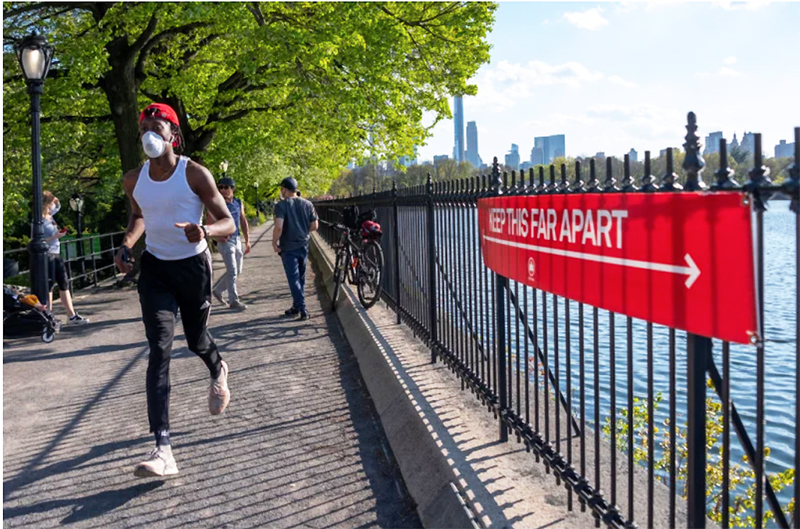 ›Gary Taylor, Owner, Go! Running, Little Rock, AR
"Apart from the obvious 'being outside is safer' reason, I think the reasons driving the increase in running and walking have been similar to the various reasons people have to get into a fitness routine when there isn't a pandemic, but the pandemic has brought those reasons to the forefront en masse.
"Reasons like: I don't have the time; I've been eating badly; I want to get my kids out, but they're never home; I'm getting older and losing shape; I'm around the house too much and need to get out, and so on are the typical reasons but because people have been home so much, the reasons seem more compelling and urgent.
We did not see the lift in sales that bike or DIY shops had in the second quarter because everyone has some kind of shoes they can be active in (but they may not have a bike or those DIY supplies and tools).  We saw an increase in "new to running/walking" customers later in the summer, and they have probably saved many running stores. Discomfort or wanting to step up what they were doing were the two big drivers from the 'new' group. Issues with back, feet, toes, muscles, and so on were what brought that group in.
"If we treat this group right, the benefits will be long term as more people are entering the sport and hopefully they won't forget the help they got from someone in a specialty shop that 'cared' for a beginner.
"Then, once racing resumes for real, I hope we see a spike in participants as races begin to cater to the vast numbers of folks that entered the sport this year."
›Eric Fruth, Co-Owner, Columbus Running, Columbus, OH: "People need physical, mental, and social outlets, and the pandemic has really limited most people's options. Running provides a solution. If someone isn't comfortable in the gym or taking part in a large scale fitness class, an outdoor run gives them that endorphin kick without the potential risks that are all around us in 2020. On the social side, we're seeing people link up with a COVID bubble buddy, someone that they trust for short outdoor workouts. With all of this, we're seeing more runners out on the paths than ever. Running is booming.
"In the short term, there's certainly that uptick in people running, and that's translating into sales for the running industry. The big question is what happens long term. We believe that question is tied to what happens when large scale running events return. Will those same new runners flock to races, fully buying into the runner mindset? Or will they move back into the gym or other workouts? We don't have that answer, but we're working on programs, incentives, and future races to keep people excited and engaged with the running world far beyond this crazy year."
›Chris Farley, Owner, Pacers Running, Washington DC: "The pandemic has been tough – tough on everyone.  No one has been spared.   I know for me, when everything feels out of control, I look for anything that I can control to make a positive impact on my life.
Running over the past 6 months has been that for so many people.  While your gym was closed, your neighborhood pool shut down, and your fitness class canceled, you were always able to lace up your shoes and just go for a run.
"For those in the Running Industry that can weather the storm, there is a positive long-range outlook.  I believe that many of the people who picked up running will stay with running.  I believe that many people will remember that key activity that got us though some of the toughest times in our lives – Running.  And I don't think I'm overstating that at all.  People will come out of the pandemic and remember what they could rely on when everything else seemed to be unreliable.  The pair of shoes and the trails.  Some control in an uncontrollable 2020.  And I think that won't be forgotten."
›John Rogers, Principal, Fleet Feet Maine Running, Portland, ME
"The key drivers for the running industry will be health and wellness, social/community togetherness and value. Regarding health and wellness, consumers are experiencing concerns for their mental and physical well-being. Fear, anxiety, isolation for both mental and physical well-being are, and will, continue to drive consumers to seek accessible indoor and outdoor activities to cope with mental and physical stress. This bodes well for run specialty to deliver the support, products and services for consumers investing in their mental and physical well-being with running or walking.
"We see an increase in customers seeking brands and services they trust and will add value to their entry into or continuation with walking or running. There is, and will continue to be, an opportunity to introduce new consumers to new products which will continue to support their at-home indoor and outdoor running and walking through Fall and Winter. Safety, visibility, traction, outerwear, Winter accessories, and virtual training/race and group opportunities to foster goals and social/community togetherness will continue to be important.
"Running Specialty couldn't be better positioned to deliver the services, products and value in the current and post-pandemic world of doing business delivering high level in-store, e-commerce and digital training and racing virtual experiences. All these drivers and customer experiences will position run specialty for growth and provide services, products and value to running and walking consumers both short and long term."
›Keith Hanson, Co-Owner, Hanson's Running Shop; Co-Founder Hansons-Brooks Distance Project
"I definitely see both short- and long-term benefits to the running industry as a result of the pandemic. During the initial shut down, people had the time and were looking for ways to deal with the stress of the pandemic. Many chose to begin, or renew, running and walking activities. Although our doors were closed for in-store business from mid-March to the end of May, we kept our entire staff employed. Most of the staff only worked about half the hours they normally do, but we paid them their regular hours. We had someone in the store during our regular business hours to answer the phones and handle curbside deliveries. We also had 4-to-5 employees, including both owners and our general manager, doing home deliveries. We were surprised by the number of phone calls from new runners seeking advice. We were also nonstop with home deliveries for 12 hours each day. The first month of business, after reopening, was up over 40 percent from the previous year, and since we have seen, and are still seeing, over 20 percent increase in sales.
"I believe that the pandemic has changed people's attitudes about their individual physical and mental health. It's been a very trying time for the world, and people have been forced to reevaluate how they live. I believe the running specialty industry has a unique opportunity to be a leader in helping people find a healthy way to navigate and find personal happiness for themselves and those around them.
"We are also very confident in the future of running specialty. We have instituted a $15 minimum wage for all of our employees. The plan was a graduated implementation. It will be fully implemented by the end of the Q12021. This doesn't affect many of our employees as they were already exceeding the minimum."
›Jess Allen, Co-Owner, PR Running, Westborough, MA
"Our shop saw a marked increase in people running for fitness because gyms were shut down. We also saw people turn to running and walking for stress reduction. In the beginning of the pandemic, some were simply looking for ways to fill the time. The benefit, from a business standpoint in the short term, was muted because our shop was closed. We did our best to adapt with virtual fittings and curbside pickups, but many customers we spoke with in the early days had initially gone online to order shoes. The great thing for us, as a small business focused on customer service, is we saw those folks come back to us, or check us out, for the first time. Many had purchased shoes online or were wearing older shoes that simply did not work for their foot type. We also saw a lot of overuse injuries. Our returning customers were thrilled to know we could take away the guesswork for them. New customers were happy to have someone to talk with about training, and many of my early virtual fittings focused on injury prevention and safe mileage increase. It was cool to see people with the enthusiasm only new runners have.
"I hope our industry will see a long term benefit from those who either found or rediscovered running during the pandemic. Running is addictive, mostly free, and we can all do it. Cross Country was one of the easiest sports for officials to approve and set safe guidelines. Athletes who weren't able to compete in their usual sport migrated to Cross Country.  In turbulent times, we could all do worse than lace up a pair of sneakers, breathe some fresh air and get moving."
›Elizabeth Steen, Owner, Plateau Runner, Issaquah, WA
 "Drawing from a customer base that includes four public school districts, Plateau Runner is very involved with school sports teams. When schools closed in early Spring and living rooms in our community turned into online classrooms, we saw more families running and walking together in parks and neighborhoods. Running helps keep student athletes in shape for their sport and, along with walking, gives everybody a healthy break from their quarantine space and partners. Now that we're six months into this COVID-19-inspired lifestyle, running and walking have developed into a routine, and our customer base has expanded to include young kids and seniors. We're outfitting the entire family with running shoes, accessories and apparel and already see repeat business, all signs of long-term benefits for the running industry."
›Betsy Hughes. Co-Owner, TrackShack, Orlando, FL
"We have definitely seen changes in our running industry since the pandemic basically shut down the country in March. Because, for the most part, gyms and fitness centers closed, people took to the streets both to walk and run for fitness. Being home for almost seven weeks when we had to close Track Shack, Jon and I saw people exercising in our neighborhood that I didn't even know! It was exciting to see our roads and sidewalks busy. Many months later, we are still seeing more people out and about, perhaps some realizing for the first time that exercise, both walking and running, are positive lifestyle choices and can boost their overall health keeping them fit and, hopefully, less prone to contracting COVID-19, or at least recovering faster.
"When we re-opened our store at the beginning of May, people literally lined up around the building. Sure, we were social distancing and requiring masks/face coverings which meant we needed to monitor the number of people inside.  To this day, we continue this, and on our busy days have a "door monitor," a staffer welcoming customers inside as the store empties. In over 40 years of selling running shoes, I have never seen so many holes in so many shoes. People are exercising more than ever!
"We have offered virtual running/walking options for our events for many years now and, usually, we have maybe 15-to-20 [runners] that choose that option. All our events have become virtual events since the spring, and the community has jumped on board. A physical event in the past may have had 2,500 participants, and now we are happy to see 1000-to-1500 participating virtually. This has made a huge difference for our beneficiaries who may not have received any funds in 2020 otherwise. We also have runners from around the world participating virtually. Our social media has blown up with pictures of runners in many different countries wearing Track Shack event shirts and sporting their medals! "
›Luanne Hardin, Store Manager, Ken Combs Running Store, Louisville, KY
"I started running in the middle of the pandemic. Gyms were closed, and I was tired of being cooped up in the house. After talking with my sister-in-law, an avid runner, I thought I'd give running a shot.
"For me, running was a way to not only get out of the house but it also became a source of therapy. With the many unknowns during this pandemic, I believe that running has not only helped individuals with their physical health but also with their mental health.
"From what I've witnessed in the store, to personal conversations, running is here to stay. The driving force comes not just from the mental health aspect of running but also the feeling of accomplishment. It's the satisfaction that comes after a run. Knowing that you pushed yourself, you showed up, you got to wear those new running shoes, you were able to free your mind, or even hit a new personal record. Individuals all over are giving running a chance, and it shows in our local running groups, our store, and the community.
"I've heard time and time again that 2020 is canceled but guess what's not canceled? Running. The one constant we have during a year of uncertainty. "
Photos courtesy Shutterstock, Getty