Tilly's Inc. reported its best first-quarter net sales and earnings per share since becoming a public company in 2012 as the action-sport chain's sales recovery coming out of the pandemic gained momentum.
The strong first quarter came on top of its most profitable fourth quarter in the last eight years.
"We believe these results are being driven by a compelling merchandising offering, excellent execution by our corporate and store teams, and several favorable environmental factors, including increased consumer activity generally, the impact of federal stimulus checks on consumer spending, a return to in-person learning in many schools, and the reopening of public venues," said Ed Thomas, president and CEO, on a conference call with analysts.
He said the improvement stood out compared to first-quarter 2019 results that weren't impacted by the pandemic. Both physical stores and e-commerce produced double-digit positive comps in its first quarter compared to fiscal 2019. In addition, store comps were positive in all regions relative to 2019.
"We expected our results to be significantly better than last year due to the pandemic-related store closures we experienced in the latter half of last year's first quarter," said Thomas. "But we were pleasantly surprised at how strong our business performance was relative to any quarter of the last several years."
Strength Seen Across Categories
In terms of merchandising, all departments comped positive in its first quarter compared to fiscal 2019, with women's, men's and girls posting double-digit percentage increases and boy's footwear and accessories posting single-digit percentage increases.
Thomas said the atypical back-to-school timing during the first quarter resulted in an aggregate increase in backpack and denim sales of nearly $5 million over 2019 first quarter. Hard goods, a recently introduced category, produced $2 million in total net sales during the first quarter but continues to grow. Hard goods were in 70 percent in stores at the end of the first quarter, and the retailer's plan is for the category to be in half of its stores by the end of the second quarter.
Tilly's also launched a sustainability program during the first quarter, curating a range of sustainable products on its website. To date, it introduced more than 700 products from brands including The North Face, Billabong, Levi's, JanSport, Obey, Hydro Flask, Teva, and Adidas.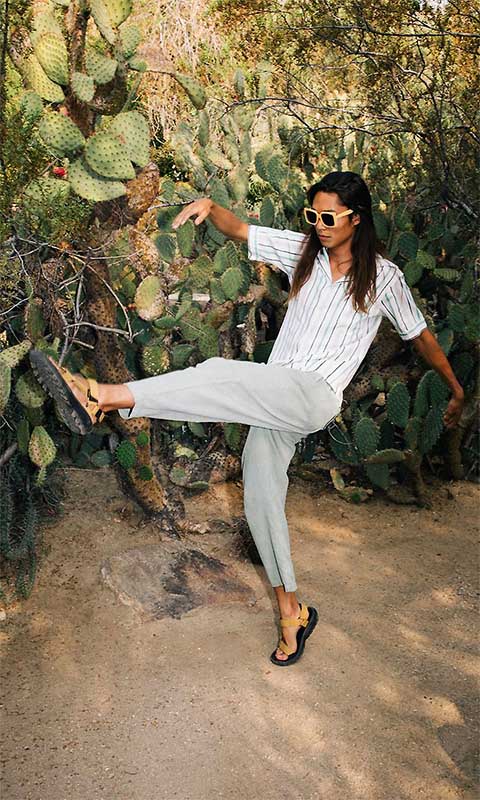 Thomas said, "We plan to grow this assortment to more than 1,000 products by the end of the third quarter. We are also currently working with our proprietary brand suppliers to encourage the use of recycled materials in certain of our RSQ-branded products."
In the quarter ended May 1, net income improved to $11.0 million, or 36 cents per share, compared to a net loss of $17.4 million, or 59 cents, last year. Wall Street's consensus estimate had been a loss of 4 cents.
Sales were $163.2 million, up 111.1 percent year-over-year. Wall Street's consensus estimate had been $124.2 million.
Sales from physical stores were $127.7 million, a hike of 171.9 percent, primarily due to the closure of all its stores during the latter half of the first quarter last year due to the pandemic. Sales from stores represented 78.3 percent of total sales compared to 60.8 percent a year ago. E-commerce sales reached $35.5 million, an increase of 17.0 percent. E-commerce represented 21.7 percent of sales compared to 39.2 percent last year.
Compared to 2019, comparable sales improved 21.9 percent with comparable sales from physical stores up 11.7 percent and e-commerce up 80.4 percent.
Gross margins improved to 33.6 percent of sales from 2.1 percent a year ago. Product margins improved 930 basis points as a percent of sales primarily due to the prior year's impact of an estimated inventory reserve of $4.7 million recorded during last year's store shutdown period, which represented 600 basis points of the comparative increase. Excluding the prior year's inventory reserve impact, the remaining product margin improvement of 330 basis points was primarily attributable to a lower total markdown rate.
SG&A expenses were reduced to 24.5 percent of sales from 38.8 percent last year.
Tilly's ended the first quarter with inventories per square foot down 2.6 percent relative to last year, but up 8.0 percent relative to fiscal 2019. The chain said it believes inventory levels are in line with its plan despite some logistics challenges.
"The port delays on the West Coast remain an issue," said Thomas. "In the scheme of things, overall, materiality is low compared to what the total receipts are expected to be. We don't have much color when the port situation will improve, but we're certainly monitoring it. And we did plan on bringing in inventory for back-to-school earlier than normal to compensate for the potential delays. But I feel pretty good about where our inventory is right now and where it's going to land."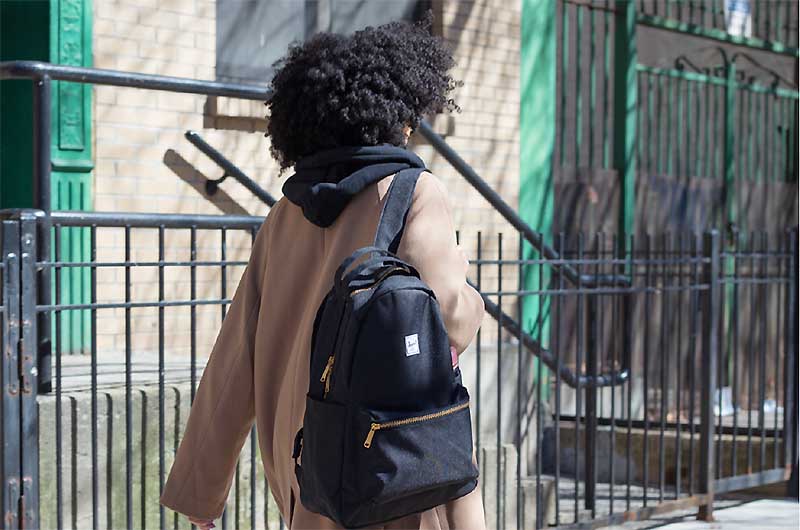 Outlook
Based on current trends, second-quarter net sales and EPS are expected to improve compared to the second quarter of fiscal 2020 and fiscal 2019 as long as its stores and e-commerce remain in full operation throughout the quarter.
Total sales for the second quarter through May 31, 2021, were $58.0 million, a jump of 104.7 percent year-over-year and an increase of 37.7 percent compared to 2019. Sales from physical stores were $47.1 million, a jump of 462.6 percent against 2020 and 30.0 percent versus 2019. E-commerce sales were $11.0 million, a decrease of 45.2 percent, against 2020, but up 84.6 percent against 2019.
Said Thomas, 'We are encouraged by the strong performance of our business thus far in fiscal 2021. And we remain excited about the long-term future of Tilly's business and its prospects for continuing profitable growth."
Photos courtesy Herschel, Teva