Zumiez Inc. may be a leading indicator that the U.S. retail market is getting back to "normal." The retailer interpreted that its first-quarter profitability reflected a shift to a more historical mix between its store and digital channels as customers are more comfortable returning to in-person shopping.
Company CEO Rick Brooks shared on a conference call with analysts that it expected fiscal its first-quarter results to exceed results from the comp quarter two years ago, but it was not anticipating a 30 percent increase versus the 2019 first-quarter period, especially given a portion of its global store fleet remains closed.
"Despite a slower start to this year's first quarter, we still expected that sales would exceed Q1 2019 as some of the headwinds we faced in February abated, and the economy benefited from government stimulus," Brooks said.
Still, Brooks expects Zumiez to continue to exceed 2020 and 2019 sales levels over the year but not necessarily at the same magnitude as its Q1 period.
"The second quarter has started strongly with May total sales increasing 42 percent year-over-year and up 31 percent compared with May 2019," Brooks detailed. "While the near term is difficult to predict as markets recoverer from the impact of the pandemic at different paces, the long-term outlook for Zumiez continues to brighten."
From a regional perspective, net sales for its North American business for the four weeks ended May 29 increased 45.9 percent over the comparable period last year and were up 27.9 percent compared to the comp four-week period in 2019. Other International business increased 19.9 percent versus last year's second-quarter-to-date and increased 54.9 percent compared with the 2019 comp period.
All categories were said to be up in total sales in the four-week period ended May 29 versus the comp period last year, except for hardgoods. Men's was reported as its "most positive category," followed by accessories, footwear and women's. Since comps are tricky to calculate versus the 2020 comp period due to store closures and the increase in e-commerce, CFO Chris Work shared comp sales results versus the 2019 comp period. For the four weeks ended May 29, comparable sales increased 32.9 percent compared with the four weeks ended June 1, 2019. The company did not provide Q2 guidance due to "limited visibility."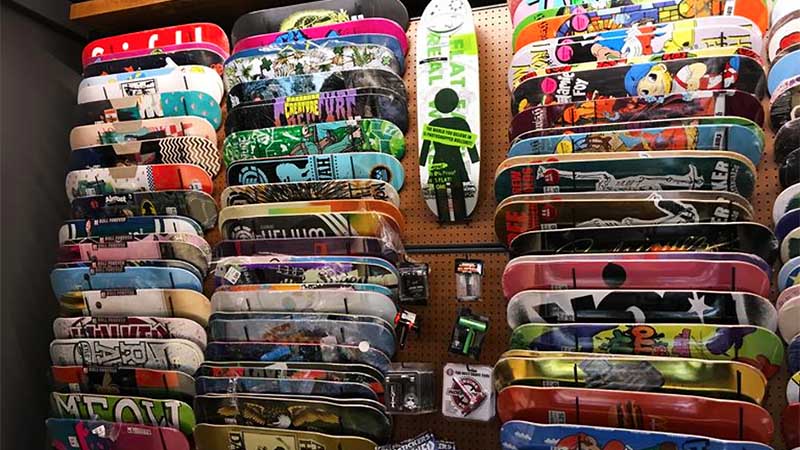 Turning back to its first-quarter results, ZUMZ reported net sales for the fiscal quarter ended May 1 were $279.1 million, up 102.6 percent from $137.8 million in the first quarter of 2020 and up 31.1 percent from the $212.9 million in the first quarter of 2019. Compared with the first quarter of 2019, the increase in sales was said to be driven by the net addition of 15 stores and comparable-store sales growth of 34.2 percent. "Our stores were open for approximately 94 percent of potential operating days during the first quarter of 2021 compared to 50 percent in the first quarter of 2020 and 100 percent in the first quarter of 2019," Work confirmed.
The North American region's net sales were $248.7 million, an increase of 113.4 percent over the 2020 comp period and up 32.3 percent compared with the 2019 comp period. Other International sales, which consist of Europe and Australia, were $30.4 million, up 43.2 percent from the year-ago quarter and up 21.7 percent from Q1 2019. Excluding the impact of foreign currency translation, North American net sales increased 112.6 percent and Other International net sales increased 29.1 percent in Q1 compared with Q1 2020. "Both our European and Canadian operations had impactful COVID-related store closures during the first quarter of this year, and they were open for approximately 40 percent and 77 percent of the available operating days, respectively," Work said.
All categories reported an increase in total sales versus Q1 last year, with the men's business described as the "most positive, followed by accessories, hard goods, women's, and footwear."
The first-quarter gross margin was 37 percent of sales in Q1, compared to 17.2 percent in Q1 2020 and 31.2 percent in Q1 2019. "The 1,980 basis point improvement from the first quarter of 2020 was largely due to 1,200 basis points of leverage in our occupancy costs, including the impact of the continuation of rent charges in 2020 while stores were closed," Work detailed on the call. Product margin reportedly increased 390 basis points with 340 basis points of the improvement related to the leverage of fixed costs in fulfillment and distribution with a significantly higher level of sales. Gross margin improved 580 basis points from 2019, driven largely by product margin improvement, occupancy leverage, and reduction of shrink as a percentage of sales.
SG&A expense was $68.9 million, or 24.7 percent, of net sales in the first quarter compared to $51.6 million, or 37.4 percent, of net sales a year ago and $65.5 million, or 30.7 percent, of net sales two years ago. "Compared to 2020, the 1,270 basis point decrease in SG&A expenses, as a percent of net sales, resulted from meaningful leverage of our fixed costs on higher revenue base in 2021 compared to the prior year when we experienced significant store closures due to COVID-19," Work detailed. "The most significant improvements were 620 basis points of leverage in our store wages, 520 basis points of leverage in our other store costs and 340 basis points of leverage in corporate costs. And these improvements were partially offset by 180 basis points related to government subsidies in the prior year that did not repeat in the first quarter of 2021 and 110 basis point increase in incentive compensation," continued Work.
Net income for the first quarter was $26.4 million, or $1.03 per share, compared to a net loss of $21.1 million, or 84 cents per share for the first quarter of 2020 and net income of $0.8 million, or 3 cents per share, for the first quarter of 2019.
"Our performance amidst very challenging conditions last year and, more recently, as the operating environment has improved, underscores our market-leading position and the strength of our business model," Brooks said. "The work that this organization has been doing to execute the long term consumer-centric growth strategy that Zumiez has been building and evolving since its inception put the company in a position to navigate the pandemic successfully and now capitalize on the uptick in demand we see from an economic recovery boosted by record stimulus."
Zumiez ended the quarter with cash and current marketable securities up 84.3 percent to $400.4 million as of May 1, compared to $217.2 million as of May 2, 2020. The increase in cash and current marketable securities was said to be driven by "cash generated through operations, partially offset by capital expenditures." At quarter-end, Zumiez had no debt on its balance sheet and maintained its full unused credit line of $35 million. In addition, Zumiez ended the quarter with $136.5 million in inventory, essentially flat with the end of Q1 2020 and Q1 2019. On a constant-currency basis, inventory levels were down 3.2 percent from last year. Overall, the inventory on hand was said to be "healthy and selling at favorable margins."
For the full-year fiscal 2021, ZUMZ previously projected that it would exceed 2019 revenue levels, but given the "significant growth" from 2019 in its first quarter and strong May results to begin the second quarter, the company is now forecasting that fiscal 2021 net sales would grow in the low- to mid-teens versus the fiscal 2019 full-year period.
Growth rates are expected to slow from the first quarter of 2021, but due to the fast start in the second quarter, ZUMZ continues to forecasted double-digit Q2 sales growth from fiscal 2019, which translates to high-single-digit growth to low-double-digit growth versus Q2 2020. Zumiez's fiscal 2021 sales growth, compared to 2020, is forecasted to be in the low- to mid-single-digits for the third and fourth quarters.
Zumiez plans to open 22 new stores in fiscal 2021, including approximately five stores in North America, 12 stores in Europe and five stores in Australia. Also, the retailer intends to close five-to-six stores during the year.
Photos courtesy Zumiez