By Eric Smith
What retail apocalypse? That's a fair question to ask—at least when analyzing what The TJX Cos. Inc. accomplished in 2019.
The Framingham, MA-based parent of stores in the U.S. (T.J. Maxx, Marshalls, HomeGoods, Sierra and Homesense), Canada (Winners, HomeSense and Marshalls), Europe (T.K. Maxx and Homesense) and Australia (T.K. Maxx) added 223 new stores in 2019.
That number isn't an anomaly. Over the past five years, TJX has opened more than 1,100 stores, achieving this growth "in an environment where we have seen thousands of store closings across the retail sector," President and CEO Ernie Herrman said on Wednesday's earnings call with analysts.
During the fiscal year ended February 1, the company increased its store count to a total of 4,529 stores, with 1,200 of those outside the U.S. The company increased square footage by 4 percent over the same period the prior year. The thriving store footprint showed up in a big way for TJX's fourth-quarter earnings report as the company rode strong customer traffic to an EPS and revenue beat.
…
TJX on Wednesday announced net sales for the fiscal fourth quarter ended February 1 increased 10 percent to $12.2 billion, beating estimates by $370 million. Consolidated comparable store sales increased 6 percent over a 6 percent increase last year driven by improved customer traffic.
Net income for the fourth quarter was $985 million. Diluted earnings per share were 81 cents, a 19 percent increase versus the prior year's 68 cents and ahead of analyst targets by 4 cents.
For the 52-week fiscal year ending February 1, net sales were $41.7 billion, a 7 percent increase over the same period last year. Consolidated comparable store sales increased 4 percent over a 6 percent increase last year.
Net income was $3.3 billion, and diluted earnings per share were $2.67, a 10 percent increase versus $2.43 in the prior year. Fiscal 2020 diluted earnings per share increased 9 percent over the prior year's adjusted $2.45, which excluded a 2-cent pension settlement charge.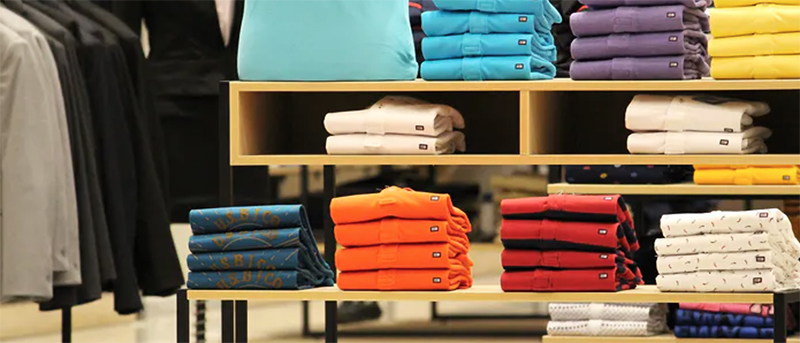 So what's driving customers to TJX's portfolio of brands? Herrman cited a few different reasons for continued traffic flows during 2019, which "marks the 24th consecutive year of consolidated comp-store sales growth and the 12th straight year of customer traffic increases," he said.
"We were very pleased with our innovative and differentiated marketing plans, which we believe successfully drove customers to our stores and online," Herrman added. "We believe that we are continuing to attract shoppers of all ages to our stores, including a significant amount of Gen Z and Millennial shoppers, which bodes well for the future of each of our four major divisions."
Each of the company's four divisions—Marmaxx (U.S.), HomeGoods (U.S.), TJX Canada, TJX International (Europe and Australia)—notched comp-store sales growth of 4 percent or higher thanks to increased customer traffic. Q4 marked the 22nd consecutive quarter of traffic increases at TJX and Marmaxx.
The company is hitting these marks amid the tumultuous global retail landscape.
"Clearly one of the dynamics happening here on our market share gain is there's been, and continues to be, a fair amount of brick & mortar store closures in every geography that we're in," Herrman said. "And … it's been steady over the last couple of years."
And TJX continues making headway across all of its sales categories, from home to apparel, which Herrman attributed to the right product mix and consistently upbeat shopping experience at each TRX property.
"I also want to highlight that both our apparel and home businesses for the company were strong and in-line with the consolidated comp," he said. "Clearly, we gave consumers a compelling reason to shop us and make exciting purchases throughout the holiday season and beyond."
…
Heading into the new fiscal year with so much momentum, TJX raised guidance. For the 52-week fiscal year ending January 30, 2021, the company expects diluted earnings per share to be in the range of $2.77 to $2.83, representing a 4 percent to 6 percent increase over the prior year's $2.67. The EPS outlook is based on an estimated comp-store sales growth of 2 percent to 3 percent on both a consolidated basis and at Marmaxx.
For the first quarter of Fiscal 2021, the company expects diluted earnings per share to be in the range of 59 cents to 60 cents versus earnings per share of 57 cents in the prior year. This EPS outlook is based upon estimated comparable store sales growth of 2 percent to 3 percent on both a consolidated basis and at Marmaxx.
Once again, store growth is part of the plan for the coming fiscal year. Herrman said TJX plans "to add about 170 net new stores, which would bring our yearend total to approximately 4,700 stores. This represents store growth of about 4 percent and similar to past years, reflects our plans to close only a handful of stores."
He added that the company expects to add about 50 stores at Marmaxx, approximately 10 Sierra stores and approximately 50 stores at its HomeGoods division, including 25 in Canada, 25 stores in Europe and 10 stores in Australia.
"As we look at the retail landscape, we continue to see plenty full market share opportunities out there to be gained," Herrman said. "As long as we execute well, we are convinced we will keep attracting more consumers across a wide demographic and keep growing our retail banners successfully around the globe. Our relentless focus on value will continue to be our winning retail formula."
Photos courtesy TJX Cos.