By Thomas J. Ryan
<span style="color: #a1a1a1;">In a further sign that it's extensive restructuring efforts are paying off, Crocs Inc. reported a profit against a loss in the fourth quarter as sales climbed 21.8 percent. Crocs, however, joined other firms in warning of a near-term hit to revenues due to the coronavirus outbreak.
In the fourth quarter, earnings on an adjusted basis reached $8.63 million, or 12 cents a share, compared to an adjusted loss of $7.74 million, or 10 cents, in the fourth quarter of 2018. Crocs does not provide EPS guidance but adjusted earnings came in easily above Wall Street's consensus target of 7 cents.
On a reported basis, net income came to $19.9 million, or 29 cents a share, against a loss of $118.7 million, or $1.72, a year ago. Non-recurring items included expenses primarily incurred in connection with the relocation of its distribution centers in the U.S. and the Netherlands and non-recurring SG&A charges, adjustments to income tax expense and pro-forma adjustments related to its previously outstanding Series A Preferred Stock.
Revenues were $263.0 million, growing 21.8 percent on a reported basis and 22.7 percent on a constant-currency basis. The results were ahead of company guidance calling for sales in the range of $245 and $255 million provide with third-quarter results and slightly above an updated forecast given on January 13.
Currencies negatively impacted its revenues by approximately $2.0 million, while store closures reduced its revenues by $2.0 million. Wholesale revenues grew 22.4 percent, e-commerce revenues gained 34.3 percent, and retail comparable store sales on a constant-currency basis vaulted 16.0 percent.
"These achievements underscore the work we have done expanding the year-around desirability, relevance and consideration of our brand and product offering," said Andrew Rees, president and CEO, on a conference call with analysts.
Gross margins in the quarter reached 48.0 percent, up from 46.2 percent in last year's fourth quarter. Adjusted gross margin, which excludes 130 basis points of expenses primarily related to the relocation of its distribution centers in the U.S. and the Netherlands, was 49.3 percent, representing a year-over-year gain of 310 basis points. The improvement was driven by favorable product mix, price increases on certain products, lower levels of promotions and discounts, and greater volume helping to leverage fixed costs.
SG&A expenses were lowered 790 basis points to 44.8 percent of revenues due to past expense reduction efforts and the benefit of sales leverage. Adjusted SG&A improved 620 basis points to 44.4 percent.
For the year, revenues were $1.23 billion, growing 13.1 percent over 2018, or 15.6 percent on a constant-currency basis. Crocs' wholesale revenues grew 13.5 percent, its e-commerce business grew 24.2 percent, and retail comparable store sales grew 12.4 percent.
Net income in the year came to $119.5 million, or $1.66, against a loss of $69.2 million, or $1.01, a year ago. Crocs' adjusted EPS was $1.61 compared to 86 cents in 2018.
Said Rees, "Momentum we generated in 2019 has carried into the new year, and we anticipate continuing to drive meaningful growth in 2020."
Rees said Crocs will build on the same underlying strategies that drove growth in 2019, including driving "brand heat" with marketing efforts and product innovation.
On marketing, Rees cited the continued success of the "Come As You Are" campaign and benefits from its growing list of brand ambassadors that now include Priyanka Chopra Jonas, shown lead photo, Zooey Deschanel, Suzu Hirose, Kim Sejeong and Gina Jin. Crocs also launched over 20 collaborations with designers, celebrities and musicians. Many will be reprised in 2020 and new collaborations are planned.
As a sign of Crocs' improved relevance with consumers, Rees noted that Jeffrey's most recent study showed Crocs moving from the number 13 preferred footwear brand by teens to number seven. In Crocs' own annual brand strength survey, the brand saw a double-digit increase in growth, desirability and relevance. According to Google, Crocs had two of the top 10 most searched shoes in 2019, including the number one spot with a Luke Combs collaboration.
From a product perspective, the focus remains on four growth pillars: clogs, sandals, visible-comfort technology and personalization.
Clogs benefited from the introduction of new colors and prints throughout the year as well as an expanded collection of lined clogs to wear in colder months that saw an "incredibly strong" response from consumers. Clogs revenues increased approximately 36 percent in the quarter, representing 69 percent of the company's footwear sales, up from 62 percent during last year's fourth quarter.
Sandal revenues grew 70 percent in the fourth quarter and grew 10 percent for 2019, marking the third consecutive year double-digit growth for sandals. More celebrity collaborations are planned to support the sandal category.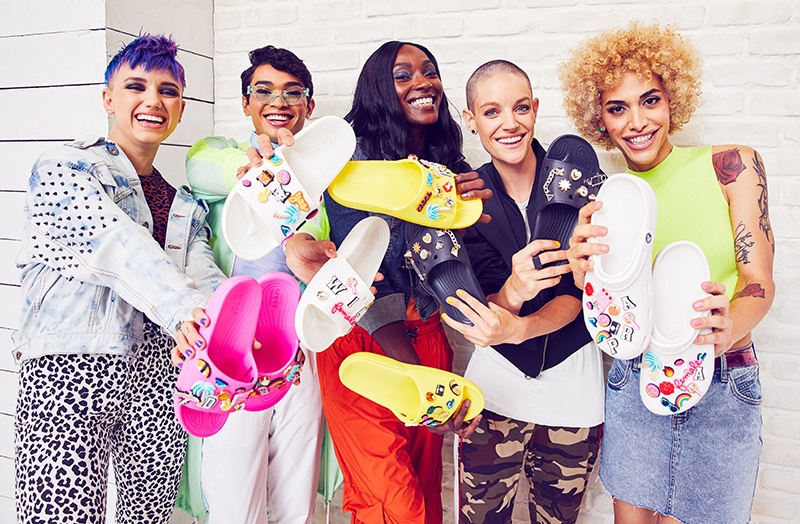 On the visible-comfort technology opportunity, Crocs recently introduced kids sizes into a LiteRide collection to expand that successful franchise. The Jibbitz business also saw accelerated growth throughout the year, including gaining wholesale placement. Rees said, "We're seeing growing numbers consumers worldwide customize their Crocs footwear. We anticipate that our service business will continue to gain momentum in 2020."
Among channels, direct-to-consumer (DTC) comps grew 22 percent for the fourth quarter on top of 16 percent gain a year ago. E-commerce sales were up 34 percent on top of 90 percent growth last year, representing the 11th consecutive quarter of strong double-digit e-commerce growth. Retail comps were up 16 percent in the quarter, the 10th consecutive quarter of positive comps. Wholesale growth in the quarter of 22 percent came on top of last year's 10 percent growth. The wholesale gains were led by strong sell-through and replenishment orders.
Geographically, revenues grew double-digits in each of its three regions with the strongest growth coming from the Americas, led by the U.S. Rees said the U.S. performance reflects efforts to strengthening the relationship with wholesale partners and drive relevance with the consumer with product and marketing. Said Rees, "We're confident that the work that has been done in further igniting brand heat and emphasizing our core clogs and sandals, along with our burgeoning DTC business, leaves Crocs well-positioned to drive sustainable growth in the U.S."
In the Americas, wholesale sales grew 28.9 percent in the quarter, retail gained 23.5 percent and e-commerce moved up 34.4 percent. In the Asia Pacific region, wholesale sales grew 22.5 percent, retail was down 12.7 percent and e-commerce increased 37.7 percent. In the EMEA region, wholesale sales in the quarter grew 15.9 percent, retail was down 5.8 percent and e-commerce jumped 29.3 percent.
Regarding the impact of the coronavirus outbreak, Rees noted that many of Crocs' partner stores in China are closed temporarily. For those that remain open, they are operating on a reduced schedule and experiencing lower than usual traffic levels. Crocs is also seeing the broader impact as traffic declines throughout many of Crocs' key countries in Asia. Said Rees, "Despite this difficult situation, we continue to be very optimistic about our long-term growth prospects in China."
For the first-quarter, Crocs expects revenues to range between $305 million and $325 million, up between 3 percent and 10 percent from $295.9 million in the first quarter of 2019. Revenues are expected to be negatively impacted by approximately $20 million to $30 million due to disruptions to its Asia business from coronavirus and by approximately $3 million due to currency.
Operating margin for the quarter is expected to be between 9 percent and 12 percent, including $3 million of non-recurring expenses for store closures and other provisions in Asia as a result of business disruptions from the coronavirus.
For the full year, Crocs expects:
Revenues to be up 8 percent to 12 percent over 2019 revenues of $1.23 billion. A negative impact of $40 million to $60 million is expected as a result of disruptions to its Asia business from the coronavirus and approximately $10 million of currency.
An operating margin of between 11 percent and 13 percent, which includes expenses associated with its new distribution center in the Netherlands and charges for store closures and other provisions in Asia as a result of business disruptions from the coronavirus.
Photos courtesy Crocs