Gildan Activewear reported a steep decline in earnings in the first quarter, as expected, as sales were impacted by lower levels of distributor restocking. Higher raw material and other input cost pressures also influenced margins.
Results for the first quarter were in line with expectations and the company maintained its guidance for full-year sales and adjusted EPS for 2019.
In the quarter ended March 31, sales reached $623.9 million, down 3.6 percent.
Activewear sales slumped 4.1 percent to $493.6 million. The shortfall was primarily due to lower levels of distributor restocking of imprintables compared to the level of restocking that occurred in the year-ago quarter in advance of the price increase implemented in March 2018. These factors were partly offset by double-digit growth in fleece shipments, which drove more favorable product mix, and the impact of higher net selling prices.
Hosiery and underwear category sales slipped 1.8 percent to $130.4 million. The decline was mainly attributable to lower Gildan branded socks and underwear sales in the mass retail channel, which was largely offset by higher sock sales of licensed and global lifestyle brands compared to last year as well as the benefit of earlier than anticipated shipments of a new private label men's underwear program in the mass channel, for which initial shipments began toward the end of the first quarter.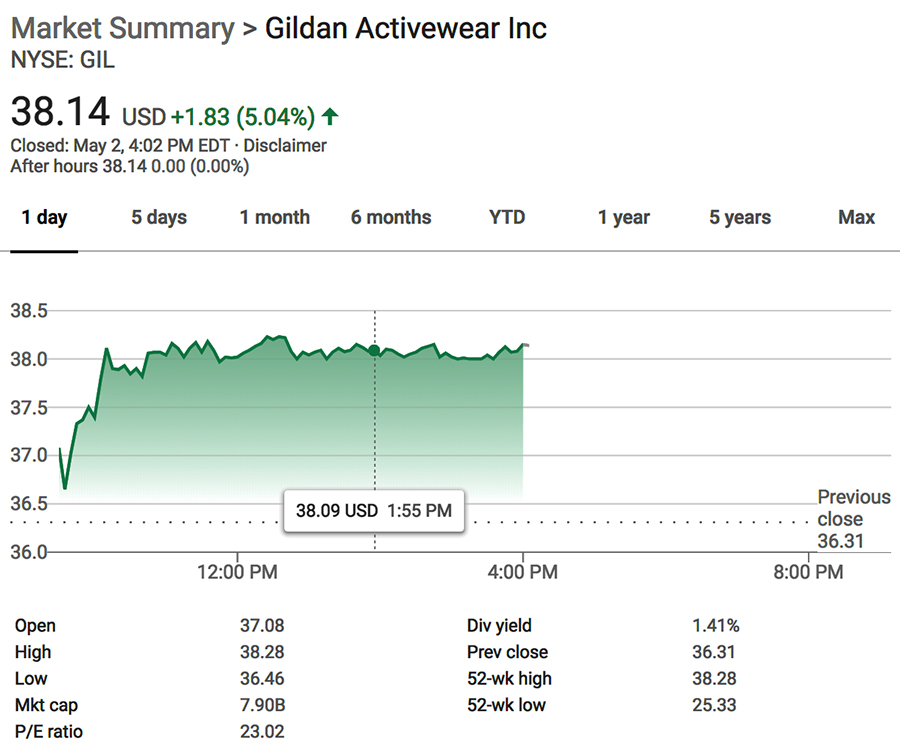 Gross margins in the quarter were down 140 basis points to 25.8 percent. As expected, the decline was primarily due to higher raw material and other input costs, including inflationary pressures, and unfavorable foreign exchange, partly offset by the benefit of higher net selling prices and a more favorable product mix.
SG&A expenses were essentially flat in the period at $93.0 million. As a percent of sales, SG&A expenses were 14.9 percent, up 60 basis points, primarily reflecting the sales decline. During the latest quarter of 2019, Gildan recorded an impairment of accounts receivable of $24.4 million, of which $21.7 million related to the wind-down of operations of Heritage Sportswear and $2.5 million related to the bankruptcy of Payless ShoeSource. The impairment charges were previously announced by Gildan on March 24.
Operating income in the latest quarter tumbled 57.1 percent to $32.7 million in the quarter on a reported basis while dropping 47.6 percent to $43.3 million on an adjusted basis.
Net earnings fell 66.6 percent to $22.7 million, or 11 cents per share, from $67.9 million, or 31 cents, a year ago. Excluding the impact of after-tax restructuring and acquisition-related costs in both years, adjusted net earnings were down 56.0 percent to $32.8 million, or 16 cents, from $74.6 million, or 34 cents, the prior year. The decline was mainly due to lower operating income and higher net financial expenses.
On a conference call with analysts, Rhod Harries, EVP and CFO, said Gildan continued to execute on additional supply chain initiatives as part of a plan to drive increased operational efficiency across its manufacturing base. The cost benefits are expected to start to materialize meaningfully in the latter part of the year and continue to positively impact gross margin levels into 2020.
In addition, Gildan is on track on its initiative to drive down SG&A expenses as a percent of sales to 12 percent or better by 2020.
Gildan also announced that the acquisition of land in Bangladesh will be used to support international growth. Plans consist of the development of a large multi-plant manufacturing complex expected to include two large textile facilities and related sewing operations. Once fully operational, the complex is expected to provide the capacity to service over $500 million in sales. Over the next twenty-four months, the company plans to construct and develop the first textile facility at the complex. Initial production at the facility is expected to start in the latter part of 2021. The company believes the build-out of a large-scale manufacturing hub in South-east Asia will significantly enhance its positioning to service international markets and support other key sales growth drivers.
Harries said, "Bangladesh provides duty-free access to our targeted international markets and given the size and scope of this new plant manufacturing infrastructure, we will be able to provide strong low-cost supply with increased SKU breaths to drive higher profitability in these markets. In addition, the incremental capacity that it will bring on in Bangladesh will allow us to fully service Europe and Asia from Bangladesh and free up capacity in Central America currently used to support European sales to drive incremental growth in North America."
For the current year, Gildan continues to expect adjusted EPS of $1.90 to $2.00, on projected sales growth in the mid-single-digit range.
Said Harries, "With the lower imprintables restocking headwind now fully behind us, we expect to return to sales and adjusted EPS growth next quarter with stronger earnings growth, in particular, occurring in the second half of the year as inflationary cost pressures ease and benefits from our supply chain initiatives start to materialize meaningfully in the fourth quarter."
GAAP EPS is now projected in the range of $1.75 to $1.85, down from 1.80 to $1.90 previously. The company now expects restructuring and acquisition-related costs in the range of $30 million, up from approximately $20 million previously. The increased charges take into account further manufacturing integration, including the consolidation of Canadian sheer hosiery manufacturing within the company's global supply chain and additional sales and marketing initiatives to drive further operational efficiencies.
With the completion of the land acquisition in Bangladesh for approximately $45 million in cash, capital expenditures are expected to be approximately $175 million this year compared to Gildan's previous guidance of $125 million. Consequently, free cash flow for 2019 is now expected to be in the range of $300 million to $350 million compared to $350 million to $400 million previously.
Adjusted EBITDA is now projected to be in excess of $605 million after reflecting the trade receivable charge in the quarter, compared to in excess of $630 million previously.
Gildan's company-owned brands include Gildan, American Apparel, Comfort Colors, Gildan Hammer, Prim & Preux, Gold Toe, Anvil, Alstyle, Secret, Silks, Kushyfoot, Secret Silky, Therapy Plus, Peds and MediPeds. The company also makes socks under the Under Armour brand through a license.
Photo courtesy Gildan