By Thomas J. Ryan and David Clucas
Outdoor Retailer Winter Market again showed how concerns over bankruptcies, contentious elections and show dates can be largely overcome by the arrival of seasonal snowy and chilly weather.
Not that the industry's many concerns are no longer concerning.
Some relief that the raucous U.S. election is finally over has been replaced by fears over environmental and trade-policy issues that may be coming with the Trump administration. Indeed, the environment took center stage, marked by calls for boycotts of the show in Utah by Patagonia founder Yvon Chouinard and Black Diamond Equipment founder Peter Metcalf.
Traffic appeared to be slightly down due to heightened competition from many regional shows. The changing show dates, with three Outdoor Retailer shows now set for 2018, seemed to be less of a discussion point with many shows making adjustments.
Retail in general also continues to be challenging, particularly in managing the growth in online sales that often comes at the expense of sales at physical locations. But the exit of many chains, particularly about 500 Sports Authority doors, has reduced the level of competition. Many retail buyers seemed eager to take advantage of any opportunities from the displacement.
But at least the weather is cooperating. At last year's Winter Market, the mild winter led to hesitancy around buys and later to discussion around postponements, cancellations and shifts to at-once orders. But the arrival of snow, rains and overall chilly conditions generally across the country clearly helped with planning decisions to support Fall/Winter 2017 buys.
"Anytime we have a season like last year it makes it very difficult," said Steve Couder, vice president of sales at Implus' outdoor division., which includes DryGuy, Yaktrax, IceTrekkers and Little Hotties, at the show. "Although you try to get a good sense about the kinds of inventories in the marketplace for planning purposes, a lot of speculation needs to take place. So it's a more positive mood this year because they know they're going to be clean going forward. Traffic's been good in our booth."
"We've really had a good show," said Scott Baxter, vice president and group president at VF Corp.'s Outdoor & Action Sports Americas segment, which includes The North Face, Timberland, JanSport and SmartWool. "Our customers have been very engaged with us."
Baxter said The North Face in particular has seen a "really nice response" to its ramp up in new products, and of course, the cold weather has helped, too. The North Face is looking for a rebound after sales dipping of late and its president, Todd Spaletto, leaving the company only days before the show.
Connecting To Consumers
While new gear takes the spotlight at the show, one wouldn't be blamed for thinking they had stumbled upon a literary conference of outdoor story time. Every brand was preaching their "storytelling" as a way to gain "emotional connections" to consumers, beyond just online transactions.
Indeed, as fewer consumers buy their gear from brick-and-mortar outlets, where those personal connections were traditionally made, brands are seeking digital replacements through storytelling, videos and social media engagement. Otherwise, the fear is that any company with access to the latest performance fabrics and manufacturing technologies — which pretty much includes all of Asia — can swoop in and take the market overnight, online.
Authentic brand histories, stories and people are seen as the antidote to the threat, as well as companies with a purpose beyond just products, said Icebreaker Head of North America Marketing Trudie Abel. "It's not just storytelling but story doing," she said. "We're looking to separate from the sea of sameness. Our story is what is unique."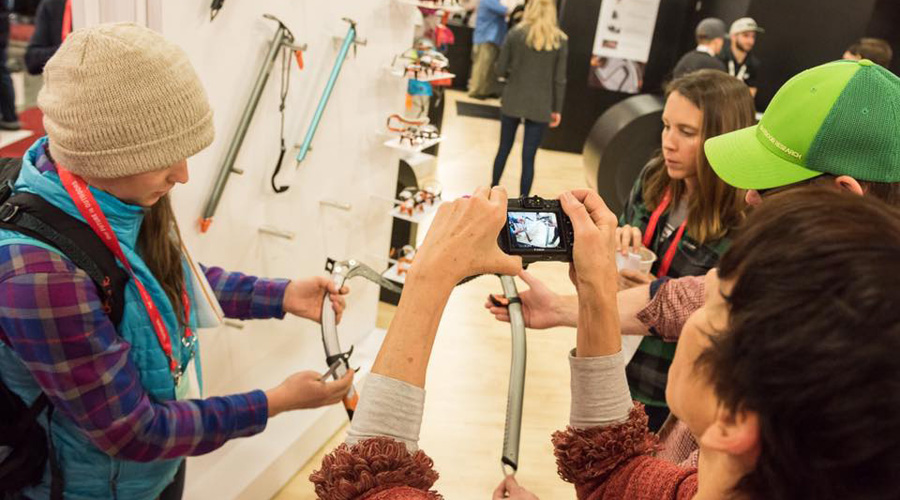 On the flip side of storytelling, brands also have to work the logical/functional side of the consumer brain, said Joe Flannery, senior vice president and general manager for technical apparel at Newell Brands, overseeing Marmot and ExOfficio.
"The headwinds are massive, but what's winning is product innovation," he said. "There is still a consumer with an appetite for that." To be successful moving forward, he said industry brands will have to invest in different kinds of employees than they have before, especially on the digital and technology front. "That talent isn't naturally here, yet," he said. "I hear 'stay in your lane' and 'focus on the niche,' but for multi-line companies like Marmot, it's time for us to experiment a lot more, push our boundaries and reach new customers."
Combatting A Sea Of Sameness
Whether it's through storytelling, innovation or employee talent, the industry will have to pick up the pace, executives said, noting a "sea of sameness" across the show floor in new product and gear. Another escape route preached by many at the show were efforts to hyper-focus their business by becoming the best in certain niches, rather than casting wide nets.
"If you give someone a 14-page menu at a restaurant, they won't know what to pick, or understand what you do that is really the best," said Dennis Randall, interim general manager and vice president of marketing at Mountain Hardwear. The brand is in the midst of rebooting itself, attempting to regain past glory. "The original story of Mountain Hardwear was the right story," Randall said. "As a whole, the industry needs to stay focused and stop wasting people's time … if you're not making the best of a certain product then why are you showing it?"
And there are plenty of niches to chase, said Jon Rockefeller, senior product line manager at Arc'teryx. "What I see is less over-arching trends and more micro trends," he said. "It's not just backpacking — but now there's fast-packing, or urban adventures, or are you going to be connected or disconnected. Every niche idea can be fulfilled and every consumer can find exactly what they are looking for."
"I see the trend of companies making 'everyday' gear, but really it's just mediocre gear," said Dana Gleason, principal/designer at pack company Mystery Ranch. "We want to make great gear."
Addressing the versatility demands from today's consumer doesn't mean you have to make generic product, said Under Armour's Jordan Wand, who heads up the brand's Outdoor Apparel & Accessories business. "We think there's a white space between outdoor and athletic that we can fill very well." For Under Armour, that translates into light, fast and durable product focused primarily on the snowsports and trail running athlete, he said.
Under Armour officials weren't shy about saying that that they had The North Face, Columbia and Marmot in their target scopes, proving that it can attract some veteran outdoor talent as well — Wand being one, formerly at Outdoor Research, and this summer, UA added former Mountain Hardwear President Topher Gaylord to its team as well.
'Tis The Season
While the recent snowy and cold spell put everyone in good cheer, there were  larger discussions within the industry about evolving the traditional seasonal calendar — mainly away from a fall/winter and spring/summer mentality — replacing it with more of an annual production cycle that can more quickly meet consumer "buy-now, wear-now" habits.
"We're defining it as a year with more seasons," said Brian Thompson, general manager at ExOfficio. "The fact that fall seems to start in July for the industry makes no sense to us. Going off price in the middle of the summer, when there is still high demand for those items … you're just leaving money on the table." To that end, starting in fall 2018, ExOfficio will have an actual fall season of apparel (not to bring out winter too soon), which will represent a transitional line from late summer into September and October.
At Ruffwear, the pet-gear brand has abandoned the traditional preseason ordering cycle entirely. Everything in its booth represented items coming out to retail February 1 or April 1.
"We want to be as close to the market as we can," said Susan Strible, director of marketing. "It's a mind shift for retailers, but we can't expect them to keep guessing what their consumers will want a year from now." To replace preseason ordering, Ruffwear Director of Sales Dove Gibson came up with the Latitude member program — think Amazon Prime for retail buyers — in which retailers can order as many times as they need throughout the year to meet current demand.
There's a similar shake-up at sock maker Farm to Feet, said CEO Kelly Nester. "Made in the USA has allowed us much more supply-chain transparency and we're working more toward a development cycle that doesn't follow the traditional seasonal cadence." Data plays a big role in those decisions, Nester said, noting that the company is using the latest sell-through data from its largest clients to concurrently adjust its production schedule. "The trend is businesses want to be leaner," he said.
Shifting Show Dates
While most brands at the show seemed in agreement with Outdoor Retailer's plan to shift up its dates by two months starting in 2018, there was acknowledgment that it wouldn't work for everyone.
Already this year, there was a surprise exit from the show of many ski hardgoods brands as well as those dedicated to run. Brooks and New Balance both didn't have booths at the show following Saucony's similar recent move.
Richie Woodworth, president of Wolverine Boston Group, which includes Sperry, Saucony, Keds and Stride Rite, finds the reduction in run brands "a little bit disheartening" given what he believes is still a strong opportunity in trail in specialty outdoor. But he acknowledged that the timing of the show is late for run and athletic brands. Still, Woodworth said traffic had been good at the Sperry booth, which also carved out a small section for Saucony. Attendees, he felt, seemed eager to tackle new opportunities after the challenges of 2016.
"The fourth quarter was a little bit hit or miss," said Woodworth. "Some people were good; some people were not so good. But I think that there is a level of optimism in the air a bit and that optimism kind of extends from specialty to more general sporting goods. So I'm getting a little energized by that."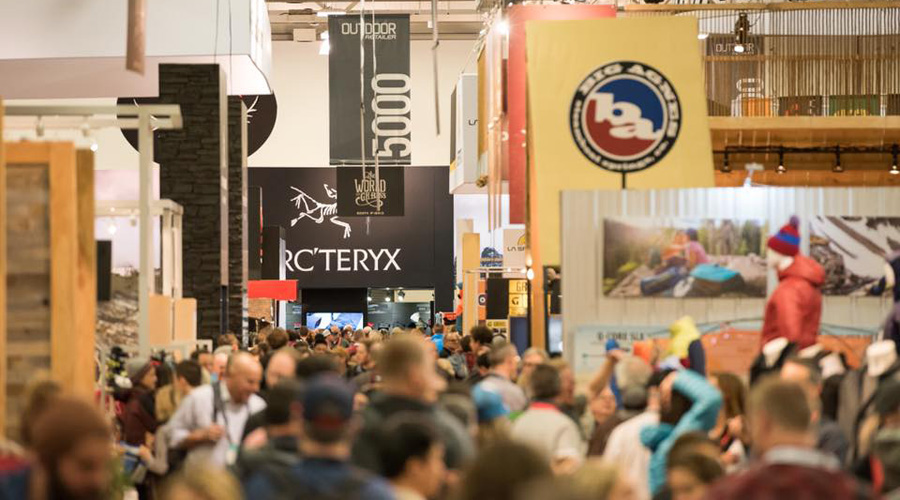 The specialty run channel was particularly challenged by the liquidation of Sports Authority. Although the channel seemed to bounce back in the second half of last year, the industry continues to await the fate of JackRabbit, the run specialty chain Finish Line put on the selling block last October.
At the show, new rumors arrived that JackRabbit may have found a private-equity buyer. Golden Harper, a co-founder at Altra Running, said that while the JackRabbit situation has the industry in "kind of a wait-and-see mode," he's also encouraged to see a number of new run shops opening up that may help any potential closings at JackRabbit. "I think there's a little bit of renewed hope for run specialty retailers," said Harper. "They feel like they have a little less competition out there or the competition isn't as good as it was."
Lowa was among the brands choosing to reduce the size of their booth. "I'm not going to spend the money if the customers aren't coming," said Peter Sachs, general manager of Lowa Boots. "It's really what it comes down to." He estimated he's already seen about 80 percent of his customers at regional, Grassroots Connect and buying group shows. Added Sachs, "This show has become less relevant and that's why it's making the changes."
Photos courtesy Outdoor Retailer & David Clucas