By Eric Smith
After doubling the company's alpine ski sales in the U.S. over the last five years, Elan Skis is now doubling down on that recent success with the creation of Elan Sports USA.
The newly formed entity, to be led by industry veteran Gary Fleming, is the latest maneuver in the Slovenian company's long-term strategy of building on the sales and brand awareness momentum of recent years while also committing new resources to grow and expand in North America.
Elan skis had previously been distributed in the U.S. by Alpina Sports Corp., an independent subsidiary of Alpina d.o.o. By acquiring ASC, Elan Sports USA will now be the distributor of Alpina alpine and Nordic products. This signals the parent company's shift toward extending reach throughout the U.S. alpine ski market.
"This allows us to be a little bit more focused on the alpine business versus the cross-country business since the owners are now Elan," Fleming told SGB Executive. "It allows Elan to work from consolidated margins, so right off the bat, financially it makes sense. And it also allows Elan to feel more comfortable about investments in the U.S., whether it's in our distribution facility or in many different ways."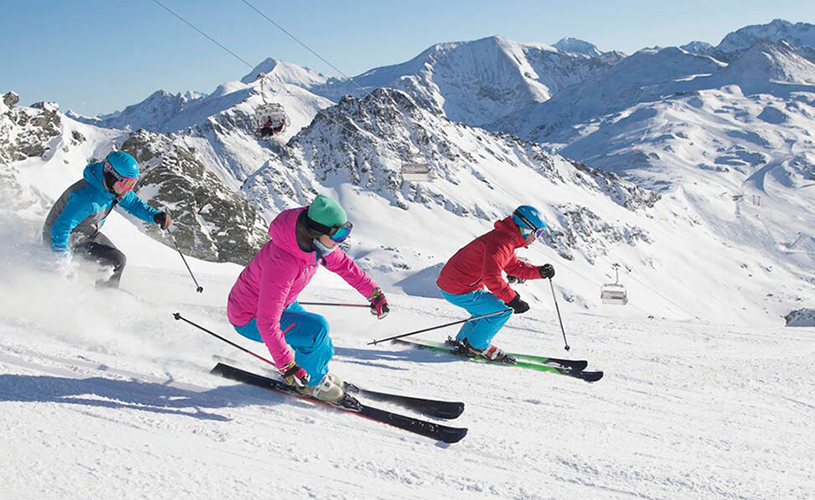 Elan was bought by private investors in 2015 and installed new senior leadership that was focused squarely on North America. Industry veteran Jeff Mechura (click here to read our 2017 feature on Jeff) was tapped in 2016 to lead global product development and marketing, a move that meant Elan was committed to carving a bigger niche in the world's biggest ski market.
"Having an American running our global brand is fantastic," Fleming said. "He probably speeds up the process in product development and marketing by six months to a year just because he knows the American market so well. Having an American being part of the international team is a big investment for the company, but it shows priorities and the importance of the U.S. market."
"Having an American being part of the international team is a big investment for the company, but it shows priorities and the importance of the U.S. market." – Gary Fleming, Elan Sports USA
The U.S. is not only the biggest alpine ski market in the world, but also for Elan. Fleming estimated the company has about an 8 percent market share in the U.S., and it now hopes to grow that number to 10 percent.
Elan is confident in that lofty goal as it ramps up marketing and production levels in the U.S.–something it can do in synchrony thanks to the combination of an American leadership team and robust distribution and sales network.
Too often, Fleming said, an overseas-based company miscalculates its opportunities in the U.S. because the company doesn't have the brand recognition to market an innovative product or it doesn't have the innovation to back up the hype.
"Sometimes you can invest in marketing and your product's not quite there, or you can invest in product, but you're lacking the story," Fleming said. "The timing is really great right now because we have products that are really relevant for the U.S. market and targeted for the U.S. market. Now, the marketing and the new brand strategy that Jeff has put into place is really bringing things together so that we're in a position to grow. You really need a combination of all things to hit it."
The company's tagline–"Always Good Times"–shows that the company wants to grow the sport in the U.S., in Europe and really anywhere a kid can slide down a snowy slope. As Fleming said, "We make stuff that makes it easier to do that."
That means getting more products out to market but refusing to waver from its core ski philosophy.
"We definitely need to grow the pie, but being a dedicated ski manufacturer, Elan is not at a point right now where we're trying to diversify and get into clothing and getting into other things," Fleming said. "We're really a dedicated ski manufacturer so we have an even bigger interest in growing the sport. It's all about skis, so we're in a position right now to be the best ski supplier out there because all of our employees are just focused not on clothing, not on helmets–but on making the best skis to supply specialty ski shops."
The Ripstick series is at the center of this position. While Elan had for years focused on carving skis that are popular in Europe, producing and promoting big mountain skis has allowed Elan to triple its business in that category.
"All of a sudden we're on the map," Fleming said. "All of a sudden we have dealers coming to us instead of the other way around. Our preseason orders are showing at least double-digit growth again going forward. This is the No. 1 place we're targeting."
Elan is also targeting other demographics, such as youth skiers. The company's U-Flex technology makes skis 25 percent more flexible, allowing the smallest rippers to carve turns more easily and hopefully make the sport more enjoyable for children and their parents alike.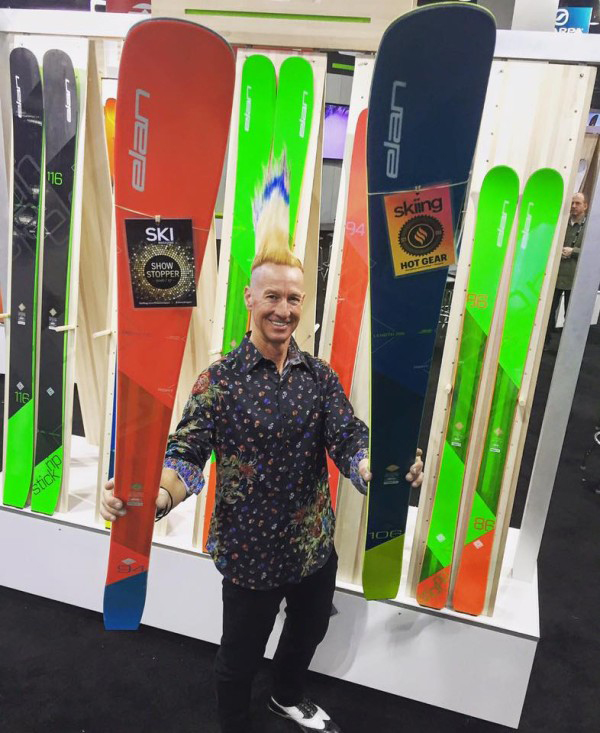 And no story about Elan can omit its most famous ambassador, the Mohawked icon Glen Plake, pictured above, who not only represents Elan at trade shows but also helps the company design skis. He personifies the "always good times" mantra, but he also represents the company's commitment to building quality skis with broad appeal.
"There's nobody more committed to skiing or genuine than Glen," Fleming said. "Glen is somebody that really wants to be involved. You've got to see him in a factory. He's hilarious. He's so interested in everything and … he was a big, big, big part of Ripstick series." More than that, he is an ideal ambassador for Elan because "he transcends all ages, all disciplines," Fleming said. "At trade shows, you've got a 75-year-old guy standing in line to get a poster signed, and right behind him is an 8-year-old kid."
As Elan steps up its U.S. focus, having Plake sign posters at the company's trade show booth is just one part of its overall mission to get more skiers on the mountain and always having a good time.
"It's just about having fun," Fleming said, "and we make stuff that makes it easier for people to do that."
Photos courtesy Elan