By Eric Smith
Columbia Sportswear Co.'s second-quarter earnings report was filled with facts and figures showing how strength throughout its portfolio, balance across its channels and continued margin improvement due to its Project Connect initiative drove record revenue and an earnings beat.
But Tim Boyle, the Portland, OR-based company's president and CEO, was even more excited about what's coming in the second half of the year—an unprecedented focus on footwear.
On August 9, Columbia will unveil a new footwear platform called Shift, "which targets younger adults who are not willing to compromise the city-inspired style and athletic comfort for outdoor function," Boyle said on Thursday afternoon's earnings call with analysts.
Shift, which is stylized as "SH/FT" (see second photo below), is part of the company's pivot toward footwear in the second half of 2019, and the company is clearly jumping in, well, feet first with a campaign dubbed "Move Outside the Expected."
"Shift provides them [consumers] with a modern aesthetic and athletic comfort and is engineered with Columbia's technologies for uncompromising performance on the trail," Boyle said. "We will be launching this product August 9 with a select number of retail partners around the world, including some very limited production styles with influential retailers. We will support this launch with a coordinated marketing campaign including launch events, influencers, digital, in-store and out of home advertisements."
Click here or on the still shot below to watch Columbia's teaser video.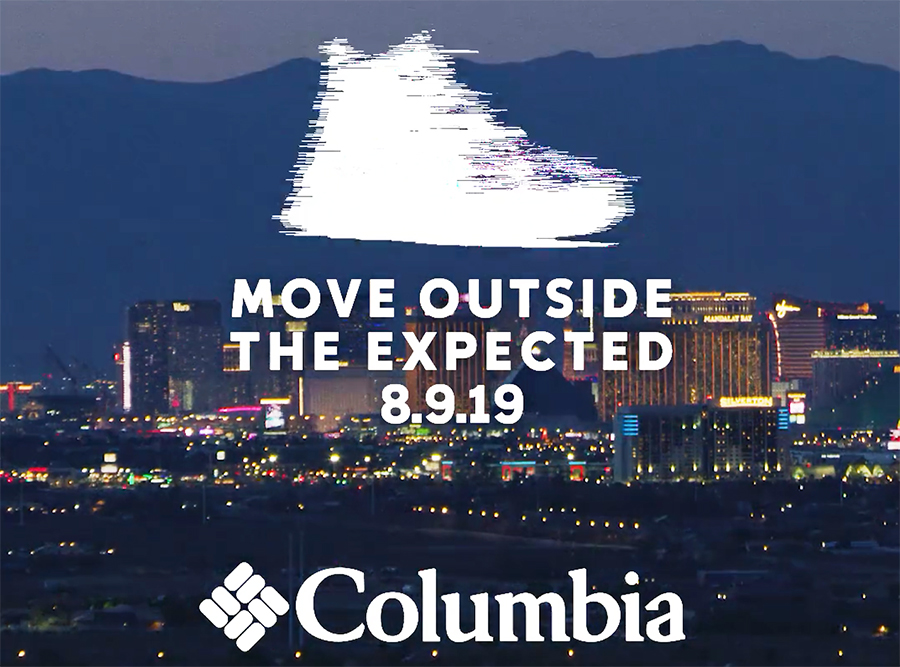 Columbia is determined to double shoe sales within three years to make footwear its largest category. One reason for the buzz and the lofty expectations is the arrival last December of Peter Ruppe, who was appointed vice president of footwear for the Columbia brand and reports to Columbia Brand President Joe Boyle.
Ruppe joined Columbia from Under Armour, where he was senior vice president of footwear. He also spent more than two decades as a senior executive at Nike, leading the brand's Nike Basketball and Jordan Brand business by working on everything from product creation to advertising campaigns to athlete relationships.
Tim Boyle praised the contributions Ruppe has made to Columbia in just a short time.
"He didn't have the opportunity to impact much of spring 2019 [product] and we're just beginning to see the fruits of his work," Boyle said. "And we've been very pleased so far with the reception of the product by retailers and consumers. And so the expectation is that we're finally going to end up resolving the question about whether or not footwork can be the largest product category of the company, which I've been talking about for some time. So I'm very pleased with what we're seeing so far."
The SH/FT launch alone won't get Columbia where it wants to be with footwear, but the company expects some recent successes and some future rollouts to contribute to its ambitious product mix and revenue goals.
"This is just the first of many new Columbia footwear product introductions that you'll see in the coming years as we realize the brand's full potential in this important category," Boyle said.
These include the company's Sorel brand posting an impressive 31 percent sales increase in the first half of the year, led by growth in U.S. wholesale and DTC.
Boyle said that brand is "positioned to capitalize on this momentum during the higher volume fall and winter seasons. In recent calls, we've highlighted that we're investing in Sorel demand creation in 2019 and I look forward to sharing some of the exciting marketing and product stories that will be unveiled this fall on our next conference call."

Also, Columbia's new lightweight trail running shoe, the Alpine FTG ("feel the ground"), shown left, has been well-received with some positive reviews.
So why the emphasis on footwear? Boyle said most of the company's largest customers, such as Dick's Sporting Goods, are "big sellers of footwear, so we know there's an opportunity from a channel perspective." And then there are "sneaker-specific accounts that in the past typically have not purchased Columbia's footwear," but will be targeted with the new SH/FT product line.
"The expectations are that this will be a momentum-building event," Boyle said, "which can help us to really get our true cadence in footwear."
Whether the emphasis on footwear moves the needle for Columbia remains to be seen and will rely on the company properly executing its playbook with the category. But this shift is viewed as favorable by the analysts who cover the company.
Jim Duffy of Stifel wrote in a note to investors: "The composition of 2H growth will transfer towards footwear (low-twenties percent of the business), driven by new products from both Columbia and Sorel. The Shift, a forthcoming outdoor athletic shoe with a 'city-inspired style,' holds particular promise, addressing a younger customer through both established accounts like Dick's Sporting Goods and footwear specialty retailers."
And Jon Komp of Baird wrote: "Columbia is also continuing to drive buzz around footwear amid positive reception to the Alpine FTG trail shoe, while the brand sees additional opportunity with the launch of Shift (new city-inspired trail platform). Meanwhile, Sorel also continues to impress amid favorable spring 2019 reception."
Looking at the rest of the company's Q2 performance, Columbia—whose other brands include Mountain Hardwear and Prana—continued to build momentum across its business divisions and channels. The company reported record revenue of $526.2 million for the second quarter ended June 30, a 9 percent increase (11 percent in constant currency) from the same period a year ago and beating Wall Street's estimates by $19 million.
Click here for the full recap of Columbia's second quarter.
The company's net income increased 137 percent to $23 million from $9.7 million the same quarter a year ago. Earnings per diluted share increased 143 percent to a record 34 cents, compared to second quarter 2018 earnings per diluted share of 14 cents and crushing estimates by 33 cents.
Diluted earnings per share include 11 cents of one-time tax benefits primarily related to the passage of a Swiss tax reform package, which resulted in a one-time tax benefit of $6.6 million. Second-quarter 2019 net income also includes the benefit of full ownership of the company's China business, which became a wholly owned subsidiary effective January 2019.
Columbia's gross margin expanded 70 basis points to 48.2 percent of net sales, from 47.5 percent for the same period in 2018. This growth was driven by the company's Project Connect initiative that was launched two years ago and continues to make an impact.
As Boyle said when Project Connect debuted in 2017, it is meant to help Columbia "intensify its focus on the customer"; improve retail partnerships; create "enhanced collaboration, teamwork and accountability" throughout the company and "identify growth opportunities and improve the efficiency and effectiveness of our day-to-day operations."
For the first half of 2019, net sales increased 8 percent (10 percent constant-currency) to $1.2 billion from $1.1 billion for the first six months of 2018. Net income increased 77 percent to $97.2 million, or $1.41 per diluted share, compared to $54.8 million, or 77 cents per diluted share, for the same period in 2018.
Shares of Columbia closed the day down $1.11, or 1.1 percent, to $103.92.
Photos and video courtesy Columbia Sportswear Co.