By Thomas J. Ryan
Deckers Brands said Ugg continued to gain traction with spring offerings to help the company exceed guidance in the first quarter. But the star of the show was Hoka One One, where growth accelerated on the back of strong launches of the Carbon X and Clifton 6.
Hoka's sales for the quarter ended June 30 jumped 69.2 percent to $79.5 million, improving on the 33.2 percent rate seen in the fourth quarter. Deckers' officials lifted their growth targets for Hoka for the current year to the high-30-percent range from the mid-20 percent previously.
On a conference call with analysts, Dave Powers, president and CEO, reiterated past comments that he sees Hoka on the path to becoming a $500 million brand while admitting "the real opportunity is probably bigger than that."
He added, "We don't want to get ahead of ourselves, but we are thinking big with Hoka, and we see this as a game-changer for Deckers long term. So it's exciting to see the acceleration of the business, the adoption of the business globally in all channels. The innovation engine is strong. The marketing tactics are working very well. The tight and controlled distribution is driving high full-price selling. So there is a lot there. The momentum and the conversation, the buzz about the Hoka brand is improving, and it just gives us confidence that we can reach some of those aspirational goals in the next 3 to 5 years. Hard to put a number on it right now, but I think if you look at Hoka in the context of some of the other running brands out there, the runway is pretty significant for us."
For the fiscal year ended March 31, 2019, Hoka's sales reached $223.1 million, up 45.4 percent.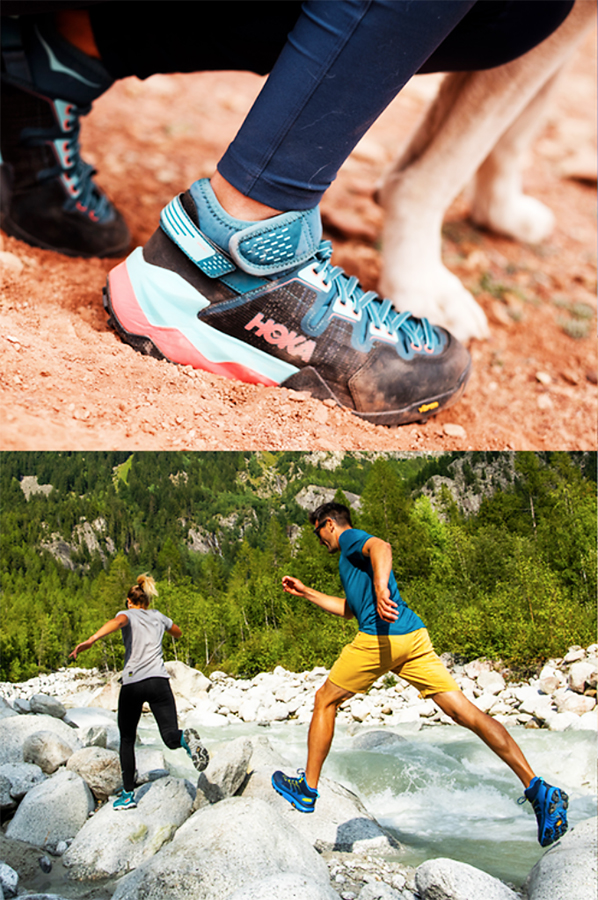 Hoka's Brand Awareness Growing With Strong Launches
In the first quarter, Hoka saw "equal strength" domestically and internationally, more than doubled new consumer acquisition versus the prior year and saw the Carbon X launch drive nearly 800 million impressions globally. The brand also delivered strong sales online, 40 percent of which were first-time DTC purchasers.
The Carbon X limited-release in May exceeded sales expectations. Said Powers, "Consumers are raving about the experience of the Carbon X as seen by overwhelmingly positive online product reviews."
Particularly successful was the response to the unveiling of the model on May 4 at Project Carbon X in Folsom, CA. At the event, a group of elite ultra-marathoners wore the Carbon X shoe in an attempt to break world records. Jim Walmsley broke the 50-mile record with a time of 4:50:09. Said Powers, "We feel the Carbon X launch event impressions drove serious momentum in brand awareness leading up to a key release in our Clifton franchise."
The debut of the Clifton 6 in June also fueled top-line growth. Despite just one month of availability in the marketplace, the Clifton 6 has earned "very high sell-through rates" and is ranked as the number one or two shoe of any brand in nearly all U.S. wholesale specialty running accounts. The Clifton and Bondi are Hoka's most popular styles.
Ugg Boosted By Promising Debut Of Fluff Franchise
Ugg's sales for the first quarter increased 1.5 percent to $138.5 million. The gains were driven by a high-teens increase in domestic sales and fueled by both wholesale and DTC growth. As planned, international sales were down due to a marketplace reset in the EMEA region that's just getting started.
Ugg gained a significant incremental dollar contribution from a newly introduced Fluff collection. Helped by marketing activations, including a partnership with Born This Way Foundation, the Fluff collection "is driving incredibly high sell-through rates as well as attracting new consumers to the brand," according to Powers.
A number of high-end publications and high profile celebrities have positively endorsed the Fluff range. Overall, Ugg's spring and summer offerings continue to increase in appeal. This spring, U.S. search interest for Ugg rose by 50 percent over last year. In addition, Ugg saw a significant increase in the key 18- to 34-year-old demographic.
Sandal sales saw a soft start as a result of rainy conditions across much of the country early in the quarter. Efforts to reduce sales of Ugg's staple boot items to support spring and summer product also impacted Ugg's sales in the quarter but is expected to build a more diversified business in the years ahead.
"I'm encouraged by domestic growth and the progress the brand is making towards a healthier mix of product," said Powers. Sales of autumn and winter boots have decreased to less than 40 percent of Ugg's sales in the first quarter, down from more than half in. the 2016 first quarter. Ugg also again ranked as a top 10 spring brand at Nordstrom.
Teva Tops Expectations, Sanuk Falls Short
Teva's sales for the first quarter decreased 4.3 percent to $38.3 million due to a strategic decision to adjust the European wholesale model from direct to distributor. The brand, however, outperformed internal expectations by about $2 million. For the quarter, Teva experienced "impressive growth" in both the Universal and Hurricane franchises, said Powers.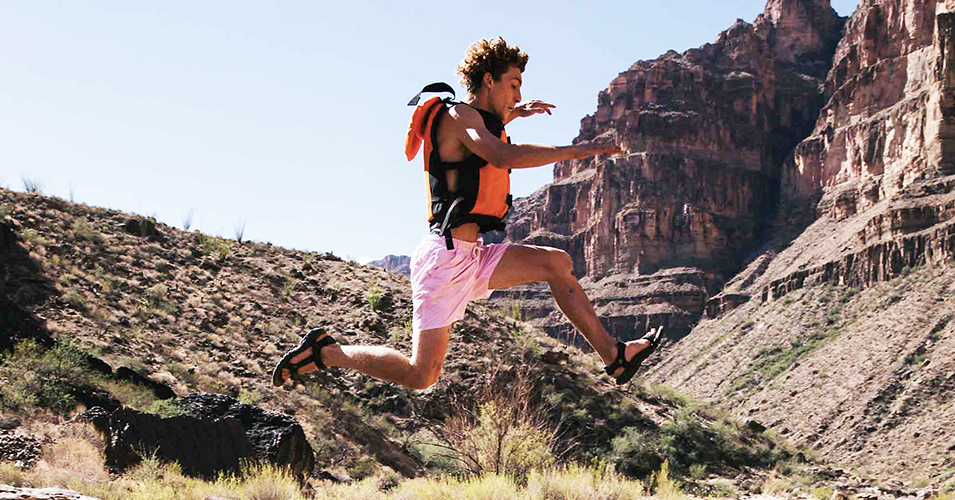 Sanuk's sales slumped 23.5 percent to $18.7 million, about $3 million below expectations, due to softness in the Yoga Sling franchise. Sanuk will be exiting the warehouse channel to better support the brand. Powers said, "While this decision will have a negative impact on fiscal '20 revenue, it's the right move for the health of the brand. Moving forward, this provides a better environment for Sanuk to focus on other underpenetrated channels."
Companywide, sales in the quarter improved 10.5 percent to $277 million, beating guidance calling for sales in the range of $250.0 million to $260.0 million.
Compared to guidance, approximately $7 million of the revenue upside was related to the early shipment of Ugg wholesale orders globally that were originally anticipated for the second quarter. Approximately $3 million was from stronger Ugg DTC performance tied to strong adoption of spring/summer styles led by the Fluff franchise. The majority of the remaining balance was driven by outperformance with the Hoka brand, driven by the Clifton 6 and Carbon X introductions.
Wholesale sales increased 10.7 percent to $196.6 million. DTC sales climbed 10.0 percent to $80.3 million. DTC comparable sales increased 16.2 percent over the same period last year.
Domestic sales expanded 18.1 percent to $167.3 million. International sales inched up 0.6 percent to $109.5 million. Powers said, "As we have previously indicated, we continue to see headwinds on the international front for the brand, but are addressing with the learnings we've gained from the implemented distribution strategies in the U.S. market."
He said Hoka continues to gain momentum within international wholesale as it remains in the early stages of raising awareness overseas. Powers said, "We are engaging in marketing activities that are impactful on a global scale. Specifically, we're beginning to see the benefits of these marketing activations, including our Carbon X launch and Hoka's sponsorship of Ironman events in countries around the world."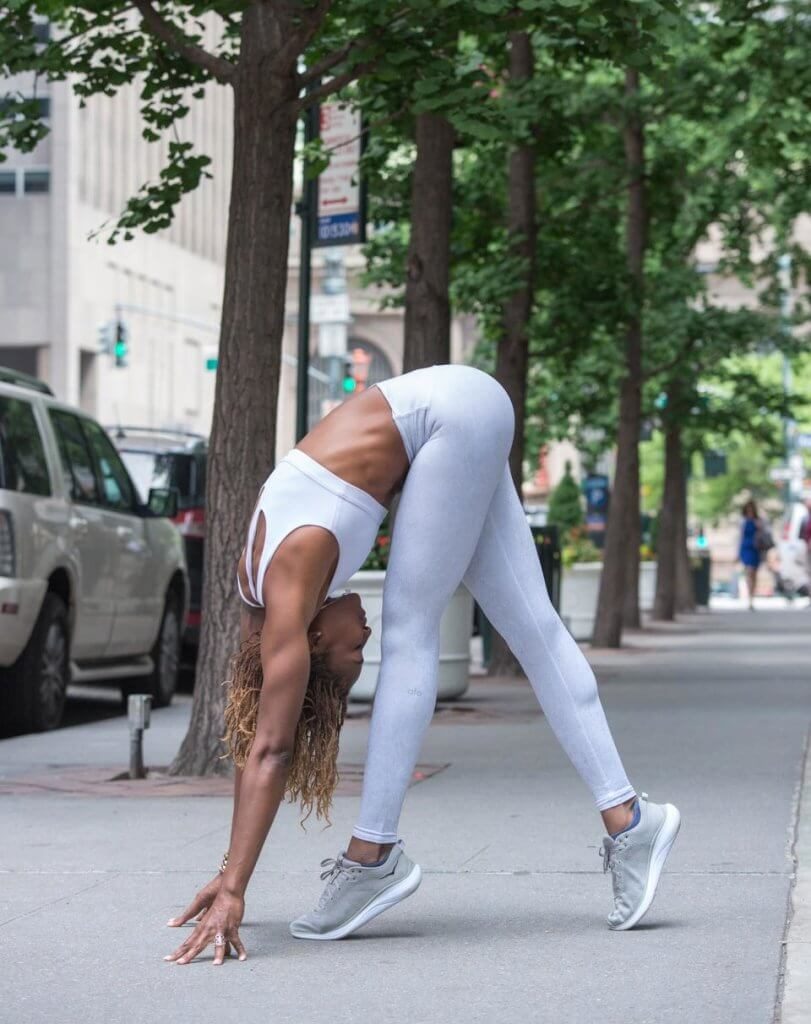 Gross Margins Boosted By Hoka's Growth
 Gross margins were up 109 basis points in the quarter to 47 percent and in line with expectation. The main drivers of the year-over-year increase were a favorable mix of brand revenue, gross margin rate expansion, fewer closeouts with gains partially offset by channel mix as well as currency headwinds. The improved margin rate was particularly supported by growth at Hoka, which carries a higher gross margin than other brands in the first quarter due to seasonality and is experiencing successful full-price selling of core product and offerings within category extensions.
SG&A expense increased 4.7 percent overall due to incremental marketing spend but was reduced as a percent of sales to 58.3 percent from 61.6 percent a year ago.
Deckers reduced its net loss in its smallest quarter to $19.4 million, or 67 cents a share, from $30.4 million, or $1.00, a year ago. The loss was significantly lower than guidance calling for a loss in the range of $1.25 to $1.15.
Inventory was up 9 percent at the close of the period.
Guidance Raised
Looking ahead, Deckers now expects for the fiscal 2020 year: 
Revenues in the range of $2.100 billion to $2.125 billion, up from $2.095 billion to $2.120 billion;
Gross margin to be approximately 50.5 percent compared to a range of 50.0 percent to 50.5 percent previously;
SG&A expenses as a percent of sales to be at or slightly better than 36.0 percent, the same as previous guidance;
Operating margin to be approximately 14.5 percent compared to a range of 14.2 percent to 14.5 percent previously;
Effective tax rate to be approximately 20.5 percent, down from 21 percent previously;
Non-GAAP EPS is now expected to be in the range of $8.40 to $8.60, down from $8.20 to $8.40 previously.
For the second quarter, sales are expected in the range of $515 million to $525 million, up from $501.9 million a year ago. Non-GAAP EPS is expected in the range of $2.15 to $2.25 against $2.38 the prior year.
When combined with the first-quarter performance, Deckers said the outlook shows revenue growth for the first half of roughly 5 percent to 6.5 percent and non-GAAP EPS growth in the range of 6 percent to 13 percent.
In the Q&A session, Powers noted that Ugg's U.S. wholesale business is benefiting by expanded distribution at Macy's, Urban Outfitters, Foot Locker and some smaller boutiques that are offsetting overall tightened distribution.
Hoka Developing Cult Following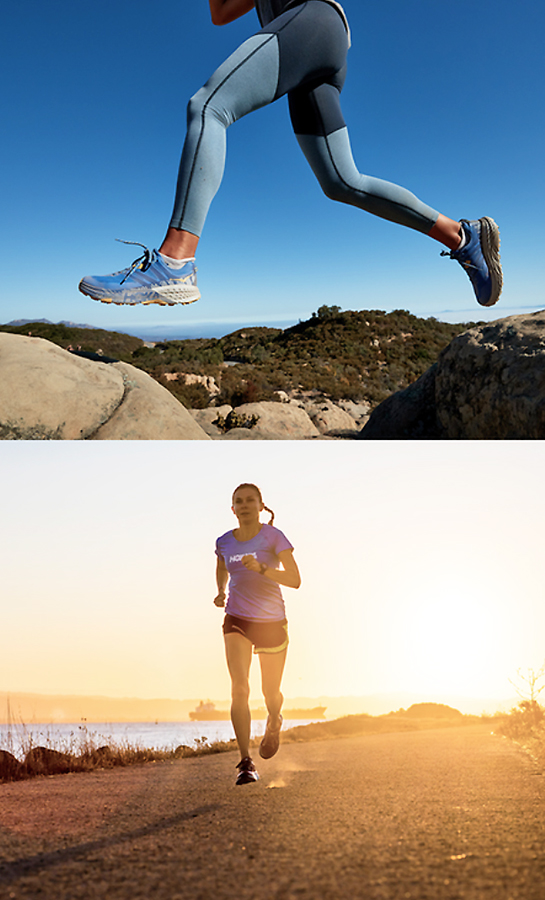 Further addressing the potential for Hoka, Powers noted that the brand had only 12 percent unaided awareness in North America in the last survey the company conducted but has been improving. A partnership formed in the quarter with Lifetime Fitness on activations is a newer vehicle to raise brand awareness. The Carbon X event was also "massive success" in driving media impressions for Hoka.
Another opportunity for Hoka is reaching younger consumers with the brand's audience "a little bit older than we would like," said Powers. Part of the hurdle is Hoka's price points range from between $130 to $160 but the recent introduction of a more-affordable model, the Rincon, is expected to help.
Powers further said Hoka faces "substantial growth," in existing channels, particularly international with the brand just getting set-up online with some of the major players overseas. Reaching customers in outdoor, hiking and trail also provide largely untapped opportunities. The success of newer models, such as the Rincon and the Sky hiking collection, are expected to open up new distribution.
But Powers also said Hoka is developing "a bit of a cult following" and the brand's fans are buying more products and purchasing them more often than expected. Said Powers, "It's a combination of repeat purchase on core styles that people are replenishing on, but also when we launch something new, the tribe that's following the brand is jumping on those as well."
Wall Street Reacts
Shares of Deckers fell $18.26, or 10.24 percent, to $159.58. The decline was attributed to the updated guidance not fully taking into account the first-quarter earnings beat although Deckers tends to provide conservative guidance. The stock had already been on a strong run after starting 2019 at $127.95.
At Susquehanna, Sam Poser reiterated his "Buy" rating and lifted his price target from $180 to $205. Poser wrote in a note, "Strong 1Q20 results demonstrate that improved product and allocation/segmentation strategies are driving a successful pull model. DECK is effectively capturing momentum in the HOKA brand as it pivots towards a fashion-athletic consumer. Improved product allocation/segmentation strategies for UGG are driving an improving domestic business (whether or not), as well as a turnaround overseas."
Stifel's Jim Duffy in the note kept his "Hold" rating on the stock but raised his price target from $148 to $166. Duffy wrote,  "We note, at a mid-teens percent of revenue, HOKA growth is now big enough to matter, but UGG is what matters through year-end. Against tough comps in FY3Q, just a low-single-digit ppts. headwind to UGG FY3Q revenue could offset any HOKA upside."
Photo courtesy Hoka One One, Deckers