By Eric Smith
Legitimate claim that Nike Inc. made illegal payments to high school hoops stars, or malicious attempt by a desperate lawyer to clear his name of wrongdoing?
That's the question at the heart of the motion that attorneys for Michael Avenatti filed in federal court Wednesday to dismiss his recent indictment based on grounds of "vindictive and selective prosecution."
The motion centered on Avenatti's allegations that Nike's Elite Youth Basketball (EYBL) division authorized payments totaling $70,000 to former Duke star Zion Williamson, former Indiana star Romeo Langford (both of whom are now in the NBA) plus an unnamed minor when they were still in high school in February 2017.
There is no evidence that the players received the money or were even presented the deals, and it's quite possible that Avenatti is merely trying to be absolved.
But the news continued a saga that began back in May when Avenatti was charged with trying to extort Nike out of more than $20 million. Federal prosecutors said he threatened Nike that he'd go public with claims the company was facilitating payments to the families of high school basketball stars. (Avenatti separately was charged with stealing about $300,000 from his former porn star client Stormy Daniels.)
Avenatti pleaded not guilty and promised to vigorously defend himself and expose Nike in the process. This latest motion, filed Wednesday in the Southern District of New York, appears to be a step toward that goal.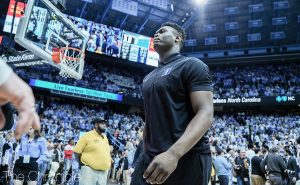 The motion alleges that EYBL offered $35,000 (or more) to Williamson, $20,000 to Langford and $15,000 to the unnamed minor. Avenatti said Nike knew of the offers because of "text messages, emails, and other documents from 2016-17" that prove "Nike executives had arranged for and concealed payments often in cash to amateur basketball players and their families and 'handlers.'"
"The evidence shows I should have never been arrested, let alone charged," Avenatti told ESPN on Wednesday for its report. "I was targeted. Nike, Zion, Duke and many others have a lot of explaining to do."
Avenatti's motion then listed the following items as examples of Nike's nefarious actions (which are pasted verbatim from the motion except for bracketed information added for clarity):
[Nike EYBL manager] Jamal James texted [EYBL director Carlton] DeBose and Nike Recruiting Coordinator John Stovall in February 2017, asking whether they would be "willing to do … whatever may be needed for the Zion/Romeo situations as well as the money we're now going to do for the [minor] kid in Michigan," to which Stovall responded:
Langford – 20
Zion – 35 plus
[minor] – 15
Debose responded that he was willing to pay Langford, Zion and [minor] the $70,000 and that they should "stay aggressive" while he got "creative" with the budget. (Exh. E, at USAO373_00046130).
Stovall informed James and DeBose that they still had "not presented our new offer" to Zion Williamson but agreed that it was not a good idea "to put it in print…" (Exh. E, at USAO373_00046135).
An EYBL coach expressed concern to Nike executives about the fact that players and family members were getting paid and that he couldn't "see how this ends well for NIKE or the EYBL. Some of us will be deemed guilty by association others will be found guilty of failure to supervise…" (Exhibit P, at USAO373_00046148).
DeBose told Nico Harrison, Nike's Vice President of North America Basketball Operations, that he (DeBose) was "willing to bet that 38 of 40 teams in the EYBL had to pay a moderate to considerable ransom to families just to play in the EYBL. Of these approximate 38 teams, these arrangements are being viewed as a contract by the families and players…" (Exh. P, at USAO373_00046184).
Rachel Baker, a Nike executive who led "Event Strategy" for the EYBL, expressed concern to a colleague about carrying large amounts of cash through airport security and indicated that she would lie and "just say I just sold my car" if she got stopped; (Exh. E, at USAO373_00046146-47).
DeBose acknowledged in an exchange of text messages with an assistant coach at the University of Kentucky that Nike was funneling payments to high school players through at least ten different EYBL coaches. (Exh. E, at USAO373_00046143).
Nike declined to comment on the matter, issuing this statement: "Nike will not respond to the allegations of an individual facing federal charges of fraud and extortion," the company said in a statement. "Nike will continue its cooperation with the government's investigation into grassroots basketball and the related extortion case."
Click here to read Avenatti motion
Explosive charges against Nike, for sure, but to understand how things got to this point, here is some more background on the saga between Avenatti and the company.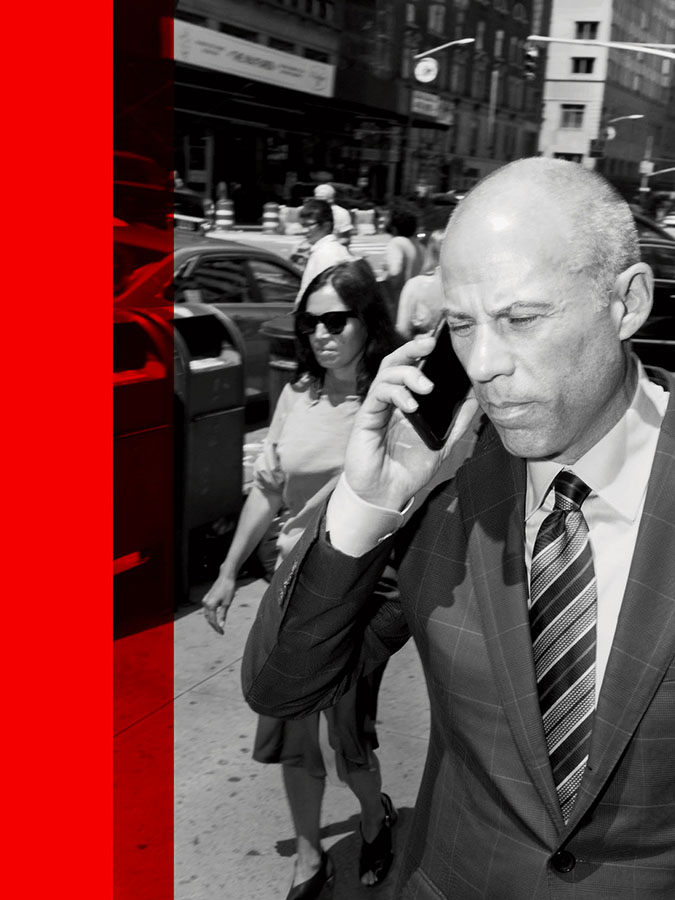 The brouhaha began in March when Avenatti was arrested on federal charges of attempting to extort millions of dollars from Nike Inc. He allegedly threatened bad publicity against the footwear and apparel giant on the eve of the company reporting third-quarter earnings as well as the start of the 2019 NCAA basketball tournament.
At the time, prosecutors said Avenatti attempted to extract the money "by threatening to use his ability to garner publicity to inflict substantial financial and reputational harm on the company if his demands were not met."
A couple of weeks later, Nike issued a statement stating it wouldn't respond to Avenatti's allegations that the company paid more than $170,000 to incentivize elite basketball players to attend Nike-sponsored colleges.
Nike's statement at the time read, "Nike will not respond to the allegations of an individual facing federal charges of fraud and extortion and aid in his disgraceful attempts to distract from the athletes on the court at the height of the tournament. Nike will continue its cooperation with the government's investigation into grassroots basketball and the related extortion case."
On Sunday, April 7, Avenatti released 41-pages of documents that he claimed offered evidence showing Nike "bribed players to attend 'Nike' colleges." Players identified as being involved with the alleged scheme include the Phoenix Suns' Deandre Ayton, former University of Nevada Las Vegas player Brandon McCoy and Oregon Ducks' Bol Bol. Redacted bank statements, invoices and text messages appear among the submitted documents.
The documents assert that Nike EYBL executives Carlton DeBose and Jamal James made payments to Gary Franklin, a longtime coach of a Los Angeles AAU basketball team, who then funneled money to reach players. Avenatti also alleged Nike paid Williamson's mother for consulting services while her son was one of the top high school recruits.
Duke, where Williamson attended school for one year, responded at the time with this statement: "We are aware of the allegation and, as we would with any compliance matter, are looking into it. Duke is fully committed to compliance with all NCAA rules and regulations. Every student-athlete at Duke is reviewed to ensure their eligibility. With regard to men's basketball: all recruits and their families are thoroughly vetted by Duke in collaboration with the NCAA through the Eligibility Center's amateurism certification process."
On May 22, Avenatti was indicted in the U.S. District Court in Manhattan with charges of extortion, conspiracy to commit extortion, conspiracy to transmit interstate communications with intent to extort, and transmission of interstate communications with intent to extort.
The DOJ wrote that Avenatti was indicted on extortion charges, "relating to his alleged attempt to extract more than $20 million in payments from Nike, Inc., by threatening to use his ability to garner publicity to inflict substantial financial and reputational harm on the company if his demands were not met."
Avenatti denied the charges on social media: "I will be fully exonerated once the relevant emails, contracts, text messages, and documents are presented."
Manhattan U.S. Attorney Geoffrey S. Berman commented: "Michael Avenatti abused and violated the core duty of an attorney — the duty to his client. As alleged, he used his position of trust to steal an advance on the client's book deal," "As alleged, he blatantly lied to and stole from his client to maintain his extravagant lifestyle, including to pay for, among other things, a monthly car payment on a Ferrari. Far from zealously representing his client, Avenatti, as alleged, instead engaged in outright deception and theft, victimizing rather than advocating for his client."
Where this case goes from here will be up to the courts—or the individual parties if they settle—but analysts didn't react negatively and investor response was mild. Nike's shares dipped $1.52, or 1.9 percent, to $79.51 at market close Thursday.
However, it certainly brings to mind other recent, high-profile accusations of shoe companies being accused of illegally paying high school athletes.
In March, former Adidas executive James Gatto was sentenced to nine months in prison for his role in the widespread college basketball recruiting scandal that tainted two dozen schools. Co-defendants Merl Code, an Adidas consultant, and basketball middleman Christian Dawkins, each received six months.
Last October, a federal jury in New York convicted the three men of felony charges of wire fraud and conspiracy to commit wire fraud after a three-week criminal trial. They were accused of funneling money from Adidas to the families of high-profile recruits to ensure they signed with Adidas and certain financial planners and business managers once the players turned pro. The schools involved were North Carolina State, Louisville and Kansas.
SGB will continue to update this story as it develops.
Photo, second below lead, courtesy Vanity Fair